Some 30 years ago, I started restoring vintage Canadian-built Cliffe Craft wooden boats with lapstrake hulls; they are all crafted from mahogany and white oak.
Drain holes in the transom often needed attention due to time and usage. Problems aren't always obvious at first sight. If water drains out ok, that's fine. However, it should also do the opposite too, with no water leaking in, keeping you and boat safely dry afloat.
But sometimes, it does leak in.
The brass inner tube can become brittle or crack, and in turn, the rubber drain plug (of any type) will fail to do its job. Keep in mind, the drain hole and its plug are about a foot below the waterline at idle or while slow cruising. The numbers tell us that one foot of water is equal to 0.433 lbs of pressure per square inch (PSI) on your drain, and at the same time, is trying to push water into your hull!
A dry bilge is a blessing and it certainly keeps everything smelling great!
So, here's how to go about repairing and replacing a leaking drain hole. The boat must be in dry dock or sitting on its trailer. Preferably it should have been out of the water for a long period, for example, after the winter months, so its transom is as dry as possible.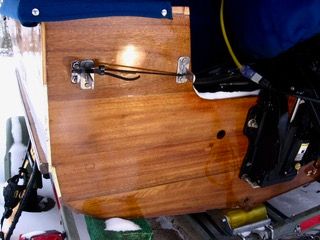 To start, remove the drain plug and get rid of the brass inner tube. It can be cut longitudinally with a hack saw blade, but be careful not to create or worsen the problem in the existing hole.
It should be kept straight at 1" in diameter. Clean the hole with acetone, so it's free of everything else and the wood is totally clean. These holes are usually one inch in diameter. Except for #5 below, the following operations are preferably done using a press drill.

Next:
1. With a 1 ⅛" hole saw, cut a plug from a solid stock of mahogany, of the same thickness as the transom. The resulting plug will be of exactly 1" in diameter. Then glue it with an epoxy-thickened mixture in the cleaned 1" hole in the transom. Let it cure overnight.
2. With a 1 7/8" hole saw, cut another plug from a solid stock of mahogany. The resulting plug will be very close to 1¾'' (outside), with the ¼" pilot hole still in place.
3. With some kind of holding device, secure the 1¾" plug, and with a 1" hole saw, cut it out to create a solid ring of 1¾" (outside) X 1" (inside) X thickness of your transom. Use the existing ¼" hole as your pilot.
4. Now you can flange a new brass tube inside the new mahogany ring with an easily available "flanging device." It comes with a length of 1" (outside) brass tubing already flanged at one end. It needs to be cut to length with a tube cutting tool, such as the one shown here. Before cutting to the appropriate length, insert a slightly less than 1" (outside) hard dowel (like white oak or metal tubing) in the 1" tube, to provide support for the cutting wheel and so produce a sharp cut with no inward bevel.
Insert the brass tube with the already flanged end into the new ring, while covering the brass tube with Sikaflex 291 as it is inserted. Clean the overspill.
Now use the flanging tool with caution and do it slowly, to avoid cracking the flanged ends, as it compresses slightly against the mahogany surface and oozes out the excess sealing Sikalex 291. Clean the overspill.
5. Using the 1 7/8" hole saw and the ¼" pilot hole in the already glued plug in the transom, cut a new 1 ¾" hole in the transom, as straight as possible, with a hand held power drill.
6. Finish by gluing the new flanged mahogany ring into the transom with an epoxy-thickened mixture, cleaning the surplus, and letting it cure overnight. If it wants to slip out, use masking tape to hold it in place while the epoxy cures.
C'est tout! This is my way of doing it and over the years, it's proved more than satisfactory. It also provides a learning experience in cutting plugs and rings out of mahogany and flanging 1" brass tubes.
Enjoy!
By Marc Benoit
Born in Montréal in 1951, Marc has a broad spectrum of interests fueled by his past studies and experiences in music, plastic technologies, artist management, and restoring violins. He has been a full-time musician touring North America for over 50 years, being active in the folk milieu in Ontario and the rest of Canada for two decades. For a time, his music was produced by the late Stan Rogers. Marc's knowledge of wooden boats serves him well through his appetite to enjoy being on the water, discovering sights and scenes, and yes, messing about with boats!
Be sure to see Marc's other Cliffe Craft articles.
• February 2022:  Cliffe Craft Revisited
• March 22:  How to Restore a Wooden Cliffe Craft Boat – Marc Benoit style
• March 22 Excursions with my Cliffe Craft
• May 2022:  My Cliffe Craft Saga - Chapter 4
Posted in: Volume 18, Issue 3, March 2023, News article, Sports
---
---
---