Editor's note: In early January this year, I received an email asking if we were still interested in receiving photos of Cliffe Crafts. The original question asking for photos was published in Tom King's article "No Son, It Is a Cliffe Craft" in November 2011, which related the history of Charlie Cliffe and his boat building enterprise in Gananoque, Ontario. You can see I that wrote back an enthusiastic "Yes Please!"
---
Notre-Dame-des-Prairies , January 8th , 2022
Hi Susie ,
I got involved with Cliffe Craft boats in 1994 when searching around to find a decent restorable wooden hull regardless of the company or the builder. I had already built/restored a number of boats in the 1970s and had made up my mind to stick to wooden boats with outboard motors.
I found my Cliffe Craft boat, a 15-foot Islander, on the Outaouais River, (Ottawa River) near Carillon, Québec. Not advertised, she was lying on the owner's front lawn ready to receive a payload of gardening topsoil!
Out of luck, I was there on time and bought the boat "as is" for $200! I trailered the sad hull to my shop in Montréal, where I was born and raised. Later, I moved to Oka, QC , (2001) and then to Joliette, QC, (2011), where I continue to restore wooden boats.
The boat had no registration and no crests, just the faint aluminum capacity label on the inside the port transom with the builder's name - Cliffe Craft - the hull number, the horsepower, and the load capacity.
The name "Cliffe Craft" was totally unknown to me, so in the fall of 1994 I began my quest for information, which had little success until I got to Boulanger Yacht Service, in Lachine, QC. They gave me the name associated with Cliffe Craft boats, Charlie Cliffe, the location of Gananoque, and the shop's address.
I spent the next two years restoring the boat, which included work on: steering (cables and pulleys), Plexi windshield, plywood floorboards (saved), chuck, mooring eye, three cleats, transom eyelets, remnants of seats, and the rub rail. The inside and decks had been spray-painted brown and the outside hull had a residue of white paint. I replaced 18 ribs, steam bent, and of course made of white oak, and four full strakes, as well as four half-lengths with Okoume 3/8" marine plywood.
There was also the hunt for all four types of fasteners. Wood screws of various sizes, British quality brass and machine screws, all with #8 Robertson heads, unusual for brass fasteners. These screws raised a question of provenance: were they a particular order to Cliffe, or stock rebought from another shop? I wondered since I hadn't seen any other brass, wood or machine screws, with the square Robertson heads. (Robertson screw heads are a Canadian invention, slowly gaining ground in the US and in China. These screws were made with both silicon-bronze and stainless. Definitely a great feature for the growing number of wooden boat restorers.)
Anchorfast Ring nails  (1 inch) were made in Monel, with a navy anchor on their flat head and brass Brad nails on the decks. But I soon found out that these one-inch ring nails were used to hold the strakes temporarily in place, at 4-rib intervals , while they were screwed and caulked. They were impossible to remove  because of their nature, so they were sunk and left in place.
On the hull, I used Beaver bite SS screws bedded in Sikaflex 291. In between the ribs, I re-used the original brass machine screws.
The under keel was replaced, but the inside structures were kept, restored, and put back in place. I managed to save the mahogany plywood decks, which were un-glued, cleaned, re-caulked, and nailed in place with original brad nails. Finally, the boat was stained and varnished with four coats of Behr Gloss, which is no longer available.
I used Sikaflex 291 caulking where appropriate and West System epoxy for the all-mahogany bungs. I also used Interlux stain where applicable.  The hull received three undercoats of white oil primer and three coats of marine high gloss enamel. The transom received two coats of West Epoxy, plus four coats of gloss marine varnish.
Inside, the hull received three coats of Cetol Marine gloss. The seats, which were made of 3/4" Okoume plywood, were stained and varnished.
The boat was completely restored and sea-trialed in May of 1996, powered by a brand new Mercury, two-stroke, oil-injection, 30 hp long-shaft engine, plus new cables and throttle. Although 30 hp is way below the 70 hp specification on the transom label, she easily came on step. At 22 miles per hour and at the correct rpm, things were all perfect for three adults. More than fast enough for me since speed and noise are not my goals. Yes, the quieter, the better!
In July 1996, on spur of the moment, we trailered the boat to Gananoque, hoping to visit the Cliffe Craft Shop, meet the people, and gather much more information about Cliffe Craft Boats.
Arriving on Mill Street, I entered the building asking questions, only to be told I could actually meet Charlie Cliffe himself in the engine department one floor down.
I was incredulous and excited to meet the man himself, thinking that he was long deceased! He was charming and full of answers for me. After having a look at my restored boat and approving my work, this picture was taken, along with others, in front of the shop. Charlie gave me two Cliffe Craft vinyl crests, since mine were missing, and a bunch of Cliffe Craft leaflets.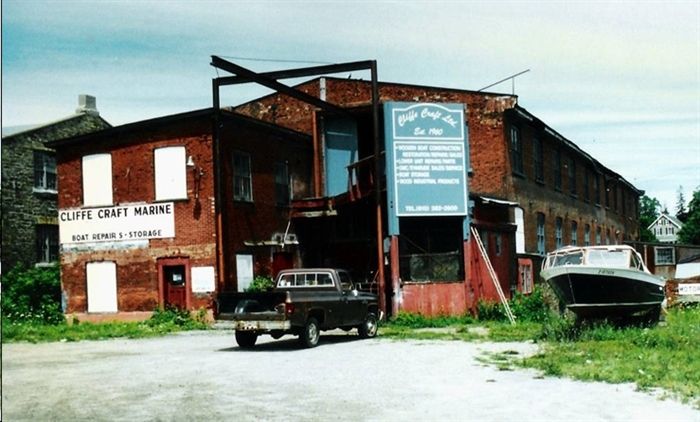 I recently learned of Charlie's passing. He was definitely a hero in the wooden boat world. But sadly, I note that the name Cliffe Craft is still almost unheard of in the wooden boat community. It is no surprise that he is unknown in Québec, as is the knowledge of wooden boats in general.
To make a long story short, in 2010, I was invited to exhibit my 15' Islander, at the ACCBA show held in Montréal. I was happy to be there with a good example of Charlie Cliffe's boats. Lots of fun and lots of friends.
Then came their marine "Concours d'Élégance" in which they refused to allow me to enter and judge my boat. I felt unhappy about this situation, but then I thought to myself that I didn't need to be approved by such an organization to fully enjoy my boat, its history, and the pride of having successfully brought it back to life.
I still sense a drawback reaction in certain southern milieu regarding the very name Cliffe Craft, and sometimes it felt like a rock tossed in the pond making unwanted ripples. To support this, I haven't come across any mention of Cliffe Craft in boating publications in the US, for the past  28 years! The one exception was  a snippet of info  in the Wooden Boat journal by a reader inquiring about Cliffe Craft. But I must say that nowadays, my attitude is one of "cela coule sur mon dos comme sur le dos d'un canard!" (It's like water off a duck's back!)
In 2017, leaving Mallorytown Landing, I cruised in my boat back to Gananoque and the old shop, only to find the premises empty of souls. Nevertheless, I tied up at the venerable dock in the back of the shop, on the Gananoque River, slept over in my boat, and took more pictures the next morning.
In 2021, I sold the boat to a young "newbie" longing for a wooden boat. She is still in very good shape because I proudly maintained and enjoyed her for the past 25 years. It is now sailing on the St-Laurence River, in the Thousand Islands area. I was pleased to pass on all the historical documentation to the new owner.
I'll stop here with my reminiscences and save for the future the stories of two other Cliffe Crafts that I've owned and restored: a 14-foot Dart and 18-foot Skipper.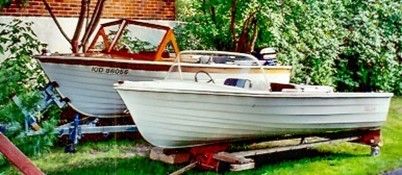 By Marc Benoit
Born in Montréal in 1951, Marc has a broad spectrum of interests fueled by his past studies and experiences in music, plastic technologies, artist management, and restoring violins. He has been a full-time musician touring North America for over 50 years, being active in the folk milieu in Ontario and the rest of Canada for two decades. For a time, his music was produced by the late Stan Rogers. Marc's knowledge of wooden boats serves him well through his appetite to enjoy being on the water, discovering sites and scenes and yes, messing about with boats!
Posted in: Volume 17, Issue 2, February 2022, Sports, History
---
---
---