As of March 2021, some of our readers have been unable to post comments. We have determined that Safari by Apple and Edge by Microsoft are the browsers are affected by this issue.
If you are having a problem posting a comment, please try using either Chrome or Firefox browser.  These browsers do not have an issue with our comments system.  
Or... Just email your comment to info@thousandislandslife.com.
Thousand Islands Life uses a comments system called InteseDebate.  It is built and maintained by Automattic, the same company that makes WordPress.  It is a reputable and safe product that has been in use for many years now.  It does use cross-site tracking so that we can moderate the comments easily.
What is Cross-site tracking?
Cross site tracking is used by some web services such as commenting systems to keep you logged into their service when you move from site to site.  Awareness of privacy concerns has led some browsers to disable cross-site tracking as a default setting.  
To diable cross-site tracking. (note: Same process to enable)
In Microsof Edge, do the following: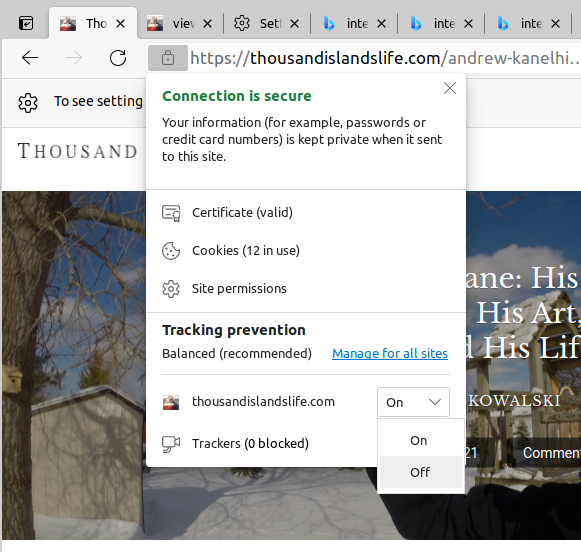 Click on the lock icon in the address bar as shown above.  you will see our website with a dropdown set to "On", you need to change it to "Off".
For Safari on Mac, do the following:
While on our website, Click the "Safari" menu and choose "Preferences" and then "Privacy"
Depending on your version of OS:
Un-check prevent Cross Site Tracking to disable this setting.

For Safari on iPhone or iPad:
Go to Settings
Click on Safari
Privacy & Security
Turn the toggle 'Prevent Cross Site Tracking' to 'Off'.