Check back often to see our progress.  If you have ideas, suggestions or questions, please write to us at info@thousandislandslife.com  
At the Thousand Islands, Lake Ontario narrows to become the St.  Lawrence River. Through these islands, flow all the water of the Great  Lakes, the largest group of fresh water bodies on the earth, sometimes  called "the inland seas." Together the lakes and the 1900-mile river  comprise the largest inland navigation system in the world.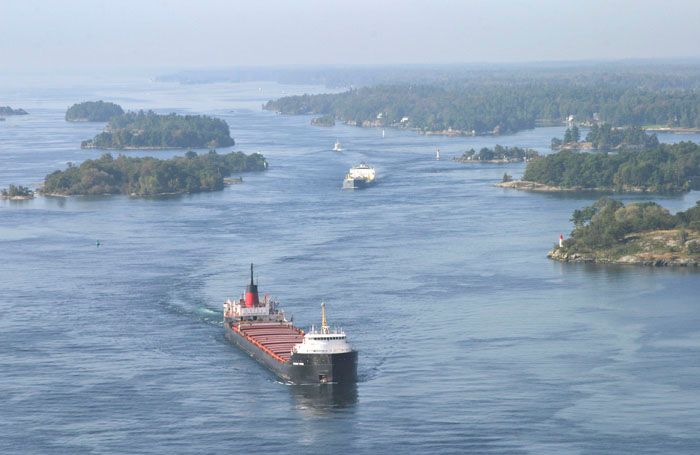 Boats and boating are central to Thousand Islands life. We live with  with ocean-going freighters, "salties," that navigate the St. Lawrence  Seaway--companions to all species of craft, down to kayaks and canoes.
Islanders depend upon their boats. The real focus of island life is  the dock, its main activity "messing around with boats." We use varied  craft for errands, for fishing, for socializing with friends on other  islands, but mostly we savor boating for its own sake, especially  enjoyable through the countless scenic channels among our 1800 +  islands.                                                                                         
Note:  If you have ideas, information or suggestions about Thousand Islands activities, please contact us at info@thousandislandslife.com
Events & Pastimes
When Paul Malo created the pages for TI Life by  writing, "We live in a floating world, sometimes called 'the Venice of  America.' Most of what we do involves water, at least in getting to  destinations. We carry golf clubs and tennis rackets aboard. We have a  sail-in chapel where participants remain on their boats. We may tie up  at a waterside theater or restaurant. In the evening we may appear in  our boats incongruously attired, sailing en route to a ball or dinner  party. Less glamorously, we usually are seen hauling supplies, or  carrying refuse to the recycling depot."
[(1) Ivy Lea, ON. (2) Kingston, ON, (3)