In following up on my experiences with lapstrake boats of Cliffe Craft design, I've used my Islander 15 foot quite extensively, going lots of places in Québec, Ontario, and in Vermont, and New York states. [see March 2022, Excursions with my Cliffe Craft.]
In those trips, between 1996 and 2014, my usual goal was to be self-sufficient on board Ahuntsic with, I must admit, the bare necessities in shelter, food, and sleeping capacities, including sanitation.
My 15 foot 'floating paradise' was stretched to its reasonable limits for two adults, in relative comfort and practicality. But as the years passed, more living space was becoming more important.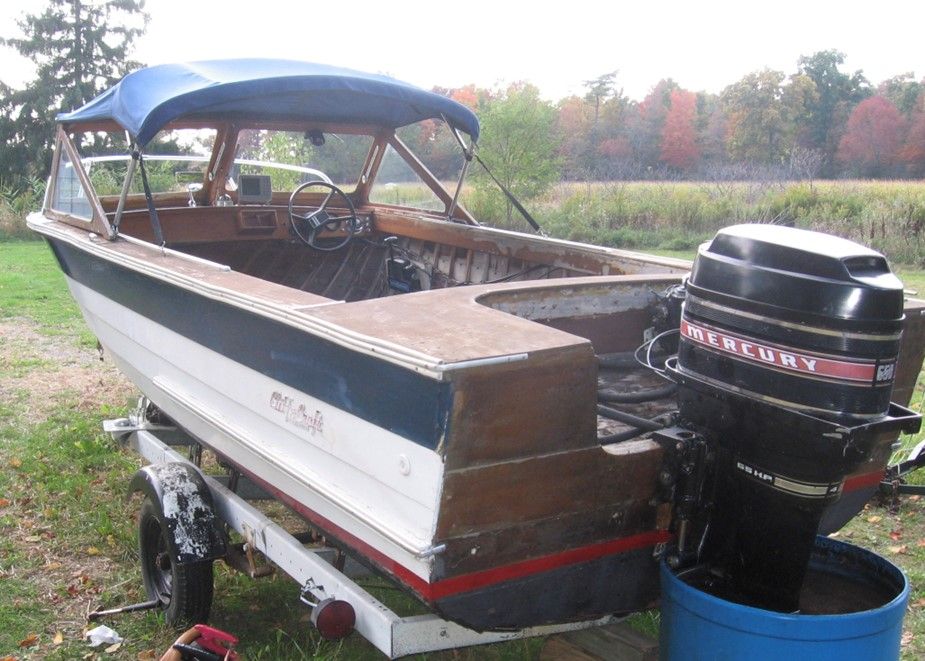 Fall 2014
So, as always for me, luck would put this Kijiji ad in my sight. The picture was good and the description was precise, and quite detailed. Not a guaranty of truth, but nevertheless appealing. It was a Cliffe Craft 18 foot, in good shape, and original from the 1960's. The seller was contacted and shortly after, on October 1st, 2014, I went to check on this boat in Prince Edward County, Ontario.
That's a 500 km (310 miles) drive from home. Exchanges by email and phone were really promising, along with lots of good quality photos that I was sent by a polite and pleasant owner. The price was right and included boat, Mercury 50hp, galvanized trailer, bimini top, travel tarp, and all the original hardware.
On first sight, I was quick to grasp the full scope of this new project. It would not be a short and quick period of work involved. I was fully aware it was going to be a few seasons long. As previously mentioned, my home workshop is serviceable from May to October. In the meantime, my Islander 15 footer would be available for my frolics!
And it was a long haul! The finished boat was christened and launched in September of 2020.
My first task, once I got home, was to remove the mahogany windshield, motor, hardware, seats, floor, and electronics, then flip over the hull onto a custom-made four wheel dolly.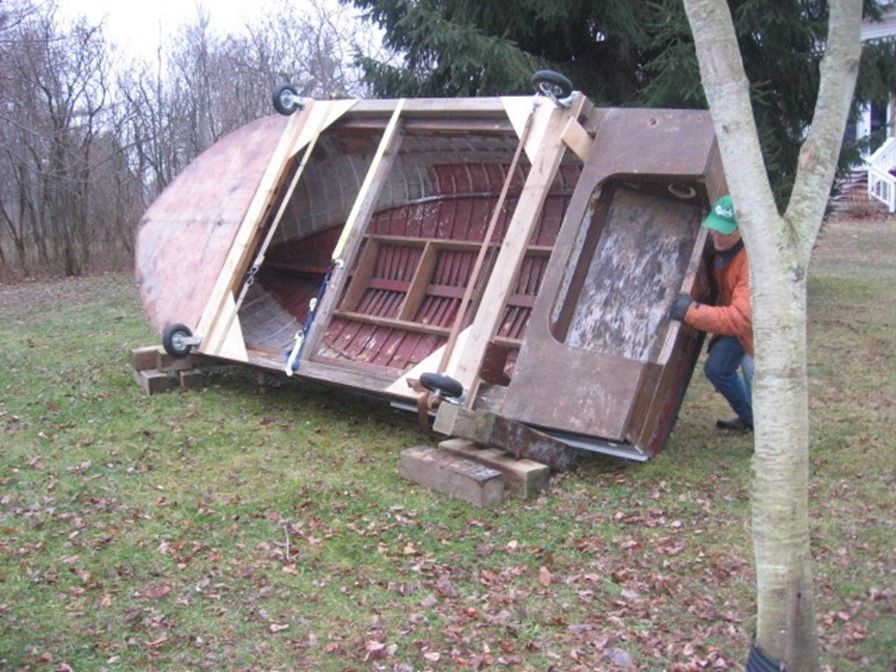 The difference going from 15 to 18 feet in length is more than just three extra feet. It is way bulkier, wider, and much heavier. With three pairs of arms and some levearage tricks, it was done. Already though, it was fall, cold, and the frost was here to stay. The boat was put to sleep until next spring under a 10 X 20ft. seasonal car shelter.
Spring 2015
A word of advice: when considering or acquiring a wooden boat, it is almost mandatory that it should come with its respective trailer, which is in decent shape, safe for boat, and safe to hit the road, with no tire and/or wheel bearing issues. Winch, brake & turning lights, coupler, and safety chains all need to be operational, and the trailer overall, safe and structurally solid. I always carry a light bar to use in case of a faulty brake lights rig.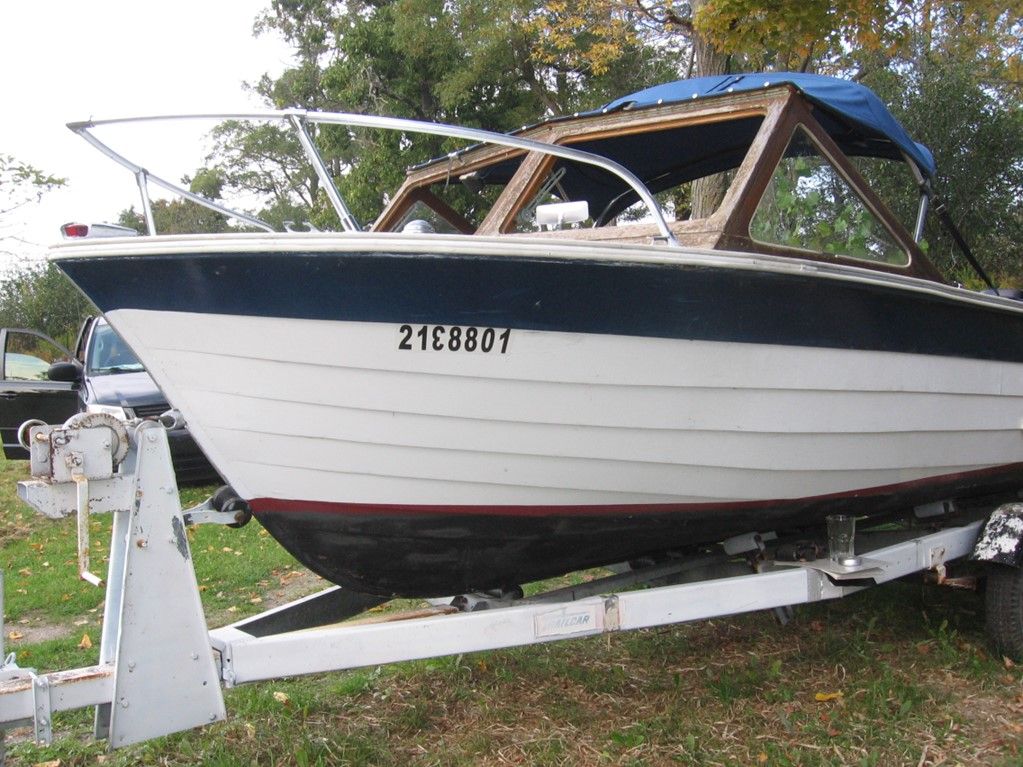 A good, efficient trailer is worth a lot to start with and for a long time after, for travelling with and storing your boat. To start with, it is he who carries your precious one back home, despite Gollum!
Trailers are made to fit a type and size of boat and are not always interchangeable. Capacities vary greatly and likewise their price.
My preference is for a galvanized steel trailer. Nowadays, aluminium boat trailers are commonly available, but I still prefer galvanized. They are rust resistant and very durable. Although in this neck of the woods, we don't have to deal with salt water, which is a trailer killer. Good thing!
Still, so many things require our attention on boat trailers:  Winch, strap and hook; coupler; safety chains; bunks; rollers; suspension; tires and bearings; electrical brakes; electrical wiring for lights; registration plate & papers; insurance; safety locks – on wheels, spare tire, and coupler (this could be an issue with your insurance); means to adjust weight on the tongue; load capacities; road tarp; and parking dolly, to list a few.
Spring 2016
So, I started peeling off the blue, white, red, and black multiple coats of stubborn
paint. All the while, the hull was inside my car shelter directly on grass. Humidity was ever present. A new plan to improve the floor base was needed.
So, I built myself a 24 X 24 ft armored concrete slab, 4 inches thick and leveled so that water would drain away on its own. It may sound like too large a surface, true. But, being in the country, a solid flat surface is of great usage, year round.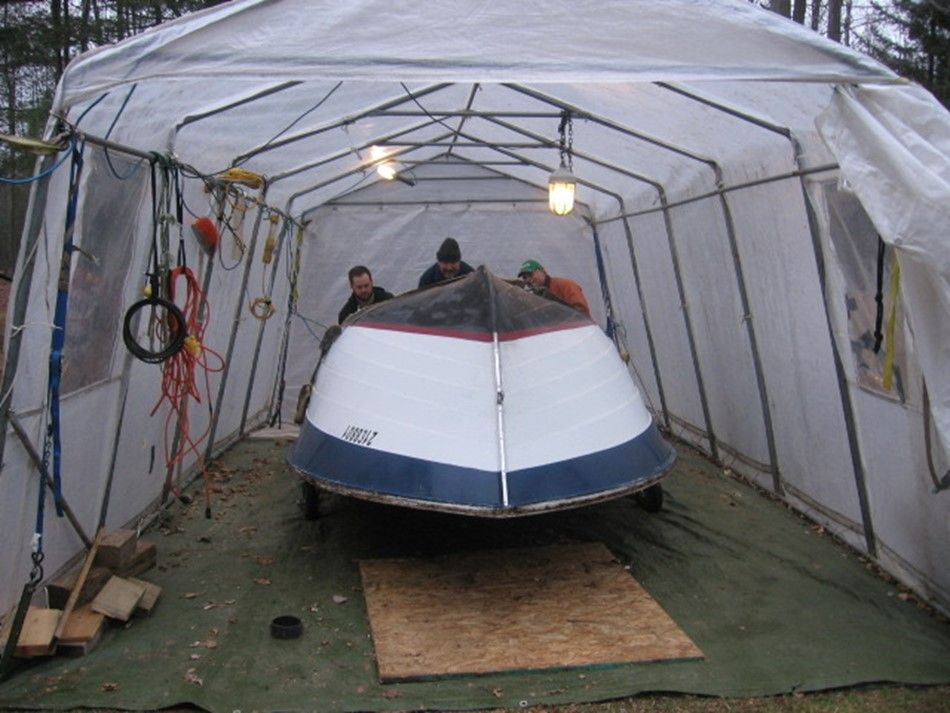 With all the paint off, I could evaluate the job ahead.
I wasn't the first one to do this job. Some well-intended souls had done some intricate and not so acceptable therapy, all the way from transom up to mid-ships, on the two centre bottom strakes, removing the two bad ones, and replacing them with new ones. So far, so good.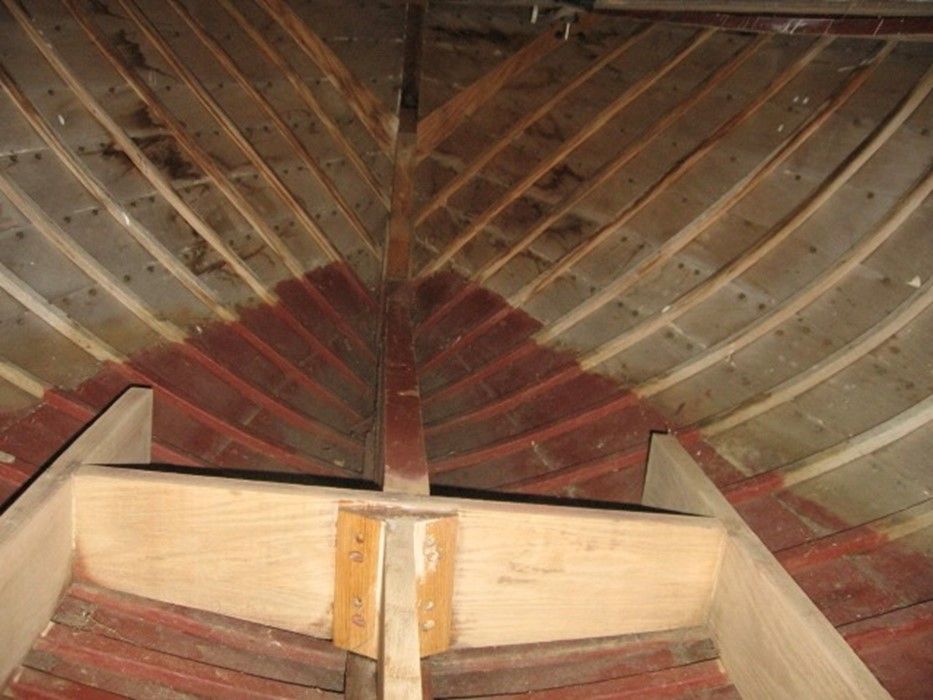 However, instead of removing the next two bad strakes, they laid over another row of 3/8 inch mahogany plywood, screwed it using wood and machine screws, and caulking. In doing so, they crudely "recut" the steps in the transom to accommodate the "new" strakes. Boy, they must have used a very dull, blunt, tool doing this!
Again, good intentions pave the way . . . With all four strakes removed, I made a very precise mahogany scarf to the transom  with good heights, angles, and thickness and epoxied it. A good many hours were spent doing this.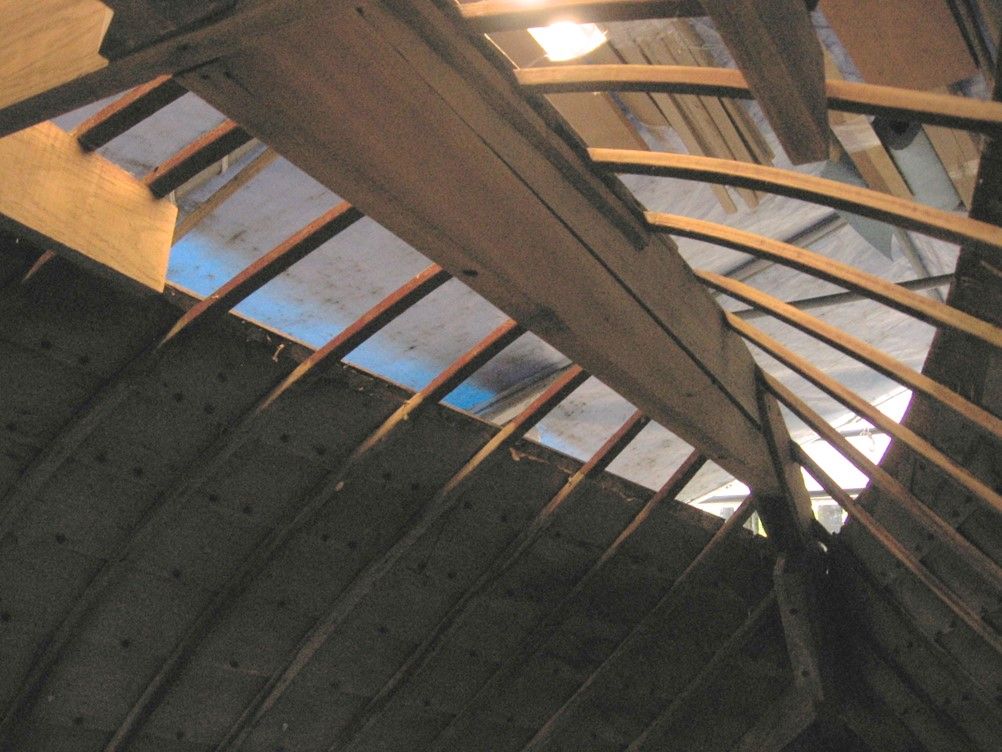 Spring 2017
With the four strakes removed, two on each side of the keel, the next step was steam bending close to 40 ribs, shaped to size in white oak. I explained this process in my previous article. The old ribs, if still good, were left in place to guide the new ones. Again, lots of silicone bronze screws and original brass machine screws were used on the strakes in between the ribs, which had been wisely saved and cleaned while undoing the bad strakes, caulking, etc. Hours, if not days on end . . .
With the hull finally reclosed, the new keel, a laminate made of 9 X 3/16 inch blades of oak, epoxied, was laid, then came screw hole plugging, sanding, primer coats, bright side coats, copper bottom coating. She was gleaming!
Time to roll her right-side up. Tricky and needed a few strong pairs of arms. Still in the car shelter, which was now open on three sides, to breathe easier in the hot summer weeks. The inside of the hull, free of floor boards, seats, and benches, received many coats of Marine Cetol, with lots of drying time in between the coats.
The old decks, originally covered with nautolex, all needed to be replaced due to rot. I chose to use 3/8" X 7 ply cherry wood baltic plywood. When fully encapsulated in epoxy it is appropriate to use, stiff and a bit less expensive than mahogany plywood.
Some pretty interesting measuring involved in making these decks, but nothing's impossible. Dealing with these new decks involved precise cuts, caulking, and screw hole plugging.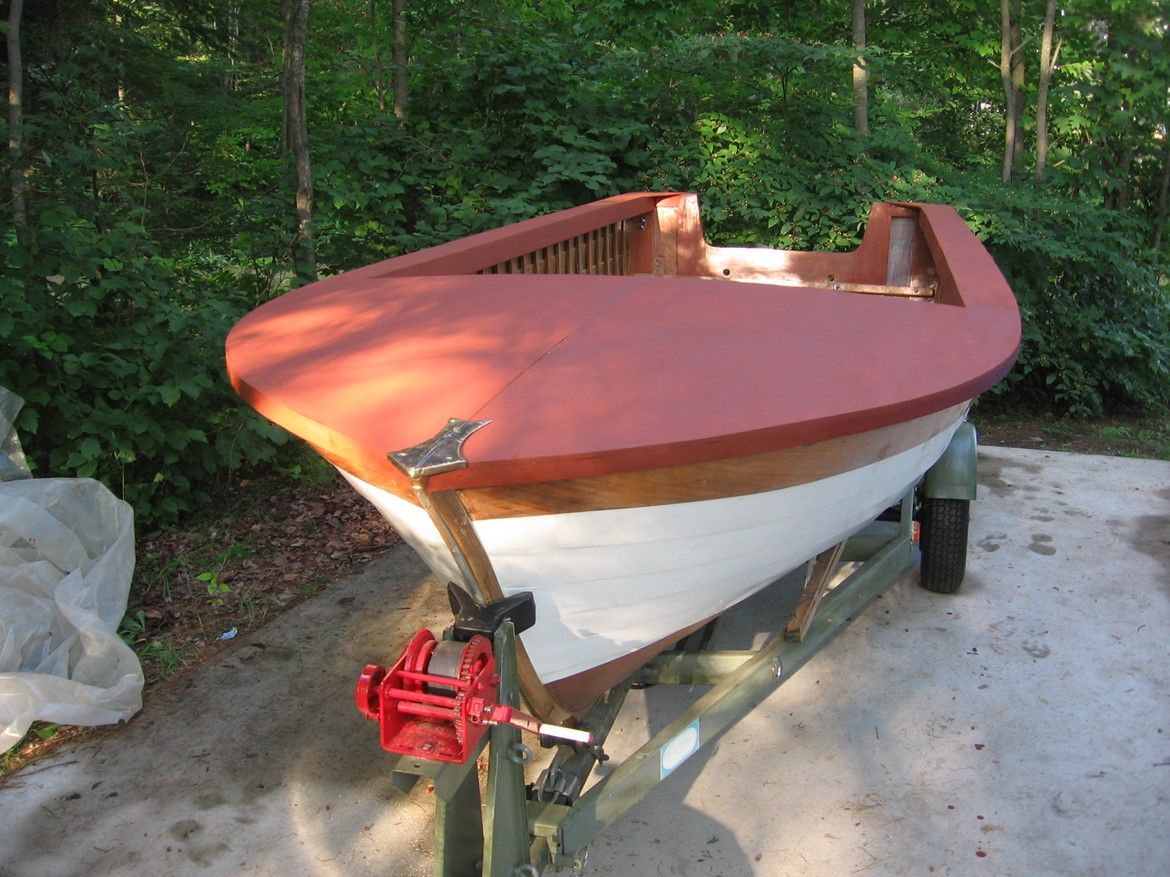 Then it was staining time. I used Minwax pre-stain, then Interlux wood filler, and stain #573. A good quality spar varnish, Epifanes, clear with Extra UV-Filter, was used to top the whole thing with five coats.
Spring 2018
When I got the boat, there was only two rotating and folding seats on tubular stands, screwed directly to the floor. After some tinkering, I designed two front storage cubes to receive the two seats, with hinged top for easy access.
Next came a small galley on the port side, with shelves and a hinged top opening to double meal preparation surface. On the starbord side, the space was left free for my anchor and line storage.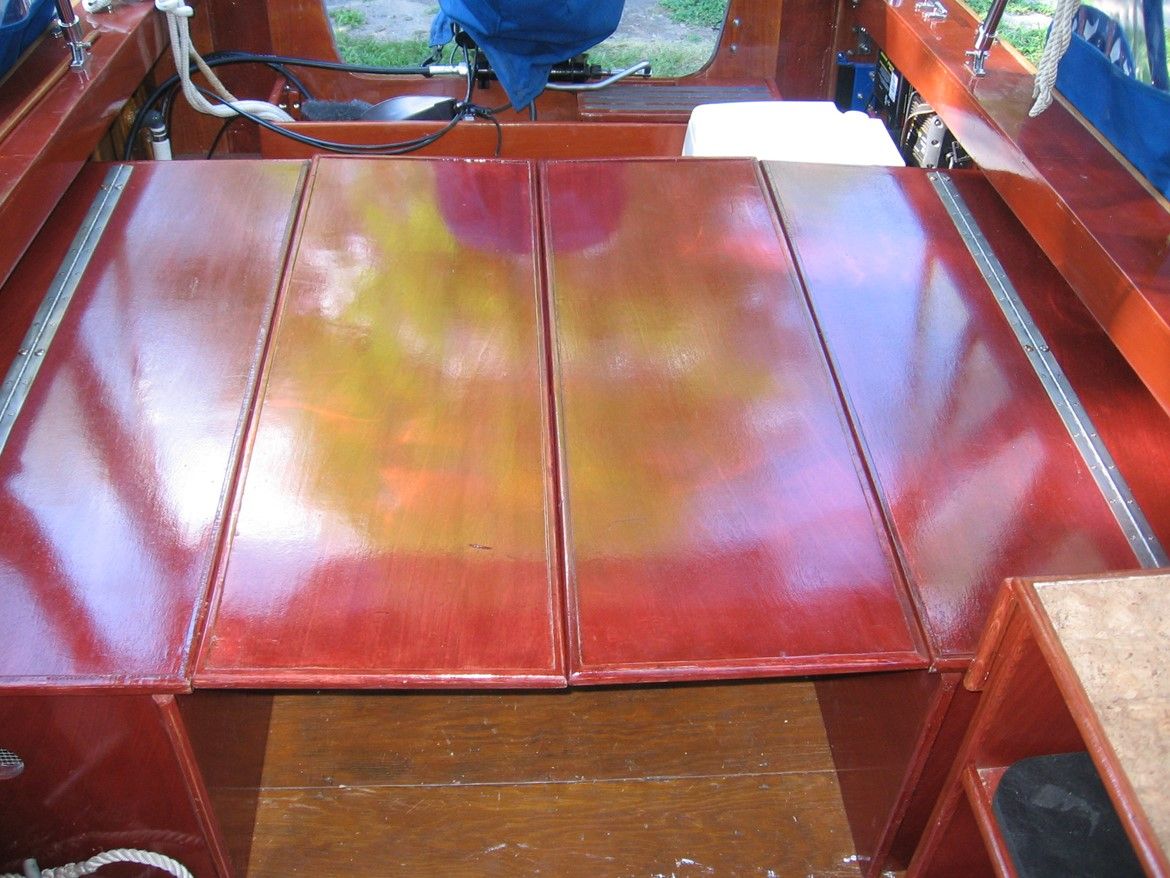 In the remaining space, on both side, I made two storage bins that would become the bed surface, with two additional panels filing the space in between, providing a 72 '' X  50 '' sleeping surface. There was plenty of shoulder room for two adults. Ok, I admit, it is a rather intimate situation, but all things considered, would you go cruising about with uncomfortable company?
The stern port side received a campa-potti. The stern starboard side was left free. My two fuel tanks (22 litres or 5.8 US gallons each) are stored securely under the front deck, linked to a tank selector valve, with a fuel line running under the floor to a brand new 60hp Mercury, four cycles, and quiet engine.
Spring 2019
On board equipment is important and sometimes it seems that there is way too much.  Again, common sense, marine know-how, and experience will dictate the somewhat lengthy list of items. But the one at a time approach could be wise – some things might be more important than others, depending on your situation.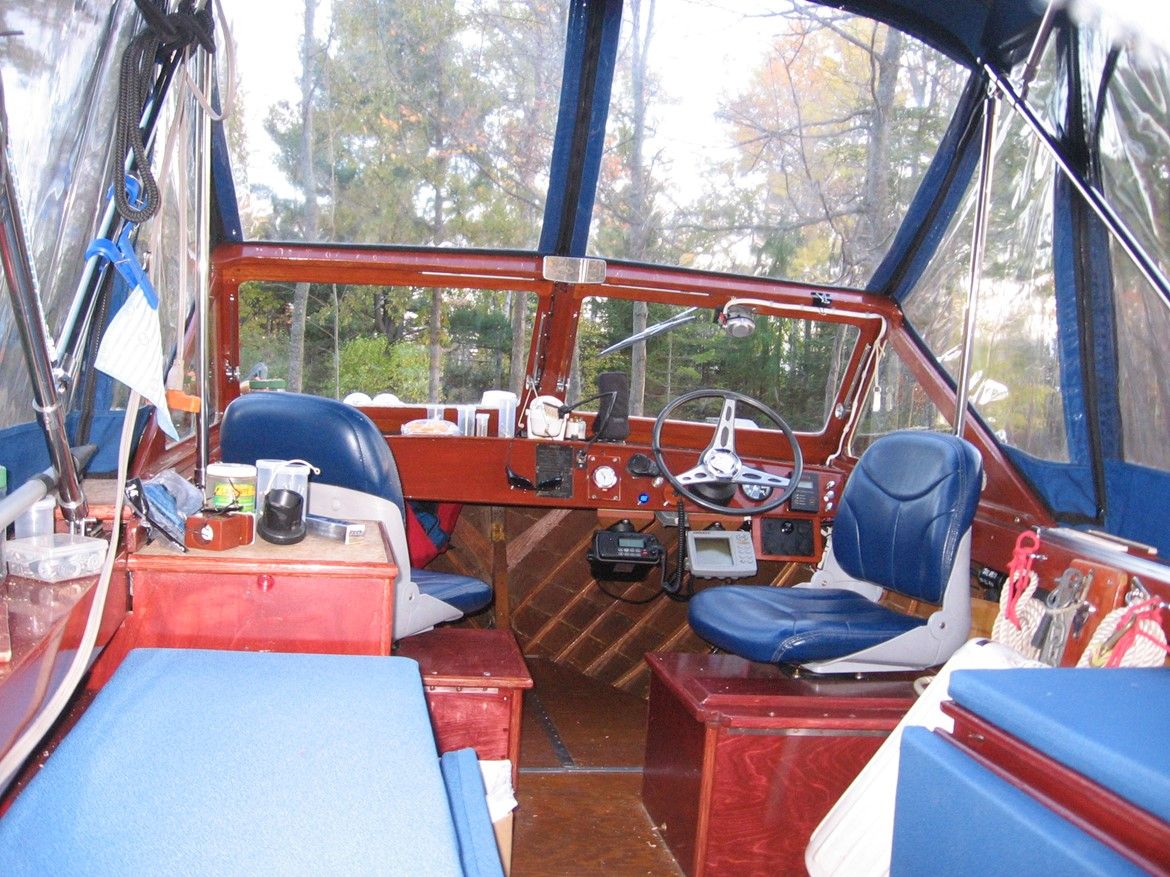 In this boat of mine, I have: a compressed air dual horn signal; Teleflex steering; power windshield wiper; opening mahogany windshield; two bilge pumps (fore and aft) with no-return valves, the bigger one in the transom area, both with auto/manual/fuse controls; running lights; marine radio with GPS link; depth sounder; a cluster of gauges; a micro-log charging / tension batteries monitor with shunt (for amp metering); various powered vents (batteries and storage bins); in-board/outboard battery and USB charger; and electric trolling/emergency motor.
As well, I have the usual security appliances such as fire extinguisher, manual bilge pump, Danforth S-9 anchor (with 20 feet of galvanized 3/8 chain and 150 feet of white 1/2 inch nylon rope), a back-up 10 pound anchor (folding type), two large fenders forward (inflatable) and two smaller (inflatable) fenders aft, an s.s. transom swimming ladder (foldable and removable). Under the front deck, along with fuel tanks, outside air vents, both passive and powered, and a top deck guard rail with remote control beam search light, which is a very useful item when docking or anchoring at night.
Electrical circuitery is based on two batteries (starting and house) with two fused (automatic) circuits of 40 and 60 amps. All outlets are fuses, with two main switches  and a battery isolator. If you're unsure about marine electricity, better seek advice and help from professionals. There are classes available from organizations like the Power Squadron and others.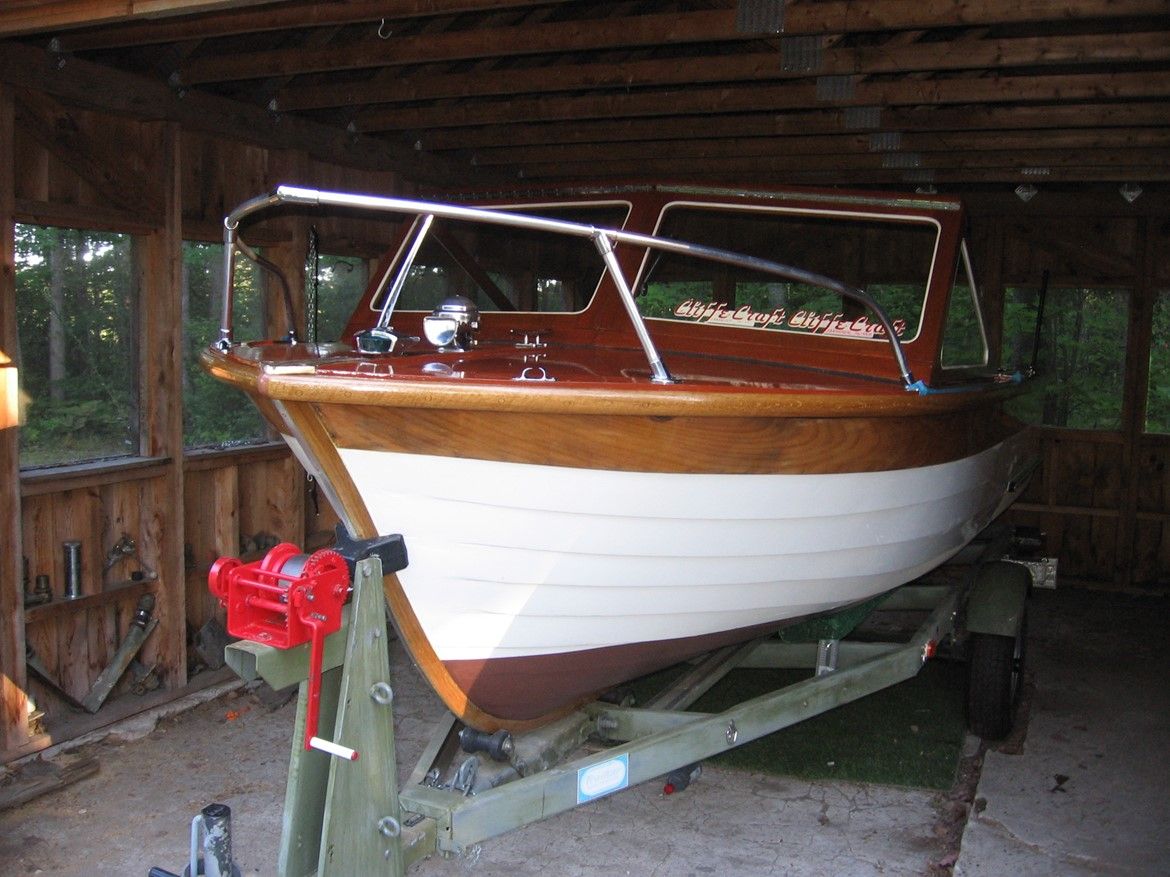 All of these items become very useful, if not necessary, while cruising for overnight or longer. Space management in a (still) small 18 foot boat is a constant pre-occupation and things must be kept under control. In my experience, this is an acceptable compromise to keep the whole rig safe, comfortable, on budget, small, manageable,  and enjoyable. That's my view and I agree there are surely other feasible and acceptable scenarios. Not everything is the same "cup of tea" for everyone!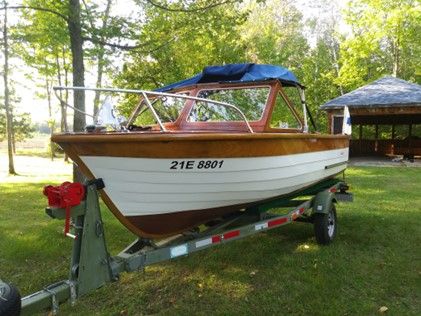 Spring 2020
Next came a search to find a way to enjoy boating even under rainy skies, day or night, but staying dry and comfy!
I had a full bimini top custom made that is fully waterproof. Mine is high enough that I can walk upright in my floating castle. Ok, yes, it did make a serious hole in my wallet.  But it is durable, and if made with the right materials, will last more than 10 years, and requires little maintenance and care.
September 21st, 2020
Boat restored, launched, sea-trialed, and a christening party with family, friends, music, and a few drops. It was a good time and somehow, it was a milestone to the faith and endurance required for such a long and learning process. Not far from life itself.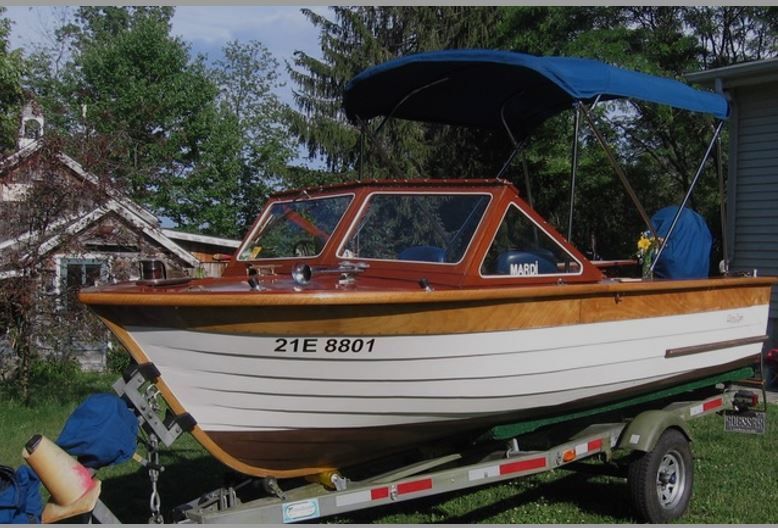 I've been using this 18 foot Skipper for the last two years and I'm very happy with it. The decision to buy it and restore it, has fulfilled my desire to be more comfortable aboard with a bit more space available. Good choice for me. And a great Cliffe Craft!
Until we meet afloat, thanks for reading my articles. I do appreciated it. And remember, a floating tree trunk and your boat aren't so far apart. Modesty and simplicity pay in the long run, while sailing you somewhere.
Cheers – Marc
By Marc Benoit
Born in Montréal in 1951, Marc has a broad spectrum of interests fueled by his past studies and experiences in music, plastic technologies, artist management, and restoring violins. He has been a full-time musician touring North America for over 50 years, being active in the folk milieu in Ontario and the rest of Canada for two decades. For a time, his music was produced by the late Stan Rogers. Marc's knowledge of wooden boats serves him well through his appetite to enjoy being on the water, discovering sights and scenes and yes, messing about with boats!
Be sure to see Marc's other Cliffe Craft articles.
• February 2002: Cliffe Craft Revisited
• March 2002: Excursions with my Cliffe Craft
• March 2022: How to Restore a Cliffe Craft – Marc Benoit Style
Posted in: Volume 17, Issue 5, May 2022, Sports
---
---
---