In my stories, I have focused not only on the boats, their history, and their restoration, but also on the great moments they can offer the owner, being able to use them a sense of pride and accomplishment. And don't forget – boats are really just "floating logs" to get you somewhere, in a certain fashion, and with a song in your heart!
Taking excursions on my Cliffe Craft boats have provided many happy memories – some I am sure that you too have experienced!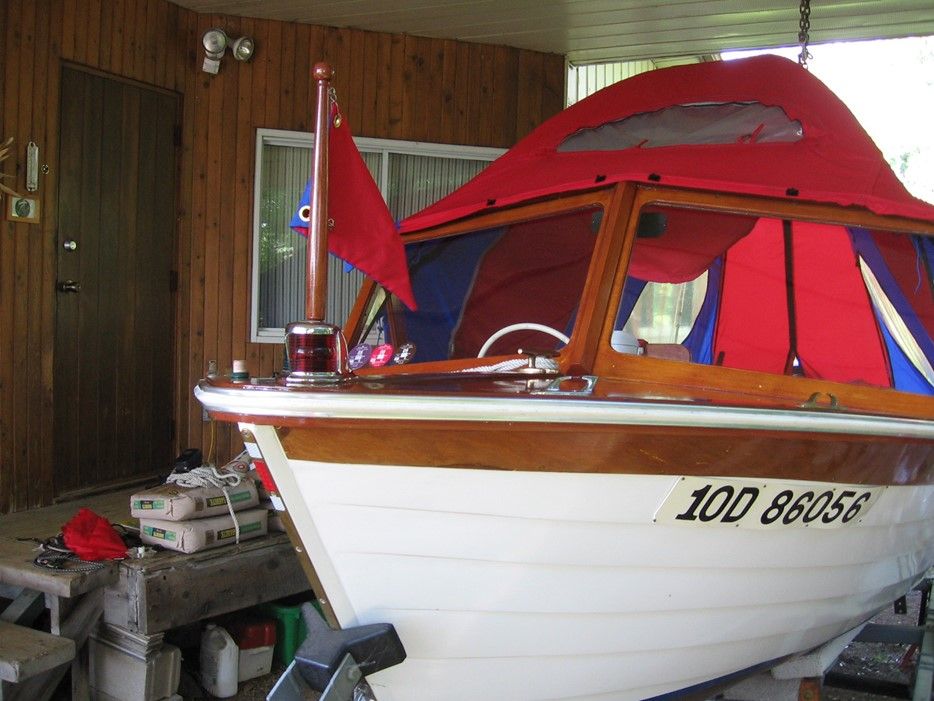 We cruised the waters around Montréal and Lake Champlain, enjoying our Cliffe Craft "Islander", a 15-foot wooden boat. In the summer of 1997, we went to Ivy Lea, ON, and the Thousand Islands, with all our gear and necessary equipment, to go camping with our children.
Some kids are well in tune with camping and boating adventures. This was our case, as our kids would happily take a boat ride anywhere, anytime. I was the Papa Bear of the clan and took safety as a primordial thing. Unfortunately, boating well-being and safety can sometimes cause distracted actions, when taking care of loved ones. So it happened that the plexiglass windshield of the Islander was accidentally broken. Luckily, no one was hurt, just my captain's pride!
Back in Montréal with a windshield-less boat, my immediate goal was to find a replacement. Despite my zeal, I had no luck and found no local prospects. But then I remembered that the Thousand Island Parkway, leading to Gananoque, harboured a few boat dealers and shops along its route.
So off we went in the van, with boat trailer hitched up, and were soon on the Thousand Islands Parkway. After inquiring here and there, I arrived at Huck's Marina, in Rockport, ON.
"Sure, I've got a windshield for your boat. It's on this Cliffe Craft, up in the rafters in the shed. Want the windshield? You can buy the whole boat, with mercury motor, for $400."
So, I bought the whole thing and we drove back home. (There is a lot more to this story in Chapter 3!) The windshield was a fit for Islander and so it was installed.
Next Excursion
Beginning in 1996, I took many rides to Gananoque from the Mallorytown Landing boat ramp. It's an ideal place to start; launching the boat from their nice ramp, with parking for the vehicle/trailer, and restrooms. They also provide local information and even a place to camp.
On one of these occasions, the weather was perfect until a big squall hovered above us, prepared to unleash a very serious downpour. We weren't far enough on our way to Gananoque, so we made it back to the docks. As we made fast the boat (our Cliffe Craft Islander), the skies opened and down came the rain on us and boat, before I had any chance to put on the tarp. We had a washed out boat! Ten minutes later,  all was bright, sunny and we were totally drenched!
After drying the boat, we installed our tent-like boat shelter and went to enjoy a BBQ supper.  Getting back to our boat as night was falling, we were welcomed aboard by zillions of mosquitos, all eager to bite. Enough of them that we flew to our nearby van to enjoy a bug-free sleep.
Since it was sunny the next day, we motored to Grenadier Island and spent a leisurely day there. By the end of the afternoon, we had the same routine: tent set up on the boat and our evening meal. When the night was setting in, we anchored, and we went to sleep.
An hour later, we were awakened by thousands of mayflies, in such numbers that it was difficult to breathe. At sunrise, the picture was a total white out in the boat. All dead flies, clinging to everything and gathered in thick masses in every corner. It was quite a sight!
Nature has its way of grabbing opportunity on a still humid boat floating near a first class reproductive happening! Lots of laughs on the shore of Grenadier Island that day.
Other Adventures
While living in Oka, QC, located on Lake of Two Mountains (a widening of the Ottawa River west of Montréal), we found that this was a good starting point to go further west all the way up to Ottawa, the nation's capital. I made this trip many times. Going very slowly, I would make a round trip in four to five days, while stopping in Grenville, Rockland, Montebello, Thurso, L'Orignal, and Hawkesbury, all small towns along the Ottawa River.
It's an easy ride, starting with the impressive lock at Carillon, which rises over 60 feet. Sailing on with nautical charts on this route is very instructive for a novice. Experience is a good teacher.
On many other occasions, the treks were more adventurous,  heading to far away destinations. Twice I've made a trip, as always with my Cliffe Craft Islander, to Burlington and Vergennes, Vermont.
After leaving Oka, we crossed eastward on Lake of Two Mountains and went through the Ste-Anne-de-Bellevue lock, which took us to Lake Saint-Louis (a widening of the St. Lawrence River, again, west of Montreal). Then, rounding off Île Perrot, Île Baker, in sight of Beaconsfield, Pointe-Claire, Dorval, and finally the last section of the lake, Lachine, to go through the Lachine locks, which are 14 km long  (about 9 miles) and have 5 locks.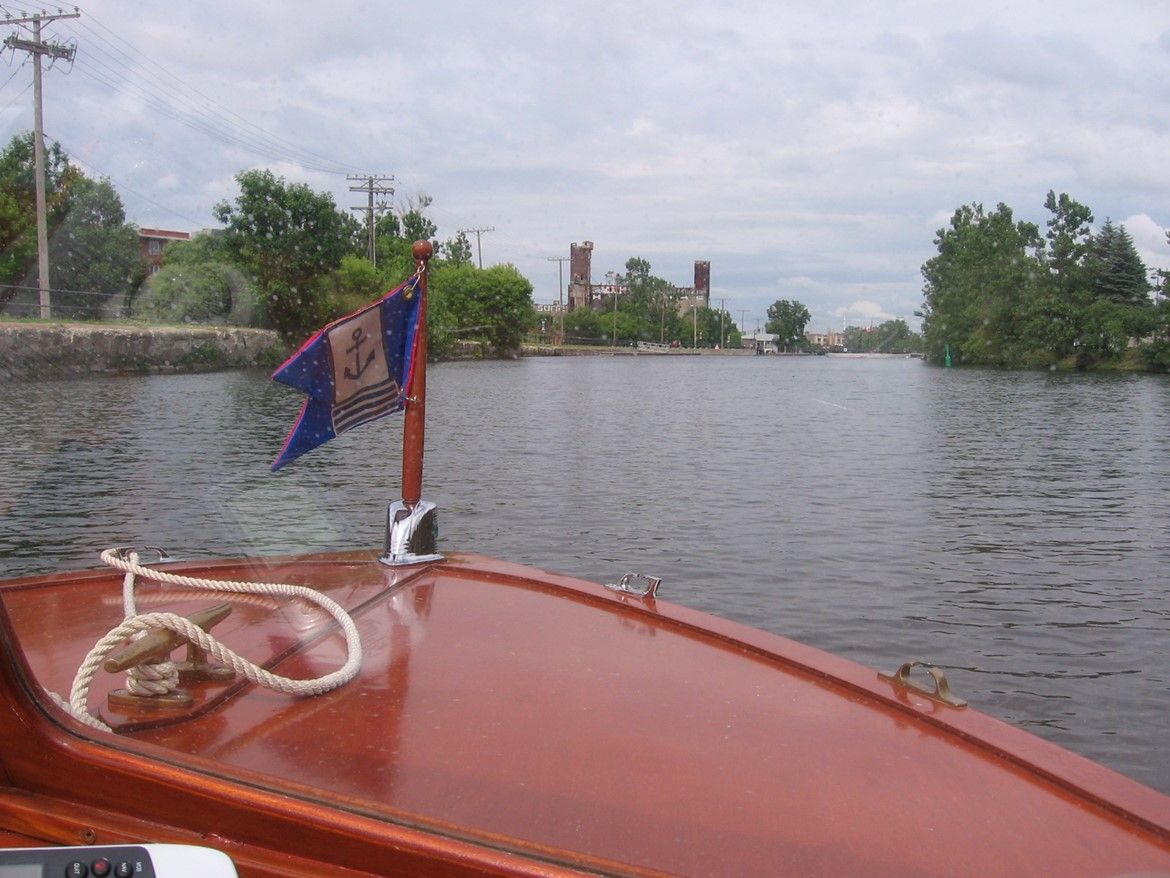 Here you get a typical view of the south-west industrial section of old Montréal, with things to do and to visit; McAuslan brewery, Atwater marché (market), Old Montréal Harbour, Old Montréal Place Jacques-Cartier, and the Science Center. The next section can be a challenge to traverse, as you pass through the Rive St-Laurence pass.  Next comes Isle Ste-Hélène (the site of Expo 67), Quai de l'Horloge, and then under the Jacques Cartier Bridge.
There are strong currents near the Quai de l'Horloge, but they're easy to manage if you're an experienced navigator. It's always a special feeling to cruise pass huge transatlantic container ships in a 15-foot boat! Not to mention the recent appearance of a whale, seen a year ago, frolicking right there amidst the busy harbour activities.
The route now takes us to rather quiet waters, even as the River continues to see huge masses of water roll past the south shore communities of Boucherville, Varennes, and Verchères, with their interesting islands and many historic places.
The next major stop is at Sorel, a very industrial area, and not so nice. The archipelago of Sorel and Berthier Islands on the north and south shores, is an enchanting cruise to to make, with wildlife, birds, and high grass lagoons, which are both placid and bucolic.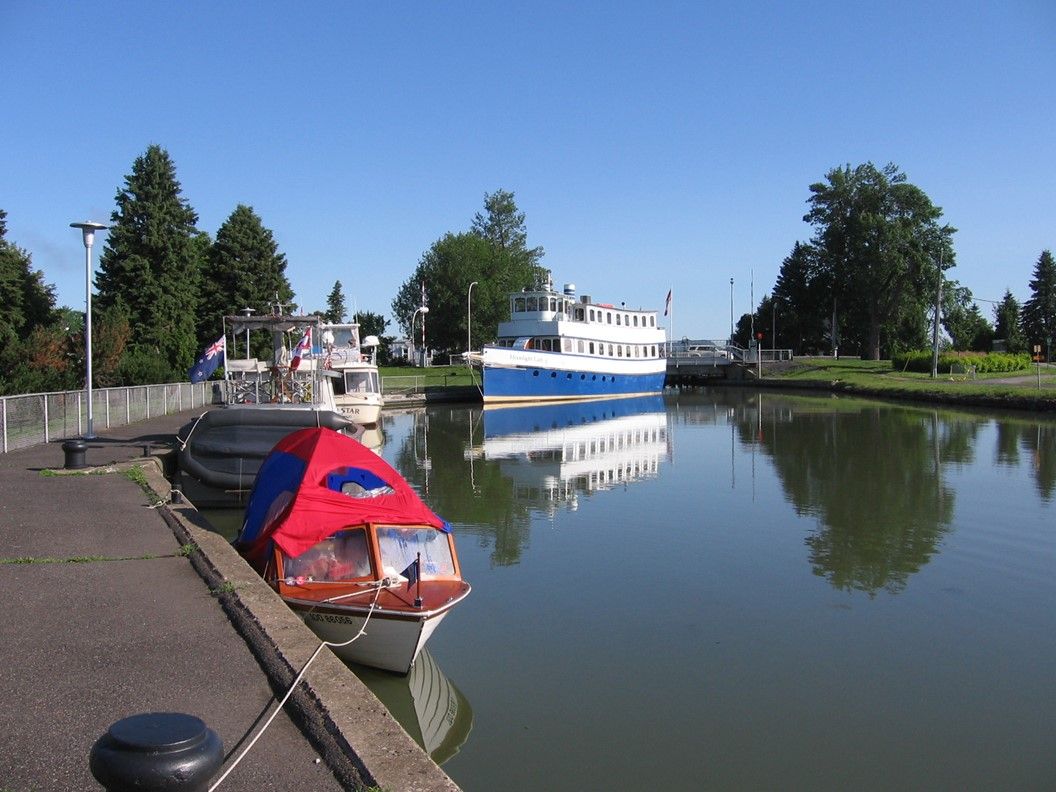 At Sorel, you leave the St. Lawrence River and enter the Richelieu River, which flows north from Lake Champlain and is 124 km (77 miles) long. Next comes the Saint-Ours lock, as I pass Beloeil, St-Marc-sur-le-Richelieu, and finally coming to Chambly, where there is a nice Fort to visit.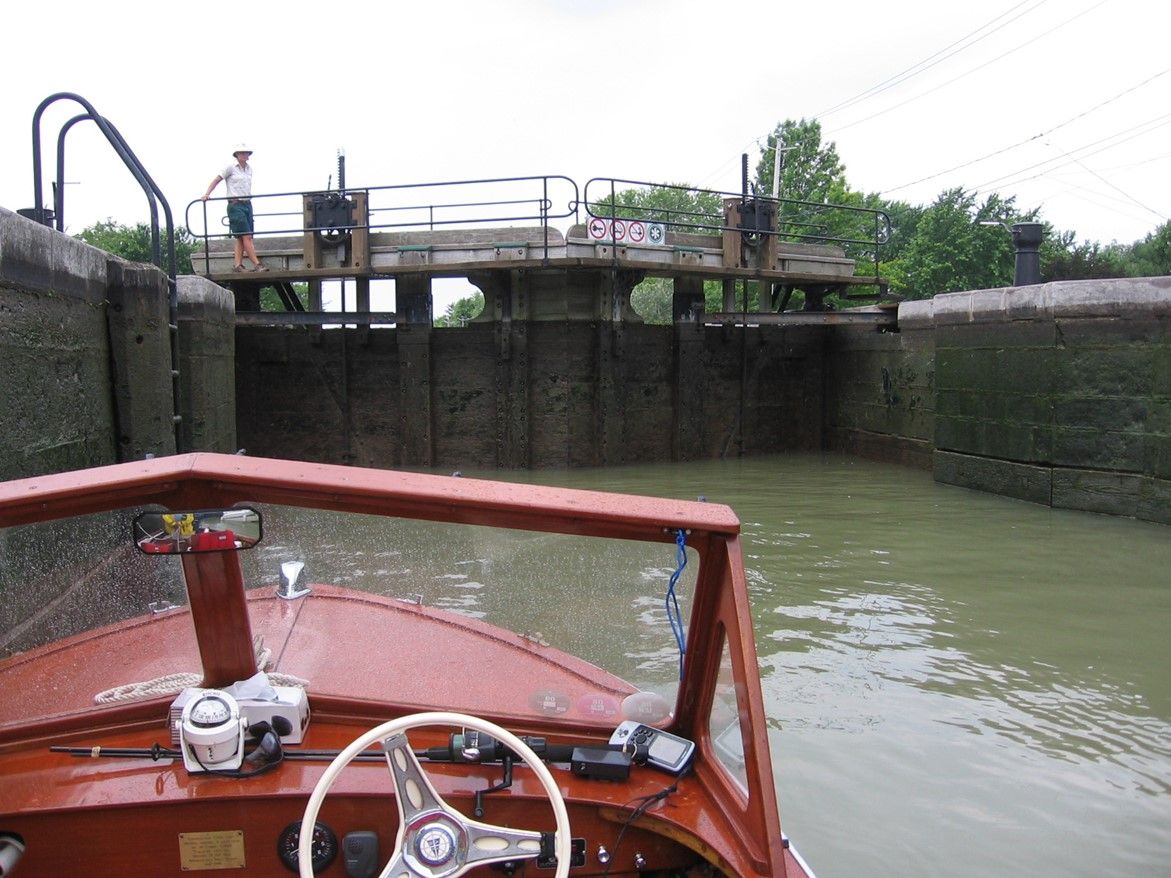 The Chambly Canal is 18.9 km (almost 12 miles) long and has 9 locks. From there it's very nice, quiet cruise to St. Jean-sur-Richelieu and further on to Isle-aux-Noix, Noyan, and then the US border. Finally, you enter Lake Champlain before arriving at Burlington and then Vergennes, which has an interesting maritime museum. At my pleasant pace, it's a three-week trip, including stops here and there at friends who have accessible docks!
My next cruising excursion will take me on the Rideau & Trent-Severn Waterway systems, on the Saint-Maurice River, and to the Sorel / Berthierville archipelagos.
Cliffe Crafts are always a head turner, being lovely and quiet as they glide effortlessly through the waters. Throughout these travels, my Cliffe Craft boats – the Islander, the Dart, and the present Skipper – all have proved to be seaworthy boats, easy to handle and quick to respond, at a leisurely pace. All three are comfortable with the right equipment, and two adults can manage well with a pop up tent or a full Bimini top.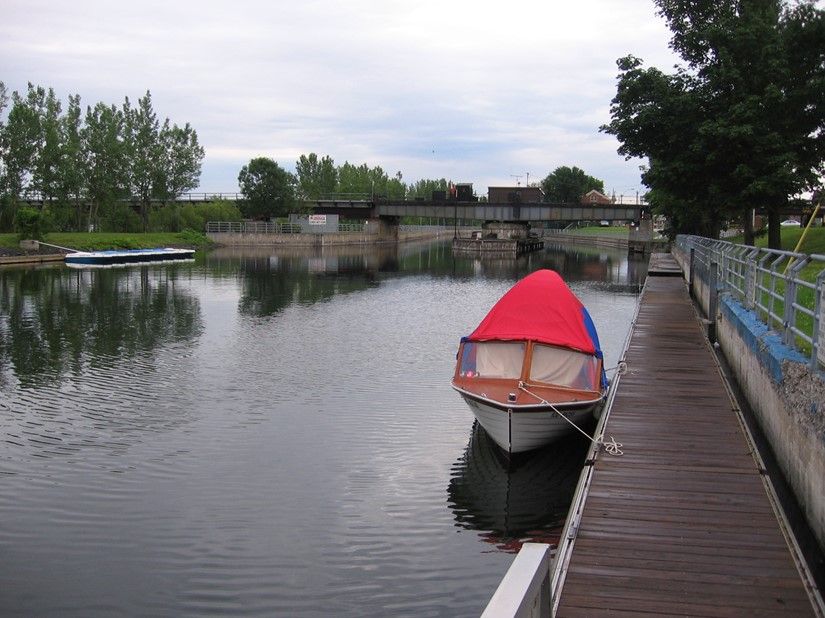 I'll drop anchor here until my next article, which involves my 18-foot Skipper, bought in Consecon, ON, in 2014 and fully restored over seven seasons of very challenging wood working. Another thrilling project with a lapstrake Cliffe Craft wooden boat. Until then . . .
By Marc Benoit
Born in Montréal in 1951, Marc has a broad spectrum of interests fueled by his past studies and experiences in music, plastic technologies, artist management, and restoring violins. He has been a full-time musician touring North America for over 50 years, being active in the folk milieu in Ontario and the rest of Canada for two decades. For a time, his music was produced by the late Stan Rogers. Marc's knowledge of wooden boats serves him well through his appetite to enjoy being on the water, discovering sites and scenes and yes, messing about with boats!
Posted in: Volume 17, Issue 3, March 2022, Sports, Places
---
---
---