By now the news that Will Salisbury left the River early on Tuesday, August 9 has circulated. There will be many tributes given in the future but this editor was fortunate as TI Life was able to highlight Will Salisbury's work many times over the years. I am pleased to share them again today.
First meeting
Will Salisbury Making Waves - By Susan W. Smith
Jan 13, 2014 — Will Salisbury was born in 1949 in Syracuse, NY beginning his work as a sculptor at sixteen. Many have viewed his work over the years as he is  . . .
A Tree of Books
The Library Grows a Tree – by Susan W. Smith
How the Hawn Memorial Library in Clayton commissioned a sculptor by William Salisbury.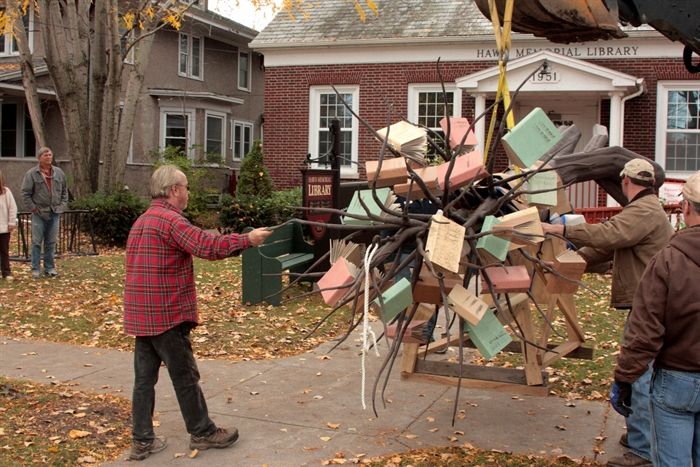 . . . It was at that point that Glorian Reinman became involved.  A dynamic fund raiser, she helped secure the funding for a new roof on St. Mary's Church and renovations at the Clayton Opera House.
"We had an initial goal to raise at least half of the required funding by selling at least half of the 25 books that would become symbols on the Tree of Knowledge. The first person I asked was Ken Deedy and he  not only contributed but encouraged me by his enthusiasm. I ride a bicycle all over town and so I put the written materials in my basket and continued on my quest."
The Friends placed a big banner outside the library announcing the project and soon the donors came forward.  "We had both year-round and summer residents participating.  We not only sold all the 25 of the Tree's books, but we almost had a waiting list!".   Yes, the Friends raised the required funds and more importantly built great pride in the project and the Hawn Public Library.
---
Website Taking Hours to Create
Will Salisbury's Gift to the River - By Susan W. Smith
Will is truly a treasure of the Thousand Islands. He is an integral part of the magic of the St. Lawrence Lawrence River. There is no one that I know that has not  . . .
. . . Ok, so it is  cold outside, and/or it is "another sunny day" in Florida… What to do?  You should be concentrating on work, or out holiday shopping, but the  stores are too crowded, and besides, you need inspiration…
I have  the best suggestion ever. Visit an art gallery right in front of your  screen! Even see the artists other works… Yes, you don't have to go out  on a day like this. You can hit www.northcountryartists.com, and sculptor, and artist Will Salisbury will take you on a private tour of his favorite studios.
It  is a brand-new site created by Will Salisbury, to pay tribute to other  River artists.  (And this Editor sends a very big THANKS.)
---
Tribute in Verse
Tribute in verse by  To My Friend, Will Salisbury - by Donald E. Spurrell
A black MG unwinds the twisted sweeps of island road. A fleeting respite from tortured dreamscapes of conscience. In the moment now the winding machine is . . .
---
Seeing is Believing -
Thanks to Scott Ouderkirk's You Tube "Will Salisbury" plus an article Scott wrote for TI Life about Will and other North Country artists we have more perspective.
---
And most importantly "The Book and the Sculptor" . . .
Richard Margolis wrote:
When the Arts Center offered Will a show, I decided that I could provide photographs of his sculpture that were too big to be exhibited. In recent years he completed "The Muskie" and "the Swan and the Trailer", "The Great Dane", and "Standing Bear." Yes, it was a perfect time for me to help showcase his work.
We thank Richard for capturing the work of Will Salisbury - without this book, we may have lost an important history record.
Sad News - June 2020, From the Editor
In June 2020 we learned that Will lost his Karen. At the time I paid tribute by writing:  Karen Matthews Salisbury
Sharing a life together is a joy and a privilege. That is just what Karen Matthews Salisbury and Will Salisbury had for many years.  We learned this week that Will lost his wife to cancer on August 3, 2020, and tributes are coming from far and wide. Karen was an island girl, having grown up in Alexandria Bay. She and artist/sculptor, Will Salisbury, married at Densmore Church on Wellesley Island. In January 2014, when I profiled Will in TI Life's "Will Salisbury Making Waves" I wrote, "then there is  the personal life. Will and his wife Karen Matthews Salisbury were  married in 1984. He had planned to live on Grindstone Island year-round,  but Karen, as he put it, 'informed me I was in error (as usual) and we would get a place on the mainland too.' . . .  Will Salisbury's work is being exhibited at the Thousand Islands Arts Center beginning on July 18 to August 29. I think you can tell who helped build Will Salisbury's success.
__________________________
Goodbye River Friend
I appreciate all that Will has done and what other artists have and continue to do for our communities. This River is not made up of just citizens living on or near the water, but rather individuals who do amazing things, and we need to remember to thank them often.
By Susan W. Smith, Editor, susansmith@thousandislandlife.com
Posted in: Volume 17, Issue 8, August 2022, News article, People, Artists
---
---
---