By Sherry L.B. Johnson and Philip Britton

The TI Life February article "Is the Architect as Interesting as His Architecture?" prompted Philip Britton to raise the question that started it all.
"We are the residents of Mudlunta Island and would love to know which structures on Mudlunta you referenced that Mr. Lent had designed? Your feedback would be greatly appreciated."
The simple answer was "The Mudlunta structure is a cottage for New Yorker, C.V. Schuyler. The cottage was contracted in 1901, built 1902 by Mitchell and Willson of Gananoque. Schuyler was from New York." That info is from appendix A to "The Domestic Architecture of Frank T. Lent" by Margaret Brule.
The simple answer made me curious about what, if anything, I already had or could find on C.V. Schuyler. The little that I found was interesting. Not able to take time to dig deeper then, I reached out to Philip Britton to see what he knew. His response was everything I had hoped for! "Thanks for reaching out." He proceeded to provide lots of information, including: "The smaller, original cottage built on the south shore of the island was first occupied by the Schuyler family. Alice Britton Schuyler was C.E. Britton's niece." At this point, I suggested that we had the basis for an interesting article and we teamed up to write this story.
Once I had Philip's information, including that the Mudlunta resident C.V. Schuyler was married to Alice Britton, it was possible to quickly find the right people to research. The first helpful document was their marriage certificate. It gave me much useful information as well as a question. Why would the daughter of Byron Moffatt Britton, lawyer, judge, and one time Mayor of Kingston, be marrying a New York salesman?
Born in 1864, CV was the second of the three boys born to Henry Kingsland Schuyler and Ellen Post Valentine on their family farm. In researching the family, we found that especially surnames were used frequently in the naming of many of the Schuyler children. I can think of worse names than Campbell Valentine to be saddled with, but . . .
It's hard to get a good picture of CV's occupations over the years. Census info and directory listings show a changeable mix of salesman, silversmith, and manager. So, I'm going to wander into the realm of historic fiction here. Maybe true, maybe not. It looks to me as though it would be possible to show that CV's father was related to Jacob Rutsen Schuyler. Jacob was one of three partners in a very successful military goods, firearms, and fine cutlery manufacturing business, founded in 1854. So it's quite possible that CV got his start there. In any case, by 1915, when census info started to include employer info, CV was working for William B. Kerr Co. They produced both high end art nouveau jewelry and a line of well-advertised useful everyday items.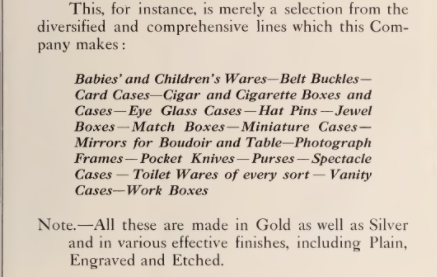 The Kerr Co. sales team worked routes that covered Canada as well as the United States. That would explain how CV became employed in the trade that he was, and how he was in the social circles that allowed him access to people like the successful Britton family, in the Kingston area.
CV likely first married in 1888, at the age of 23, and was widowed after four years of marriage to Sarah. They had no children. He had been a widower for 6 years before marrying Mary Alice Britton, on June 1, 1894. The couple lived in the US, had no children, and appear to have retired to Canada at some point.
So now we can turn our attention to the Lent-designed cottage and Mudlunta Island. Gananoque born industrialist Charles Edwin Britton bought Mudlunta Island in 1875. This map will help us get oriented.
The roughly 8-acre island is divided into 5 parcels. The open central area where the cottages are located is divided into parcels 1, 2, & 3. There are beaches and docks on both shores. There has never been any desire to "civilize nature" on parcels 4 & 5, or on the small islands shown as being part of the property.
The cottage that Frant T. Lent designed in 1901 for CV Schuyler stood on parcel 1 until it burned down in 1985. A new cottage now stands on the site. Around 1910, the Schuylers passed the usage rights to this cottage to Russell Britton, Alice Schuyler's cousin. It appears that she may have had a special soft spot for her much younger, fair haired, blue eyed, cousin Russel. I wondered if perhaps I would find her as a witness at his 1910 wedding, but no such luck. The cottage usage rights passed to the Orr branch of the Britton family, after Lt. Col. Russell Britton's death in France in 1917. In 1918, Alice applied for a passport, planning to leave her position as VP at Bloomingdale's Day Nursery and go to work for the American Fund for the French Wounded. She appears to have been in France doing that for about 9 months.
The main "Britton" cottage was built on parcel 2 in the late 1870's. It burned fairly soon after but was re-built on the same site around 1888. In April of 1985, fire again destroyed 2 of the 3 main Mudlunta cottages, leaving only this Britton cottage on the south shoreline. Today this cottage is shared by six Britton cousins and their families.
This cottage was given as a wedding gift to Margaret, one of the daughters of Charles (C.E.) Britton. Charles retained ownership of all the island property, giving family members cottage rights. Margaret married Harold Bedford-Jones and their descendants still use the cottage at this location. The original cottage burned in 1985 and has been rebuilt. Some extra photos that just begged to be used. How could I resist?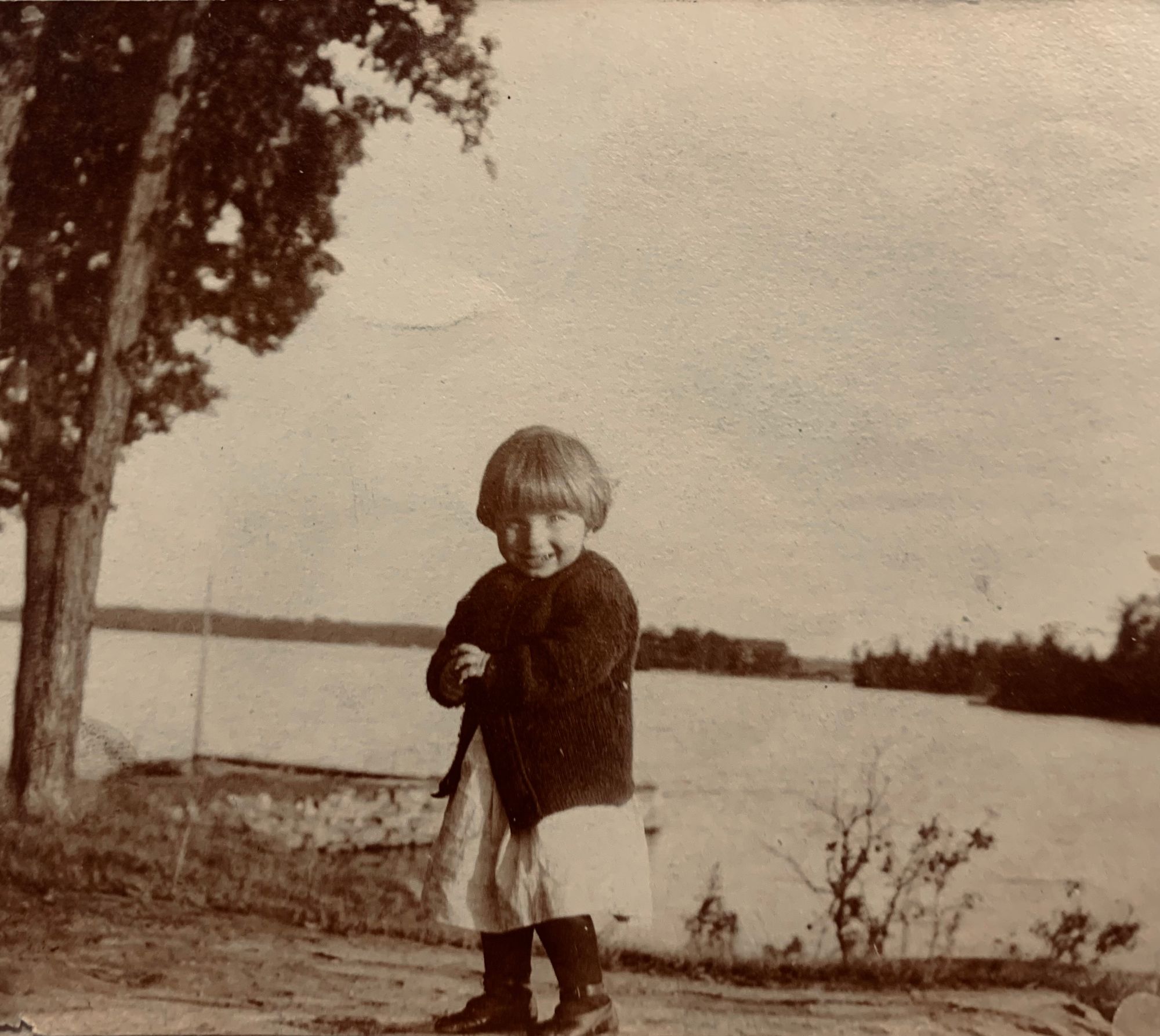 This article would not have been possible without the contributions of Philip Britton and the other family members who summer on Mudlunta each year. I have had the privilege of being able to put a small portion of their knowledge of the Island's history, and the resources of the Mudlunta Archives, into a form that allows it to be shared with the readers of Thousand Islands Life Magazine.

By Sherry L.B.J. and Philip Britton
Sherry Johnson lives in Gananoque and is a writer and researcher for GanWalking, which is focused on heritage storytelling, research and building a strong accessible research and genealogy community. Home is a "handyman special" under slow improvement, with things like solar panels and heat pumps a priority. Retired from food service and hospitality, Sherry says she has, "become one of those old ladies you watch to see what she's going to get up to next."

Philip Britton and his wife Joanne reside in Fayetteville, NY and he has recently retired from a culinary and sales career. Being a 4th generation Mudlunta family member, Phil chose to remain close to the River to allow for a closer connection to the Britton cottage on Mudlunta Island and the extended family so closely tied to it. Whether on the Island or at home in upstate New York, his favorite pastimes include woodworking and wooden boat restoration. Phil feels strongly about instilling the importance and continuity of family love, responsibility and cooperation in the next generation of owners in order for Mudlunta's legacy to carry on
---
Endnotes:
More about Dee & Diddy can be found in the Thousand Island Life, January 2012 article "Mudlunta's Matriarchs" , written by Kim Lunman.
Also see Is the Architect as Interesting as His Architecture?, TI Life, December, 2022, written by Sherry L.B. Johnson.
Header photograph: A winter view of the Mudlunta Island cottage designed by Frank T. Lent [Photo courtesy of Mudlunta Island Residents Archives]
Posted in: Volume 18, Issue 3, March 2023, History
---
---
---