Franklin Townsend Lent 1855-1919

Franklin Townsend Lent's works are among those that have been researched as the early development of resort architecture in the Thousand Island region of Upstate New York and Ontario begins to get scholarly attention. Lent lived in Gananoque from about 1900 to 1910.
During this time he was an active member of the community and likely the only practicing architect. The home he built and lived in during that time still stands on the corner of Clarence and Market streets.
For the rest of his life he continued to return to Gananoque to spend his summers at his Island Home "Wee Rocks". on Wanderers Channel in the Admiralty Islands. While in Gananoque, he designed not just town and island residences but factories, boat houses, churches, stone walls, water towers, ice houses and a clock tower.
Those who should know, believe there are many more of Lent's works in the Thousand Islands than have been identified.
Franklin Townsend Lent was a writer. He published several pamphlets and three books with very long titles. In his books on home building Lent addresses those thinking of having a home built, not the builders and carpenters. He writes with flair in a style likely to catch anyone's interest. Delightfully he also wrote of the true story of how Mary's little lamb followed her to school one day. It was published in The American School Board Journal, June 1913.
Franklin Townsend Lent was an illustrator and painter. His books are illustrated with his photographs and drawings. He was a member of the Academy of Design. Mention of his work is found in 1880's listings of galleries and art exhibits. While living in Colorado Springs, he was part of the group that developed Colorado Springs's first art school.
Franklin Townsend Lent was well educated. He studied at the Poughkeepsie Military Institute, trained briefly in the Netherlands as an artist, and got his masters degree in science from Rutgers University.
Franklin Townsend Lent has always been best known as an architect. He was a member of the American Institute of Architects and a fellow royal of the Canadian Institute of Architecture. Lent's architectural apprenticeship was two years with the New Jersey based firm of William Appleton Potter in New Jersey. He began his architectural career in a sanatorium, where he recovered from poor health in the Adirondack Mountains followed by a move to Colorado Springs perhaps also for health reasons. In his first twenty years as an architect he designed and supervised the building of over 200 suburban residences in nine states.
Included in the long list of Thousand Islands homes designed or renovated to designs by Lent are ones on White Calf Island, Heritage Island, Ynyscrag Island, Rabbit Island, Manhattan Island, Zavicon Island, Mudlunta Island, Tremont Island, Hickory Island and two on Hill Island.
Gananoque is not alone in protecting some of Lent's architecture (The Clock Tower and Sleepy Hollow B&B) with historic designations. There are at least eight of his buildings on the United States National Register of Historic Places. Vintage postcards from Ganwalking's collection show many of his buildings have attracted the attention of visitors to Gananoque from the time they were first built.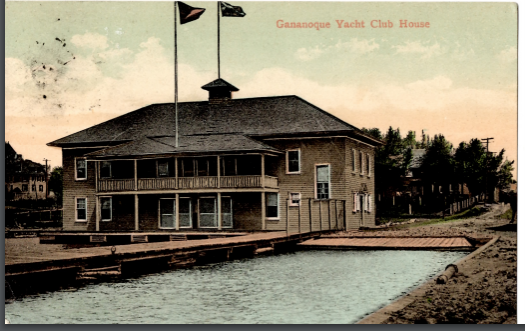 By Sherry L. B. Johnson
Sherry LBJ, is non-standard in approach to life and name. Why LBJ? B for her maiden name, J for her married name, and L for the middle name she always hated to balance the surnames she's used over the years belonging to the men in her life. Sherry lives in Gananoque and is a writer and researcher for GanWalking. Home is a "handyman special" under slow improvement, with things like solar panels and heat pumps a priority. Retired from food service and hospitality, Sherry says she has, "become one of those old ladies you watch to see what she's going to get up to next."


[Editor's Note:  Be sure to see Frank T. Lent, Architect. Presented by Dolores R. Buckley in TI Life's history section for a listing of many of his works. Ms. Buckley discovered the material while research Frant T. Lent and asked to share it with TI Life.]
Posted in: Volume 17, Issue 12, December 2022, History, People, Places
---
---
---