If you read my previous stories "Unexpected Journey" and "Unexpected Journey II," you know I'm not a lifelong River Rat, but I love the River. I have enjoyed so many adventures and experiences here.
My first summer on a private island was the 2015 season on Little Ninette Island in the Navy Group. It is  a beautiful place with a cottage perched high on the rocks. David Alibrandi (my fiancé) bought this island in the 1980s. The previous owners indicated the cottage was a "Montgomery Ward Vacation Home Kit." The layout was one room that included a small kitchen, dining room, living room, and area with a partitioned bedroom. There was an open front porch that overlooked the River. Also, there was a small bathroom (thank goodness).
On the point of the island was a collapsed building or gazebo that was removed, and David built a Bunkie/Home Office. Over time he also added two lovely bedrooms and remodeled the worn out old kitchen.
When I met David, he indicated he was listing the island and cottage, and I enjoyed, with his permission,  decorating all of the rooms. It was my pleasure to add character, color and comfort to the cottage with items I found tucked away in closets or drawers, and it sold very quickly.
David commented many times that he loved everything about owning this piece of paradise. However, the steps up to the cottage from the dock were becoming a problem due to his knee issues, Certainly hauling groceries and everything up the steps was a chore and became difficult; especially carrying those big jugs of water.
We concentrated on finding a mainland waterfront property, and we discovered an old cottage on Rose Island (near the Ivy Club and Marina). We were fortunate as this cottage had so much to offer. "Waterfront, floating docks and a boathouse,  a driveway directly to the cottage, privacy, two bedrooms, one full bath, one-half bath, sunroom, bunkie, wrap-around deck plus a beautiful view."
However, the cottage was dark, dingy, with no updates since 1965. The interior was void of any decorating and only had a bunch of old worn-out furniture. But, I closed my eyes and envisioned what it could be and how we would make it a beautiful, comfortable, warm, cozy, seasonal cottage.  I immediately put my computer skills to work and designed a plan. We acquired the property in the winter while we were in Florida so we booked flights several times, flying into Ogdensburg, NY, crossing the border and staying at the Comfort Inn in Gananoque, ON. We met with a construction crew and spent lots of time with kitchen designers.
The crew started cleaning out the cottage, which including throwing away old worn-out items, ripping out the kitchen, and laying new flooring. We painted every room and changed the configuration of the entrance to the master bedroom. Adding a barn door on a track as the entrance to the master bedroom made such a big difference, and it allowed a view of the River from the bedroom. That was a small project that made a significant impact on the feel of the room. This was the very first update in 52 years for this unique cottage and well worth the time and money.
The kitchen came together and we added a dishwasher and all new appliances. The difference of the before and after pictures show how we transformed a charming cottage.
We spent the next year (2018) on Rose Island and made some great memories, but it was time to sell and try to find a property in the United States. David and I concluded we should stay in the US due to our age, and in the event we needed medical attention. Crossing the border to visit doctors in Syracuse was an all-day and sometimes two-day affair. We sold our charming cottage and decided 2019 could be a year to travel around the world or to other US destinations.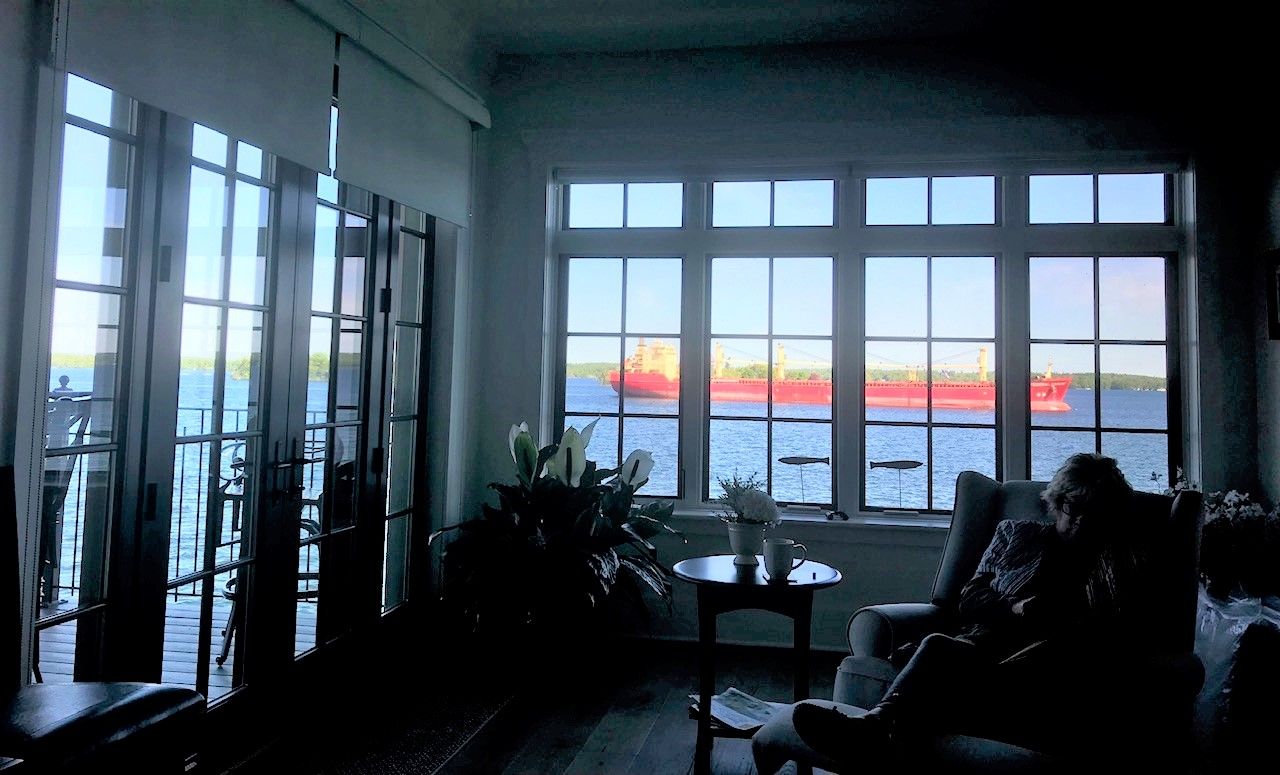 During the winter of 2019, while in Florida, we inquired about a new building built on the River in Clayton and learned we could rent an apartment on the third floor for the season. Just the thought of not having a cottage on the River was difficult for David as it was so much a part of this life for over 35 years. So this opportunity was exciting. Since the apartment was unfurnished, we got busy checking online for new furniture, and we needed everything. We had the apartment completely furnished in three days and moved in the same day the furniture was delivered.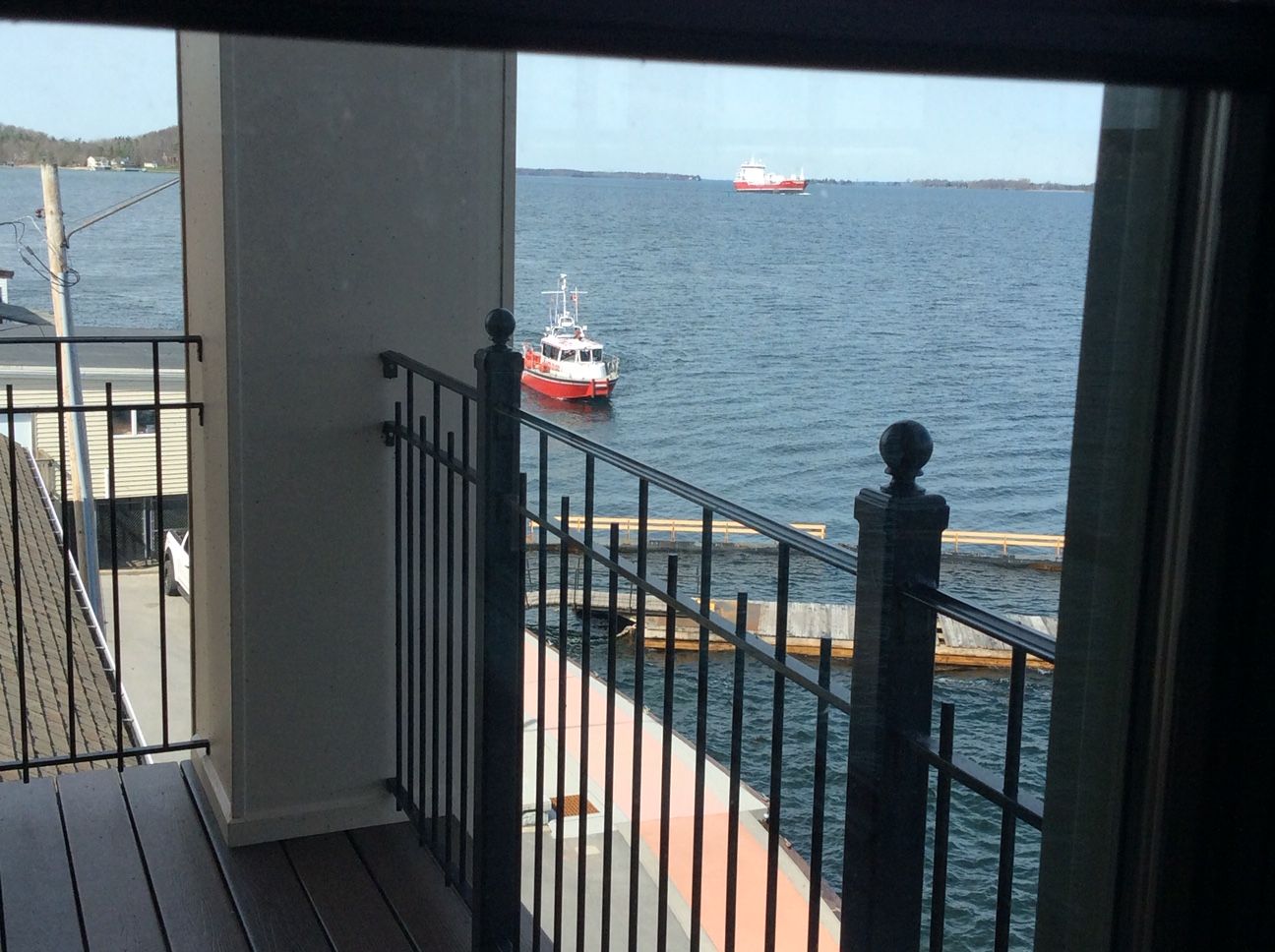 What a view we had from the windows and balcony in the Clayton Yacht House (the building's official name) above Freighters of Clayton and DiPrinzios Kitchen restaurant.  The season was great, and we certainly enjoyed all the River has to offer. Where can you live on the River that an elevator takes you right into a restaurant? Perfect for a stormy night, or when you don't feel like cooking.
Our boat was a short drive away docked at the Islander Marina and Lodge, which offered boutique rooms for any guest that came to visit us because all of the apartments in the Clayton Yacht House are one bedroom only.
Forth of July was so special; we had front row seats on our balcony for watching a spectacular fireworks display and all those who came by boat or lined the shore to see the fireworks. Indeed a lovely evening.
When Fall was approaching, the streets all around our apartment were going through major construction and it was time to go back to Florida and think about how we could be on the River in 2020. We searched and searched for a property and kept coming up with nothing. Trying our best to find a move-in ready cottage with little to no renovations seemed like such a challenge.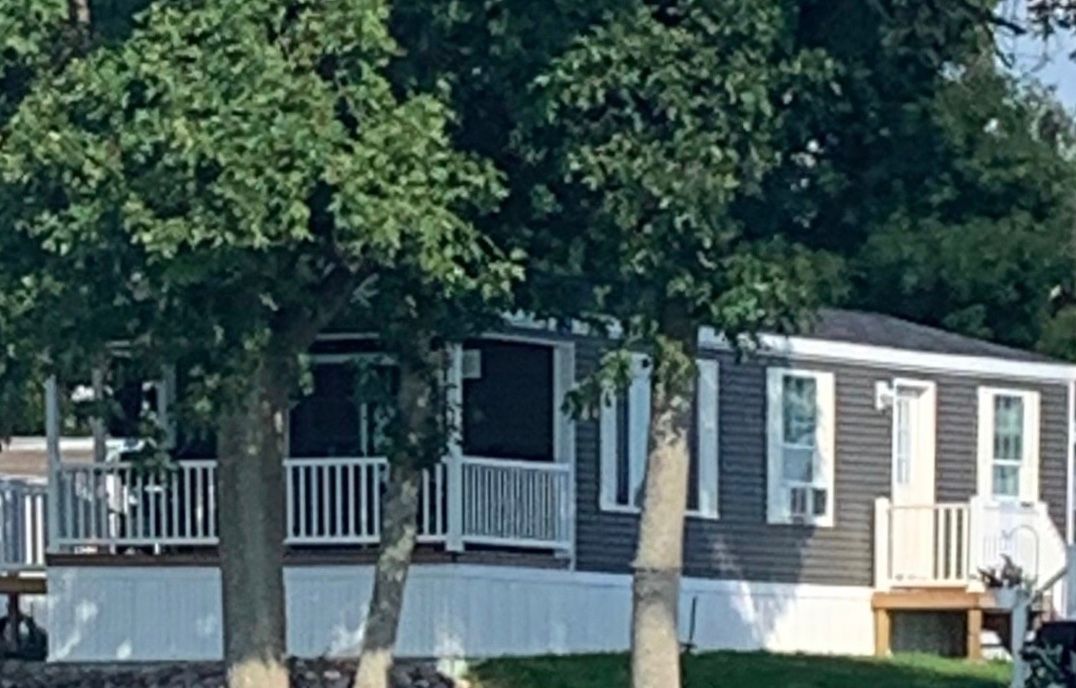 This year's Pandemic was one obstacle getting in the way of traveling, but we decided to leave Florida and travel to the River for a few weeks to explore the area and find someplace to buy and enjoy for the season. Much to our surprise, during a ride along State Route 12E we saw a sign and immediately inquired about a place for sale. What a big surprise to find an adorable brand new "manufactured home" located front and center on the River.
David was on a mission and refused to give up the search, and this charming place sealed the deal for him, and I knew he was so excited to find a place so quickly. I told David that we saw this place last year on a ride to a Cape Vincent, and it was located close to the road with a sign "New" and "For-sale" but we just didn't inquire and drove right on by.
Where could we find something so affordable, brand new and directly on the River? We came to the conclusion this was a great find and the owner accepted our offer. We thought about returning to Florida and gather up all the items needed to set up our new summer home, but with the quarantine rules, that was not an option, so we bit the bullet and bought all new furniture plus everything we would need for the season.
My first instinct was focused around the small amount of clothing I packed for a short vacation. Our plan had included visiting Maine but then we learned of the necessity of having to quarantine for 14 days, so we canceled our reservations. I don't think either of us knew we would find a nice River home so quickly. I thought for sure, we would return to Florida and endure the heat and stay home to avoid any contact with others due to the Pandemic. The number of Covid cases were increasing each day in Florida so we had some significant concerns about returning.
So much had changed in a few short months, and we felt grateful to be in upstate NY, away from the areas with high Covid cases. We are now secluded and it feels safe, but we still take all precautions when we have to shop for groceries. Online ordering seems the way it will be for a long time. I ordered window treatments, curtain rods, shower curtains, towels, etc. All arrived as indicated, and we did not have to go into a store.
Many years ago, Andy Rooney, who did a small segment on 60 Minutes at the end of each show, aired a piece about the types of dwellings people choose for their homes. He included pictures of suburban houses, mini-mansions, lakefront, and oceanfront properties, high rise apartments/condos, mountain cabins, chalets, mobile homes, Victorian homes, historic Civil War homes, row homes and island homes off the coast of Maine. Still, he left out one of the first dwellings in the USA,  "Log Cabins" so I wrote Andy a letter and included a picture of my Log Cabin in New  Jersey.  I was pleasantly surprised to receive a response directly from Andy. He apologized for omitting such an iconic part of the history of our country. So officially, I've lived in many of the homes he described in his segment. However, I never lived in a "manufactured home." Well, now I do, and it is beautiful. It is small, but not tiny; it has a beautiful kitchen and bath, nice deck to enjoy the River, and we love living here -  back on the River for the season.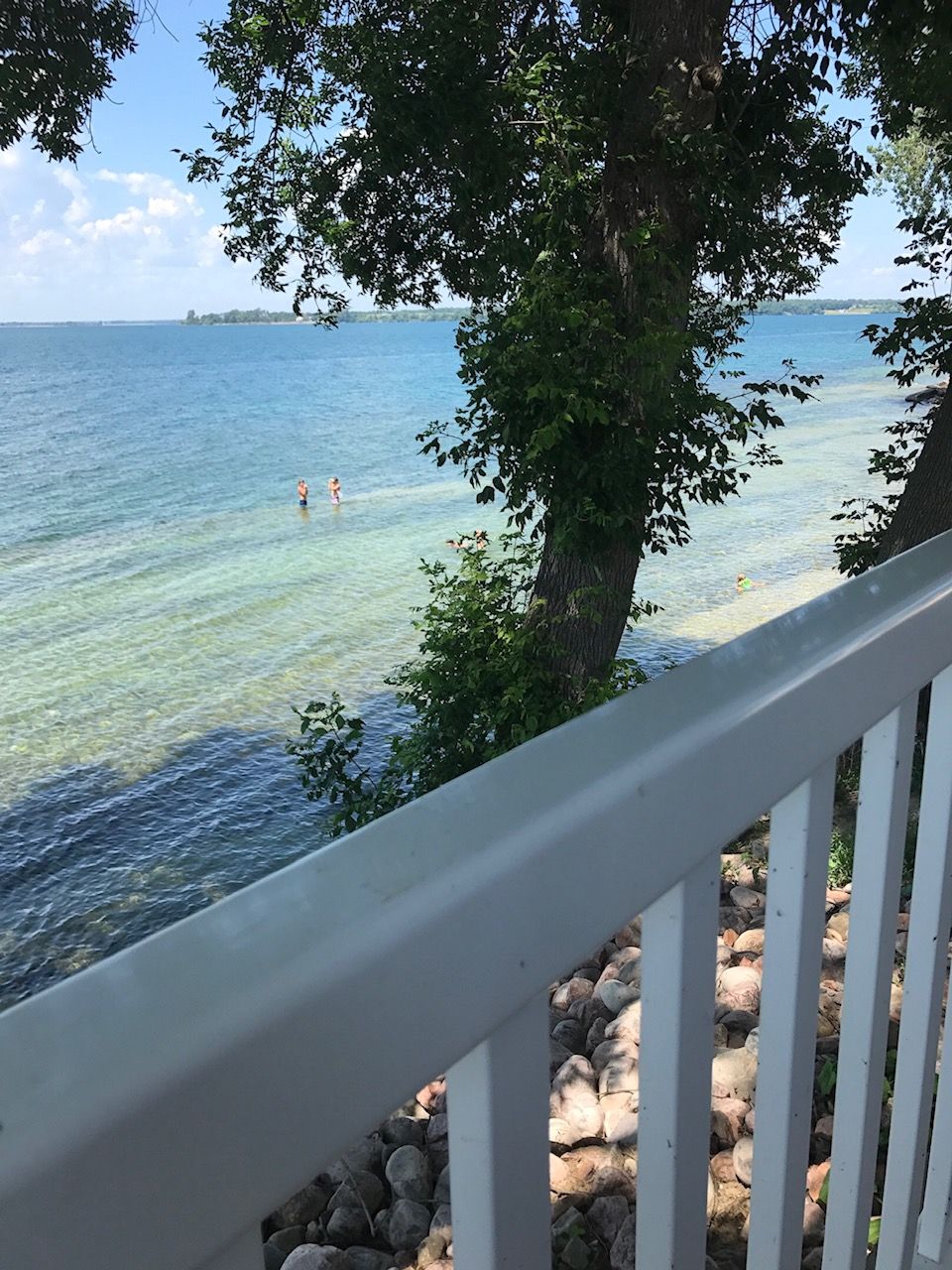 I'm a firm believer that you can live anywhere as long as you have happiness and if you are lucky enough, to be in love too. Since the summer of 2015, I've lived on a private island, a riverfront cottage, a third floor apartment on the River in Clayton, and now we are on the River again living in a new manufactured home. The bottom line to this story is "We are back on the River"
By Janet Guerrero D'Alessandro
Janet Guerrero D'Alessandro's career took her to many places, over the course of 47 years in the workforce: Philadelphia, PA; Chicago, IL; NYC and Delray Beach, FL. Her degree from Rutgers was in journalism. She originally wanted to pursue a job in journalism, however she was sidetracked and entered the field of finance, working for Sears Credit Card, Wells Fargo Bank, CIT Livingston, NJ and Chicago, Il and then to Florida, where she planned to retire in a warm climate. Now, as you can see, she has time to read and relax in the Thousand Islands, with her partner David Alibrandi. This is Janet's fouth TI Life article. You can see them here.
Posted in: Volume 15, Issue 9, September 2020, Architecture, Places
---
---
---