Here is a brief synopsis of how this journey began. I grew up in The Delaware Valley (Pennsylvania and New Jersey) and spent the first 18 years of my life summering on an island off the coast of Maine. Friends from those days are still in my life today, and we always have fun reminiscing. Great memories of those carefree summers.
When I married, we spent our summers with the family at the Jersey Shore and made new memories. My husband was a loving, kind man and loved his family. He always encouraged me and was in my corner in every endeavor, when it came to my career decisions. He gave up his career to move to Chicago, so I could pursue a job that was a once in a lifetime offer. That job eventually took us to Florida and soon after we both retired. Five months after our retirement, my husband died suddenly, and I was alone and in shock.  I still tear-up when I think of that time in my life as it was very sad for me and for our family. My first instinct was grief counseling and my second was finding something to fill my days, so I went back to work part time, which was a blessing and kept me sharp and helped me focus on the next chapter of my life as a widow. Oh, I cried every day and had a difficult time talking about my husband,because it made me so emotional.
One sunny beautiful day I decided to go to the pool in my complex (very different to go alone as I had never experienced being alone at the pool or the beach, as my husband was always by my side) but I had to leave the pool suddenly, when my tears would not stop as I watched so many couples sitting together. But I didn't give up, as I was living in the sunshine state and knew I had to get outside as much as possible and enjoy the amenities of the complex where I lived. So, I tried it again and a very nice lady who I knew when my husband was alive, but had not run into her for a long time, waived to me and said, "where is your husband?"  When I explained he had passed away, she hugged me and was very consoling. She asked for my phone number and said she would call me and meet me at the pool anytime I wanted.
That friendship was something that completely took me off guard, and on a wonderful journey.  She invited me to a dinner party at her home and I sat next to a nice man who struck up a conversation with me and showed me pictures of his private island and cottage located in the Navy Group on the Canadian side of the Thousand Islands.  We ran into each other from time to time at the pool, and one day after many months, he asked me for my phone number and said, "I go out most evenings when I'm in Florida to Happy Hour. Would you like to go with me?" That idea interested me because I really didn't have a big social network in Florida.
A few weeks later I received a text early one morning and he asked if I could help him with a work-related master sales program and he thought with my help he could complete this task and I agreed, so we met at the pool clubhouse. We met a few more times at the clubhouse and went over the program details to finalize his entries. He treated me to lunch, and we had a chance to chat.  One morning, he sent a text to see if I would like to go for coffee, but I had to decline because I was waiting for a service person to check my AC unit. He asked me for my address, because he had never been to my home and I sent him a text with the information. Within 20 minutes he was knocking on my door and telling me he would wait until I could go for coffee and I invited him to come in and sit down, while the service person was finishing. He walked in and looked out my window and pointed to his home, which was directly behind my home. We both laughed, as we had no idea, we lived so close to each other. Every day after that he sent me a text "Good Morning" and would ask me if I was working or going to the pool. I loved the attention and thoughtfulness too. He did go away several times to his cottage and to see his daughter, who lived near Syracuse.
On the date of my deceased husbands' birthday, I was feeling sad, when I received a text from this thoughtful guy who listened to my many stories about my marriage, family and career, asking me if I would like to spend the day at Gulfstream Racetrack and have lunch and do a little betting? I said "Yes"; it was a gorgeous day and filled with so much fun, and we laughed and laughed all day.  We started dating and seeing each other over the course of many months, almost every day when he didn't have to travel for work.
He invited me to spend a week with him on his Canadian Island and I agreed, as it sounded like a perfect adventure and getaway for both of us. Not to mention an excellent way to see if we could get along and find out more about each other. A private island would be our ultimate test!!! (I don't think I had a full understanding of the word PRIVATE ISLAND until we arrived at the marina and loaded the boat for the trip across the River to his island).
I also had to learn the rules of Island Life, and one of those was a little frustrating for me and I had a difficult time remembering, so he hung a sign over the commode "In the Island of Sun and Fun we never flush for No 1", and I laughed until tears rolled down my cheeks.  The other rule was making a shopping list and keeping it updated, with anything needed when the time would come to take the boat to the marina and drive into town. I even incorporated the help of my iPhone, to make lists and reminders, because there was no going back once you arrived on the island. If I had one complaint it would be the lack of a dishwasher, something I have not had to do without for as long as I can remember. And the next important rule was bringing items across the border, because everything must be declared and there is a chance you will have to pay duty on those items. All of this was well worth the effort on my part, as life on the island was beautiful, peaceful and always filled with fun, love and laughter. Some of the best happy hours were on the island, watching the sunsets and enjoying the company of a great man who loves me.
The week had perfect weather to cruise in his boat all around the islands. I started to learn all I could about the Thousand Islands. I read every article I could find in books I found around the cottage and online too. I also learned the names of the different island groups and the big islands and their history.
We returned to Florida, and within a few days he decided to retire early from his job. He asked me to go back to his island, and I said "For a few weeks?" He said, "Yes, we will spend the summer and fall on the island." I guess I looked shocked and I said "You mean we won't come back to Florida for many months?" "Yes," he said, That is the plan." I did agree and felt overwhelmed, excited, happy and a little scared too.
Our days were always filled with fun, adventure and exploring the River. Over the course of his 30-plus years owning this island, he made many friends and we loved hosting parties and going on River cruises with all of his friends. I especially liked going to dinner by boat, to places like The Ivy, Foxy's, Cavallario's Steak and Seafood House and the TI Club. We visited other island owners and I enjoyed hearing the history of their island homes.
To keep busy, I redecorated the entire cottage and Bunkie. He did the gardening and planting of pretty flowers. We cleaned out closets and cabinets and found treasures that I put to good use. I even made a little valance for the half bath from a very pretty dish towel and I sewed it by hand, something I had not done since my high school days in home economics class. He then wanted to list the island for sale and find a mainland Riverfront cottage.
Sometimes, I had to pinch myself, because it was so difficult to believe all that happened in such a short period of time and how happy I was to spend time with this wonderful man. I met his daughter, who came to the island to spend time with us, and my daughter and son-in-law also came to visit and fell in love with the island and the River, too.
Now my life changed in ways that were different, exciting and filled with so much love.
We sold his Canadian private island (Little Ninette) and I had a gut instinct it would sell quickly, because we made it charming and appealing. We then acquired another cottage on the Canadian mainland on the River with a private drive and boat port. This cottage was a diamond in the rough (I am going to save that story for another article). A complete renovation was needed (including the addition of a dishwasher!!!) over six months. During the winter we flew from Florida several times to supervise the project. When spring arrived, we had a charming, adorable, well-appointed cottage to live in and then it was time to work on the outside during the nice weather. Everyone that boated by or came to visit would give a big thumbs up. After two years we received an offer from someone to buy the cottage. We decided we would sell and eventually look for a cottage on the US side of the River.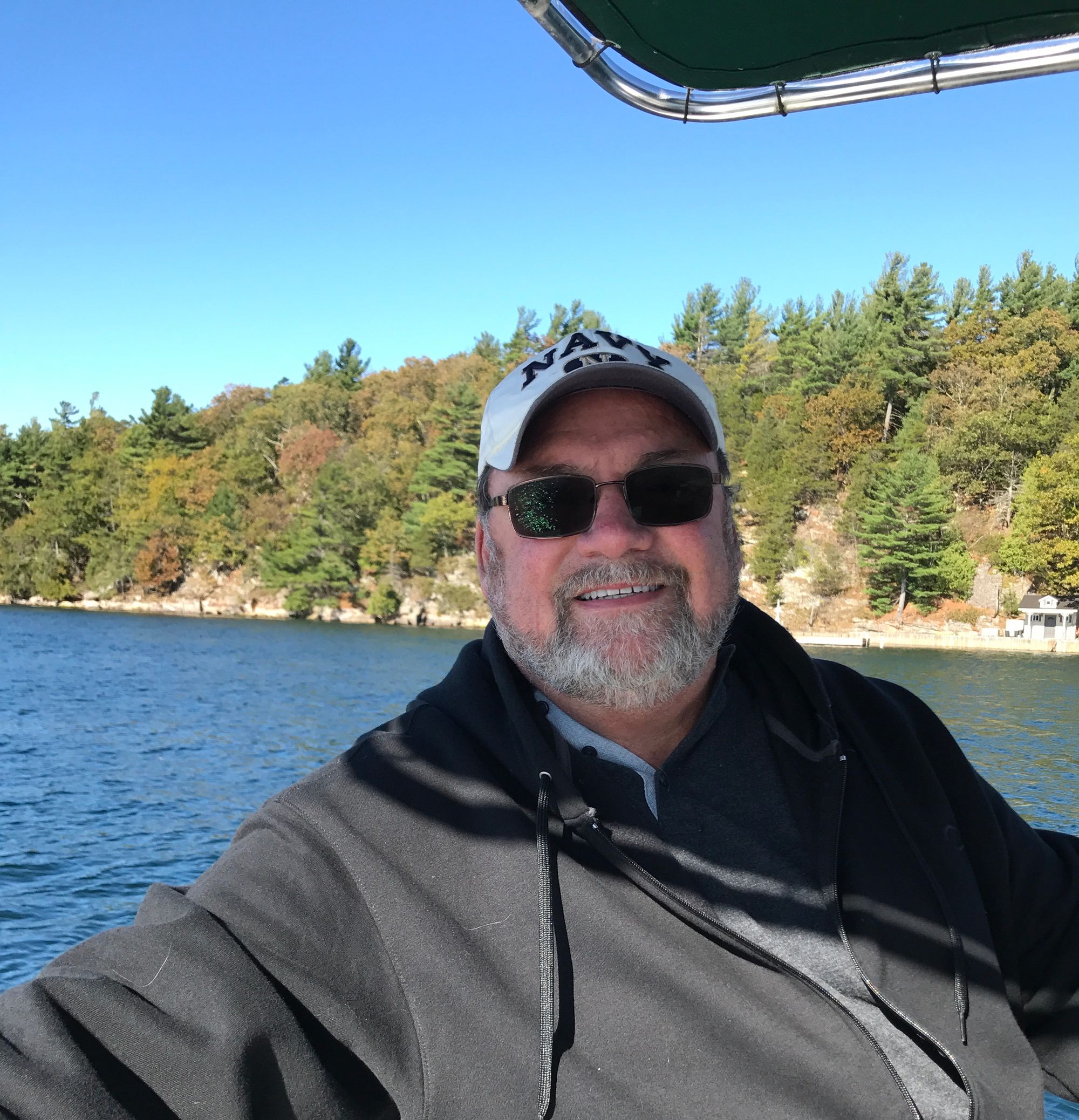 The life I had was great, and I look back fondly on the memories. Today my life is so different and I love every minute of every day. I am grateful I met a terrific partner who introduced me to The Thousand Islands. Sometimes old clichés certainly sum it up, "Life can throw you a curve ball" and I felt that happen to me, but it turned out to be a home run.
We will be back this year and summering in Clayton NY. Another exciting journey and something very new. I can't wait to spend another summer and fall on the magnificent St. Lawrence River.
By Janet Guerrero D'Alessandro  
Janet Guerrero D'Alessandro's career took her to many places over the course of 47 years in the workforce; Philadelphia, PA;Chicago, IL; NYC and Delray Beach, FL. Her degree from Rutgers was in journalism and she originally wanted to pursue a job in journalism, however she was sidetracked and entered the field of finance, working for Sears Credit Card, Wells Fargo Bank, CIT Livingston, NJ and Chicago, Il and then to Florida, where she planned to retire in a warm climate. Now, as you can see, she has time to read and relax in the Thousand Islands, with her partner David Alibrandi.
Posted in: Volume 14, Issue 5, May 2019, People, Places
---
---
---