In May 2019, I wrote my first story for Thousand Islands Life, "Unexpected Journey," and received nice comments and compliments. I felt so happy they took the time to read the story. This story is about my continued, "Unexpected Journey II."
As a child, I grew up spending my summers on an island off the coast of Maine, and memories of those days are as vivid as if it were yesterday. I believe, as a child, my mind was cluttered with things that made me happy and gave me a sense of adventure. Whether I was in Maine or living in our winter home in Pennsylvania I found the outdoors to be the place I always wanted to play and explore.
One summer, when I was about 12 years old, I asked my father to take the family camping to explore our northern neighbor - Canada. My father was not an outdoor type; he liked classy hotels and creature comforts. I wanted to see the Mounted Police and the Canadian Rocky Mountains.
My father agreed, however, my older sister (and only sibling) did not want to participate in a camping adventure, and my mother decided to stay in Maine for the month. My father bought an old Willey Jeep from a US Army Surplus, and we went to LL Bean to buy tents, cots, and all that would be necessary to camp for at least a month. We crossed the border and explored Montreal for a few days, as I loved the fact everyone was speaking French.
When we crossed over the Saint Lawrence River, my father said, "not too far from here lies a place called "The Thousand Islands," and it is a beautiful area between New York State and Canada." He pointed out the area on our map and explained the River is dotted with islands, small and big, and it is a very peaceful place. I was hoping we would visit, but we had another journey on our way to the Canadian Rocky Mountains. I kept that information about the Thousand Islands in the back of my mind and jotted notes in my diary.
My husband passed away six years ago, and I felt I could not enjoy a special vacation without my partner because it would not be as exciting, in fact, nothing seemed appealing to me during that first year of being a widow. I just went through the motions and tried to stay positive, and I came out of retirement and went back to work to fill my days. I was never a lone traveler except for business and always enjoyed our vacations as a family. After my daughter was on her own, my husband loved planning unique getaways to tropical places, and I loved the surprises.
When I met my fiancé Always something to see from our balcony. (summer of 2014), it was the beginning of a new chapter in my life.
You can refer to the May 2019 story "Unexpected Journey" We were friends for many months, and then we knew we were falling in love, and I felt blessed and scared too. David shared pictures of his family and his life in Syracuse, NY, as well as photographs of his private island in the Thousand Islands. Yes, that place I had heard about so many years before.
I enjoyed hearing his stories and how he loved the Thousand Islands and boating. One day in May of 2015, David wanted to head to his island for a week's vacation and asked me to come with him. The things that were swirling in my mind were almost too much to comprehend: "Private Island can only be reached by boat; no one else will be on the island except the two of us; food shopping is by boat and car; you need to cross the border and be prepared to wait in some long lines; you can't bring whatever you want across the border, there are rules to be followed. I lived alone and so did David in Florida, but now we will be TOGETHER on an ISLAND, and the list goes on and on"
It was going to be the best test of our relationship. Thinking back to those days exploring Canada with my father flashed before me, and the anticipation of finally seeing something I wanted to explore was almost more than my heart could bear.
We crossed the border from Alexandria Bay to Hill Island and then to the marina in Ivy Lea. We loaded the boat with luggage and groceries and headed to Little Ninette Island. The cottage was perched high on the rocks with decking and a nice screened room overlooking the beautiful River. David gave me a tour of the cottage and Bunkie and the adorable island. He told me the cottage was built from a Sears Home Kit for vacation homes.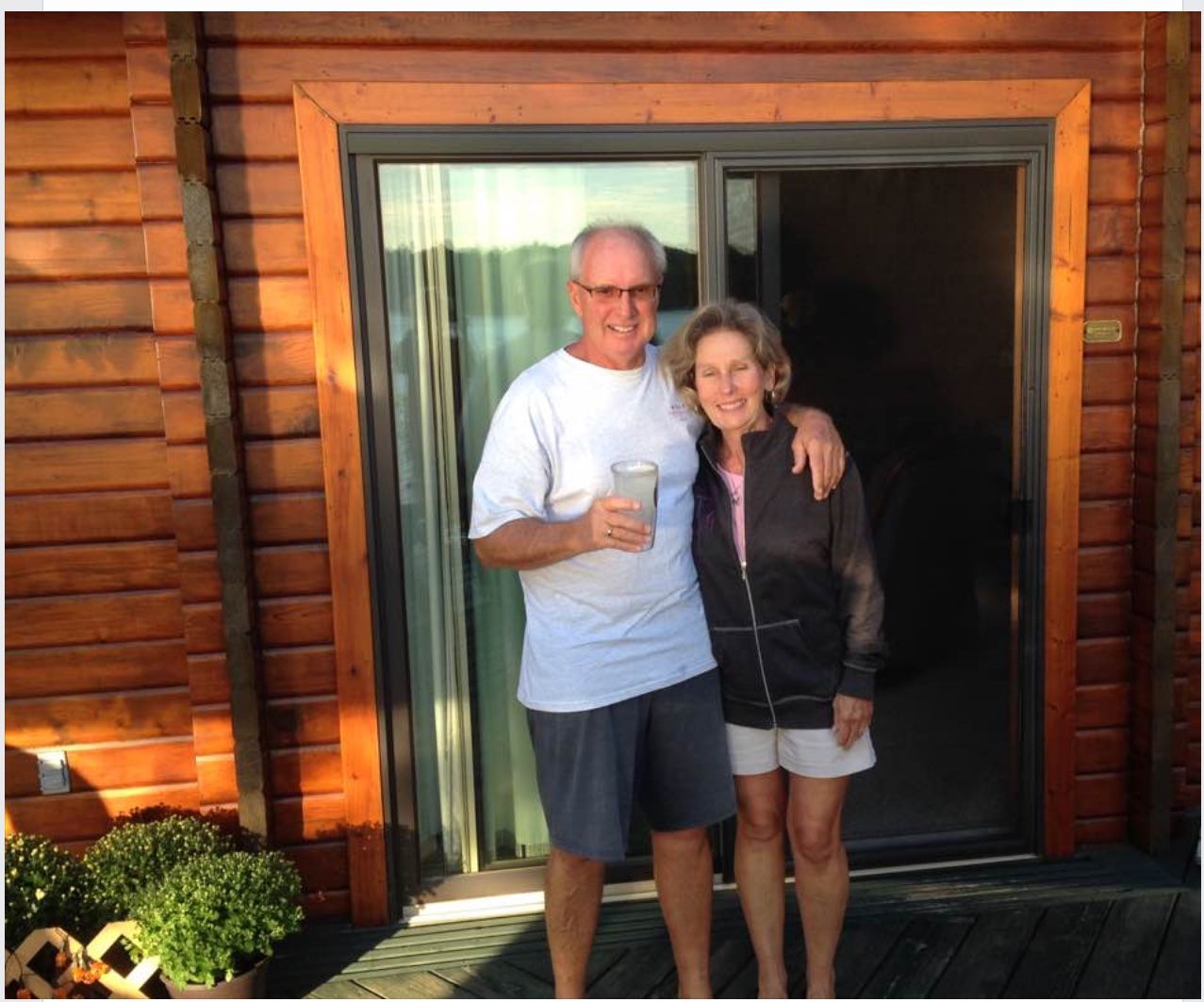 Not long after we arrived, someone knocked at the door, and I knew whoever it was, had to arrive by boat. This lively lady was David's friend for over 30 years, and she came to welcome David back to his island, and to meet me. I will officially state that Debbie Scanlon of Boucher Island was the first to welcome me to the Thousand Islands. She had a 14-foot aluminum boat and could navigate the River at night. I was extremely impressed and happy to meet one of David's friends and neighbors.
After breakfast, we set out on a long boat cruise; I had a hard time taking it all in and felt my phone would explode with all the pictures I was snapping along the way. It felt like a dream, and I certainly had no idea there were such beautiful mansions and cottages dotting both sides of the border along with quaint villages and towns with loads of docks and marinas for the islanders.
Back at Little Ninette Island, I found books with the history of the Thousand Islands, and it was fun to learn so much about this beautiful area It made we want to take more boat cruises to explore all of the area and islands. Pictures were beautiful, but I knew seeing everything from the boat would make it all come to life.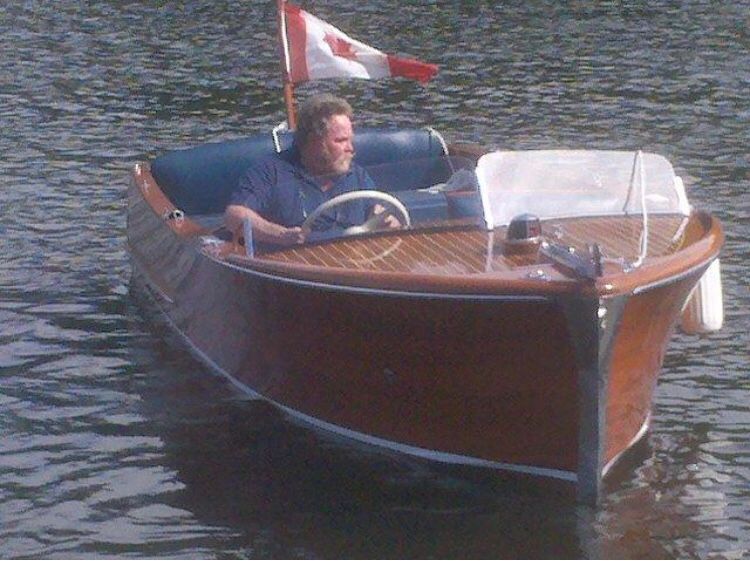 One day another friend of David's asked if we would like to join him on a boat cruise to Kingston for a fresh oyster lunch, and we said YES immediately. Brian B. Butts and his girlfriend Joyce picked us up right at our dock, and we headed to Kingston. I had never met Brian until this time, and he was a kindly curmudgeon with a handlebar mustache and always wore suspenders. Brian had a big cabin cruiser, and I stood behind him while he was at the helm, because I knew he was a lifelong River Rat and would know so much about the islands and their history. I asked millions of questions about every island we passed along the trip to Kingston. His GPS showed the names of many of the islands and I took notes to look up information later. Brian said he grew up spending summers on "Butt's Island," his family's island in the Lost Channel Group He loved those summers and  his friends Jack Sweet and Bob Peach and together they were called "Peachy Sweet Butts". His stories were some of my favorites.
When the weeks vacation came to an end it was hard to leave, but David said, "We will come back again this summer," and I was all in for sure as I fell in love with the River. About a week or so after arriving back in Florida. David called me to say "I decided to retire and I want to take you back to my island for the rest of the summer and perhaps the Fall too. "WOW, I didn't see that coming!"
Of course, I was excited to be with David and to share my life with him and learn more about his family, and the Thousand Islands. David's daughter, Isabella, came to visit on weekends and sometimes she would bring a friend. They would sunbath and jump in the River to swim and bath. They loved using the jet ski. Everything that happened made me smile and feel good about each day waking up to River life. I even loved hearing the rain on the metal roof and seeing the rainbows at the end of the storm.
Weekend boaters would moor in front of the island. One time a boater moored so close to the island, we felt they were our guests. David was polite and funny when he would ask the boaters if they would share their dinner with us since the smell was so intoxicating.
Some of our visitors had a hard time comprehending the private island concept. One of our friends said they have been all over the world, but this was one of their favorite vacations due to the tranquil setting and the history of the region. David made some scrumptious lobster and clam boils for everyone that visited. Our friends the Scanlon's on Boucher Island invited us to their cottage for sunsets, cocktails and home cooked dinners. Their friendship with David for over 30 plus years is special and the laughter and stories kept me wanting more and more.
There was sadness when we learned that our friend Brian Butts passed away. I enjoyed Brian's company and our boat cruises. Brian always indulged me when I asked questions about the islands and their owners. He also shared pictures of his parent's cruisers and their time in the Thousand Islands.  His wife Joyce has become a good friend.
Learning as much as possible about the Thousand Islands was a big part of the journey, and I am grateful for all those who helped me obtain information. The one part of this story that stands out is the fact my father told me about this magical place when I was a child, and I never forgot and when this opportunity to spend a summer with a guy I just fell in love with, made it so special and a little teary-eyed too. I have never been the type of person to forget or give up, and I am happy that my journey took me to the Thousand Islands, but best of all it was with a great guy who keeps life interesting,
The Thousand Islands is a place that keeps calling you back, year after year. After we sold Little Ninette Island, we acquired another Canadian cottage near The Ivy  Club, and it too needed updating. It was a labor of love for two years, and we enjoyed watching a tired old cottage come back to life. One day while walking around Clayton NY we inquired about the condos/apartments above Freighter's in the Clayton Yacht House, We were thrilled to find a place that had a magnificent view of the River high up on the third floor. It was a great spot to view the ships, boaters, fireworks, and a few rainstorms too. It was a lovely apartment but did not compare to having a private cottage on the River that is tranquil and peaceful with a dock. As for this coming summer, we are not sure where our travels will take us, but it just might be the Mighty Saint Lawrence River as it does get in your blood.
Thank you, Daddy and David, for introducing me to The Thousand Islands and especially David who showed me all around the River from Kingston to Brockville and Sackett's Harbor to Alexandria Bay. The Thousand Islands is such a beautiful place to visit or live, and for all those who come year after year, you are incredibly lucky, fortunate, and blessed.
By Janet Guerrero D"Alessandro
Janet Guerrero D'Alessandro's career took her to many places over the course of 47 years in the workforce; Philadelphia, PA; Chicago, IL; NYC and Delray Beach, FL. Her degree from Rutgers was in journalism, and she originally wanted to pursue a job in journalism, however, she was sidetracked and entered the field of finance, working for Sears Credit Card, Wells Fargo Bank, CIT Livingston, NJ and Chicago, Il and then to Florida, where she planned to retire in a warm climate. Now, as you can see, she has time to read and relax in the Thousand Islands, with her fiancé, David Alibrandi.
Posted in: Volume 15, Issue 6, June 2020, People, Places
---
---
---