The third annual Thousand Islands Cup was held on August 22nd. This classic race boat regatta takes competitors over part of the Chippewa Yacht Club's 1905 Gold Cup course. Once again, this year, the participants were treated to near perfect weather. It was a warm sunny day with next to no wind. The starting line was set-up off the northwest end of Oak Island just inside the infamous Triangle Shoal.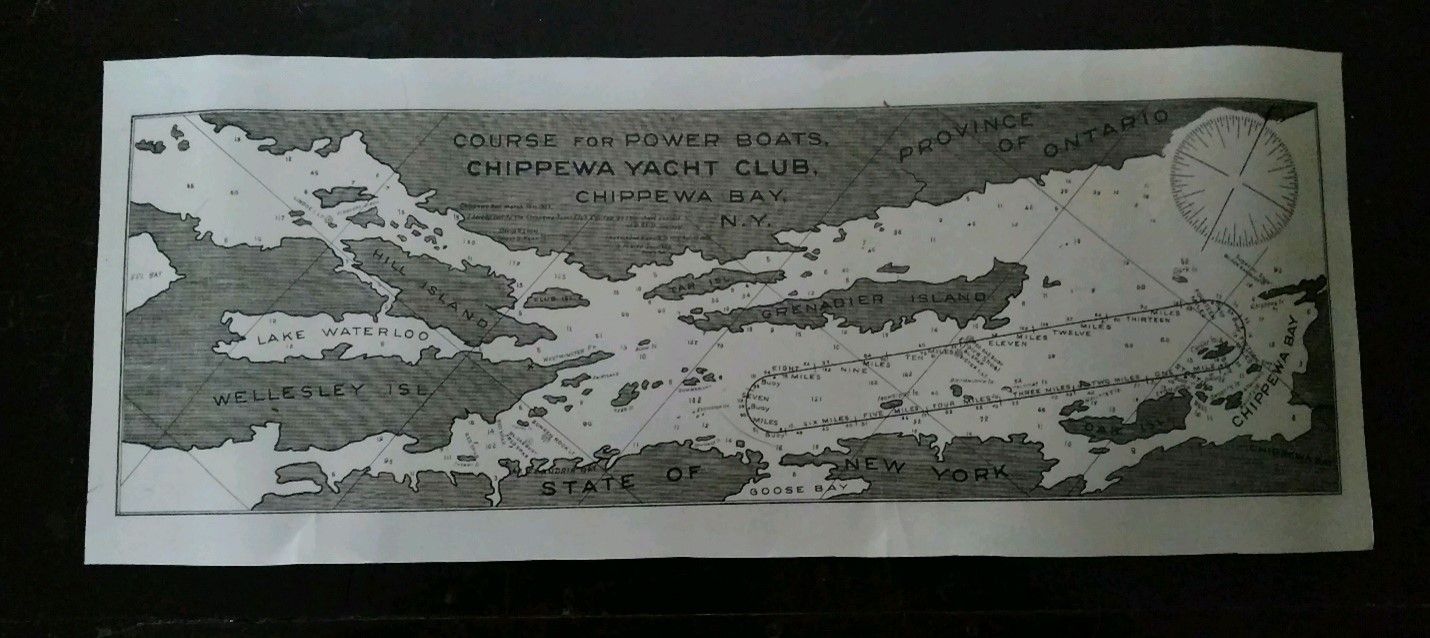 The original 1905 course called for the racers to follow an oval course that went around the Cedar Island Group and Ironsides Island. The Thousand Islands Cup Committee has shortened the course to a lap around Cedar and Scow Islands. This is about half the distance of the original.
The races were set up to follow the same format as last year. All boats took a practice lap. This was followed by a class for Gar Wood Speedster. Last year's champion, White Knuckles, was unable to defend her title this year. She was replaced by Janka III, a CYC favorite skippered by Susie Wood. Janka III is a Gar Wood double cockpit. The boat was purchased by Susie's grandmother in 1941 from Fitzgerald & Lee.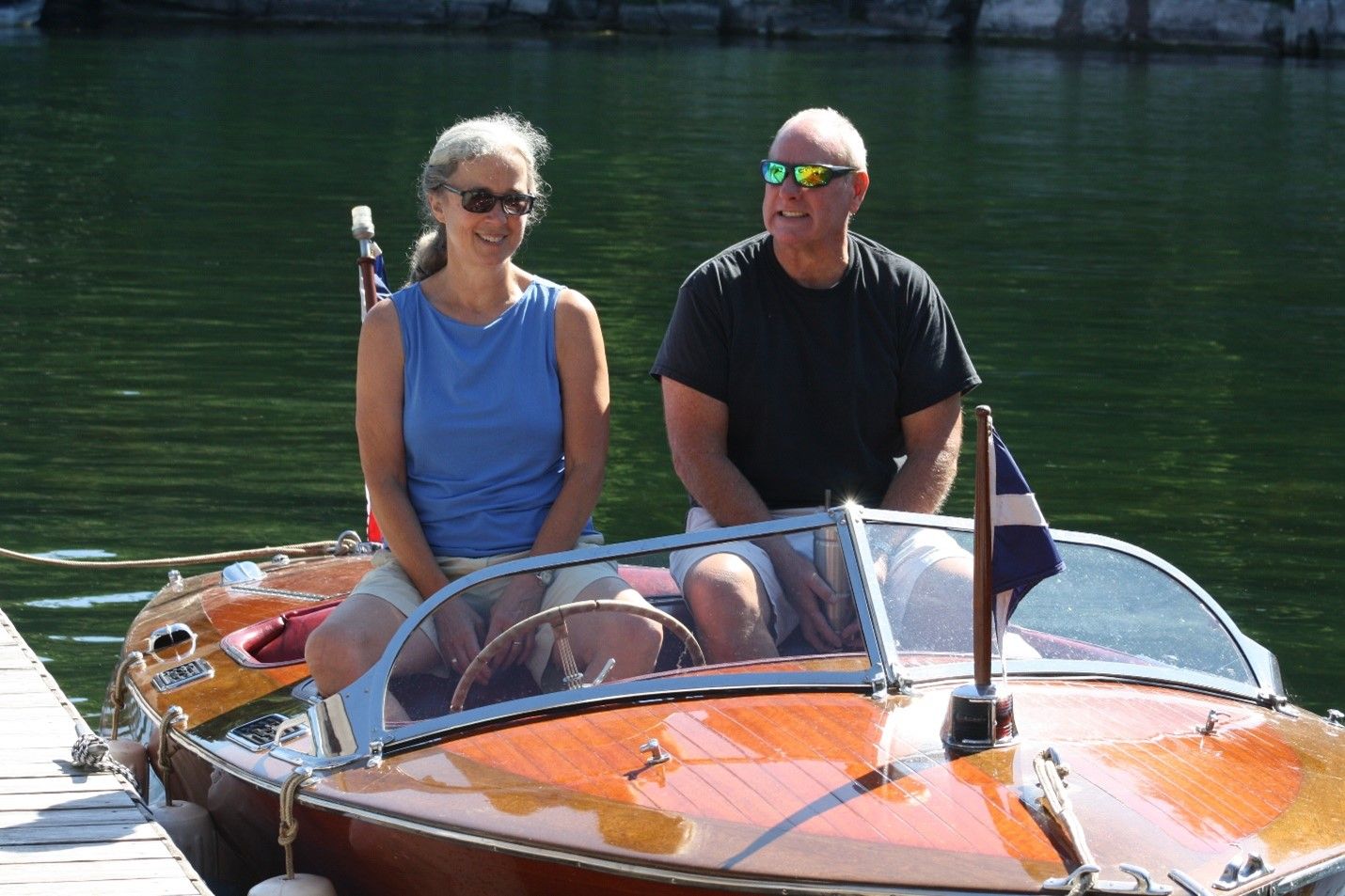 The Open class, for all competitors, followed the Speedsters. The pandemic took a heavy toll on this class. Bob Banister's new Baby Gar Speakeasy did not make it. This twin big block monster was sure to challenge Jim Hendler's La Te Da. Jim has won the first two Thousand Islands Cups. Keith Kipp's Lady Shores opted not to cross the Border. Don Price and Elusive were unable to make it at the last minute. Adding insult to injury, La Te Da developed engine problems just days before the race. Jim was able to put her on display at the Oak Island docks, but he was unable to defend the title.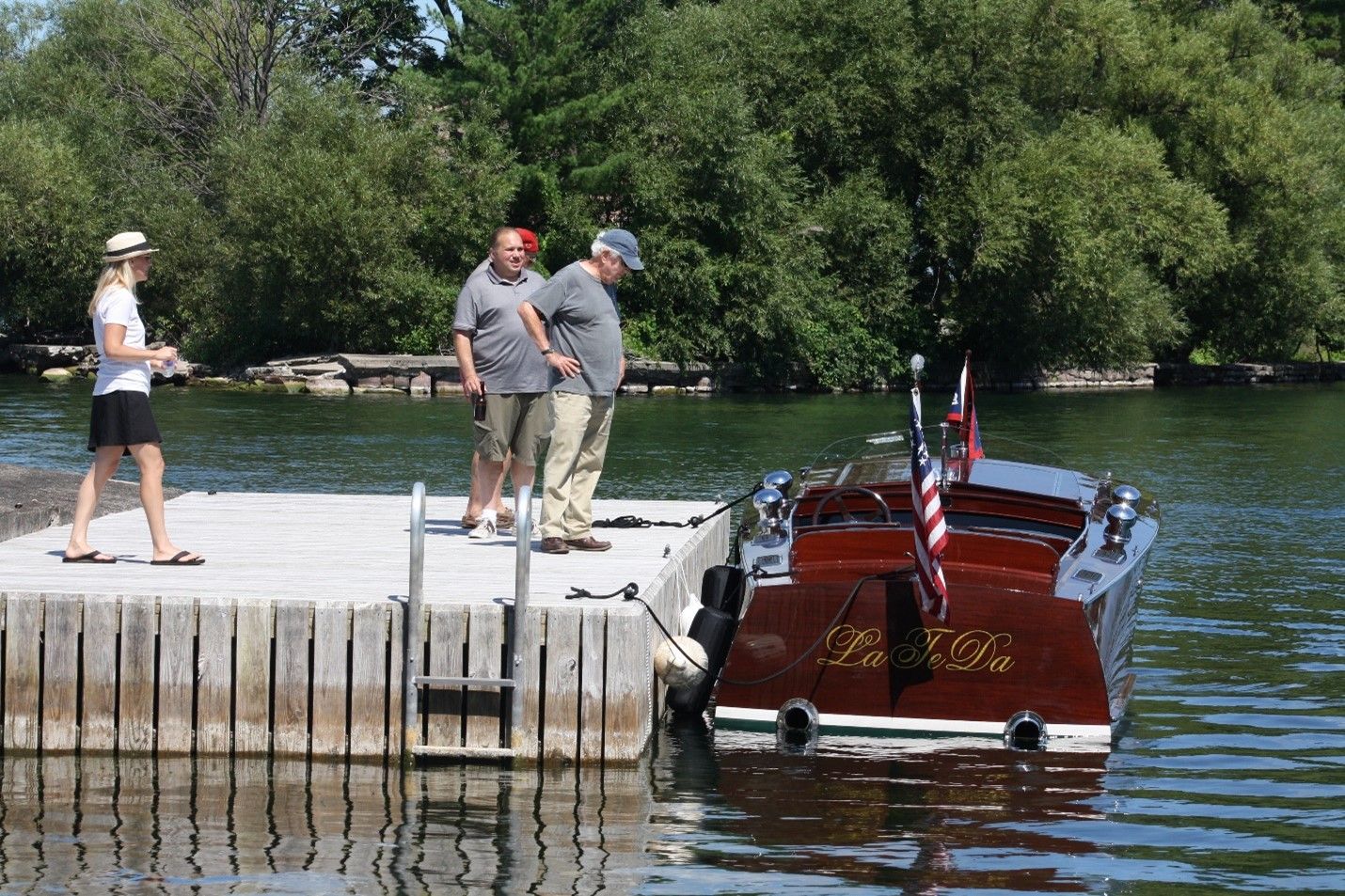 With last year's winners out, there were lots of questions going into the start. Joe McBride entered his two Gar Wood Speedsters, Thomas and Rosemary. Joe named these boats after his beloved Grandparents. Ben Wright entered Miss Rebecca and Chris Wood decided to run his 1911 Leyare Launch Curlew. Some of you wooden boat junkies might recall that the Leyare Boat Works in Ogdensburg built Chip and Chip II, two of the Chippewa Yacht Club's earliest Gold Cup winners. Leyare also built the famous Thousand Islands number boats that held many races after the Gold Cup moved on to Detroit. Curlew is affectionately referred to as the "Pride of Chippewa." Jay Benton's Scairt Cat rounded out the field.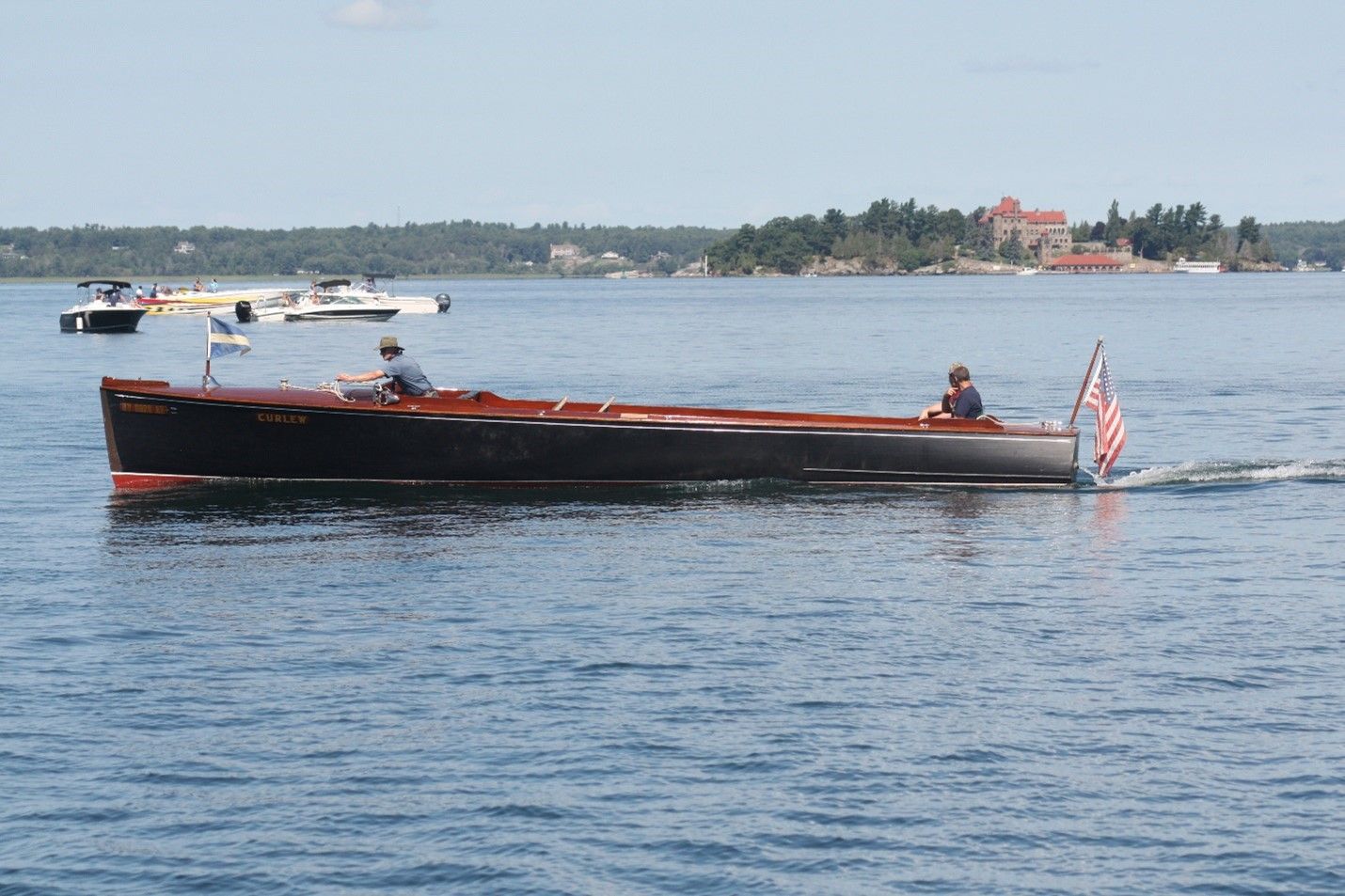 The racing was supposed to start at 11am, but apparently Murphy (and his law) had found a temporary spot on the Thousand Islands Cup Race Committee. One of the competitor's escort boat malfunctioned on the way to Oak Island. This produced a 20 minute delay. Ryan Conroy's drone experienced heavy interference and was unable to fly. In spite of these problems, an impressive spectator fleet had formed in front of Oak on the channel side of the starting line.
The floatilla contained boats from as far away as Wellesley Island. The diversity of the boats was noteworthy, everything from a plastic kayak to a Riva were right there on the water. It was a fantastic sight to see.  Finally at about 11:30 am, Commodore Ret. Hugh Quarrier sent the racers off on the practice lap with a blast from his brass canon.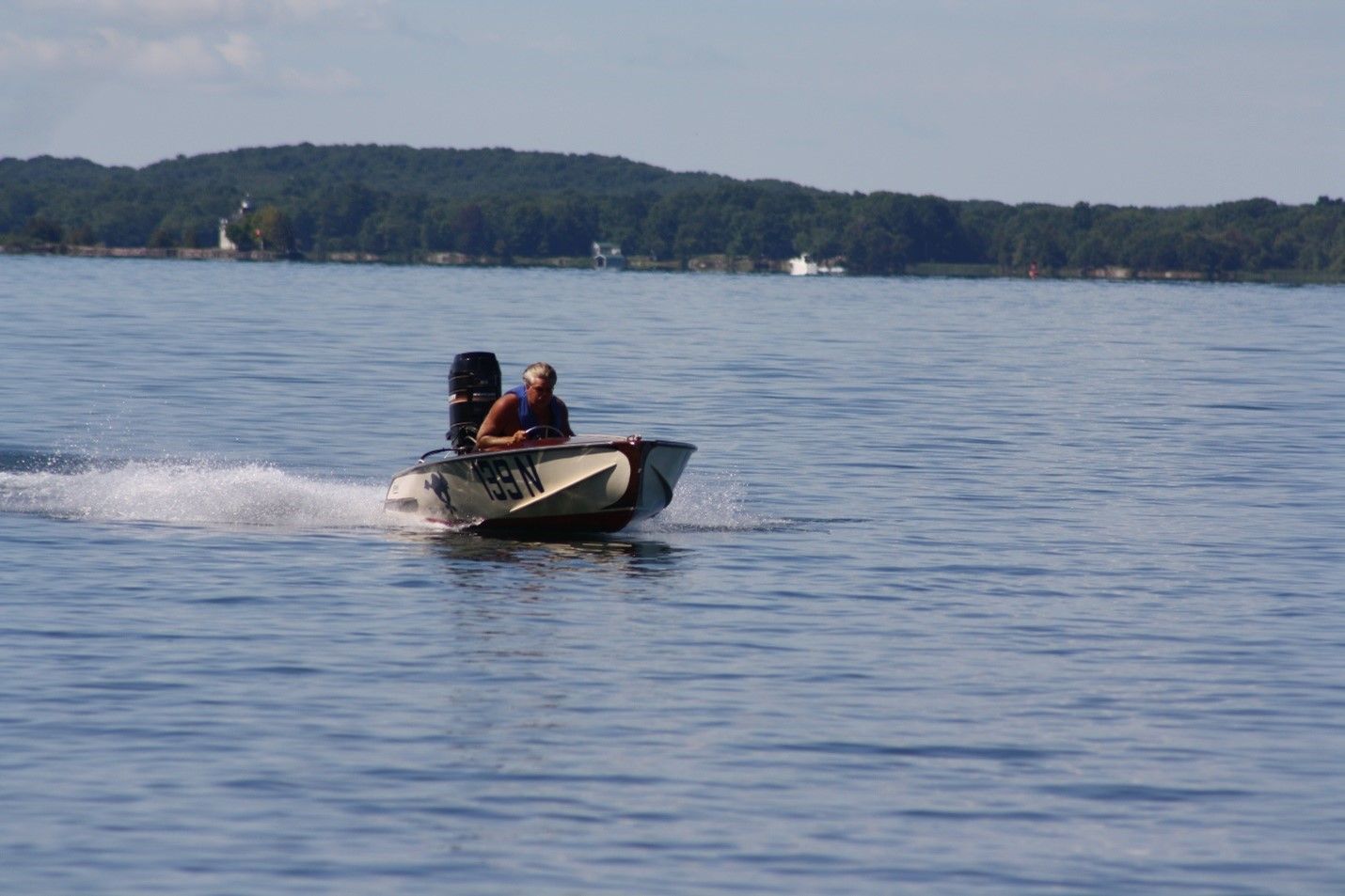 Jay Benton's Reveau Scairt Cat jumped off the line and took an impressive lead. Janka III, Miss Rebecca and the speedsters roared after him. Scairt Cat easily took the practice lap, which did not go without incident. Unknown to the racers, there was a group of 10 to 15 kayakers very close to the course near Cedar Island. As the racers approached the nervous kayak fleet began waving their paddles in the air.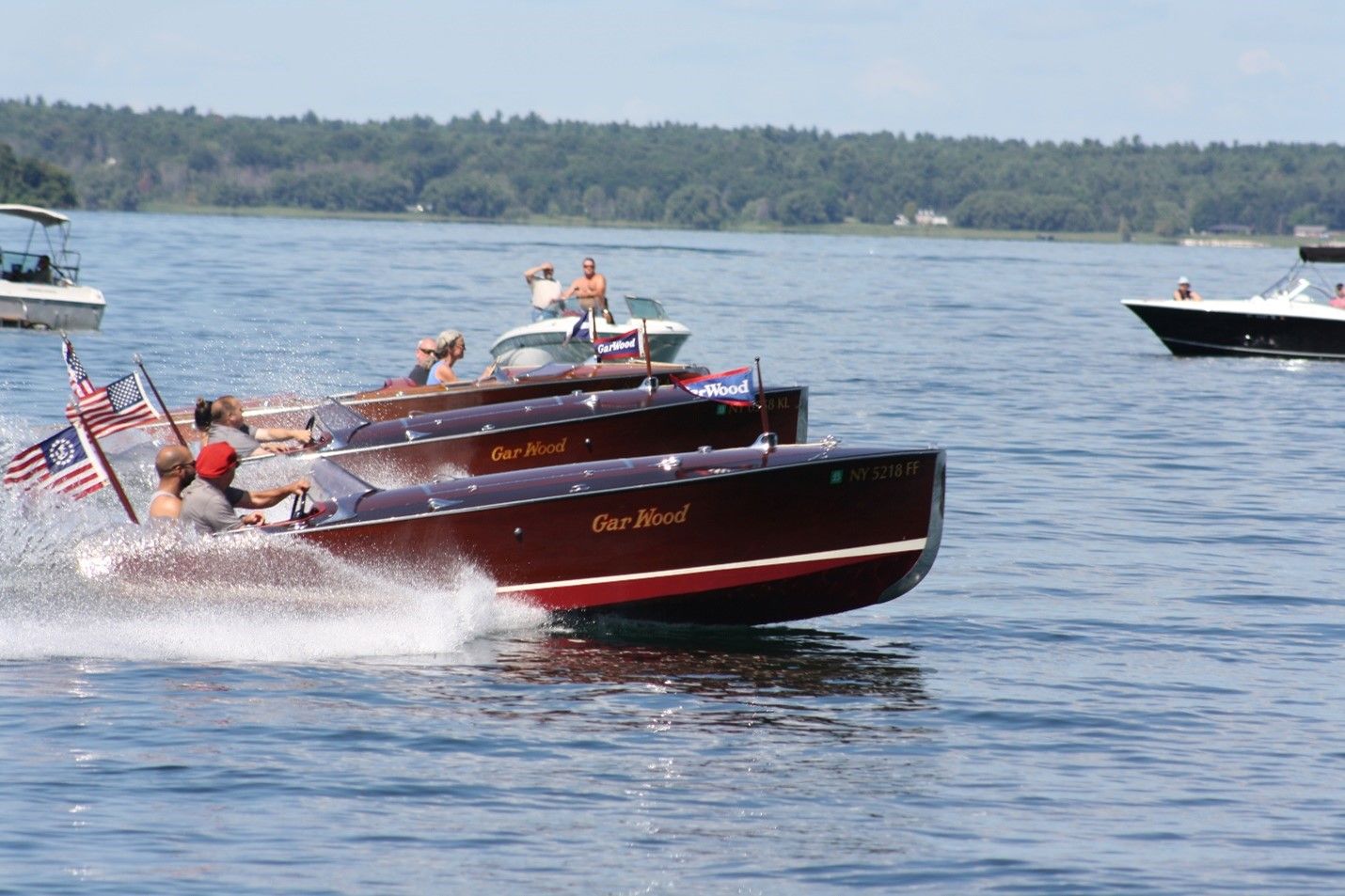 Joe McBride won the speedster class in Rosemary. Thomas took second and Janka III came in third. The Janka III was experiencing some engine difficulties and returned to home port on Owatonna Island in lieu of running in the open class. Anything mechanical is subject to failure and vintage engines are no exception. Janka III is an exquisite Gar Wood. She was a delight to behold under the sweet summer sun.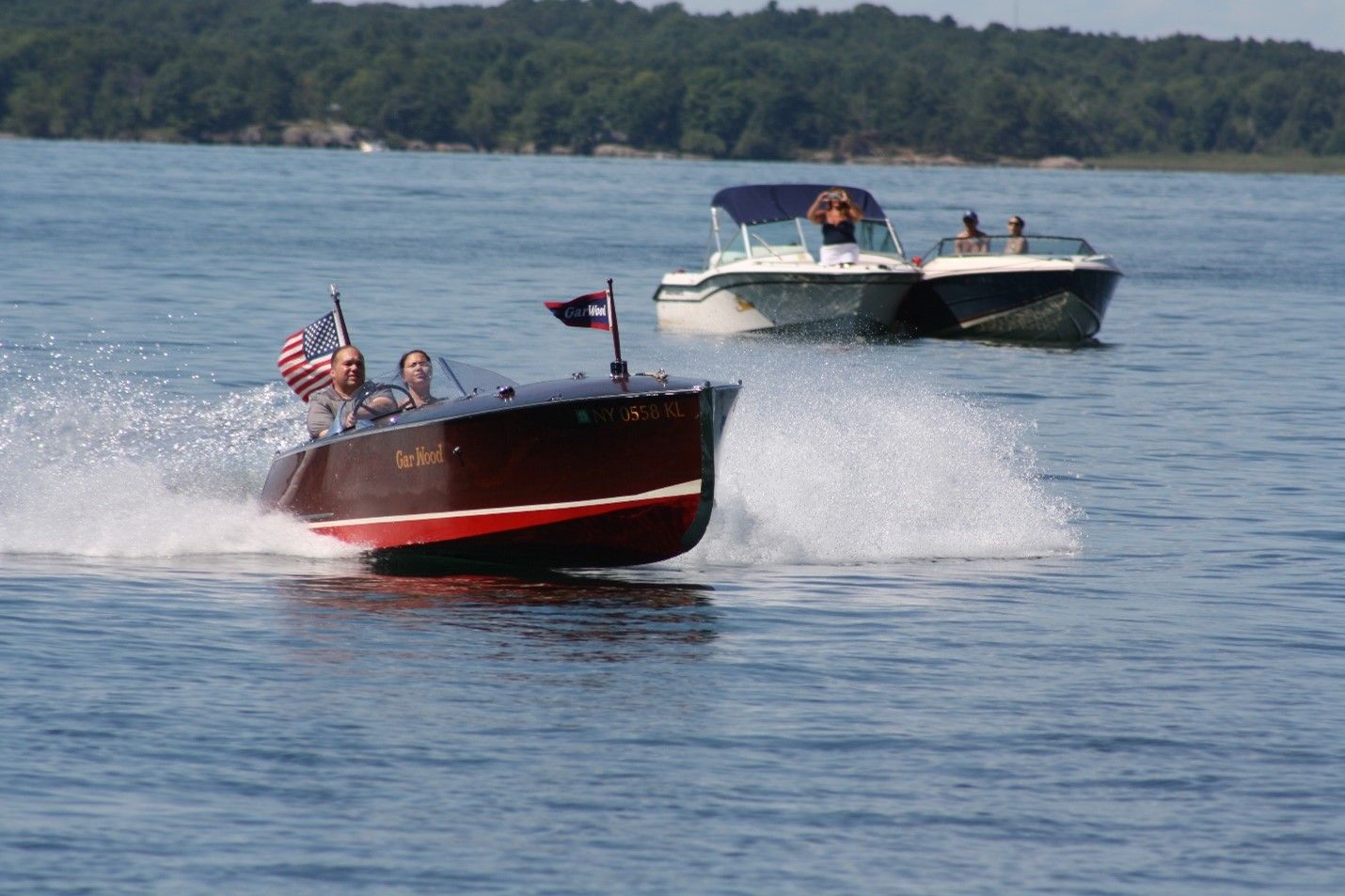 The canon sent off the open class. Scairt Cat leapt out of the water. The speedsters and Miss Rebecca throttled up. Suddenly, Scairt Cat sunk back into the water. Joe McBride hammered his throttle and sped into the lead. Scairt Cat jumped back on plane, but, then stalled for good. Scairt  Cat is a boat we are sure to see again. The motor is a Jay Benton customer project. It uses a 90hp Mercury motor with a 100hp power head and 120hp carburetors.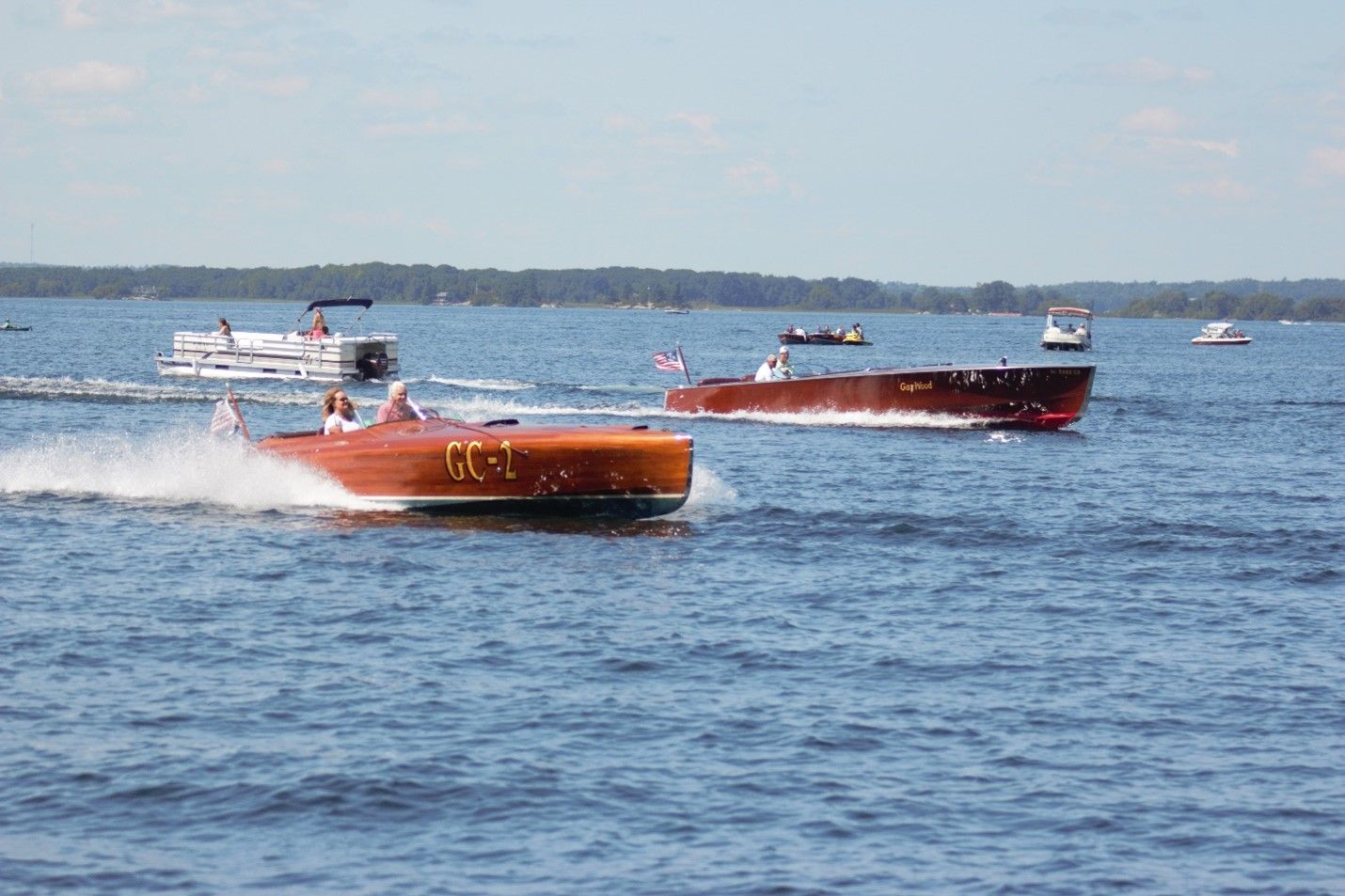 Joe was able to win both classes in 2020. He dedicated the wins to the memory of our late racing colleague Dr. Louis Benton. Dr. Benton competed in the first two Thousand Islands Cups in his Clarion Gold Cup Racer Curvaceous. Dr. Benton was an avid tennis player and yachtsman. He was a past Director, Vice Commodore and Commodore of the Chippewa Yacht Club and a true Thousand Islands gentleman.
(Won't you join us in 2021!)
By John Kunz
Photography: Kelly Kunz
John Kunz and his wife Kelly are summer residents of Chippewa  Bay. They winter in Watertown, NY. Along with their three sons, they  enjoy the River on a four-season basis - Sailing, Rock Climbing and  Skijoring. In February 2016, John took us Skijoring in the Thousand Islands, and then for the past three years John and Kelly have covered the excitement of the Thousand Islands Cup: October 2018, the first Thousand Islands Cup and in November 2019, Second Annual Thousand Islands Cup.  Be sure to see them both as the photographs and commentary capture the excitement of boat racing in the Thousand Islands.
Posted in: Volume 15, Issue 10, October 2020, Sports, People, Places, current
---
---
---
Thousand Islands Life Notifications
Subscribe to our notification list, you will receive our monthly email.
---