Our esteemed Editor, Susan Smith, has called for stories of unlikely incidents where Thousand Islanders discover each other in unexpected circumstances far from these shores.
What follows is just such an experience. The story told spans generations, several of the Thousand Islands, a continent, and coincidences that defy the odds. The co-authors of this true tale recount their own families' Thousand Islands heritage, and the remarkable intersection of three lives some sixty years ago.
1962 The Year of Firsts
John Glenn became the first American to orbit the Earth. The Beatles released their first single: "Love Me Do." Walmart opened its first store. "Dr. No", the first James Bond movie, was released.
And a tragic death occurred, which still resonates today: Marilyn Monroe.
That early '60's year, a small group of 30-some young people graduated from the 8th grade at the Foote School in New Haven, Connecticut, and headed on to high school, college, careers, families, other locations, and full lives. Except for a few who managed to make it back sporadically over the ensuing years, for Foote's annual alumni reunion, most lost touch. The only connective thread remaining was the alumni section of the school's magazine.
I (Tom) was one of those young people. So was Don Ross, who fortunately for the rest of us has been the keeper of the class flame, compiling the alumni news for the class of '62. And so was Callie Woodman.
Tom's Story:
My grandfather, Wilson Darling Craig Wright, purchased Long Point in Aunt Jane's Bay on Grindstone Island in the early years of the 20th century as the summer home for his wife Caroline and their four daughters.
The family employed Henry Thibault, a captain based in Clayton. Captain Thibault built a series of boats: the "Caroline," named for both my grandmother and their youngest daughter; the "Betty," named for my aunt Elizabeth, as well as an all-around utility boat aptly named the "Workboat," which is still in use today.
Long Point was also home to an Elco cruiser named the "Topaz," for my grandfather's favorite gemstone. The yacht dock where she was berthed still exists.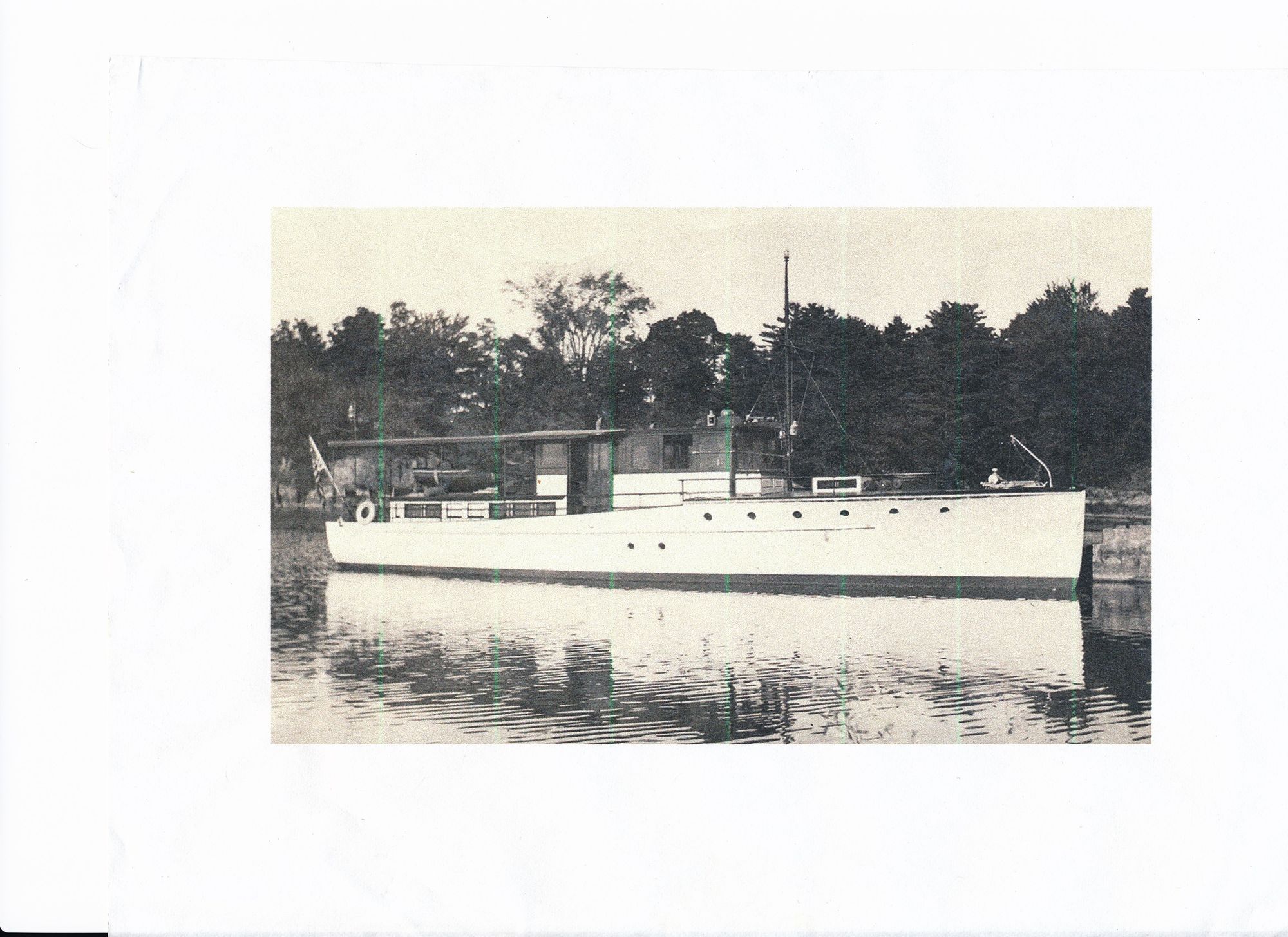 In 1926 my grandfather commissioned Captain Thibault to build a 24' powered St. Lawrence Skiff named the "Sallie," for his eldest daughter (and my mother), which remains in my family today.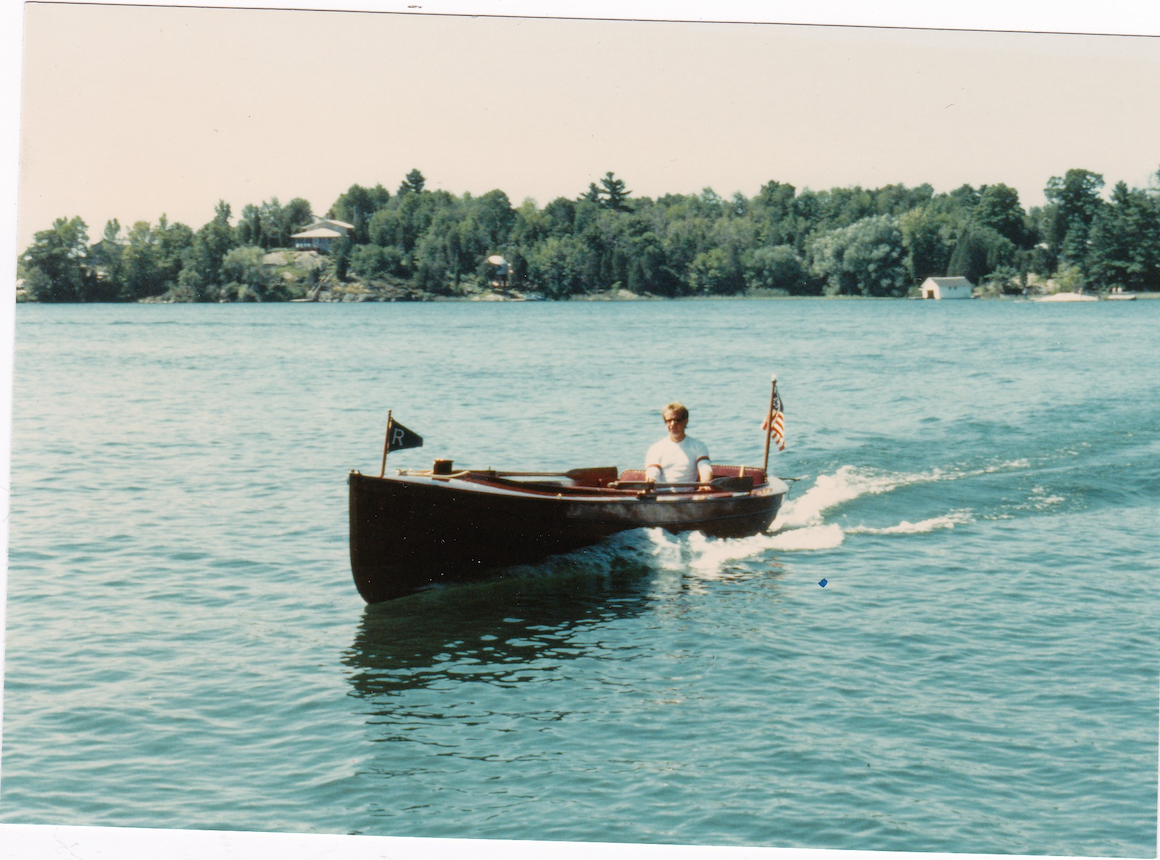 Subsequently, my parents bought Pine Island (aka Beckwith) where my siblings and I spent many happy summers, including all the years I spent at the Foote School.
Throughout my entire life, I encountered only one other person who spent summers on the St. Lawrence: Chet Merrick, and that was by pure happenstance.
After Foote, at a boarding school in Massachusetts one day, I overheard a boy my age at a distance away in the large dining hall talking about the Thousand Islands. My ears perked-up immediately, straining to hear more--this was extraordinary! There were dozens of boisterous teenage kids in that crowded, noisy hall—the odds of catching a tidbit of conversation about the River amid that din were pretty nil.
But I did, and Chet and I became fast friends. He was cool. His family had a summer home on Murray Isle, and they raced wooden outboard-powered hydroplanes—small scale versions of the large racing hydroplanes, displayed in the Antique Boat Museum today.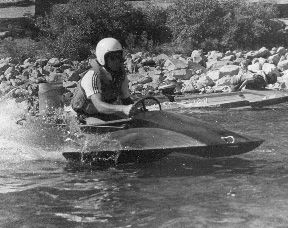 It turned out that his family and my father had come to know each other as well in years past—something we were both unaware of until Chet and I developed our own friendship centered around the River.
That friendship died when Chet did: tragically, just two years later, when I heard he fell from the back seat of an open convertible he was riding atop, hit his head, and passed away.
Decades themselves passed, and many dozens of summers spent with my sister Sarah, on Grindstone and, most recently, Maple Island (the one near Bluff, Murray, and Grenell). Throughout the years, I never encountered anyone else connected to the River.
Then one day this past spring, I was startled by what struck me as an almost impossible discovery. At home in Arizona, I was perusing the Alumni Notes, in the latest edition of the Foote School Magazine. Don Ross had, as always, faithfully and adroitly compiled an assortment of items submitted by our far-flung classmates (from Alaska to New England). It seemed the usual sort of news: careers, travel, grandchildren.
And then, deep among them all, there was a brief blurb about Callie Woodman—which stopped me cold:
"Caroline 'Callie' Woodman Quarrier is a nurse and enjoys cross-country skiing, painting, writing, and travel. She lives on the St. Lawrence River on one of the Thousand Islands."
Huh?! A Foote School classmate, now living on an island in the Thousand Islands? Wow; I was so intrigued that I emailed Don about this extremely unusual coincidence.
And that's when things got interesting. To my complete surprise, Don revealed his own family's River connection.
Don's Story:
My family's Thousand Islands heritage also dates back to the early years of the 20th century.
My Dad (Ogden Ross)'s grandfather was Charles Appleton Terry. He bought Woronoco Island, near Bluff, Maple, Murray, and Grenell, sometime before 1910, using it for periods in the summer.
He had a fleet of boats, including (left to right in the 1910 photo below at the left) a cruiser named the "Woronoco"; another craft called the "Catherine," for his daughter (and my grandmother); and a St. Lawrence skiff-style boat named the "Pilgrim."
Charles Appleton Terry was a lawyer who enjoyed a long and highly successful career at the Westinghouse Corporation serving as George Westinghouse's legal counsel, heading the patent area, among other corporate responsibilities. After Westinghouse retired, Terry was given the title of Honorary President.  He had a home in Pittsburgh, where my grandmother was born, and a house in Manhattan.
I don't know precisely when Woronoco was sold, but my brothers and I believe it was shortly after 1930. The only time I was up there was in 1972 to go fishing, and I haven't been back since. But I do remember that just before we boarded our charter, Dad spoke to an old fellow on the dock in Clayton, who remembered the family, the island, and even Dad. However, I still have some old movie film of the Prince of Wales' visit on the St. Lawrence River in 1927.
Callie's Story:
My husband Hugh's great grandparents (Thompson) visited good friends on Atlantis Island, in 1889. As many of us since, they fell under the spell of the St. Lawrence and the Thousand Islands. They immediately purchased an island across from Atlantis and called it "Ragnavok", or "twilight of the gods."
Ragnavok has great elevation that allows majestic views of the Seaway Channel, Canada, and most of Chippewa Bay, including Singer Castle. Artist Michael Ringer was so enchanted by Ragnavok's height and elegance, he used it as the cover of his first book "For Love of the River."
The Thompsons built a large summer cottage, a smaller guest house, and a three-slip boathouse, with living quarters above. Until Hugh's parents came into ownership, the entire operation of Ragnavok fell to a plethora of caretakers, cooks, maids, and boatswains.
The Thompson's only daughter, Frances (Hugh's grandmother), was eleven when her parents purchased the island. She spent her childhood and teenage years summering there. Frances adored the island and became an accomplished swimmer and sailor. Unfortunately, the man she fell in love with and married was not as enthusiastic about River and island life, at least not until he discovered race boating and The Gold Cup Races.
Archie Quarrier had lived most of his very privileged life in New York City, and River life was not his favorite until he began to buy bigger and faster race boats. The betting that took place didn't hurt either. Thus began a succession of Quarrier racers up until the present day. Now the River was Archie's favorite place on Earth as each year, his racing speeds and engines became larger. He was lured by thoughts of winning the Gold Cup Races.
The Gold Cup Races (1904-present) began on the Hudson River, as a place for essentially the rich and famous to display their fabulous racers. Each year's victor would have the next year's race at his home base. John Wainwright of the Chippewa Yacht Club (1895-present) won the Gold Cup in 1904, and the race was moved to the St. Lawrence River.
At last, Archie, also a member of the Chippewa Yacht Club, had a place to compete! After several boats, Archie in "Skipper," a 39'4" long by 6' wide racer using a 250-horsepower Jensick engine, challenged boats from everywhere.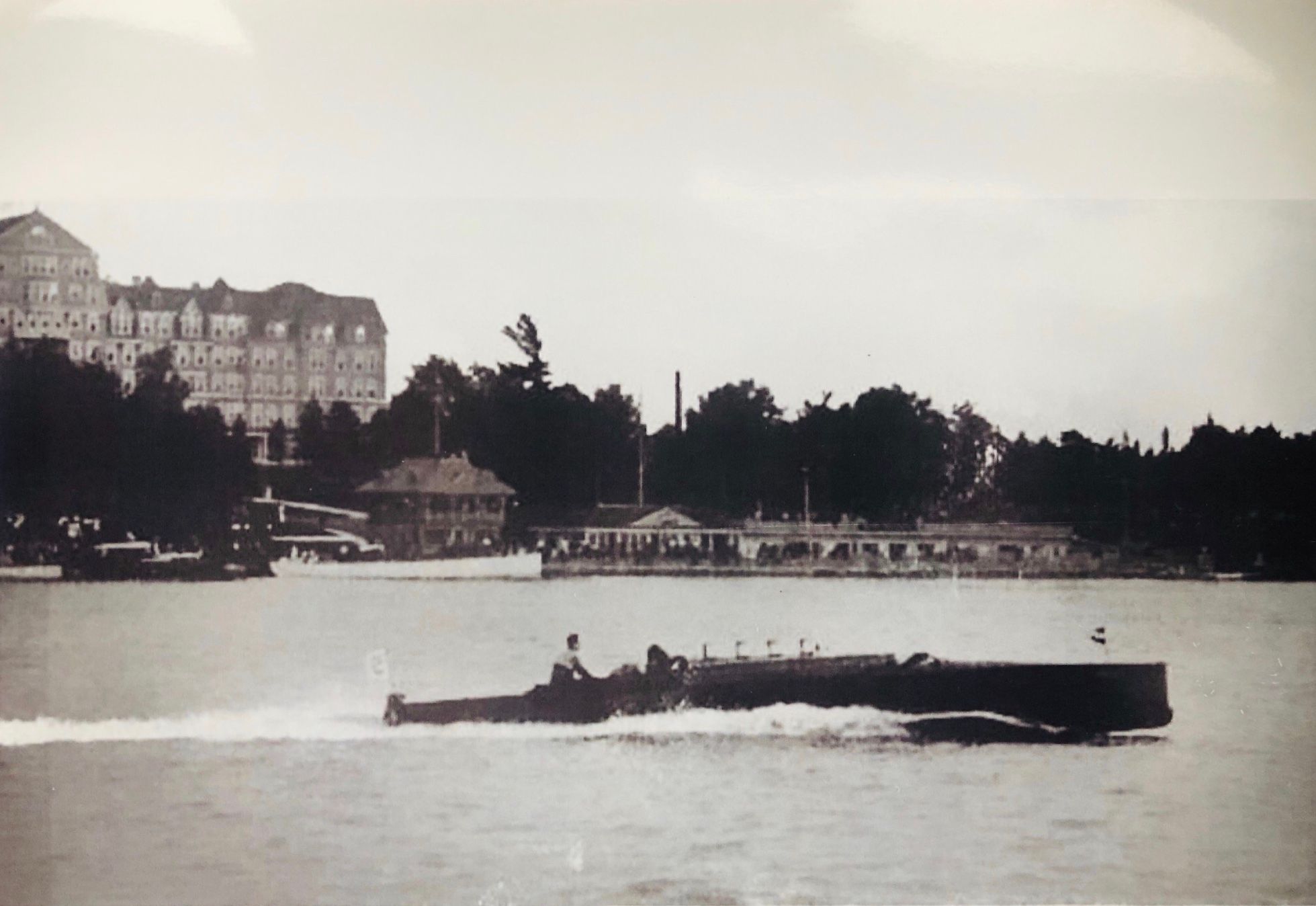 In 1911, "Skipper" was considered the fastest boat in the world. Archie was sure he would win the coveted Gold Cup this time. Heat after heat, he won with aplomb. The final heat victory eluded him as he could not start the engine! Disappointed, Archie decided to stick with Yacht Club racing. He raced until the end, but always had trouble with starting. His last racing boat was a Hutchinson Hacker-Craft with a triple-cockpit and Lycoming airplane engine.
Starting and gears continued to challenge him. One day he decided to take Frances for a spin. They were all set to go. Archie roared up the engine and threw "Miss Q" in reverse, whereupon instead of backing-up the boat, she sped towards the dock and walls of the boathouse.
"Frances", Archie yelled, "stand-up, we're going through!"
Archie's love of speed waited to resurface in his grandson Hugh. Hugh has loved both sail boating and motors. He restored a Century Runabout to its original beauty. He broke a few ribs racing in small wooden hydroplanes, two of which grace the ceilings in Alexandria Bay establishments: Dark Island Spirits and Treasure Island. Today, he goes too fast in a Donzi ZR27.
The Gold Cups left Chippewa for Michigan, but many of the present-day Chippewa Yacht Club islanders have families that go back to 1904. We are now hoping to return the Gold Cups to our Bay and have had two successful races on the original course. A most beautiful sight is seeing a multitude of old Hutchinsons, Garwoods, Centurys, and others. For us in Chippewa Bay this is a return to the memories of our families, friends, and most of all, this Thousand Islands region that enriches our lives.
Epilogue
Don and Callie and I had known each other for our entire childhood years at school, and yet the whole time, Don and I never knew that our families shared an in-depth history on the River. It seems exceptional that our families' former islands—Woronoco and Beckwith--are within viewing distance of each other. Today, I gaze-out directly at Woronoco from Maple Island.
And until this year neither Don nor I ever knew that Callie Woodman, now a full-time River resident, had found a home on the St. Lawrence herself in Chippewa Bay, becoming part of another multi-generational Thousand Islands family rich with history.
What the odds of all this are, cannot be computed. It is simply one of the River's mysterious, magical turns.
It took nearly sixty years, and a chance blurb in an alumni newsletter, for three classmates from the small class of '62, to discover a shared history, a present, and a mutual deeply-felt affection for this extraordinary place: the Thousand Islands.
By Tom Robbins, Don Ross, and Callie Woodman Quarrier
Tom Robbins is a third-generation summer resident of the Thousand Islands, Tom's career has taken him from the White House to Madison Avenue, Hollywood, and now Silicon Valley. His lifelong love of the St. Lawrence parallels his personal and professional interests in film production, photography, and writing.
Don Ross grew up in New Haven, CT. Graduate of University of North Carolina (BA) and University of Pennsylvania (MBA). He now lives in Newport, RI.  He had a 20 year career in investment banking in New York and London, and was in investment management the last 25 years. Don is dedicated to architectural history and preservation, as past Chairman of Newport (RI) Preservation Society and member of Newport Historic District Commission.
Callie Woodman Quarrier worked at Yale New Haven Hospital for 37 years as a neurological/neurosurgical nurse. After spending most of her summers at her grandmother's home on Mt. Desert Island, Maine, Callie fell totally in love with islands. She was enchanted to find her husband-to-be had a St Lawrence island.  For nearly fifty years they have visited every summer. Since building a shore home in Chippewa Bay eight years ago they have loved the winters too. Callie has been baking, decorating, and transporting (no easy feat over the River!) cakes ranging from small ones to 3-tiered wedding cakes.
Editor's note: "Esteemed Editor" sounds a bit much... but then guess what... 1962 was a special year for me too, as  I graduated in 1962 not from Middle School but rather from Boca Ceiga High School in St Petersburg, Florida, so these guys have chosen an "Esteemed Year!  
What about you, have you found a link to our Islands that puts you in the Small World Club? See some others:
Rex Ennis, the Manton Family and a Small World
TI Life in June and my High Water Rant
TI Life Happenings in July 2019
Posted in: Volume 15, Issue 1, January 2020, People, Places
---
---
---