We first wrote about the Red Barn Preserve in Morristown last spring, just after they opened their first hiking trail to the public.  Since then, much has happened.  
But, before we get to the updates, let's start with a description of the Red Barn Preserve and the couple who made it all possible. The hiking trail unofficially opened to the public on May 26, 2018. When we first visited it in early June, it still hadn't had its official grand opening, and some of the trail markings weren't even in place. Nevertheless, what we discovered was beautiful enough, just as it was, for us to want to spread the word. The natural beauty of this amazing trail was already in place and just waiting to be experienced.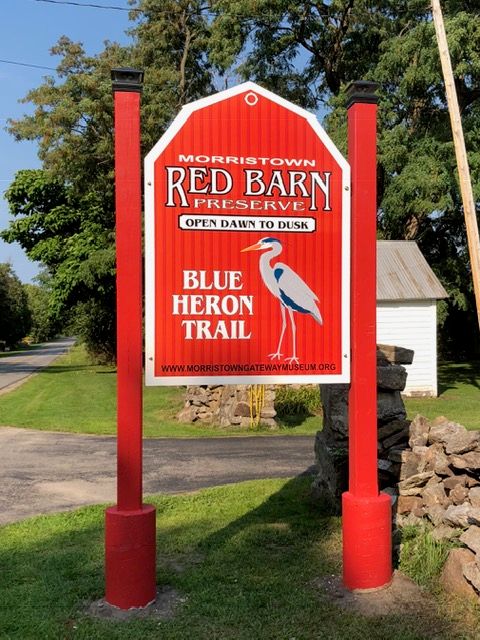 The Red Barn Preserve is located on River Road East, just outside of the village of Morristown. There is a trailhead at the Red Barn, but there is also a new parking area closer to Morristown, with a sign for the Blue Heron Rookery Trail, which ends at the Red Barn.  The Gateway Museum in Morristown has been working closely with the Thousand Islands Land Trust (TILT), to develop what they describe as a system of trails across this 160-acre tract of land. Hence, this is only just the beginning.
It all began with Allan and Lorraine Bogardus
Allan Bogardus was born on April 29, 1926 in Morristown. He graduated from Ogdensburg Free Academy in 1943 and enlisted in the Army, where he served in Italy with the 10th Mountain Division, the 3rd Division Headquarters Artillery and was later transferred to the 88th Division, before he returned to Morristown in 1946.  His name is listed on one of the War Memorials in Chapman Village Park in Morristown.  
As a young man, Allan was a skilled sturgeon fisherman. In 1950, he became a commercial fisherman and regularly shipped sturgeon and caviar to the Fulton Fish Market in Brooklyn. The Gateway Museum has a picture of the 24-year old Mr. Bogardus posing with a large sturgeon, with the following quote:
"I was born and raised in Morristown and I learned sturgeon fishing by helping older men like Joe Corrice…From 1948 until 1970 I worked as an electrician and ice harvester and caught sturgeon during the spring and fall for extra money..."
Allan stopped fishing for sturgeon when they were placed on the endangered species list.
Lorraine Brown was born Oct. 8, 1927 in Brockville Ontario. Her family moved to Morristown in 1930, and she graduated from Morristown Central School in 1945 and later from the Crane Department of Music at Potsdam, in 1949. She taught vocal music, band and orchestra at Philadelphia High School (Indian River), Watertown, Hammond and Heuvelton Schools for over 30 years, retiring in 1980.  For 25 years she was also the historian for the town of Morristown, and in 1988 wrote the book River Reflections, a short history of Morristown. (I had to smile when I read that, since I am not only a musician, but I also wrote a book called River Reflections.)  As the village historian, Lorraine was also responsible for the dedication of the Chapman Village Park, in 1974.
Allan and Lorraine were married on June 21, 1969 at the First Presbyterian Church in Watertown, with Rev. Jack Smiley officiating. Allan was a past member of the Morristown United Methodist Church, the Galilee United Methodist Church serving on the Pastor Parish Relations Committee, and was the former Commander of the VFW Post 10515. Lorraine served as President of the VFW Ladies Auxiliary Post 10515. She also served as Choir Director and Organist at Faith Presbyterian Church in Watertown and the United Methodist Church in Morristown, for a total of 55 years.
Shortly after they were married, the Bogarduses established the Red Barn Museum in 1971, at their home on River Road East, naming it after the barn on the property.  They founded the Morristown Foundation Inc.  They collected items from the community and offered arts and crafts fairs and historical programs in the summertime.  After the Red Barn Museum closed, Lorraine helped raise funds for the purchase of Comstock Hall, on Main Street, which became known as the Gateway Museum, and housed artifacts from the Red Barn Museum.  
Lorraine passed away on August 6, 2015.  Allan passed away less than a year later, on March 24, 2016, leaving much of their estate to the Gateway Museum including the Red Barn, as well as 160 acres of land.  And in 2018, the Museum opened its first nature trail to the public.
I touched base with Dean Shelato, President of the Gateway Museum, to see if there were any updates on the Preserve that I could pass on to the TI Life readers.  In fact, Mr. Shelato let me know that the Museum has been very busy and there are all kinds of new and exciting updates. It should not only help you get through the long winter, but also give you plenty to look forward to next summer.
"The Gateway Museum is excited about receiving a Grant for $12,250 to do a second trail next Spring and to complete some maintenance projects on the Red Barn. If we are successful raising the money, we plan to convert the Barn into a public use facility and host small events at this site including Museum Lectures, Quilt Shows, Art Shows and maybe even Weddings. But it's the Hiking Trail that excites us the most. Thanks to Eagle Scout candidate Evan Coslar, from Troop 9 Heuvelton, on June 16th, Evan and 15 other Boy Scouts and volunteers spent the day improving the trail and building a small bridge over a stream. With these improvements and the presence of 50 blue herons, on the nesting site, visible from our boardwalk, we now have the finest - if not the most interesting hiking trail in the North Country!"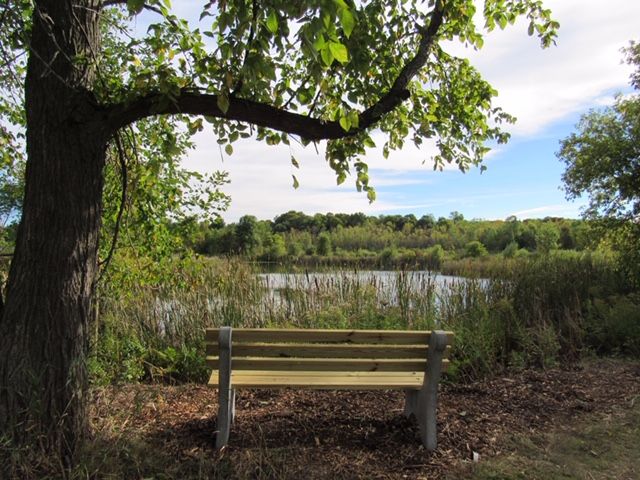 Since our first visit, the trail now has Signs, Trail Markers, a Kiosk, and Bench Seating.  Dean let us know that throughout the summer, traffic at the Red Barn Museum continued to grow.  The only complaint registered was – "where is the port-o-potty?"  By the end of August, volunteer workers had proudly installed a new outhouse near the boardwalk, complete with half-moon door design. In early September, eight concrete park benches were purchased. Five were installed immediately along the trail and three were put in storage, to be used on the second hiking trail. Dean also noted that:
"More good news was received when Dr. Jessica Rogers, from SUNY Potsdam, attended one of our Museum board meetings to ask permission from the museum to conduct a two-year study of invasive plants at the Red Barn Preserve.  While we were not thrilled to learn that we had purple loosestrife plants invading our wetlands and strangling our cattails, we were inspired by Jessica's presentation on how there may be ways to slow this activity down and even stop it."
Looking ahead to this spring, the Museum is planning to build a second hiking trail by Memorial Day.  A second 300-foot boardwalk will be built to cross the marshland area.  The trail will also be constructed closer to the Blue Heron Rookery.  An Observation Deck will be constructed, to provide better views of those majestic birds as well as views of the beaver dams on the property. It is expected that this new trail will be 3/4 of a mile long. It has only been a little more than 18 months since the Red Barn Preserve was acquired by the Gateway Museum.  No one could have predicted how well the development of this site and its hiking trails occurred.
I think of the generosity of those who give, serve, care and live for others, I can't help but to think of the verse, "Give, and it will be given to you. A good measure, pressed down, shaken together and running over, will be poured into your lap. For with the measure you use, it will be measured to you" (Luke 6:38).  Somehow, I know that their generosity has not gone unnoticed. And for Allan and Lorraine, this is only just the beginning.
Memorial Day seems like a long way off right now, but we are already counting the days until we can get back to the River and specifically to the Red Barn Preserve, so we can continue the journey with them. Maybe we'll see you there!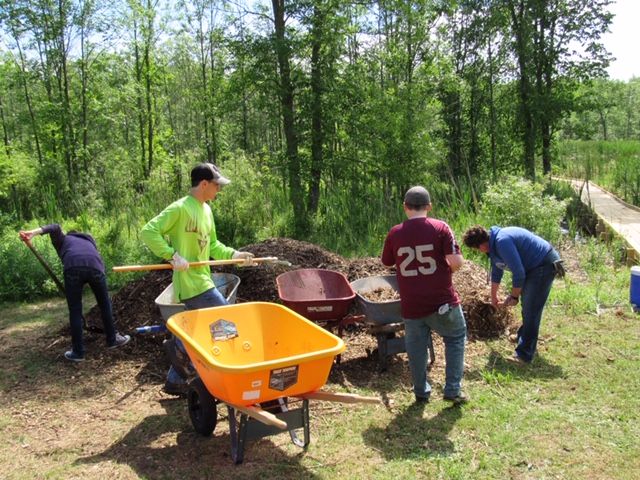 ---
Patty Mondore and her husband, Bob, are summer residents of the Thousand Islands. Patty's most recent books include River-Lations Revisited: More Inspirational Stories and Photos from the Thousand Islands, River Reflections: A 90-Day Devotional for People Who Love the Water and its two sequels, Nature Reflections and A Bird Lover's Reflections. She and Bob co-authored "Singer Castle" and "Singer Castle Revisited" published by Arcadia Publishing, and co-produced "Dark Island's Castle of Mysteries" documentary DVD, in addition to a Thousand Islands Music DVD Trilogy. Patty is a contributing writer for the "Thousand Islands Sun." Her column, "River-Lations", appears in the Vacationer throughout the summer months. The Mondores are online at www.gold-mountain.com. (Be sure to also visit Bob's singercastle.blogspot.com.)
Posted in: Volume 14, Issue 2, February 2019, Nature, History, People
---
---
---