Last month, shortly after dawn on a stormy Saturday morning, a visitor arrived unannounced on our rocky point on the northeast corner of Grenell Island. When the rain slowed, our daughter, Michelle, ran down to the dock to check the skiff. She was surprised to find a fawn in the water trying to get up onto the rocks.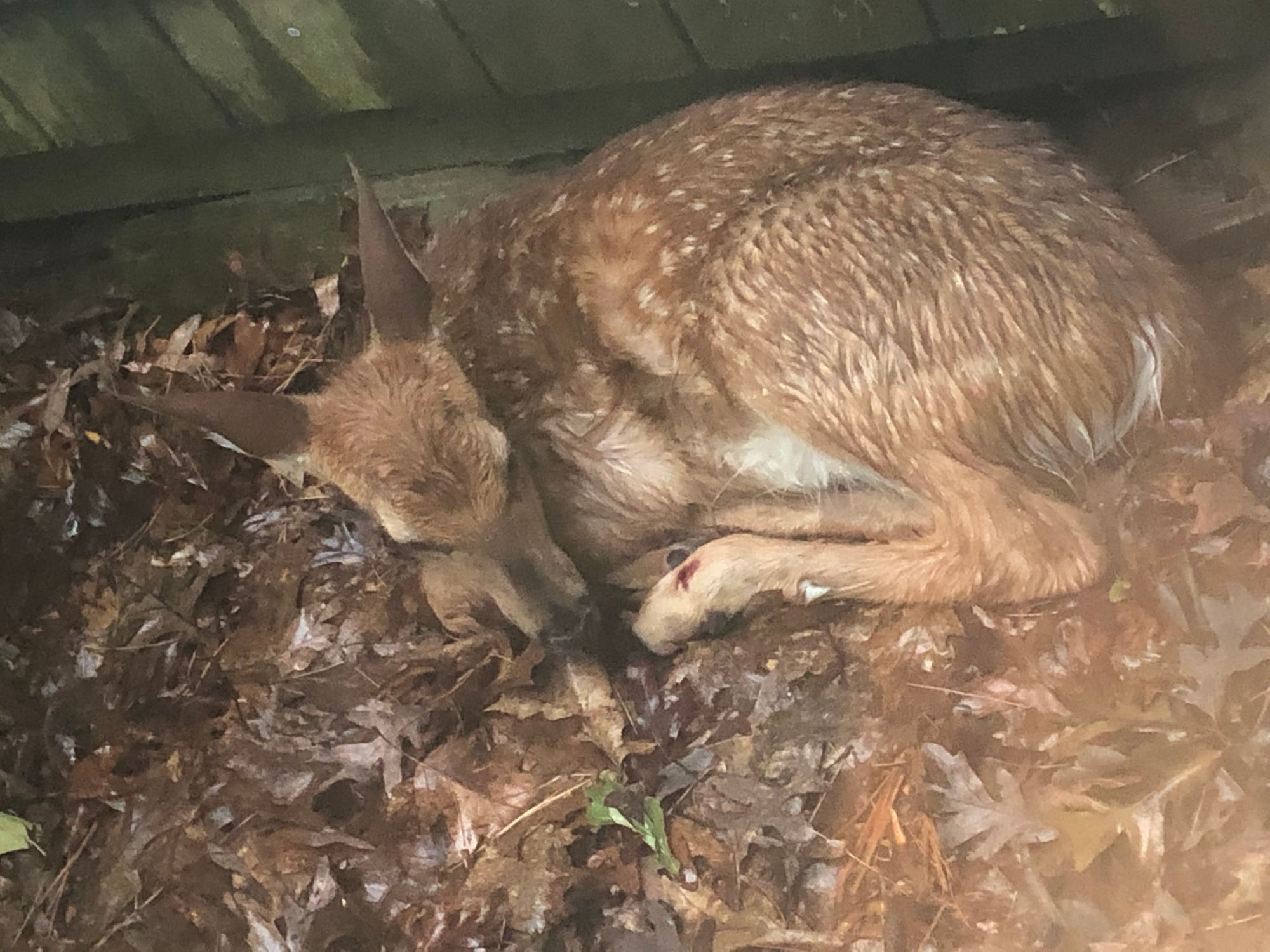 She startled the fawn, so Michelle quickly retreated back to the cottage, and watched as the fawn struggled ashore. It stood on shaky legs on our front rock. Moments later, the rain came down in sheets and the fawn sought shelter, finding a nice dry spot behind our rhododendrons in a corner where our screened porch meets the main structure of our cottage.
The fawn was just under the front window of the living room. Michelle peeked out the window. The fawn curled into a little ball and shivered. The fawn looked exhausted.
Not wishing to stress the creature, Michelle stood back from the window, stretched out her arm, and snapped a picture with her cell phone. When she enlarged the very first picture, she noticed the fawn had a small cut on its left hind leg. Later, when the fawn repositioned itself, facing the wall, she noticed another larger wound on its back.
There had been reports of a small deer on the island earlier that week. Was this the same deer? Perhaps this deer had been chased by a predator and swam over from Wellesley Island State Park. Had the wound been caused by a predator? Was it possible that it had been hit by a boat?
Luckily, Michelle has a yoga friend, Kelly Mehring, who volunteers at the Ohio Wildlife Center. When Michelle texted her shortly before six about the fawn, Kelly immediately called, said she was getting dressed and would be right over. Michelle had to tell her to stop. She wasn't in Columbus; she was on Grenell Island in the middle of the St. Lawrence River.
Despite the distance, Kelly was very helpful. She told Michelle that the most important thing at this moment was to make sure the fawn felt safe and give it time to rest. Michelle named our little visitor Pete.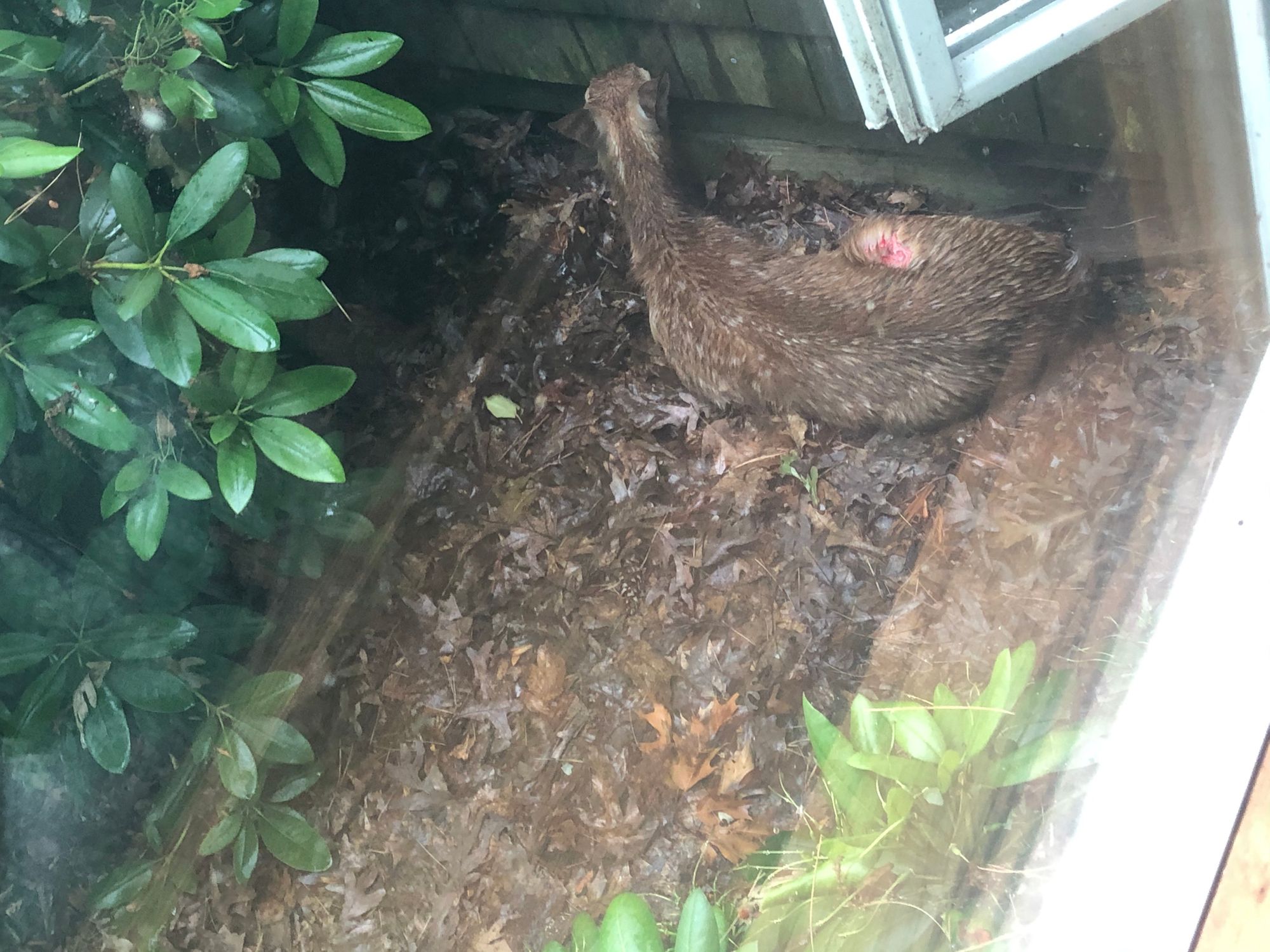 Kelly, and other friends on Grenell, gave us the phone numbers of local wildlife groups. Most did not take in deer. One rescue group said they would take the fawn if we would deliver it to the Thousand Island Park dock. Pete was resting quietly and we decided it was better to let it continue to rest under the eaves of our cottage.
The day remained gray and wet. Morning turned to afternoon and afternoon to evening. Michelle kept track of the deer via iPhone pictures. Our four-legged visitor slept most of the day and by evening looked more alert.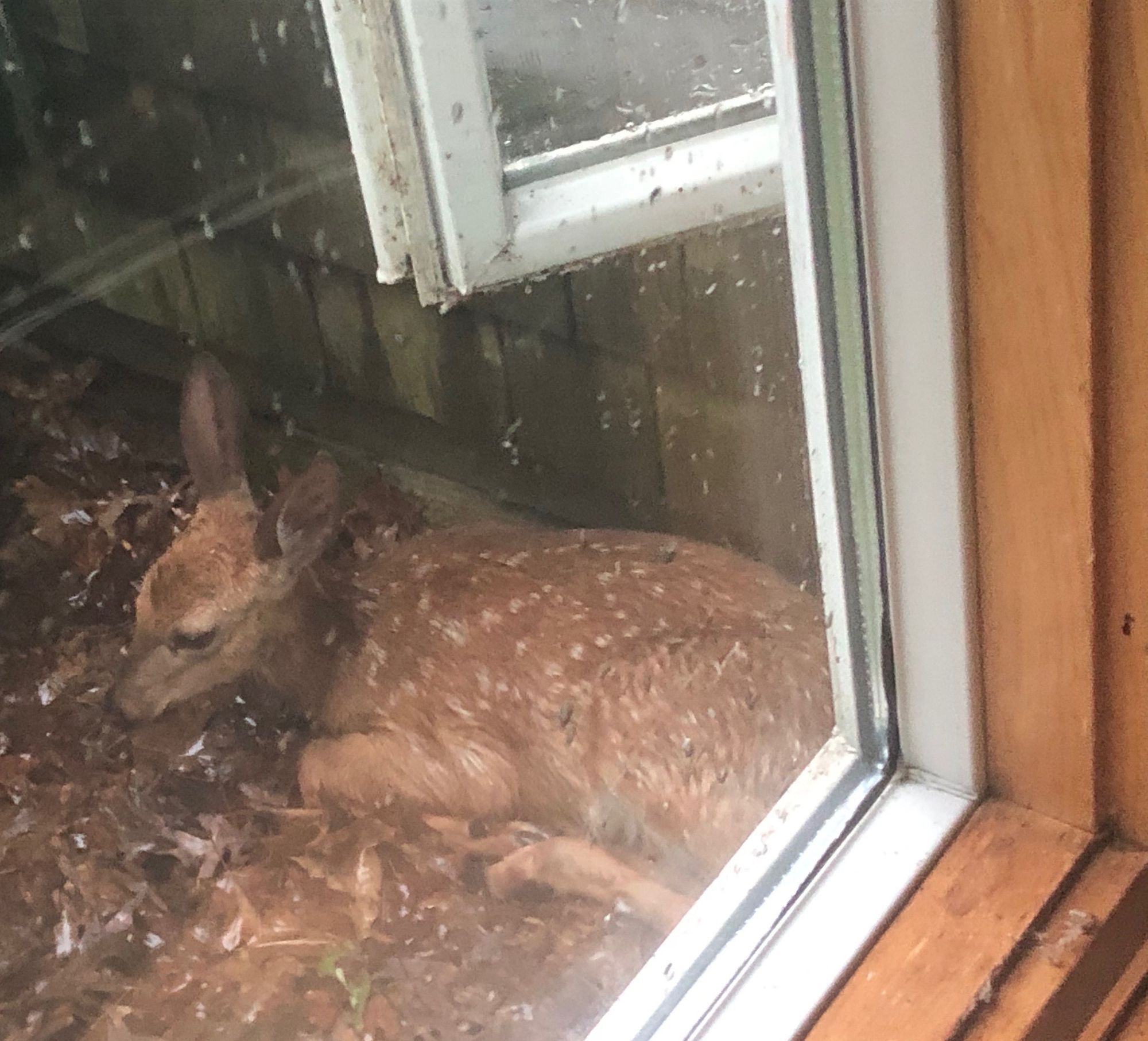 As darkness fell, our son-in-law was concerned that the fawn hadn't eaten and would starve by morning. He wanted us to take the screen out of the window and drop either dog food or blueberries down so the poor thing had something to eat. Wisely, Michelle called Kelly, who said absolutely not! Fawns have very delicate digestive systems. The wrong diet could cause diarrhea, dehydration, and ultimately death.
We worried about the little fawn. Was it old enough to survive without mom? Obviously, its mother wasn't going to be able to find the fawn tucked away behind our rhododendrons, especially if she were on Wellesley or Murray.
Kelly asked if the deer was as big as a Great Dane. A fawn that size might be able to fend for itself. I only had the first picture of Pete to go by. I thought it was a tad smaller than a Great Dane.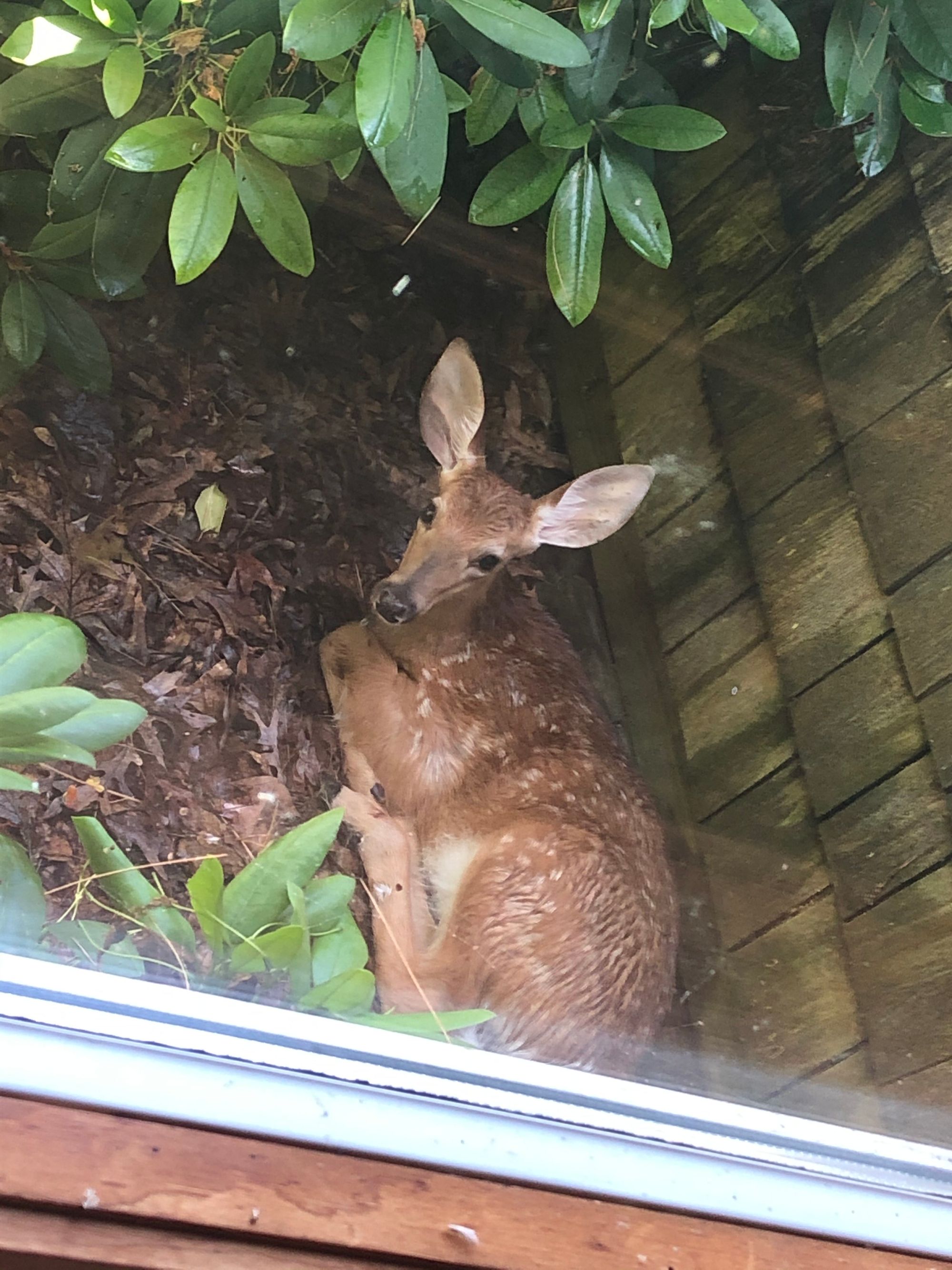 Before dawn on day two, Pete was up and foraging in the front of the cottage. Did this mean Pete was self-sufficient and not dependent on mother's milk? We watched, wondering if it would swim away or wander about our little point of land, but Pete quickly retreated back to the spot behind the rhododendrons.
Our daughter and son-in-law left for Columbus at seven that morning, reluctant to leave their new charge. Pete looked much improved from its exhausted bedraggled state the day before.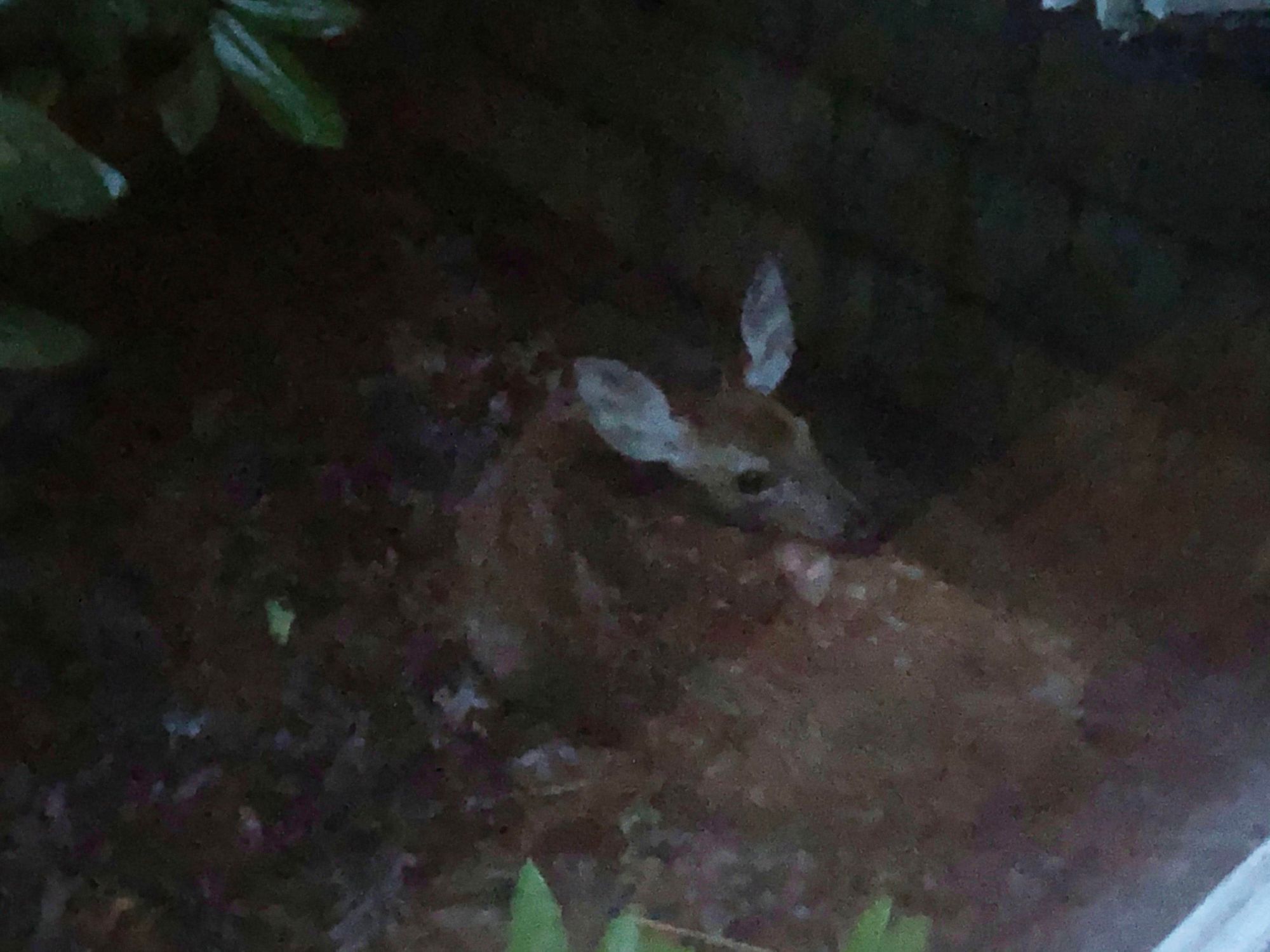 After they left, I checked on the fawn every hour, wondering if we had a permanent pet. At eleven the fawn was gone. We've not seen hide nor hair of Pete since.
We believe Pete is somewhere on Grenell, probably up in the middle of the island away from the many dogs. But perhaps Pete swam back to wherever it came from.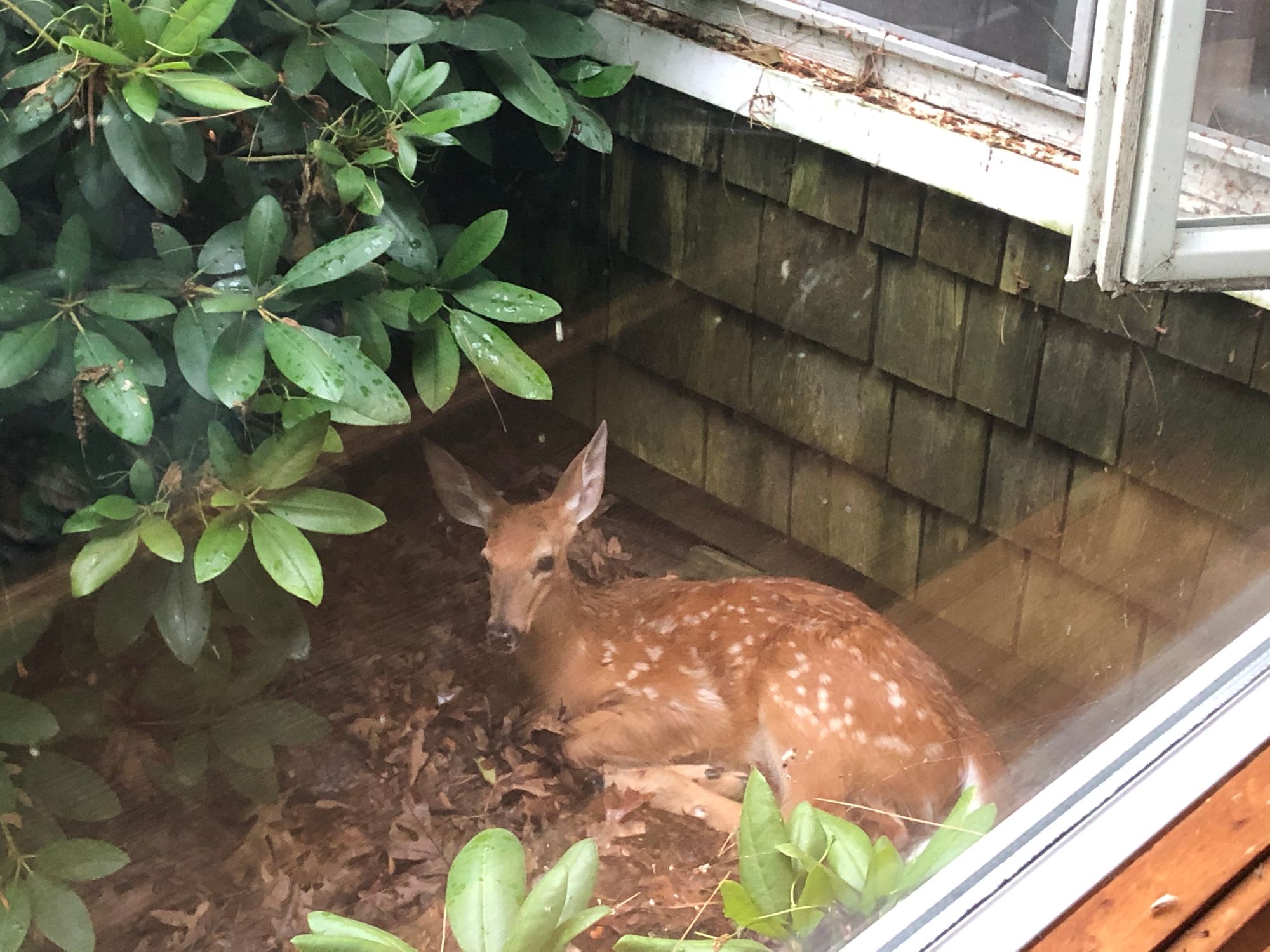 Like Pete, we find our little rock a nice refuge from the rest of the world. A place to revive and rest up. A healing place. Wherever Pete came from, wherever Pete went, we were happy to provide shelter in its time of need.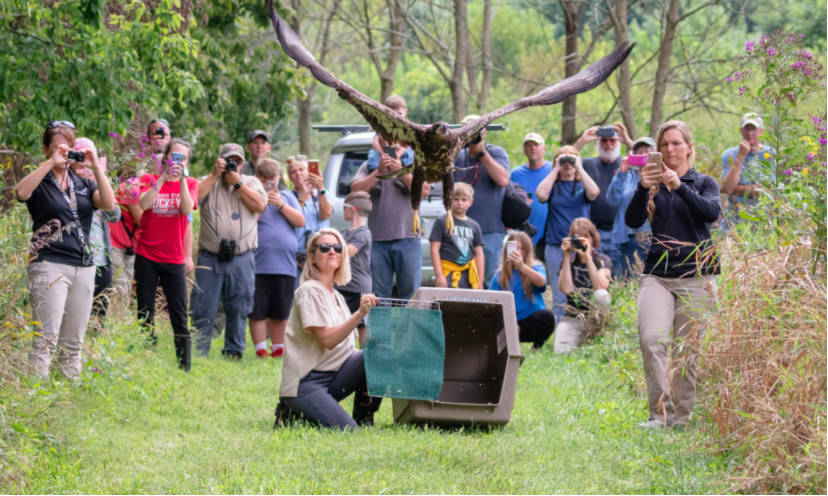 By Lynn E. McElfresh, Grenell Island
Lynn McElfresh has written well over 130 articles for TI Life, and each one makes this editor happy and entertains TI Life readers.
To see all of  Lynn's island experiences, search TI Life under Lynn McElfresh.
And the best news....  Grenell 1893, the second in Lynn's pledge to write nine novels about the thousand Islands has arrived.  It is available in several places: (Buying local is what we like)  Clayton....@ Raks, Ringers, ABM, and Spicer's Gallery, in Fishers Landing at Chalks Marina and at the Post Office on Murray Isle as well as the Grenell Island Post Office and from the McElfresh house at Rum Rock.  This editor has just received her copy so I look forward to presenting a review in September.
Finally Grenell 1904 is in its final stage...  Thanks Lynn for not only telling some wonderful stories but for writing them down for us all to enjoy.
Posted in: Volume 15, Issue 8, August 2020, Nature, Places
---
---
---