"What I've tried to do in my stage magic is to take a trick and give it an emotional hook."
– David Copperfield
Magician Ted OuterBridge takes David Copperfield's quote to heart in crafting his latest illusion show "Mysteries of the Keyhole House," now playing at The Royal Theatre in Gananoque. Outerbridge, working on stage with his partner and wife Marion, deliver a fascinating two hour show that combines Outerbridge's classic style magic trickery with compelling and emotional tales from the history of Smith Falls's premier haunted home, called the Keyhole House (the Outerbridge's current residence).
Ted Outerbridge's stage presence has a folksy and engaging style, which serves as the narrative anchor for the show's storytelling. Although some of his exposition comes across as a bit dry, his on-stage partner Marion provides the contrast as the silent and mysterious one, using her dance and ballet movements to emote the spiritualist and magical sides of the show.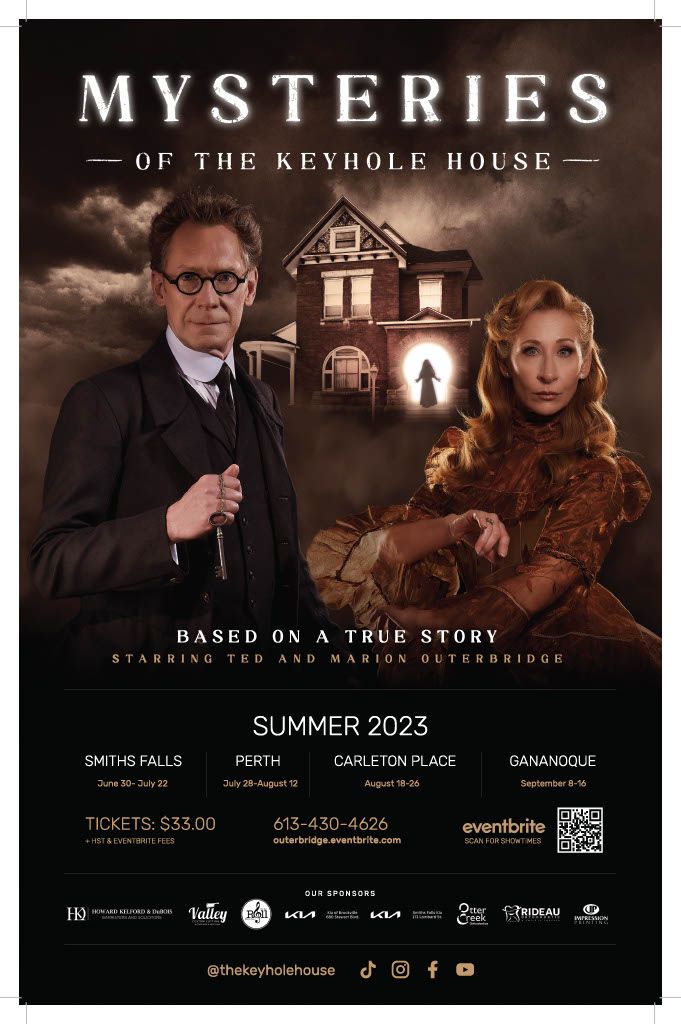 A lot of the show's store telling elements connect the history of the Keyhole house and its inhabitants with the spiritualism fads of the early last century. And this approach provides opportunities for Outerbridge to delight the audience with seances, spirit mediums and from-beyond-the-grave magic illusions. As usual in Outerbridge's performances, the audience participates directly in several of the magic bits, which works well in the intimate venue of The Royal Theatre. The show mixes closeup magic with classic illusions, some of which you may remember if you have seen Outerbridge's previous "Clockwork Mysteries" stage show.
And The Royal Theatre in Gananoque adds to the appeal of the "Mysteries of the Keyhole House" by providing a comfortably cozy, cabaret-style setting. Under the tutelage of The Royal's Frayne McCarthy and crew, the theatre continues to grow its reputation with quality productions.
For a fun illusion show, with some heartfelt people stories, I would recommend this one.
By Craig Jeffrey
Craig Jeffrey grew up in Gananoque but after living and working in various other places, being a River Rat, he returned to the Gananoque area.
Note: "Mysteries of the Keyhole House" plays at the Royal Theatre in Gananoque through September 16th.
Posted in: Volume 18, Issue 9, September 2023, Theatre Review, People, Current
---
---
---