Is that a prehistoric fish? Is it really more than 150 years old? Are lake sturgeon returning to the St. Lawrence River?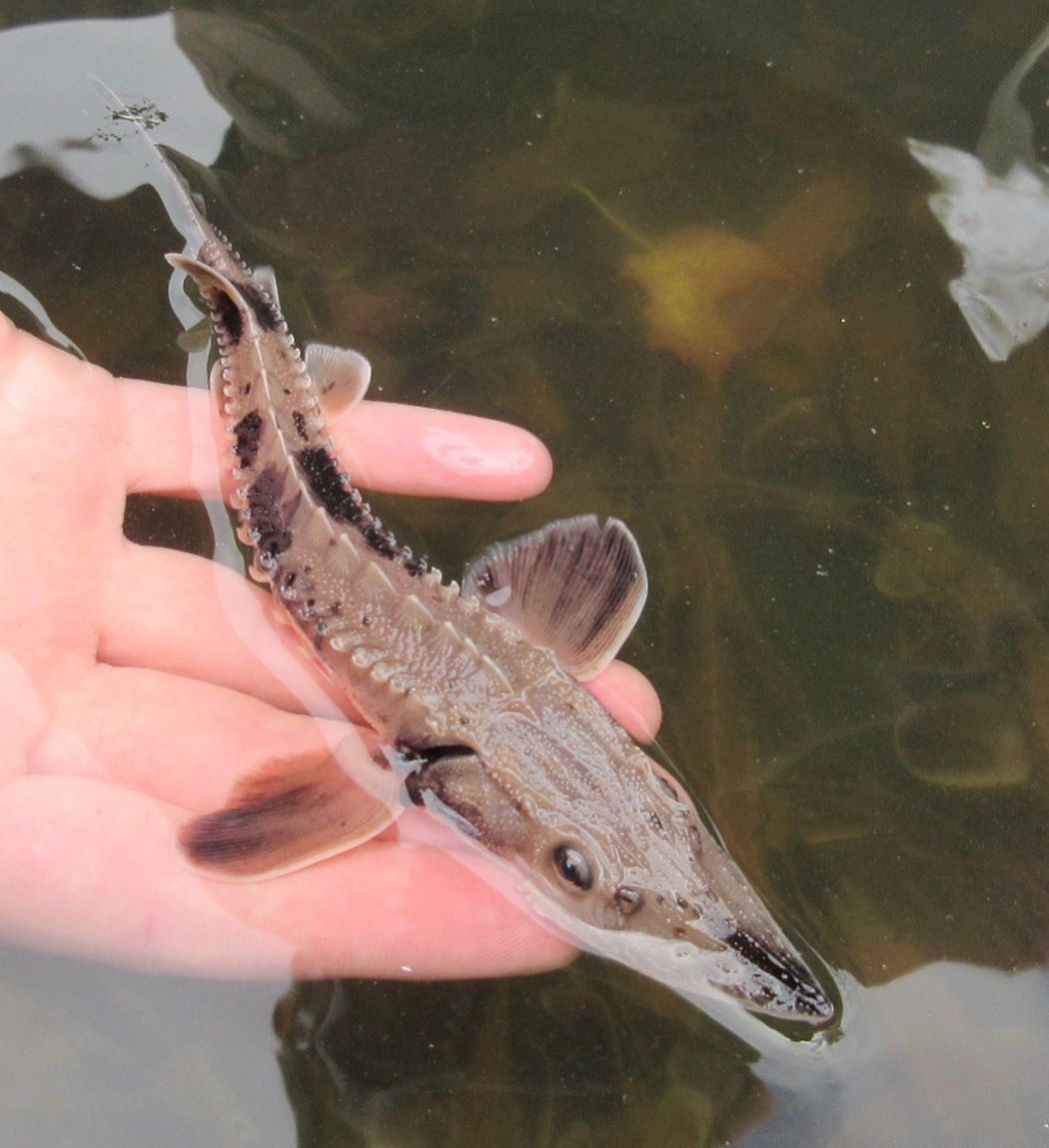 With help from a Disney Conservation Fund grant to New York Sea Grant (NYSG), the unique lake sturgeon, once abundant in New York waters, including in the St. Lawrence River, will benefit from recovery efforts.
The lake sturgeon has remained largely unchanged for 100 million years. The fish can grow to several feet long, more than 200 lbs., and live for more than 150 years. Its populations began to decline in New York State, in the mid-1800s, largely as a result of overharvesting, dam construction, and habitat degradation. The fishery was closed in 1976 and lake sturgeon were designated a Threatened Species in 1983.
The New York State Department of Environmental Conservation lists lake sturgeon as a Species of Greatest Conservation Need (NYSDEC, 2015). Today, it is illegal to possess lake sturgeon or target them while fishing in New York.
Lake sturgeon is considered a species of cultural significance to the Mohawks of Akwesasne and other Haudenosaunee Nations surrounding the Lake Ontario, Niagara River and St. Lawrence River watersheds. The Saint Regis Mohawk Tribe (SRMT) Environment Division is a key partner in the "Inspiring Lake Sturgeon Conservation" project that includes conservation and education outreach efforts.
Other lake sturgeon project partners with NYSG include NYSDEC, the U.S. Fish and Wildlife Service (USFWS)-New York, New York Sturgeon for Tomorrow, and U.S. Geological Survey, offering invaluable expertise in research, outreach, education, and extension.
"Support from the Disney Conservation Fund grant will help increase awareness about lake sturgeon and the challenges they face as a Threatened Species in New York.  Lake sturgeon populations are showing signs of recovery, and we want to encourage that recovery," said project leader Jesse M. Lepak, Ph.D., New York Sea Grant Great Lakes Fisheries and Ecosystem Health Extension Specialist, Ithaca, N.Y.
In March 2019, New York Sea Grant posted a one-minute video on the lake sturgeon restoration effort.
The Disney Conservation Fund has been supporting local efforts around the world aimed at saving wildlife, inspiring action and protecting the planet with more than $75 million distributed to nonprofit organizations since 1995.
To learn more about New York Sea Grant, a National Oceanic and Atmospheric Administration cooperative program of Cornell University and the State University of New York, visit www.nyseagrant.org.
By Kara Lynn Dunn
Kara Lynn Dunn is the publicist for the New York Sea Grant Great Lakes Program.   She lives in Mannsville, NY, with her husband and photographer, Brian Whattam, who grew up in Three Mile Bay, NY. She earned a journalism degree at the University of Pittsburgh; is a freelance writer, publicist, and designer; and has authored two books on North Country natural and historic sites. Kara vividly recalls childhood camping adventures along the St. Lawrence River with the Village of Mannsville Summer Recreation Program.
We thank Kara for keeping TI Life up-to-date with the many activities for NY Sea Grant.  This is another fine example of why living in the North Country is special.
Posted in: Volume 14, Issue 6, June 2019, Nature
---
---
---