We love to visit Wellesley Island State Park. We especially love the amazing hiking trails there, about which we have written in a previous issue of Thousand Islands Life; "Hiking the Thousand Islands". In addition to the hiking trails, there is the newly remodeled Minna Anthony Common Nature Center. I was curious to find out who Minna Anthony Common was and quickly discovered why New York State would name a nature center after her. As I learned more about her, I came to realize what a remarkable woman she was.
The Nature Center explains that Minna Anthony Common "was the leading authority on the birds, flowers, trees, animals, and Northern New York State grasses. For 25 years prior to her death in 1950, Mrs. Common's pen and ink illustrations and written work on natural history were published in the "Farm and Garden" section of the Watertown Daily."
It also states that "Minna Anthony Common was a lifelong summer resident of Thousand Island Park. She developed and maintained Rock Ridges Trail adjacent to her property. The one-and-a-half-mile walk through the woods was popular with visitors and school groups who learned about the various natural history elements along the trail through markers designed by Mrs. Common. The Thousand Islands Park Commission voted unanimously to name the Minna Anthony Common Nature Center in her memory as a tribute to her pioneering work in the field of environmental education. The Nature Center was officially dedicated on August 4, 1969."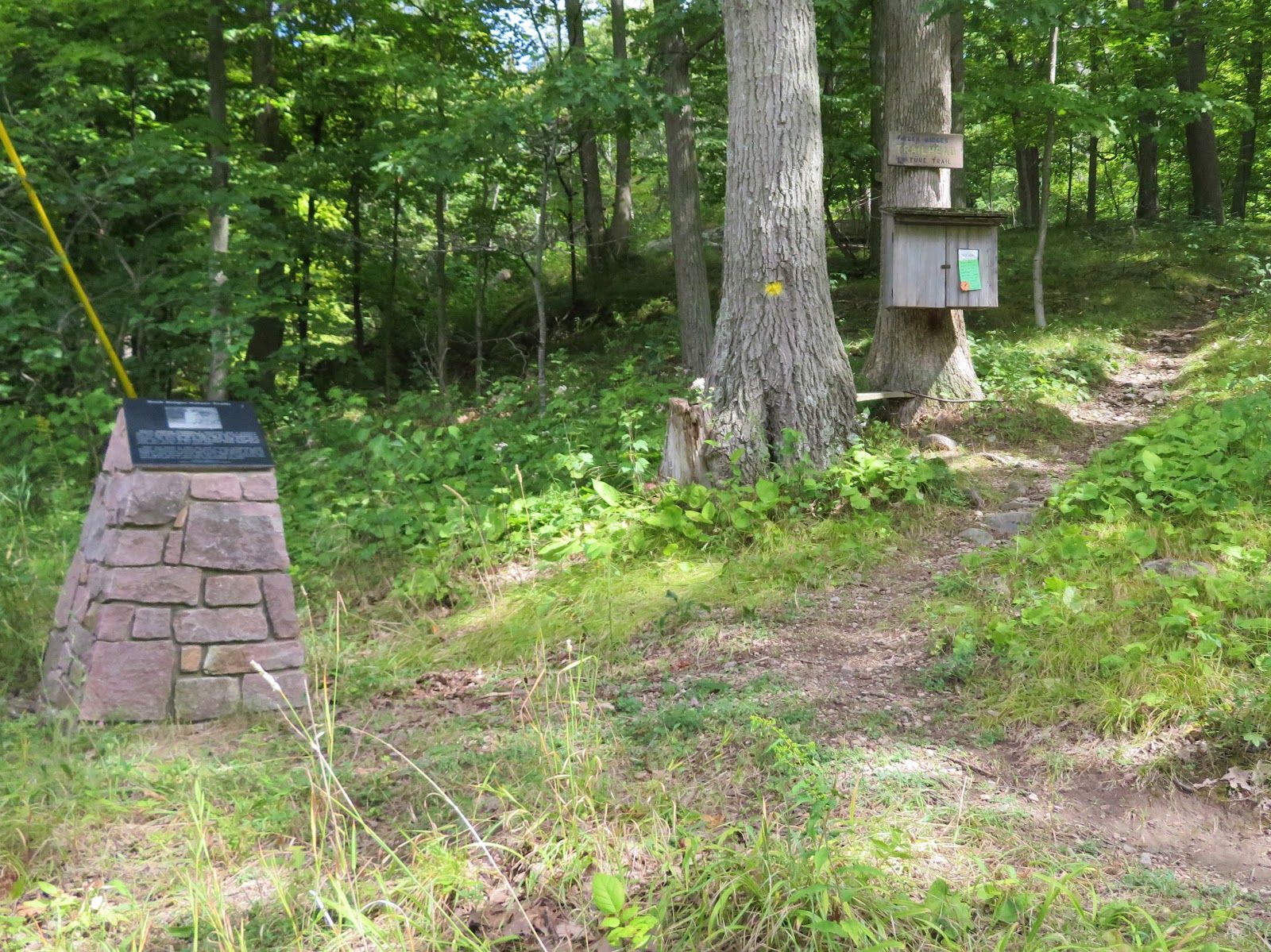 After learning about her hiking trail, Bob and I got the directions and soon had our first hike on Minna's Rock Ridges trail. To think that one woman created this lovely trail over 70 years ago is impressive. We won't repeat the entire story of how and why Minna first created the trail but refer the reader to Becky Ferrigno's article in Thousand Island Life. Becky Ferrigno also wrote a book on Minna entitled, Blazing a Trail: The Story of Minna Anthony Common.
We discovered a little more of Minna's fascinating story that ends up circling back to the Thousand Islands. Minna Anthony was born in 1882. Her mother, Margaret, died of diphtheria when Minna was only five weeks old. Her father, Paul Anthony, brought her to Watertown to be raised by her paternal grandmother Amelia Brown Anthony. Minna attended the local elementary school and graduated from Watertown High School in 1899. She later became a first-grade teacher in the Brownville-Glen Park school and also tutored children. Her interest in educating children continued throughout her life.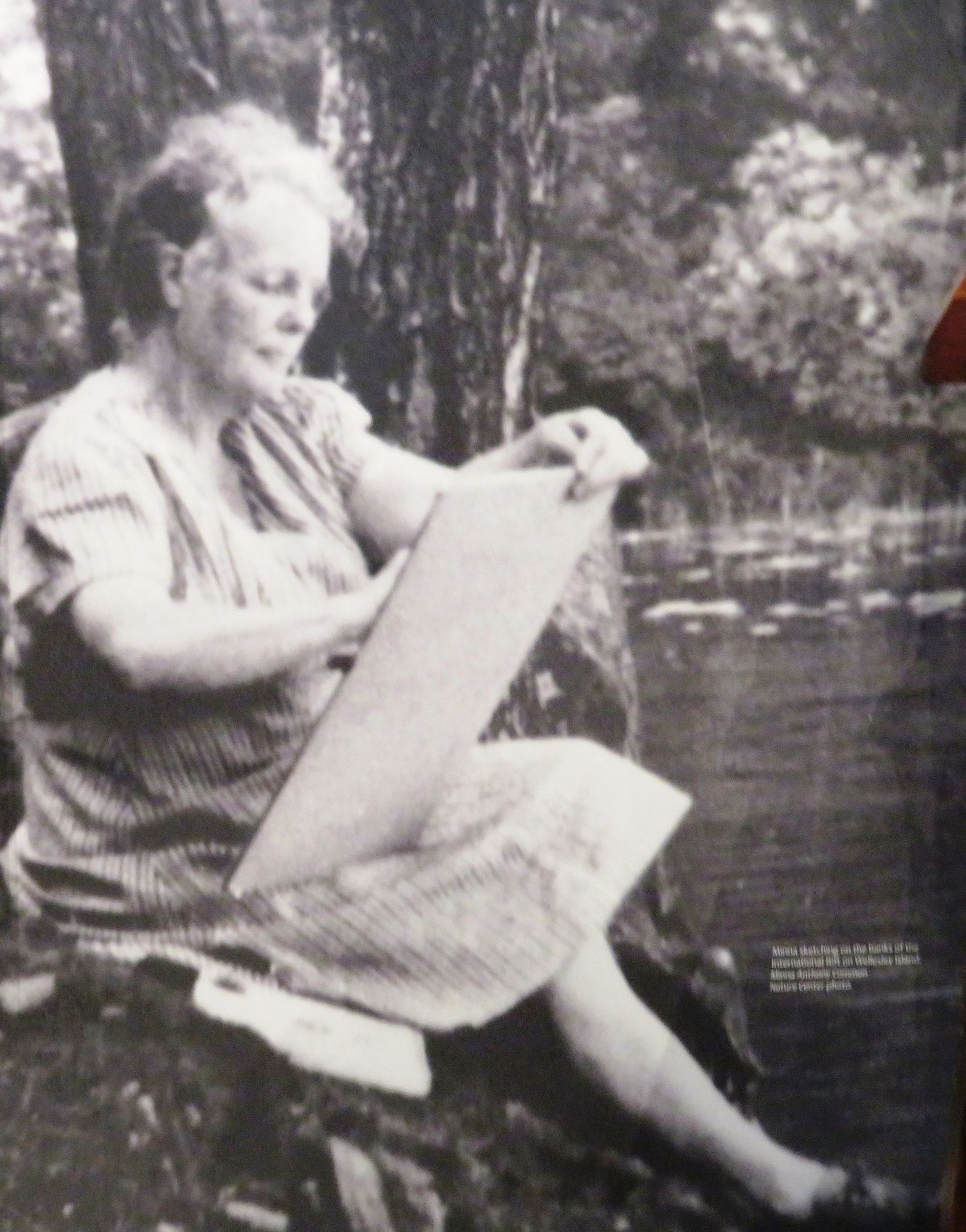 Now, let's briefly jump backward in time. In 1875, the Thousand Island Park Camp Meeting Association was founded by the Rev. John Ferdinand Dayan. Rev. Dayan opened a Methodist summer camp where families could enjoy both spiritual and physical renewal. The Camp was located on Wellesley Island in the location of the current Thousand Island Park. One of the first residents of this summer resort was Minna's grandmother, Mrs. Anthony. That is how Minna came to grow up, spending her summers there on the island with her grandmother.
Minna married James Allison Common in June 1904. They had six children Faith, Robert, June, Catherine, Ruth and Vera. The family eventually had their own cottage built and continued to spend their summers at Thousand Island Park. It was there where Minna first became interested in nature study through summer courses offered there. She received formal instruction there from Anna Botsford Comstock who was a professor at Cornell University.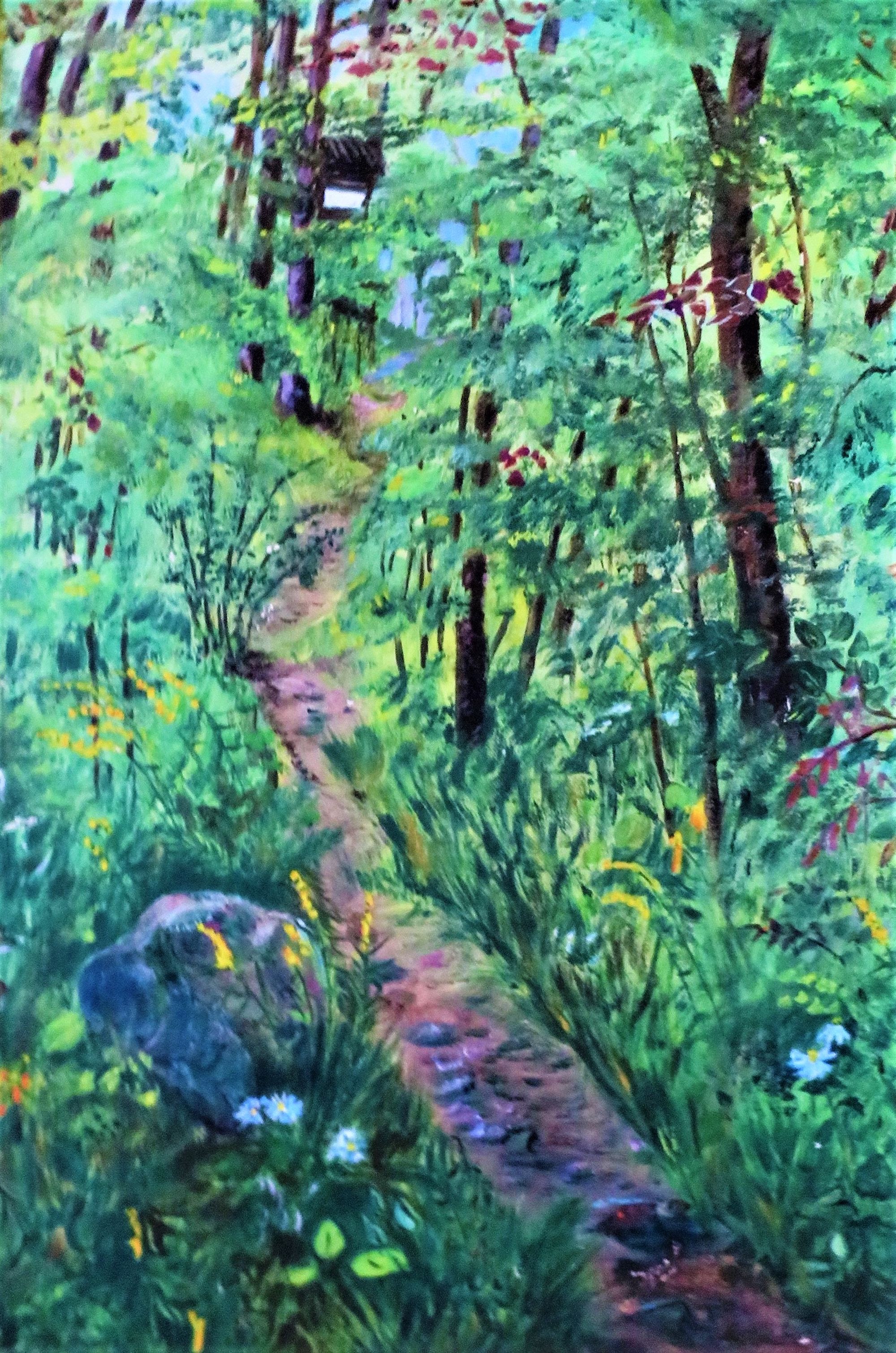 Another talent Minna had from childhood was painting. In 1947 she wrote and illustrated her first Watertown Daily Times article for the "Farm and Garden Section" and continued to contribute two articles a week, one on birds and one on flowers for the rest of her life. Minna became the official Federal Bird Observer for the Jefferson County area and kept the National Fish, and Wildlife Service informed of bird migrations. She conducted the yearly local bird census for the Audubon Society and the North Country Bird Club, which she founded. She also had nature articles published in the New York Times, the Herald Tribune, the Christian Science Monitor, and Audubon.
One of Minna's favorite places to enjoy nature was in the woods behind their TI Park cottage. In 1934 Minna offered to make and maintain the 1.5 mile Rock Ridges Nature Trail, which was opened to the public in August of 1935. After her death, it was Minna's daughter, Catherine Common Johnson (1914-2004), who helped to restore and maintain her mother's trail. The restored trail was reopened in 1985 and continues to delight nature-loving visitors from all over the world to this day.
Like her mother, Catherine had a love for nature and the arts. She was an accomplished artist herself, having won honors in art shows all over the country, including having an art award named after her. The Catherine Common Johnson Award of Excellence for Best in Show is presented each year at the annual North Country Arts Council's Juried Fall Art Show in Watertown. Both Minna and Catherine are featured in a book entitled "Remarkable Women in New York State History" (History Press).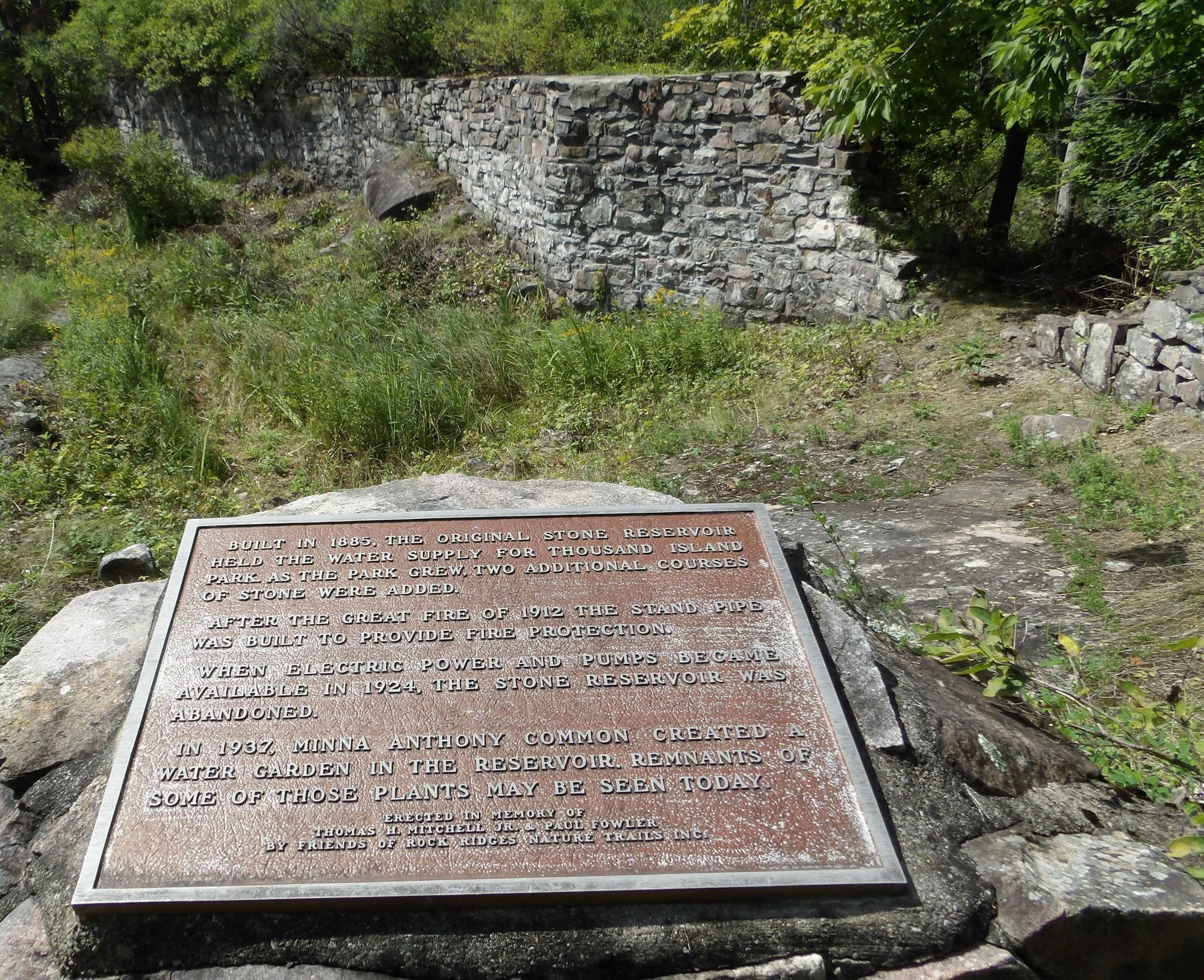 When they weren't at TI Park, Minna and her family lived in Watertown and attended the First Presbyterian Church. I would guess that the Methodist summer camp where she spent her summers with her grandmother helped introduce Minna to the one who created all of that natural beauty she loved so much. After all, we are told that "The heavens declare the glory of God; the skies proclaim the work of his hands" (Ps 19:1).
It appears that this appreciation of God's handiwork was passed along to Minna's daughter Catherine, who was also a member of the church. Catherine was said to travel all over the world with her husband always looking for the perfect church to sketch for their annual Christmas card. Her daughter (Minna's granddaughter), Reverend. Dr. Deborah J. Newcomb of Dexter, NY, is a retired Episcopal priest who was a guest pastor at one of the beautiful island church services held at Half Moon Bay in the Admiralty Islands in 2018.
So, from Minna's grandmother all the way through the generations leading to her great-great grandchild Deborah, we discover the family's ties to the River. Minna has left a lasting mark on the island where she grew up through the nature center bearing her name, and through the trail she blazed for future generations to enjoy.
By Patty Mondore
Patty Mondore and her husband, Bob, are summer residents of the Thousand Islands. Patty's most recent books include "River-Lations Revisited: More Inspirational Stories and Photos from the Thousand Islands", "River Reflections: A 90-Day Devotional for People Who Love the Water" and its two sequels, "Nature Reflections" and "A Bird Lover's Reflections." She and Bob co-authored "Singer Castle" and "Singer Castle Revisited", published by Arcadia Publishing, and co-produced "Dark Island's Castle of Mysteries" documentary DVD, in addition to a Thousand Islands Music DVD Trilogy. Patty is a contributing writer for the Thousand Islands Sun. Her column, "River-Lations", appears in the Vacationer throughout the summer months. The Mondores are online at www.gold-mountain.com. (Be sure to also visit Bob's singercastle.blogspot.com.) See Patty's most recent TI Life Articles here and several others here and here!
Posted in: Volume 16, Issue 3, March 2021, Nature, History, People, Places
---
---
---