Yes, December has brought some light falling snow, low temperatures, and then some wind. Normally the words "some wind" are shrugged off, but on the night of Saturday, December 11, 2021, our River rose over three feet and once again high water damage could be seen on the River's edge.
Weather warnings of high winds began early in the day and by 4:00 pm traffic restrictions on Thousand Islands Bridge took effect. Commercial trucks, recreational vehicles, and buses were prohibited from crossing the bridges. However, the truly worrisome words were at the end of news casts on both sides of the border: "A Lakeshore Flood Warning has been issued from 4 p.m. Saturday to 4 a.m. Sunday."
And high water it was.
The National Oceanic and Atmospheric Administration, (NOAA) created two "preliminary tables" on their website. Both tables allow us to see the true picture. High water can be difficult to manage at the best of times, but like Halloween night of 2019 a rise in such a short period of time causes severe damage. As a property owner, we sincerely thank those friends, neighbours and trusty caretakers for surveilling the damage. We trust we will be back to normal shortly.
Extreme weather conditions will remain at the top of the mind for most Canadians and Americans. After all the summer fires, more recently with the worst tornadoes in the US in a decade, and extreme flooding in the Abbotsford and Fraser River Valley regions of British Columbia, we're now facing the new Covid variant Omicron. Authorities in the North Country and Kingston and the Islands region of Ontario are issuing health cautions and advisories. Although saying "'stay safe" may sound trivial, never-the-less I do wish you and your family a safe Merry Christmas and a Happy New Year!
---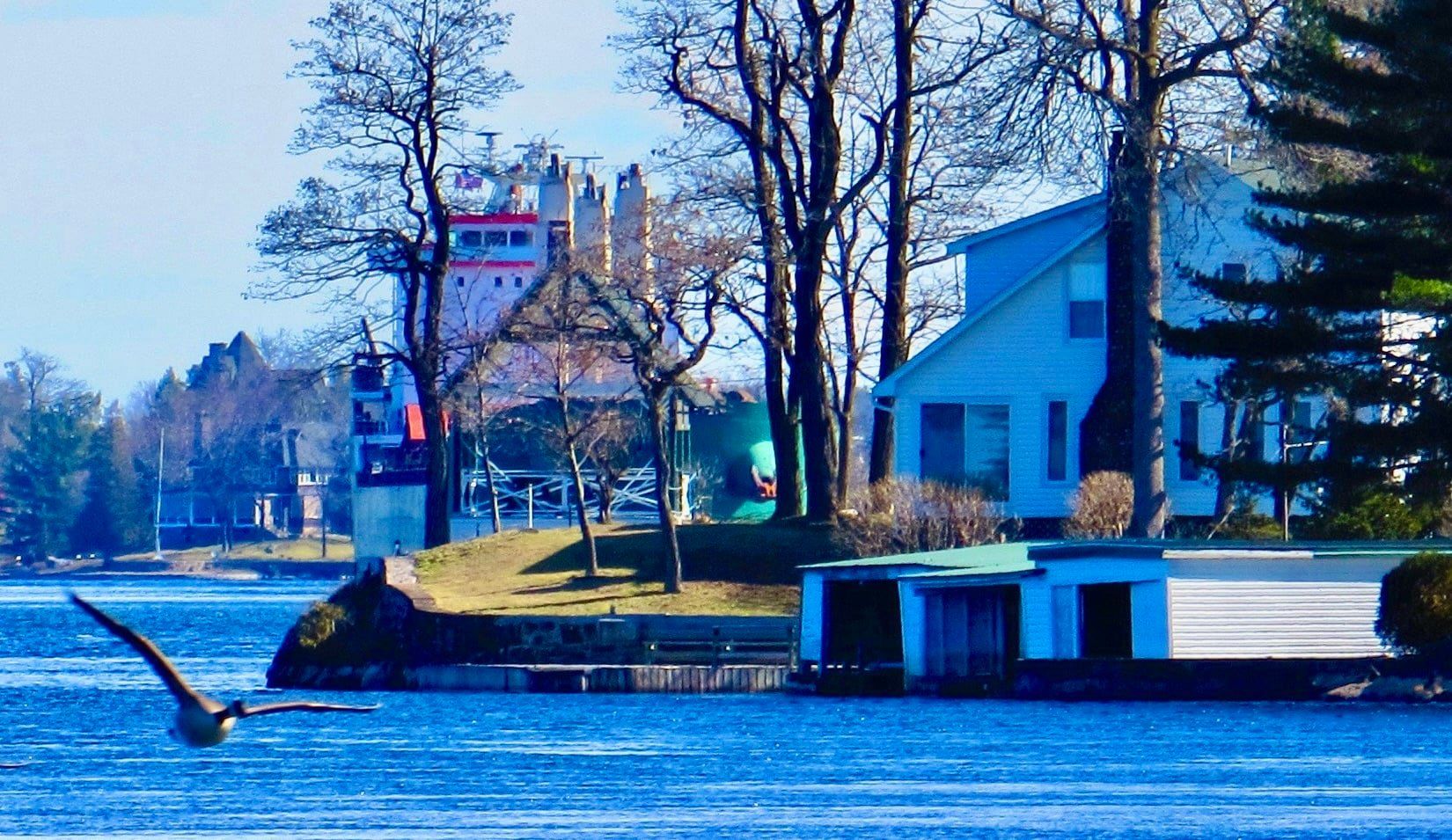 Happy News!
December 19th, from 10AM to 1 PM, will be a day to remember if you're in Alexandria Bay, NY! Santa Claus will arrive by Fireboat at the Village Dock, to the delight of young and old. This will be Santa's fifth year arriving by boat, to hand out gifts. All children ages 12 and under will receive a Christmas gift and children of all ages who believe in Santa are welcome. Year round and summer residents are all invited, too.
Fundraising is essential for this charitable event to succeed, and to provide gifts for each child, as well as supporting the Backpack Program. The Backpack Program helps to feed children in need.
Since this has been, and continues to be, a tough economic year, the Committee is grateful for the many donations already received. However, it's not over, and there is a GoFundMe page for this event. Donations are still being accepted. And, please follow 1000 Islands River Santa Festival on Facebook for more information and photographs.
---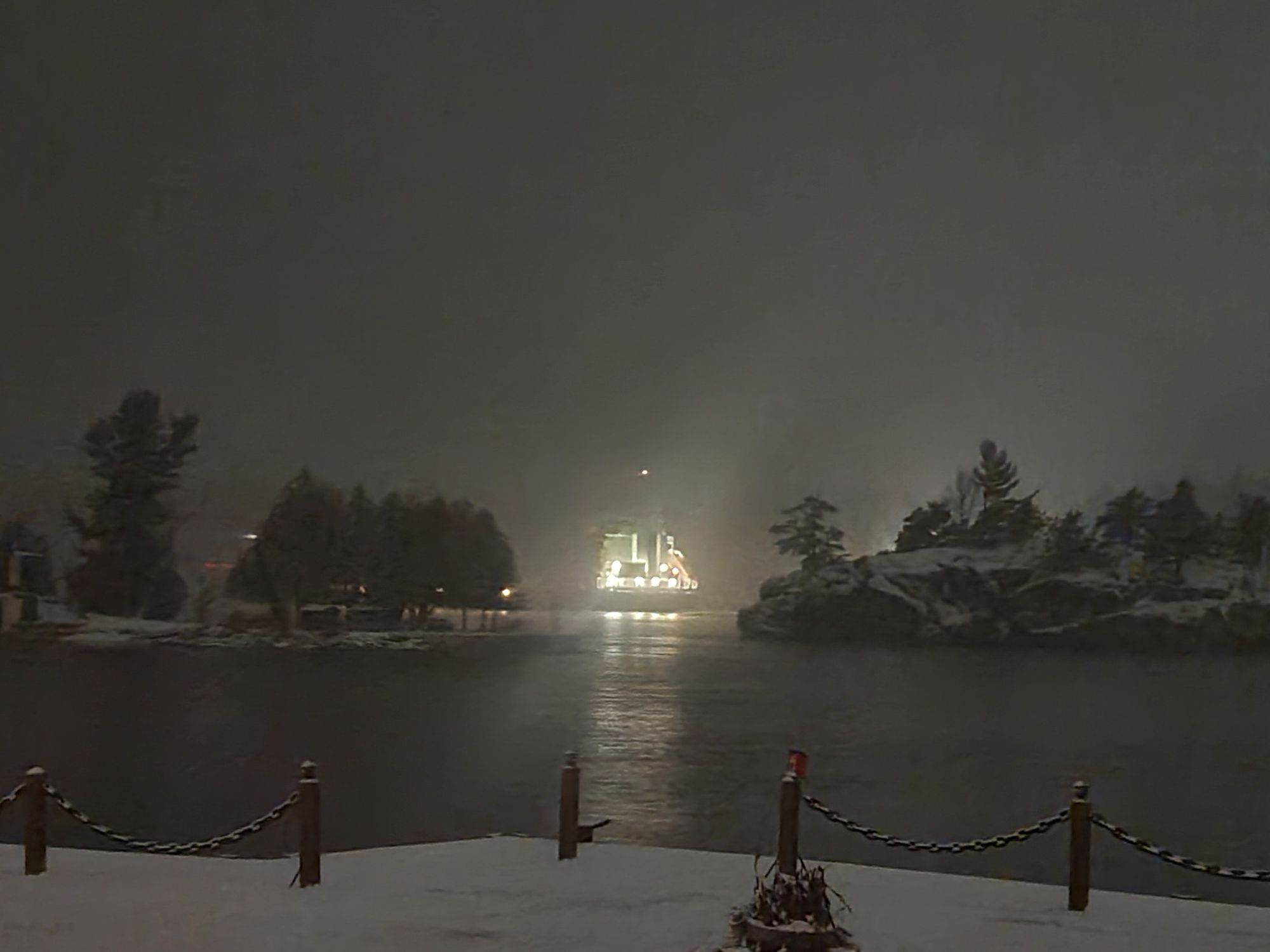 Please do not forget
Want to support TI Life by donating the price of a cup of coffee or a tank of gas? Donations help us with updating software and support our mailing program.
US residents: Support Link and Canadian residents:  Support Link.
By Susan W. Smith, Editor, info@thousandislandslife.com
Special thanks to the TI Life team: our "Real Editor", Elspeth Naismith, proofreaders Georgia Barker, Dane Zabriski, and Rick Taylor. Also, Lyne Roberge who records our Events, Jennifer Caddick doing Social Media, Beth Lavos listing books and Marie-Anne Erki our illustrator.
Header photograph is by Danielle Leigh
Posted in: Volume 16, Issue 12, December 2021, From the editor, News article
---
---
---