Where were you for Christmas in 2022?
I was lucky and travelled to Clayton, NY, on December 22, 2022 to spend Christmas with family. The next day, December 23, began with balmy temperatures and torrential rains, but we watched the thermometer plunge from 39°F at 10:00 am, to 35°F, 33°F, and then to well below freezing by noon. By the time we returned from our morning shopping, it was snowing. The winds were up, so it was never a light, "Harlequin Romance" Christmas snowfall. By late afternoon, it was truly miserable. We climbed into the family's truck and ventured to the waterfront. Amazed, we saw a Seaway ship making her way west. We watched her progress online for the rest of the day and saw that she anchored for more than 24 hours near Carleton Island.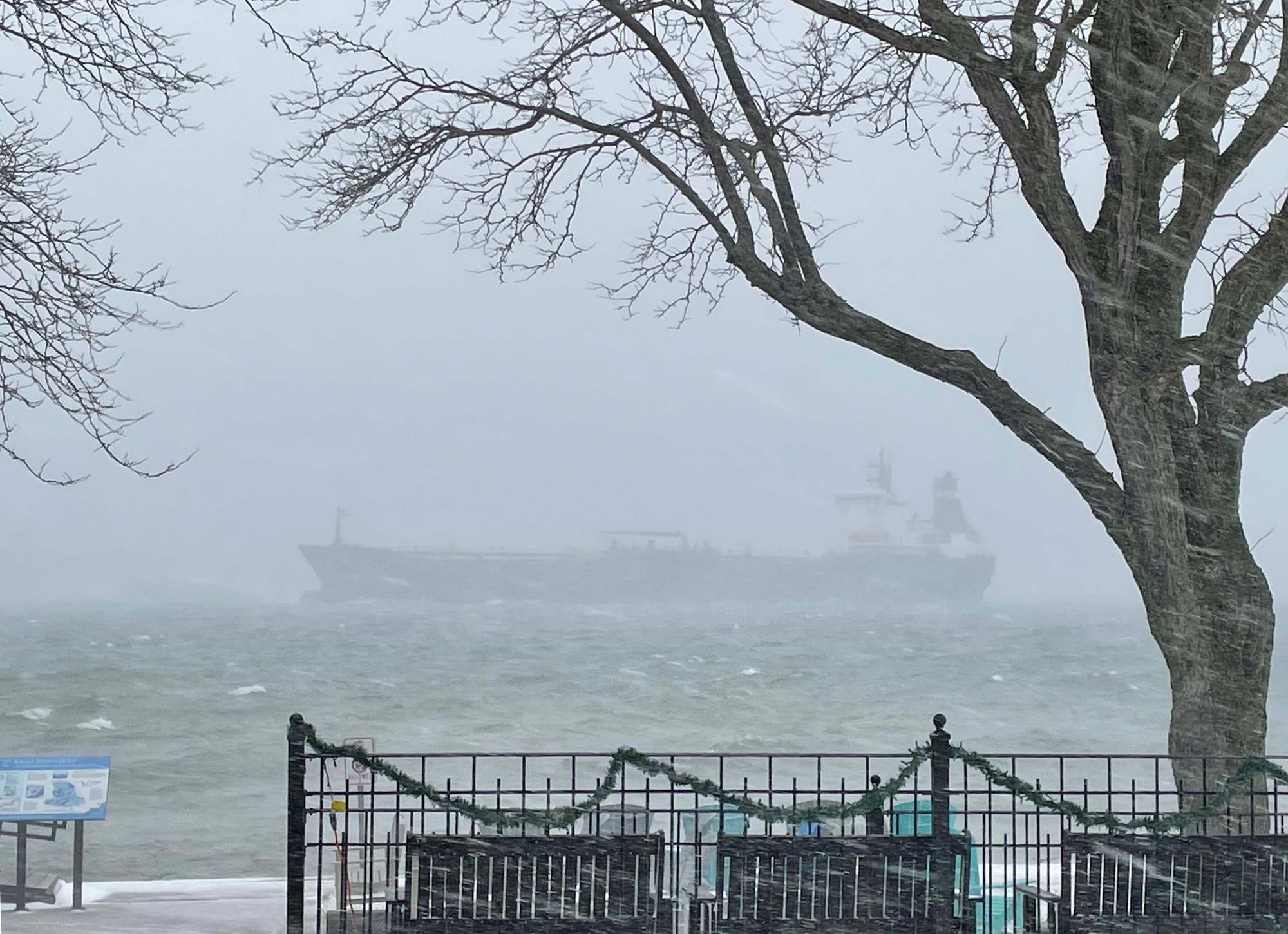 Like everyone else, we kept checking the US and Canadian road conditions. The Thousand Islands Bridge Authority restricted all high-profile commercial vehicles less than 60,000 lbs in gross weight, also RVs, busses, etc. Soon, we learned that the power was out in Cape Vincent and on Wellesley Island. Lots of phone calls between neighbours, and certainly lots of disappointed families who couldn't travel to see loved ones. There were so many people checking the Ontario road conditions that the 511 website crashed.
The winds howled all night, and howling winds meant Lake Ontario came barreling down the River. The water came up an estimated two to two and a half feet, breaching the sea wall in Clayton, much as it had done in October 2019, and the water spray traveled many feet/meters inland
The blizzard lasted through Christmas Eve day. What snow was not blown away by the howling winds piled up in all the nooks and crannies!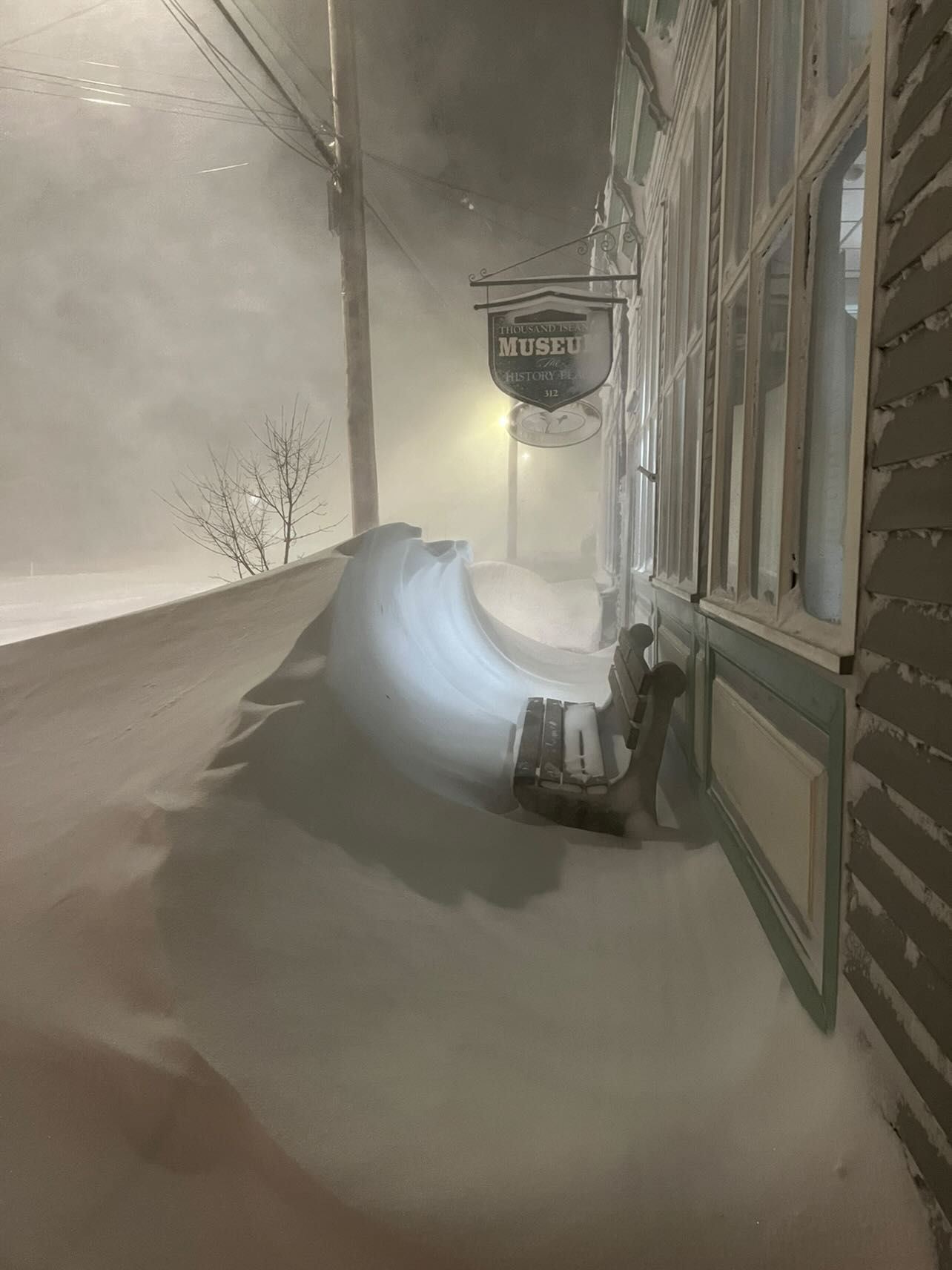 Then on Christmas Day, the snow subsided, although the winds continued. We were scheduled to return to Ottawa that day, but it did not look hopeful. All the county roads in St. Lawrence County and most in Jefferson County were closed. On the Ontario side, Highway 401, virtually the only highway between Windsor, ON, through Toronto, and all the way to the Quebec border, was closed. A Via Rail train derailed, so there was no rail service. And, of course, the airports had their own serious problems. Yes, Mother Nature was teaching us another lesson about being prepared and importance of having alternate plans.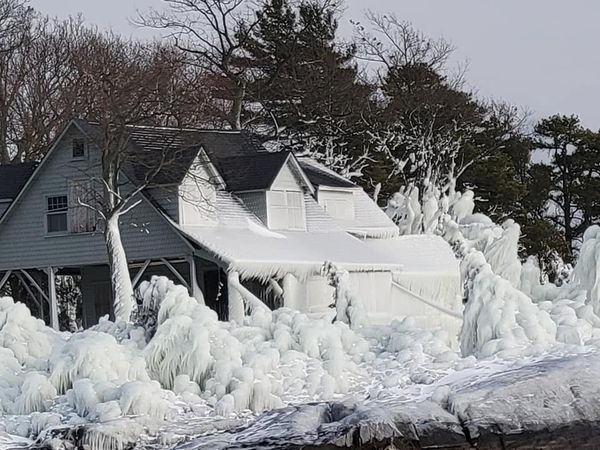 However, there was good news in the afternoon that day. Virtually all roads were reopened, and even though this editor is always much happier when on or beside the St. Lawrence River, we packed our bags and headed inland to Ottawa.
Christmas 2022 will not be forgotten for some time. Certainly, the Thousand Islands did not have the same hardships as Buffalo and parts of western New York State and southwestern Ontario – for which we are grateful! Now, however, we look forward to 2023 and, of course, the summer months to come!
Our thanks to Robert Russell, from Cape Vincent, who in the midst of the storm sent this poem to TI Life. It's just about prefect, is it not?
Stay Safe and enjoy winter 2023
By Susan W. Smith, Editor
Posted in: Volume 18, Issue 1, January 2023, Nature, Places
---
---
---