The Thousand Islands is the mecca of North America for antique and classic wooden boats. Wooden boats have been built and enjoyed in our region since the early 1900's, but more recently there was one person who helped 'prime the pump' for interest in these classic vessels. That person was Peter Mellon. Peter was the go-to expert on antique and classic boats going back to the late 1990's, when he founded Antique Boat America and Canada, which lists and brokers these vessels.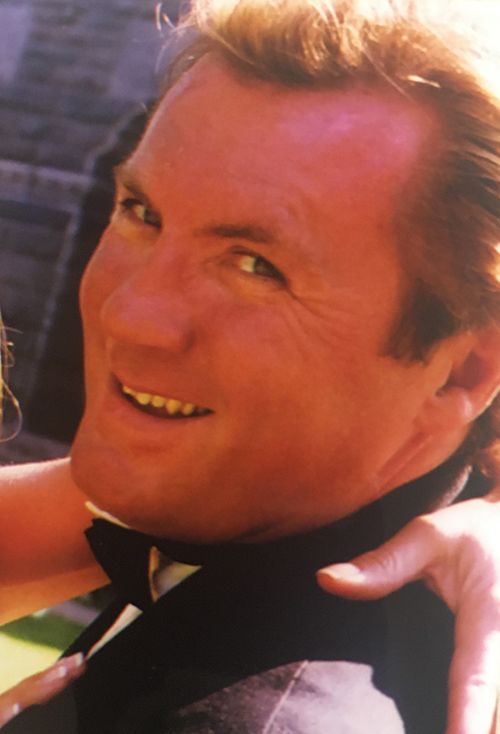 Today, this brokerage company has over 1,700 classic boats listed for sale. They sell boats all over North America and around the globe. Peter was born in Canada and grew up in the Thousand Islands. The story goes that some years ago, he started searching for an antique boat to purchase. He visited many owners to see their prized boats, only to be disappointed. On one visit, he found a gray and aging boat in the seller's front yard. Peter pointed to the photo of the boat with glistening varnish and asked why the seller advertised his boat using this photo shot. The owner replied that he wanted to show what the boat could look like if restored!
Mr. Mellon searched and searched, only to conclude that there was no company that focused on marketing these classic runabouts, sedans, commuters, and skiffs. So, in 1999 he founded Antique Boat America and Canada. A friend helped him design an on-line platform to list these wooden beauties. Some are in show condition, having been fully restored. Others were in various cases of deterioration or neglect – and were considered project boats. Peter had several brokers who worked with him at their showroom or at the local boat shows.
Mellon built a showroom in Clayton, on Route 12, to exhibit up to 100 boats out of the weather and sun. This facility is a candy store for boaters who are in the market for or just dreaming of, owning a 'Woodie.' As one wanders through the showroom, you can see Hackers, GarWoods, Hutchinsons Chris Crafts, Shepherds, Rivas, and so many other makes of classic vessels. On the bow of each boat is a tag with the year, length, engine, price, and a few other details.  More recently, antler chandeliers were installed to add to the charm of this special place. And up in the front of the building, there are some glass show cases with other wooden boat goodies that are for sale.
The sales office is next to the showroom, and this is where Mellon and his colleagues met with sellers and buyers to put deals together. On rainy days in the Thousand Islands, the Clayton showroom was a place for boaters to kick some keels and chew the fat with the sales experts about skiffs, runabouts, and the other classics that they market. A great way to spend a few hours on a rainy or chilly day when the river isn't too friendly.
Peter Mellon and his wife Helene lived on Tennis Island on Wellesley Island. More recently, they purchased Imperial Isle, which overlooks Boldt Castle and Alexandria Bay, as well as the American Channel of the St. Lawrence River. They were upgrading the cottage on the island and clearing up the grounds. Peter and Helene also owned two Golden Retrievers who were always at their sides at their home, in their boats, and beside Peter at his office. You rarely saw Peter without his four-legged companions. They made the process of wooden boat shopping all the more rewarding.
Peter and Helene owned one of two of the largest Hutchinsons every built – "Pardon Me Two." She is 49 feet in length and is powered by two modern big block V-8 engines. The original Pardon Me Two by contrast was powered by a single, very large, WW II-era aircraft engine that uses 100 octane aviation gasoline. These large vessels draw attention wherever they go. Pardon Me Two was a familiar sight as Peter, Helene and their dogs and friends cruised the waters of the Thousand Islands.  "Pardon Me"  is part of the Antique Boat Museum's collection.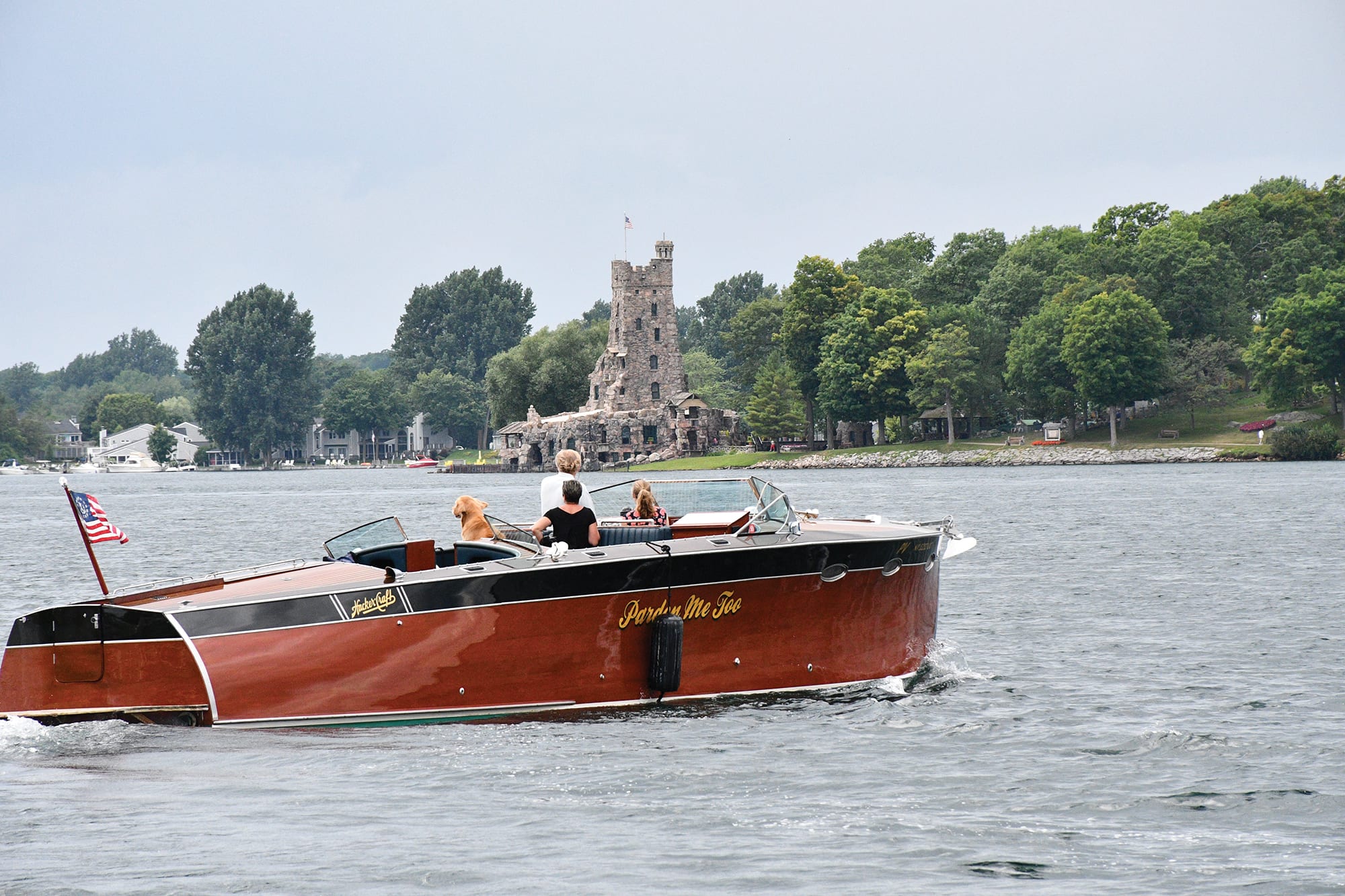 Peter and Helene have been long-time supporters of the Antique Boat Museum in Clayton. They were Friends of the ABM for many years, and Peter was the auctioneer at the annual wooden boat auction each August during the boat show. Peter was a familiar sight perched on a tall step ladder as he auctioned off each boat using a microphone at this fun event. Peter had an amazing recall of the specifications and details of each skiff, runabout, sedan, and cruiser in the auction. ABM got a percentage of the proceeds of the boat auction, so it was a good source of financial support for the museum.
ABM executive director Rebecca Hopfinger said "Peter Mellon served as a member of the ABM's International Advisory Council, was a long-time Friend of the Museum, and of course, played a significant role in the museum's Annual Antique Boat Show and Auction. Peter had a gift when it came to sharing his enthusiasm for the wooden boat hobby with so many different types of boaters. He had a special way of connecting boats with people, whether they were first time owners to prolific collectors, his legacy will live on in the boats he brought back to the waters, from the St. Lawrence to Tahoe."
Peter Mellon was not only a great supporter of antique boats of all brands and types, but he was a cheerleader, a goodwill ambassador, and proponent of the Thousand Islands. Peter had a wealth of knowledge about our region, and was eager to share it with visitors, buyers, and residents. Peter's tragic death on August 28, 2020, at age 62 was a real loss for the Thousand Islands. His big shoes will be very hard to fill.  He will be greatly missed by fans of Woodies, as well as River Rats. We are glad to learn that Antique Boat America will continue to serve this special market and help keep these lovely boats in the Thousand Islands and beyond. Fair winds and following seas, Peter.
By Richard Casali
Rick Casali is a resident of Wellesley Island.  During his youth, his parents had a cottage from 1947 to 1970 named The Orchards on Grindstone Island.  Rick now splits his time between Stuart, Florida and the River.  He worked for Columbia Gas System for 29 years, and ran their Washington, DC office. Then in 2000, he started brokering boats and yachts, and continues as a broker with North Point Yacht Sales.  Rick and his wife Anne cruise the River in a Seaway 24 Seafarer named "Miss Annie" and they live on Tennis Island.

Posted in: Volume 18, Issue 1, January 2023, Sports
---
---
---