With all the discussion about guns in America, I started to reflect on my own close call. While I was teaching high school in Brockville in the '70s, I started a history club. The students thought it would be great if we could go on a trip to a city of historical significance, such as Washington.
We – mostly them, since I argued that we should see more of Ontario or Quebec first – agreed upon Washington as our destination. I naively arranged for two large rooms with cots, one for boys and the other for girls, at the YM/WCA just a block from the White House.
When we arrived and checked in, all seemed to be fine – until we decided to walk down the street to a nearby restaurant for some dinner. I, along with my wife and two other teachers, herded our 30-something young people together and prepared to leave, only to have our path out the door blocked by a security guard.
He calmly informed us that it was far too dangerous to leave the building after dark or really to wander around the area any time and that we should just take day trips to the Congress, the Smithsonian, and the White House and eat out in a mall in the suburbs. That is what we did for the next two days, and fortunately nothing serious happened.
That was our first trip, and after a few years a new group of students wanted to go to Washington. But this time I thought I would do it right. We wouldn't stay in downtown Washington. Instead, I arranged accommodation across the Potomac in Virginia.
We left Brockville early in the morning and arrived at our apartment building about dinnertime, and everybody was very hungry. Having assigned rooms and stowed bags, we congregated in front of our building, named Monroe, after the president of that name. I explained to the students that there were 20 identical apartment blocks, each named after a president of the United States, and not to get confused: ours was Monroe.
With that, we walked down the street a few blocks to a restaurant. After all, this wasn't downtown Washington. It was suburban Virginia.
We were busy satisfying our hunger when suddenly two police officers burst into the restaurant and starting yelling: "Who (a few naughty words) is in charge of these children?" I sheepishly put up my hand. They then proceeded to explain, in no uncertain terms, how dangerous it was to have young people out in that area after dark.
They told us to finish our food and said they would circle around the area while we walked home. I again gathered the students around me and explained that they should stay close together until we got safely back to the Monroe apartments.
All was going well until the Monroe block came into view, and then a few of the boys decided to make a break for it and ran ahead. Outside of the Monroe block I took a count before sending the students in, only to find I was missing two. A minute later they came running out from the adjoining President Madison building, gasping that they had gotten confused and gone into the wrong building, but realized their mistake, and that everything was okay. Off they ran again, leaving me looking around to make sure there were no other students hanging about.
As I glanced toward the Madison apartments, I noticed a women dressed in a pink jumpsuit running toward me. Something silver flashed in her hand, and for some strange reason I thought it could be a spoon. I turned to walk into our building when she was suddenly in my face.
She had a gun and was yelling that she was going to blow my (naughty word again) head off. She also screamed that I had tried to break into her apartment.
Rattled, but thinking very fast, I pointed at the bus and said I was from Brockville, Canada, and it wasn't me. She looked at the big writing on the side of the bus, screamed that I was lucky because she could have shot me, and then turned and left in a hurry. Now where were those police?
Shaken from my head to my toes, I have replayed that whole scene a thousand times, and it never gets any better.
The next day I read to my students, on Page 6 of the Washington Post, an article about a teacher from Chicago visiting with his students who had been shot and killed under somewhat similar circumstances.
I decided next year and the years that followed to only take my students to historically interesting places in Canada.
by John Fielding
During his teaching years, John Fielding was a leader and an accomplished writer of history curricula and textbooks. In retirement, his grandchildren often asked him to tell them stories about his life over the years. Telling the stories helped entertain and fill the time on family road trips. Later, the family thought it would be great to write these stories down and share them with family and friends. John quite enjoyed this new writing experience, which led to many being published in newspapers and local magazines. Later, the stories were published in two books, first Fortunate Cookie. Later, because he grew up in Paris Ontario, he published Paris Daze. The adventures and misadventures of growing up in the prettiest town in Canada.
[Originally published in The Kingston Whig Standard A near-fatal case of mistaken identity by John Fielding, March 25, 2013.]
Tribute to John Fielding
I first met John Fielding through his involvement with the Kingston Heritage Fair Committee.  I was a school rep for a couple of years. I did not get to know him well but saw him as exceptional in so many ways. Later, I always hoped our paths would cross but they didn't. Unfortunately, John passed away during the summer of 2022 before I could tell him how much I enjoyed reading some of his stories, which I discovered online.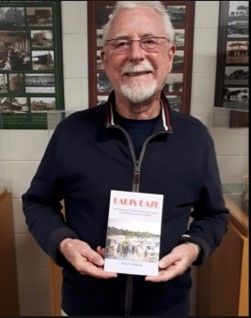 This is how he is described in his obituary by his family. "John loved ideas, stories, and people, making the study of history a natural fit. His classrooms were unusually active places filled with John's passions for Canadian history and social justice. His open mind, generous spirit, humility, and endless curiosity made him a true life-long learner, risk-taker, and enthusiastic embracer of change. He travelled to teach in a Chinese college, took stints in Australian classrooms, and never turned down an opportunity to explore and learn. John's active engagement with the world and his dedication to ideals of good citizenship motivated his service on community boards and citizen groups. And everywhere, John made friends for life."
John started teaching at Thousand Island Secondary School in Brockville in 1967, where he stayed until 1989, when he was seconded to Queen's University's Faculty of Education. He remained at Queen's until his retirement in 2003. During his time at T.I.S.S., he became department head of the Social and Environmental Studies (which was an amalgamation of the History and Geography departments).
With permission from John's widow, I asked the Editor of Thousand Islands Life Magazine if I could submit a tribute to John and include a story he wrote about two trips he took in the 70's with his students to Washington D.C. The Editor thought that this was a great idea and a wonderful way to recognize John's years of excellent service as an educator. The story is entertaining to read now, but I can assure you that John would have taken this very seriously at the time. The beauty of John's teaching career is that it reflects who he was. I'm convinced he would have been as equally successful in other pursuits. Rest in peace, my friend, you did a great job, and we are grateful.
By John Stencell
John Stencell moved to Kingston in the summer of 1970. John and Helen have two adult children, Gordon and Joanne. They have enjoyed all aspects of the Thousand Island life. And yes, Howe Island residents may remember John and Helen as they taught school on the island for several years.

Posted in: Volume 18, Issue 2, February 2023, Essay, STORIES+, History
---
---
---