---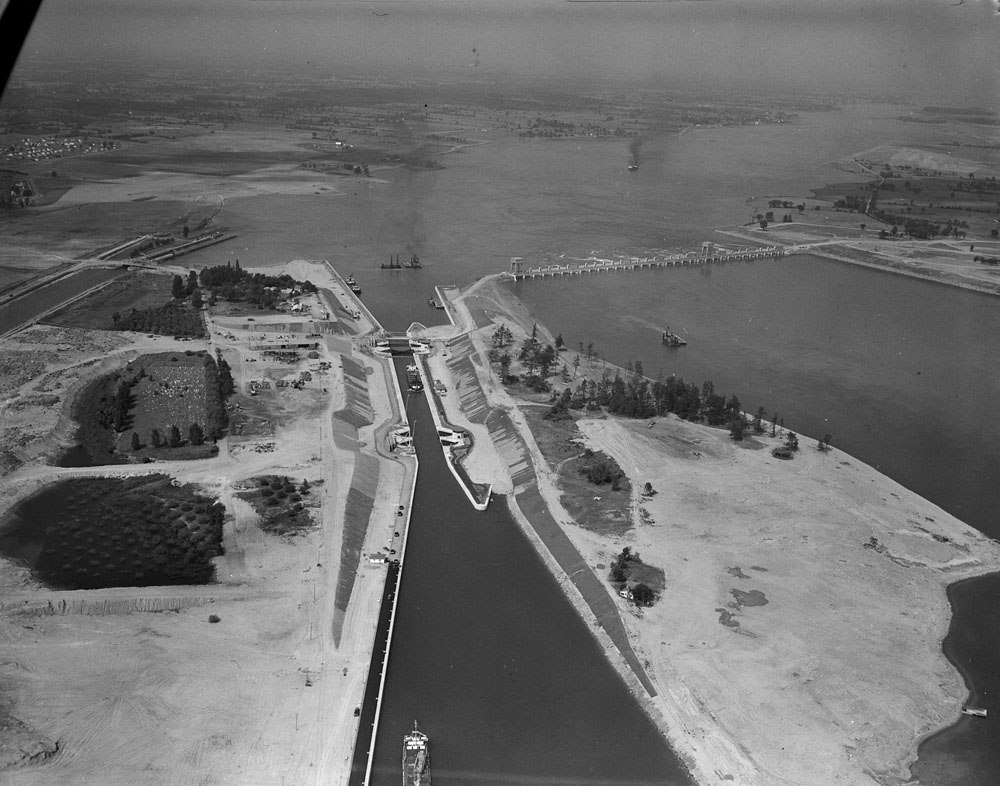 Six decades after its opening, the Seaway remains a work of re-invention

Part I

The pomp and ceremony of the St. Lawrence Seaway's official opening drew most of the broader public's attention in June 1959.
Images abound of a much-younger Queen Elizabeth II and Prince Philip and American President Dwight Eisenhower opening the newly built shipping lock at St. Lambert, Quebec, on June 26, and of the Royals and Vice-President Richard M. Nixon opening the Moses-Saunders Dam at Cornwall, Ontario the following day. Other photos show the royal barge transiting the Seaway up through the locks at Beauharnois, Quebec and beyond to Iroquois, Ontario. At each ceremony, crowds assembled to hear speeches that struck a note of glossy technological progress for the age.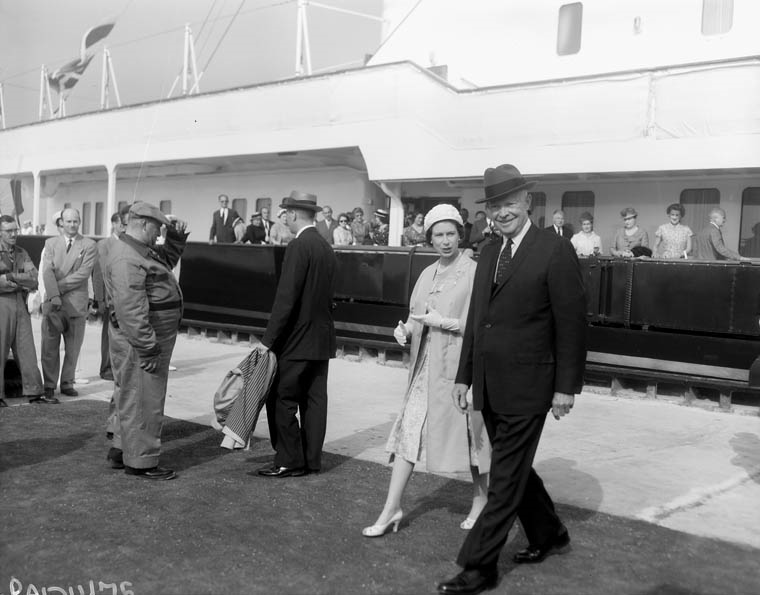 But ceremony is temporary. When the excitement faded away, the people of this new River were left to create a different sense of place along the St. Lawrence.
Part II
In their symbolic value,  1958 and 1959 are many, many years apart. The Seaway inundation of 1958 ended one stage of life along the St. Lawrence—a way of life that disappeared forever under risen waters. As time passes, direct memories of the old River life fade. Even though it holds some significant lessons for the present, that period is over.
The official opening of the St. Lawrence Seaway the following year delivered the River that is with us today—and the River we will have in the future. It looks the same, and one can still walk along the waterfront at a community like Iroquois and view what was visible and operational six decades ago. But there are layers to this period as well. The "Seaway" River is very much an ongoing story, a River transformed but still changing.
Let us begin with the ships. The lakers and salties—far larger than the "canallers" that travelled the River before the Seaway's construction—leave a powerful impression, these steel monsters that exude raw strength and stylistic grace. They are the undisputed masters of a river that was made for them. But these are ships of elsewhere, transiting a River where, with few exceptions, they do not stop.
Their River is a conduit, a straight route to be traversed in the process of carrying cargoes between the Great Lakes and lower-river ports at Montreal and Sorel, and tied to the world beyond. That, of course, was the point of building the Seaway in the first place—to create a more efficient shipping system between North America's industrial heartland and foreign ports. In the context of a rapidly expanding post-war economy, this made perfect sense.
That globally-tied economy—of which the Seaway ships remain a prominent feature—did not bring prosperity to the old industrial towns along the River. If anything, the larger ships were a harbinger of the de-industrialization that shuttered factories and sent production to the world's lower-cost regions. My hometown of Cornwall, Ontario, suffered as badly as anywhere. Built on industry and with a waterfront expanse of locks and canals to facilitate shipping before the Seaway, it has struggled to re-invent itself, and to recreate its relationship to the River. A city that, for all intents and purposes, once had two waterfronts, now scarcely knows what to do with either.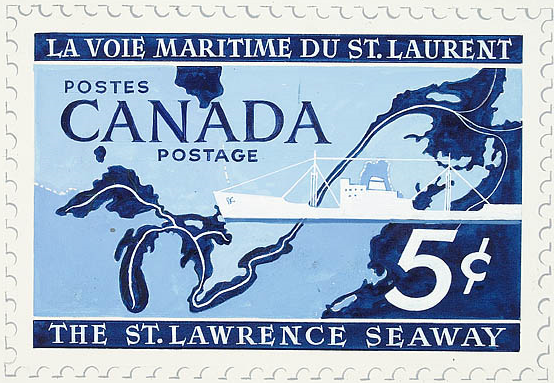 That uncertainty is present in varying degrees along the Seaway stretch. From Cornwall up to Iroquois the relationship with the River was severed to an extent that it often seems as if land, water, and people are still discovering each other.
Did a ferry once cross the River here? Does this heritage house warrant preservation because of its historical connection to the River? Who controls this access point to the river, and why is it closed off? Lost in the distance of time, those answers do not come easily.
There are signs of re-invention along the River, as though a great amnesia is wearing off. In fits and starts, the riverside communities are re-imagining their waterfronts as public spaces with the potential to draw people together.
An attempt to build a scale model of Morrisburg's old downtown, as a waterfront attraction, failed to gain enough support to carry the project further than the contemplative stage, but it focused attention on how to spur further interest in the waterfront. Even Cornwall, possessor of a long stretch of abandoned industrial waterfront and canal, is planning for a future in which the River's edge is woven into the city's future, rather than discarded and infilled as the ignored remnant of a past stage of the city's history.
Some of this renewed interested is the result of an ongoing relationship between local residents and the waterfront's bureaucratic landlords that wavers between irritation, misunderstanding and mistrust. Distant and obscure decisions are met with greater scrutiny than before and, as befits this more populist age, are duly subjected to a range of public opinions.
And so, the seasonal closure of the Long Sault Causeway stirs questions of the right of the St. Lawrence Parks Commission to control access to the waterfront. The recent destruction of Tindale House, the former lockmaster's residence at Iroquois, focuses attention squarely on the reality that local heritage is not a matter of concern to the Seaway authorities and their singular concern for operating a commercial waterway. Water levels—controlled tightly to meet shipping and hydro-electric needs—now vary in a more seasonally natural way under the International Joint Commission's "Plan 2014", and draw criticism accordingly for creating a River that is deemed to be either too high or too low.
Thinking optimistically, the public's orientation to the River will eventually right itself, and what will emerge is a broader sense of the River as a unifying east-west entity, consisting of different sections of waterway that should really be viewed as a riverine expanse of common concern to people living along both sides of its length.
And that thought brings us to the ships again, as we pause to think of the environmental ramifications of that bigger, more globally-extended Seaway, carrying as it did—and does—cargoes intended and unintended from waters distant. Modern environmental sensibilities are sharper than they once were, and one need not be out on the greenest political fringe to be duly concerned about the River's resilience. And resilient it is, having experienced oil spills and successive waves of invasive species now entrenched in the River's ecosystem. It is by no means a pristine River, but it is the River we have.
In the spirit of at least not allowing the general situation to worsen, we should be thankful that groups like the Save the River/Upper St. Lawrence Riverkeeper and the St. Lawrence River Institute keep the River's health in the public eye, reminding us that our own fate goes with that of the great waterway in ways seen and unseen.
I am not suggesting any malice here. The collection of governing bodies that control the Seaway as a waterway were not designed to take into consideration public sentiment or environmental or heritage concerns.
The St Lawrence, in its transformation from River to "Seaway", took on a tone of indifference, of corporate and bureaucratic efficiency, with decisions made at a distance and on a scale far removed from the lives of riverside residents. Cast against the old River, a considerable degree of community intimacy was lost after 1959—and that has not been replaced. This, of course, was not confined only to developments along the River; it was indicative of a modernizing age, a period in which the local ceded ground against larger and broader interests.
The Seaway created a more impersonal transportation corridor, but so too did the multiple lanes of Highway 401 that shortly afterward supplanted the Interprovincial Highway 2, or, across North America, trains that no longer stopped where they once had.
Regardless of consequence, the Seaway was a product of its time, symptomatic of broader and accelerated change. Would it have happened again as it did? Perhaps not, but then again that period of history could not happen again.

Part III

In 1959, graphic designer Hans Kleefeld was commissioned by an insurance company to create an artistic rendering of the new Seaway. Kleefeld—who would go on to create commercial logos for Brewer's Retail and Air Canada—assembled a colourful montage of images, each designed to represent a segment of the Great Lakes region. He portrayed the St. Lawrence as it had become, with the arrival of the Seaway—a River of transport and energy, represented artistically with a lock, dam, ship, and turbine. Clean and efficient and modern, with no trace of what the St. Lawrence had once been.
Time has worn away the freshness of Kleefeld's vision of the Seaway. His work also represented the Great Lakes-St. Lawrence region as an industrial heartland, portrayed symbolically by coal and steel industries that are today diminished greatly. Kleefeld may have created a modern image of the Seaway, but not one destined for permanence.
It was—and is, as we can see, six decades on—a waterway that continues to elude easy characterization and simplification even in the face of massive physical and environmental transformation.
It is the River we make of it: a River of many things, and, ultimately, our River.
[Header photograph by Ed Clark, courtesy Ed Clark family]
By Craig Irwin Stevenson
Craig Irwin Stevenson grew up in Cornwall, Ontario, and spent an inordinate amount of time on and along the River, at his maternal grandparents' cottage, on Moulinette Island, the easternmost of seventeen islands created by the Seaway flooding. He is a history teacher at Tagwi Secondary School, in Avonmore, Ontario, and never misses a chance to tell his students that the River they see today, was once a very different place.
Be sure to see three other Stevenson Seaway 60th stories: The Seaway's 60th, Part 3: Working at Height, The Seaway's 60th and The Seaway's 60th, Part 2: Another Look at a Lost River.
Editor's note: We thank Craig Stevenson for expressing his insight and thoughts about the St. Lawrence Seaway. Older residents along the River, on both sides of the border, will have memories of 1959 and the 60 years just passed.  They join new residents - both of whom will have strong feelings about a future in which nature and economics will need to work hand in hand."
Posted in: Volume 14, Issue 6, June 2019, Nature, Places, History
---
---
---