The number of common terns in the St. Lawrence River has decreased greatly over the past 50 years, from 20,000 nesting pairs to less than 1,100 nesting pairs. Common terns are a threatened species in New York State and are impacted by competition for nesting sites by ring billed gulls, predation from owls, mink, and herons, lack of available nesting habitat due to coastal development, and extreme weather conditions.
Now in our 21st year, Save The River Upper St. Lawrence RiverkeeperⓇ partners with Dr. Lee Harper and his team from Riveredge Associates, the Thousand Islands Land Trust (TILT), New York State Department of Environmental Conservation, New York Power Authority, Audubon New York, and the Saint Lawrence Seaway Development Corporation, to restore common tern habitat, monitor productivity, and increase the overall number of nesting pairs. Save the River monitors 6 common tern nesting sites (2 natural shoals and 6 Navigation cells) with a team of passionate and dedicated volunteers.
This year, extra precautions were taken by staff, volunteers, and partners to keep ourselves safe from Covid-19 while monitoring our common tern nesting sites. We elected not to erect gull exclusion grids on Tidd and Eagle Wings shoals to keep our staff and volunteers safe from Covid-19. Gull exclusion grids allow smaller terns to nest on the site, while deterring gulls which are much larger and cannot fit through the grid. Unfortunately, Eagle Wings became a large gull nesting colony. However, the smaller Tidd shoal allowed common terns to nest and coexist among dunlin, sandpipers, double crested cormorants, geese, and ducks. Common Terns were also observed to be defensive of Tidd shoal and ward off eagles nesting nearby on Basswood Island.
We begin our nest monitoring season each May and survey the number of nests and eggs at each site every seven to ten days. When chicks start growing their primary feathers, and lose their egg tooth, they receive a small metal band around their bottom left leg. The unique band identification is recorded for each chick, and entered into collective spreadsheets to maintain accurate records. Monitoring and recording the number of chicks banded and fledged each year gives researchers important information on nest productivity, and where common terns migrate and overwinter. Common terns spend the fall and winter in the southern United States, and Central and South America. Common tern nesting has been so successful along the St. Lawrence River, and they are also expanding their nesting areas along the Niagara River, Lake Ontario, Lake Erie, and Oneida Lake.
Our 2020 common tern monitoring season was largely a success due to dedicated staff, volunteers, and partners. Overall, 319 chicks were banded, and nesting pairs numbers remain stable overall. The long-term goal for common terns in the St. Lawrence River is to reach 1,400 nesting pairs. Save The River hopes to expand common tern monitoring and habitat restoration efforts by bolstering our volunteer program and increasing the number of sites we monitor by expanding partnerships with land owner organizations.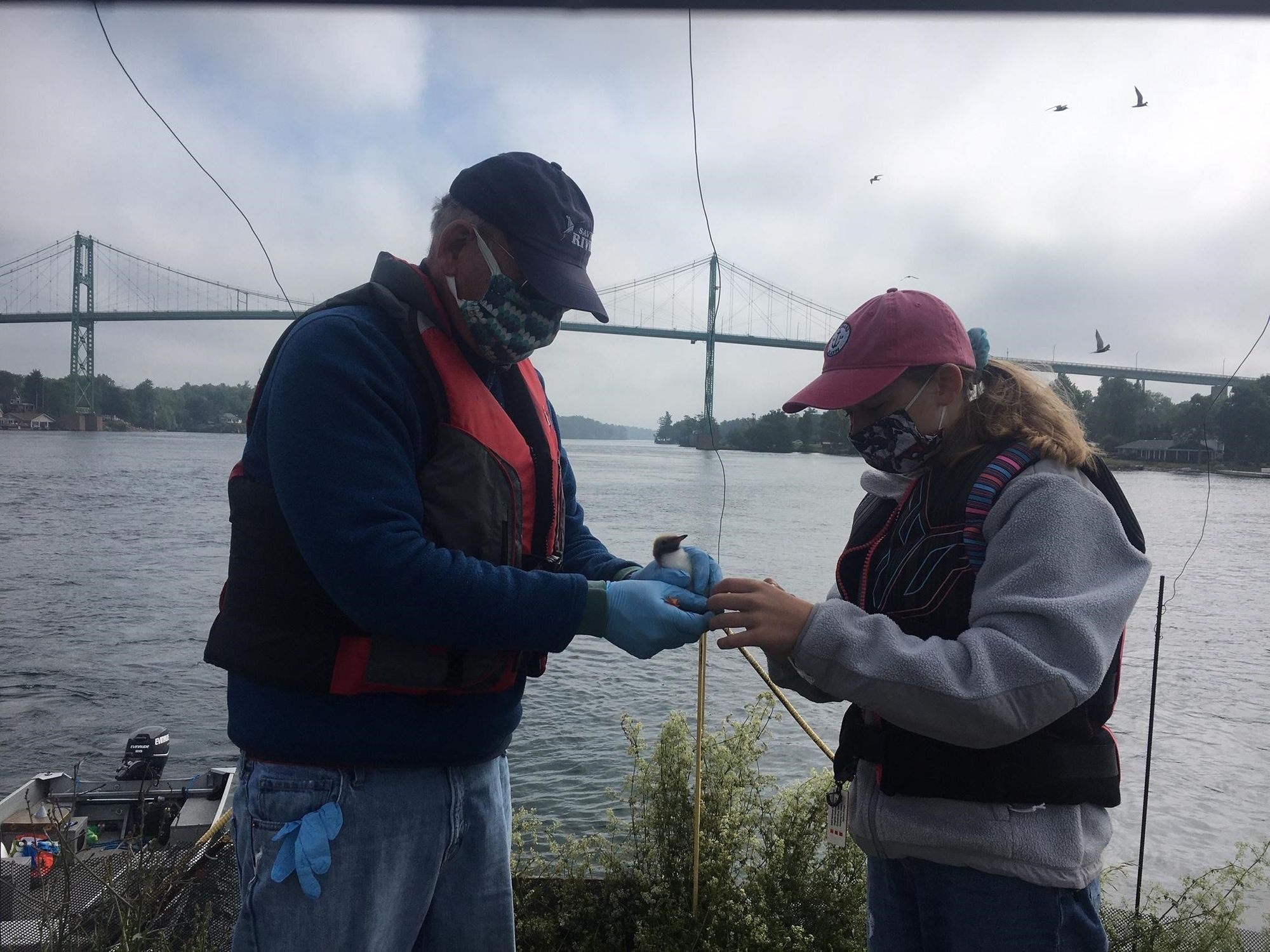 Rosie Rockell - "I've been coming to the Thousand Islands since I was born, so when I heard I could help Save the River by banding baby Terns, I was beyond excited! I got picked up at 6:30 am by Mr. Peach, the Executive Director of Save The River, and we both rode along the river to one of the Tern sites. After we picked up a few others to come with us, we approached the site. Once we became close, all of the adult Terns flew off the site and started to do their shrill call. I remember them telling me to watch out for bird poop, which I was surprised to hear was their defense mechanism.
I climbed up the ladder and onto the site, being careful not to step on any eggs. When I finally got to the top, I saw multiple baby Terns in each of their sections all running around with each other. On our second time there, two even jumped off the site, so we had to go get them and bring them back. The baby Terns were nervous, but when we banded them we talked like they were babies. I told them that it was just a small bracelet, then it would all be over and they could go back to playing with their friends. We had to figure out if birds were too small to band as well. Some were just a little bit too young and some had just hatched out of their eggs. I saw two hatching the first time we went to band the birds. It was so incredible to see. These birds are so amazing and unique and I'm so glad I got the opportunity to help band them. I can't wait until next year, when all the little baby Terns will be adults and I'll know that I made a difference in their lives."
Save The River thanks the following partners and volunteers for your passion for the Thousand Islands common tern population and love of the St. Lawrence River, which is essential to program success: Dr. Lee Harper and Riveredge Associates, TILT, the NYS Department of Environmental Conservation, the St. Lawrence Seaway Development Corporation, Audubon New York, Kate Breheny, Bill Munro, Judy Munro, Jim McGarry, Lynn Pol, and Katrin Schubert. Without your dedication, hard work, sharing of properties and resources, this project would not be possible. We are all looking forward to getting back to normal for the 2021 season of tern farming in the 1000 islands!
The common tern monitoring and restoration program is just a small part of Save The River's mission to restore, preserve, and protect the Upper St. Lawrence River now and for generations to come, through advocacy, education, and research. To become a member of Save The River, visit our website at savetheriver.org.
By John Peach, Patricia Shulenburg, and Rosie Rockell (Save The River volunteer)
Save The River was formed in 1978 to protect and preserve the ecological integrity of the Upper St. Lawrence River through advocacy, education, and research.
Posted in: Volume 15, Issue 9, September 2020, Nature
---
---
---