Maybe I am giving it away, but the last paragraph in Tom French's short story in Wind Water Waves touched me as few descriptions of life on the River ever have.
But the wind shifted to the north – just a light gust.  It nipped his face and arms – drying the sweat. Tiny ripples on the water formed a small cat's paw that sparkled speckles of yellow light. Soon it would be a gale and Jake knew the day was just a ruse, a trick – and he wouldn't be fooled. He was too old to start spending his winters here again. As much as he loved the River, it was the spring and summer and early fall that he loved.  He stood, taking one last view of the bay, engraving it in his memory for he would never forget, no matter what. ["Last of the Old Timers", Wind Water Waves. ]
It was Canada Day, July 1st, too hot to spend much time in my library on Sagastaweka Island. So I called my husband, and the two of us sat on our verandah. I was on the wicker chaise-and he was in our rocking chair. There was a wild turkey with her chicks feasting in my daisy patch. I took Tom's book and began reading aloud.  It seemed like a perfect way to read his poignant short stories.
Of course, I had to remember that "This is a work of fiction. Names, characters, places, and incidents either are the product of the author's imagination or are used fictitiously. Any resemblance to an actual person, living or dead, events, or locale, is entirely coincidental."
Well, Thomas French, you may have made up the people etc, but the feelings expressed in printed form are precisely what many of us have felt about the Thousand Islands in the St. Lawrence River, no matter what time of year we are lucky enough to be here.
There are nine stories – each different, yet the characters are woven throughout.
Two stories were published before, here in TI Life. One, Mom Makes River a Garden in July 2012, and the second, The Last of the Old timers." published in April 2015. Initially all nine stories were published as an eBook, but this summer they appear in a softcover book, available at Ringer's Gallery in Clayton, Bay House Artisans in Alexandria Bay, and Amazon.
Rather than tell you too much, I am going copy a paragraph to let you see the excitement I felt, that beautiful summer's day, when I read.
"Run for shore, Ben!" Wild Jack's voice seemed lost in the wind. Ben felt dizzy, but he ran, the shrieking horses and crashing ice blending into the wind behind him. He slipped and tripped and fell until he was suddenly knee deep in the shoreline drifts. In his panic, he hadn't even seen the trees, but now they loomed in front of him. He grabbed the ground and pushed himself to his feet, suddenly realizing that he was all alone and lost with no place to go. For all he knew, the sleigh and Wild Jack could have fallen through the ice too.  He turned around and stared into the wind and snow, the whiteness blinding. Spots flashed in his eyes, but he had no choice. He started back onto the ice, marching into the storm, leaning forward with resolve. Wind Water Waves
Yes, each story hooks the reader… which led me to asking Tom when did he start writing and his answer may surprise you, "I knew I wanted to be a writer when I was seven. I remember it quite clearly. I wrote a science fiction story about going to Mars. My first paid writing gig was when I was 12. I worked for the Thousand Islands Sun — 7 cents an inch? They didn't want to admit that I was only 12, so they put "Age 13" under my name. I was the T.I. Park correspondent. I think they were desperate, and I did not write the standard social gossip of who visited whom. I wrote about what it was like to live on the River.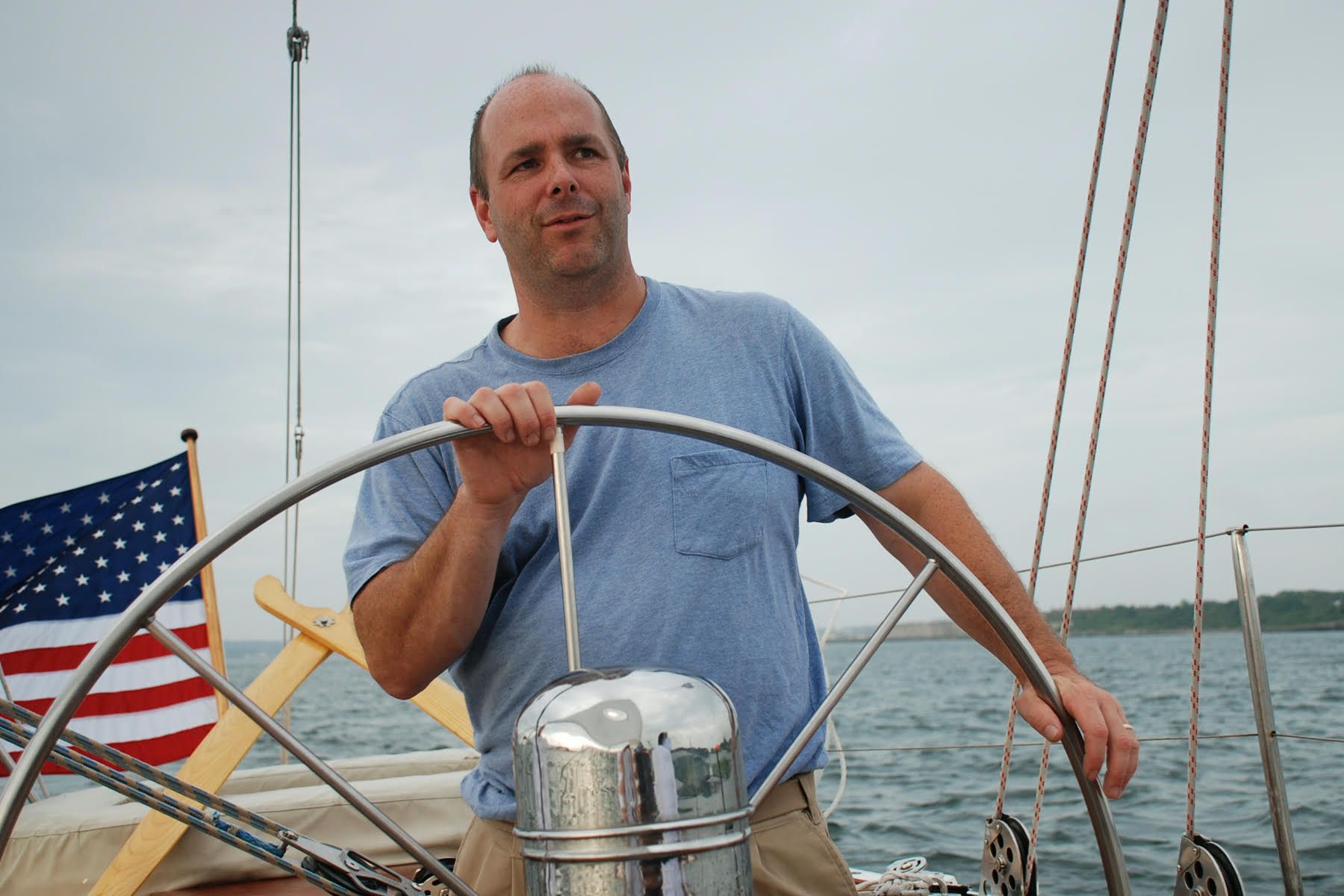 And what about now? After 31 years as a 7th Grade English Teacher, Tom has recently retired and is now pursuing freelance writing. And as he says, "along with some musical endeavors and significant volunteer work."  Yes, he grooms x-country ski trails in the winter and helps with a youth sailing program at T.I. Park in the summer, and my favorite, he looks after the TI Park Museum.
Tom is an historian; "a modest one at that" he says, but this editor, certainly appreciates his  book, River Views — A History of the 1000 Islands in 3-D, which won an award as one of the best regional non-fiction books in 2012 from the Independent Publishers Book Award.
He and his wife Carrie live in Potsdam, NY and because he has had several pieces published in a number of Adirondack publications (Adirondack Life, Adirondack Explorer, Adirondack) he spends time hiking and canoeing in the region.  He and Carrie have two children, Daniel and Emma, both in college, but more importantly, who are 5th generation River Rats.
At the end of my interview I asked the simple question, "What would I like to tell everyone?"
His answer was perfect:
"Wow.  We're all a part of something larger than we can understand ( exactly as the book described).  Savor your history — people walked these paths before us, and people will follow.  I taught 12-year-olds, to be patient and have a sense of humor, and my grandfather taught me to "grin and bear it." So even if it's hard or painful, make sure you're smiling and enjoying it."
Yes, I think by now, like me, you are intrigued about the author and I know you will be intrigued when you read Wind Water Waves. You can almost here an old timer, someone who spent his life on the River, our River, telling each story. I was intrigued and still am.
By Susan W. Smith, Editor TI Life
---
WIND WAVES WATER
Available at Ringer's Gallery in Clayton, Bay House Artisans in Alexandria Bay, and Amazon.
Be sure to see all of Tom French's previous articles written for TI Life as well as a book review written article:  Thanks to Tom French History Comes in 3-D.
Posted in: Volume 15, Issue 7, July 2020, Book review, People
---
---
---