By Lynn E. McElfresh, Grenell Island
Does anyone live on Grenell Island year-round? I get asked this question often. My answer is always the same: not anymore. Once upon a time, families lived here full-time. The 1900 and 1910 U.S. Census shows that as many as 17 people considered Grenell Island their permanent residence. More than one baby was born on Grenell Island in those years. But today, no one lives on the island exclusively.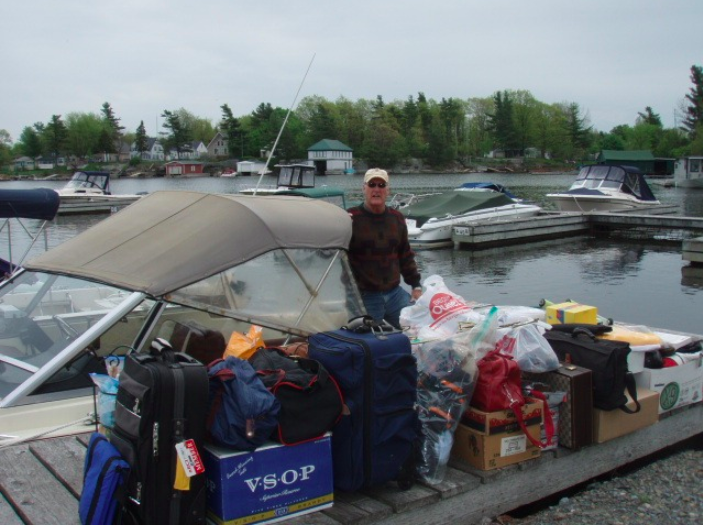 ONE-WEEK-A-YEAR ISLANDER
Gary and I started out as One-Week-a-Year Islanders. Early in our marriage, we lived in Illinois and Missouri. When at last our long awaited week of vacation popped-up on the calendar, we always drove straight through, unwilling to waste any of our precious vacation days on a more leisurely pace. We'd leave at night after a full-day of work, drive 17 hours and get to the island in the middle of the afternoon. We usually arrived with a list—either mental or written-out—of all the things we wanted to do that year at the island. Fishing, canoeing, hiking, were almost always on the list. Gary's mother always had a honey-do list for Gary as well: painting, chopping wood, moving rocks, etc. Time was so precious. We woke early and crammed as much as we could into those magical seven days.
If it rained, it wasn't just disappointing—it was tragic. We felt robbed of precious hours that we would have to wait 365 days before we could experience them again. Of course, eventually, we were rewarded with more vacation days and that one-week-a-year eventually grew to three weeks a year. But even with 21 days, the time slipped by too quickly.
Today our kids are the One-Week-a-Year Islanders. We are lucky to have a guest cottage, so that other friends and family may visit us on Grenell and they have also become One-Week-a-Year Islanders.
WEEKEND ISLANDERS
           We always lived too far away to ever be Weekend Islanders, but there are plenty of Weekend Islanders on Grenell. Most travel from the New York State cities of Syracuse, Buffalo, Rochester, Binghamton and Cazenovia and many points in between. Weekend Islanders aren't limited to New York residents, there are plenty of Grenellians who travel from Vermont, Connecticut, Massachusetts, New Jersey, and Pennsylvania on a regular basis, spending hours on the road, to relish a few precious hours on the island, arriving late Friday night and leaving Sunday evening.
While we were never Weekend Islanders, Gary's parents were. Gary's father worked for General Electric, in Syracuse in the 1970s and 1980s. Gary's mother would spend most of the season on the island, while his father only spent the weekends. They were not the only family that fit this model. Our island seemed to attract teachers who would be here for the season, sometimes with young kids, while their spouse visited only on weekends.
Many Weekend Islanders also visit the island in the winter. Gary's parents and their friends, Bill and Marian Bierley, who lived in Rochester, always made a point of visiting the island sometime in February. Thousand Islands Sun correspondent, Polly Daw, often described in her columns the winter visits of islanders.
SEASONAL ISLANDERS
I became a Seasonal Islander in 1999. Hard to believe it will be twenty years this year. Gary's mother had been placed in an Alzheimer's facility and it was decided that I should spend the season on the island to provide companionship for Gary's aging father. Lucky me! We loaded up the car and drove from Central Illinois to the island in early June. Gary opened the cottage, flew home for six weeks, flew back in late July, closed down after a two-week visit and we drove back together to Illinois. Meanwhile, I was able to watch the seasons change on Grenell. I saw spring flowers for the first time. I heard the chorus of birds, who usually stop singing around July 15. I experienced spring showers and cool June temperatures. What a difference it made mentally, to be able to stay on the island and not try to cram a season worth of fun into a week or two. It was a short season—the beginning of June to the end of August—but I savored every moment it.
Gary retired in 2002 and we truly became Seasonal Islanders in 2003. We arrived in early May, before the trees were leafed out and left in the middle of October. By then, I'd come to realize that there are two types of Seasonal Islanders. The first is the Snowbird Seasonal Islanders who come from great distances and arrive for the season. The Local Seasonal Islanders are usually former Weekend Islanders who are now retired.
What's the difference? The Snowbird Seasonal Islanders have to close-down their winter homes, forward their mail, and make the mental shift to being a north country resident. There's no running home for a dentist or doctor's appointment. All those things have to be planned for either before we leave or scheduled for after we get back. Luckily, I've found a great dentist in Clayton, in case of a dental emergency. And if I get sick while I'm at the River, I miss being able to go to my doctor. My choices are limited. Its River Hospital in Alexandria Bay or the Urgent Care in Watertown. Better yet . . . stay healthy!
Local Seasonal Islanders run home for more than dental and doctor appointments. They'll drive home for book clubs, birthday parties, hair appointments, home remodeling projects, social engagements, hometown events, etc. etc. Okay, I'll admit it. I've always been a little jealous of the people who live close enough to pop onto the island any time they like. But once I became a Seasonal Islander, I could see that while I was fully-immersed in island life, they were yo-yoing between non-island life and island life and spending lots of time in the car. Suddenly, having a home nearby didn't seem like an advantage, it seemed like a distraction.
ALMOST-PERMANENT ISLANDERS
I've already stated that no one lives on the island all year, but there are some Local Seasonal Islanders, who arrive so early and stay so late that I consider them to be Almost-Permanent Islanders. Most islanders in this category say they visit the island at least once every month of the year. They are known to snowmobile to the island, when the River is frozen. They are the first ones dodging ice flows on the way to open the cottage in late March or early April. They don't officially close until the snow flies in late November. Some traditionally stay until the first of December.
Through the years, I've watched families morph from one stage to another. Take for instance the Hores family. From the time their three girls were in diapers, Phil and Jane rented our neighbor Roger's cottage, for one week a year, making them One-Week-A-Year Islanders. When Roger retired, the Hores bought a cottage on nearby Murray Isle. They became Weekend Islanders. Eventually, they too retired and they morphed into Local Seasonal Islanders. Their girls all married and all three moved from New York State to North Carolina. Wanting to be closer to their daughters and grandchildren, Phil and Jane moved to North Carolina as well, making them Snowbird Seasonal Islanders. Like the Hores, the time we spend at the islands has changed in the last five decades, but our devotion to island life has remained steadfast throughout our lifetime.
What kind of islander are you?
[All photographs are courtesy of the author except the header photo. Header photo courtesy Shelly Crippin ©2019]
By Lynn E. McElfresh
This is Lynn McElfresh's 122nd article for TI Life. This editor awaits with anticipation each month, to see what Lynn will give to our River community. This month, I opened my email and realized that she has captured exactly what we go through as short-time visitors or all summer residents!  Whether on an island or in a cottage on the mainland - Lynn describes it perfectly.
Lynn came to Grenell Island for the first time to meet her fiancé's family, in 1975. She became part of the family, and the island became part of  her life. Lynn and her husband, Gary, spend their summers in the Thousand Islands and their winters in Dunedin, Florida. To see all of  Lynn's island experiences, search TI Life under Lynn McElfresh.
Posted in: Volume 14, Issue 2, February 2019, Places
---
---
---