Yes, we've been walkin' on the railroad.
Bob and I are proud members of the Thousand Islands Land Trust (TILT) in Clayton, NY. It only made sense for us to join since we spend a good part of our summers romping around on their magnificent properties, and hiking on their amazing trails. But, truth be told, one of my main reasons in becoming an official member is that we wanted to do our part in helping to spread the word and fund the renovations TILT is planning to make on a 60-foot high historical railroad trestle. I've had my eye on that project, located in the middle of TILT's S. Gerald Ingerson Preserve, for several years now, and was excited to see progress being made towards the project's completion.
I think most of the Thousand Islands Life readers are familiar with TILT, but in case you are a random visitor, I'd love to get you as excited about TILT and their plans for this step back into time as much as I am. First, there is the land trust itself and the important work they do. TILT is not just about creating great hiking trails (we would love them even if that was all they did). But maybe even more importantly, they are protecting the beautiful natural areas that make the Thousand Islands what they are.
As they explain on their website: "Since 1985, the Thousand Islands Land Trust (TILT) has helped safeguard the regional landscape of the Thousand Islands by accepting, conservation easements, acquiring property, and by establishing accessible areas available for public enjoyment. Currently, TILT protects over 11,000 acres of land, both fee-owned land and conservation easements, including important wetland, grassland and woodland habitats. This includes 10 Signature Preserves and 21 miles of trails that are open to the public, year-round. TILT was awarded National Accreditation by the Land Trust Alliance Accreditation Commission in 2009, and was awarded Reaccreditation in 2014 and 2019."
The Trestle
Now, back to that trestle. One of TILT's properties is actually a collection of several smaller properties, which together form the Sissy Danforth Rivergate Trail. The Sissy Danforth Rivergate Trail is named after former executive director, Louise "Sissy" Danforth, who was the inspiration behind the development of this unique "rails to trails" project.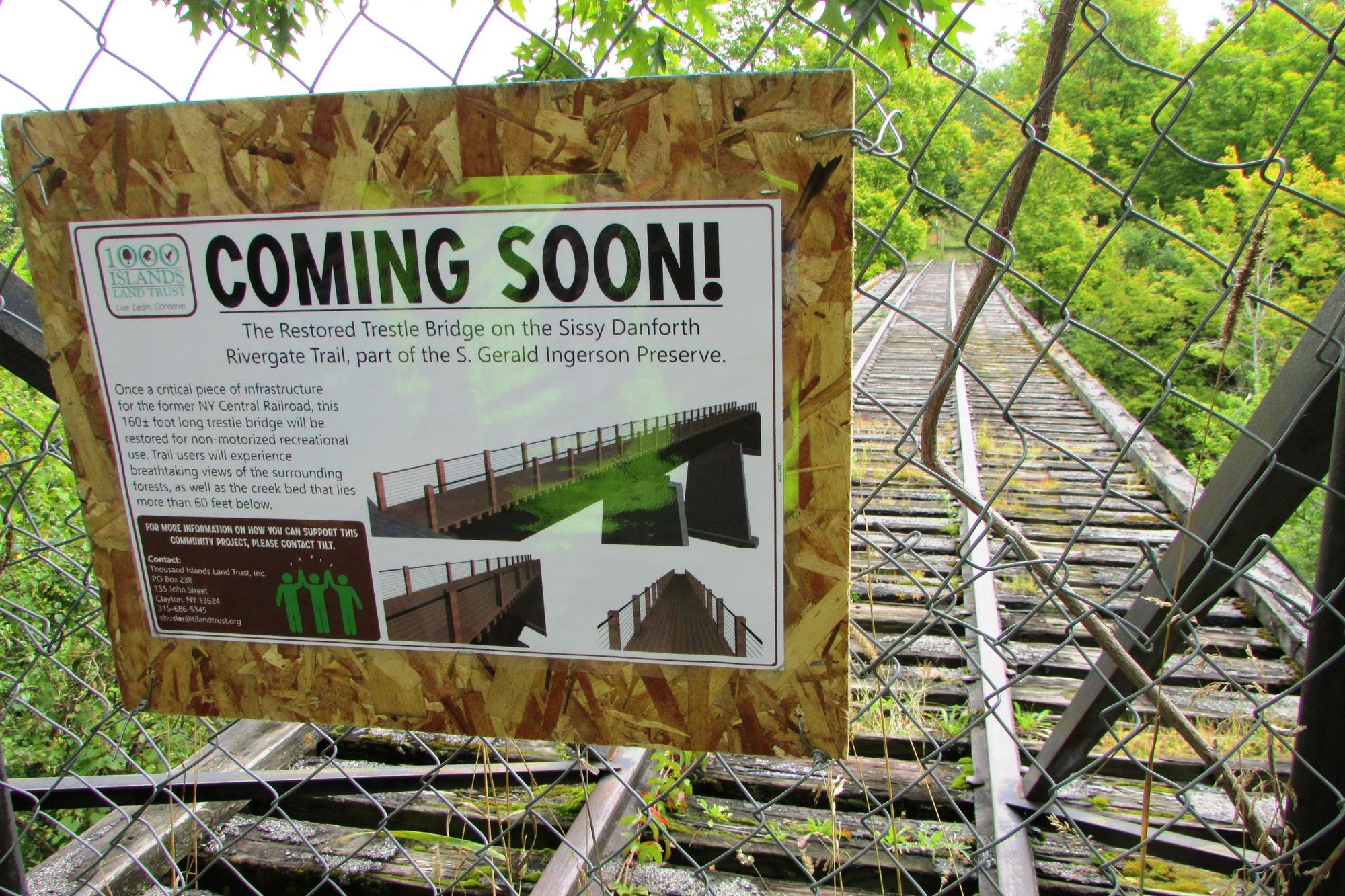 TI Life's authors have written articles about the original train system that was the main form of transportation to the River in past days. Here is one excellent example written by the late Nancy Bond.
In "Clayton's Railroad Depot", Nancy wrote, that due to the increase in highways and automobiles, "Around 1946-47 the last sleeper car came to Clayton. Passenger service ended in 1951 and the last freight service in 1972. The tracks were abandoned." But the story doesn't end there.
TILT began acquiring pieces of the old New York Central/Penn Central Railroad tracks in the towns of Clayton, Orleans, Theresa, Redwood, and Philadelphia starting in 1993. The project is now over 25 miles long and forms a multi-use trail that can be accessed from several points. We spent one vacation week driving to several of the various access points and hiking the trail from each of these different vantage points. So, we have been following the developing plot on this trail for several years now.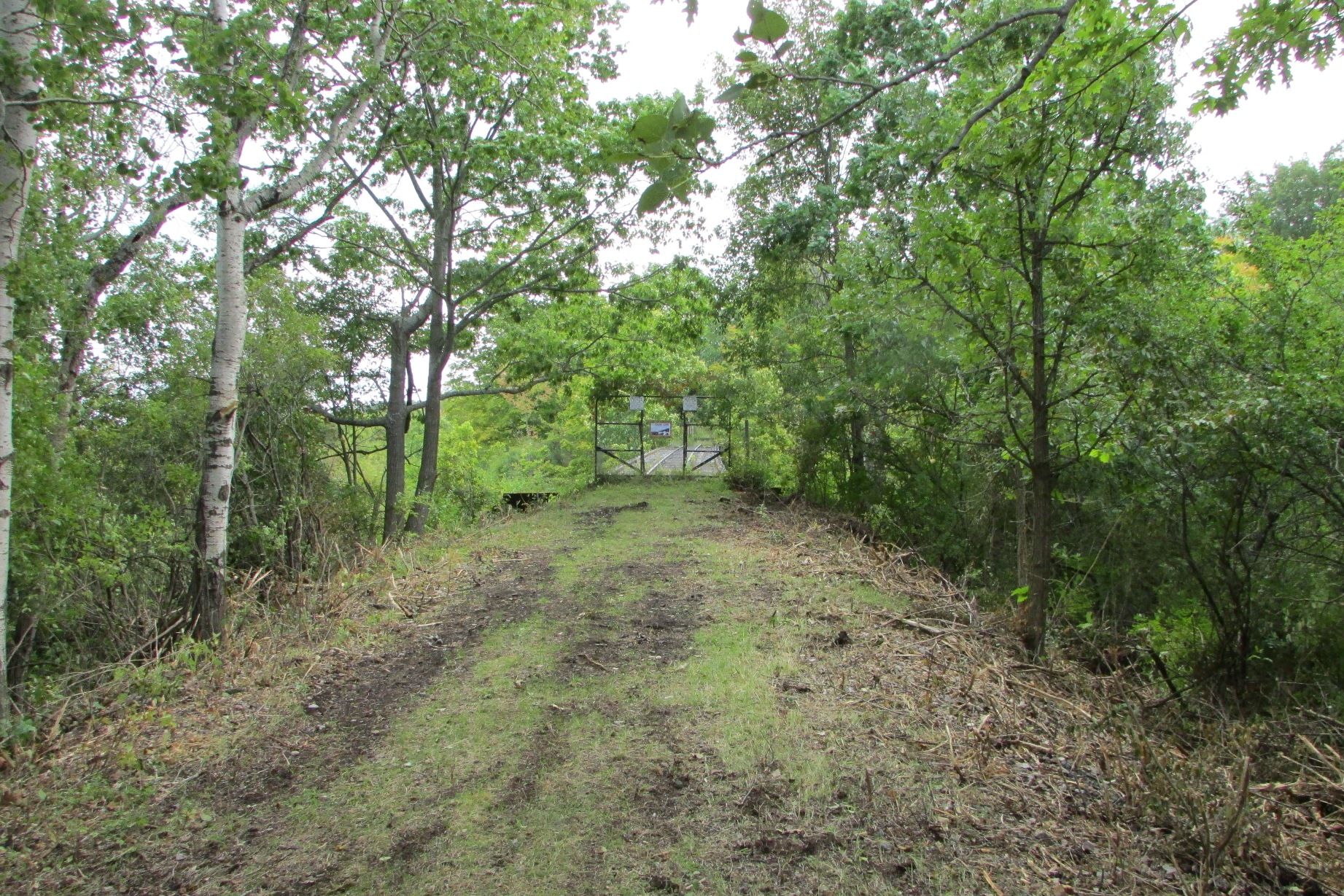 One of the most exciting parts of this project for us is where the trail cuts through TILT's S. Gerald Ingerson Preserve, through which the McCarn Creek flows. The trail passes over the creek by way of a 60-foot railroad trestle. The trestle was built in 1870 and was part of the original train track system, which ran all the way from downstate to Clayton. While the trestle is no longer safe to cross, TILT is planning on restoring it, so that the trail can run from Clayton to LaFargeville, then continue on from there passing through Rivergate (where that part of the trail's name comes from) and ultimately ending in Philadelphia (New York).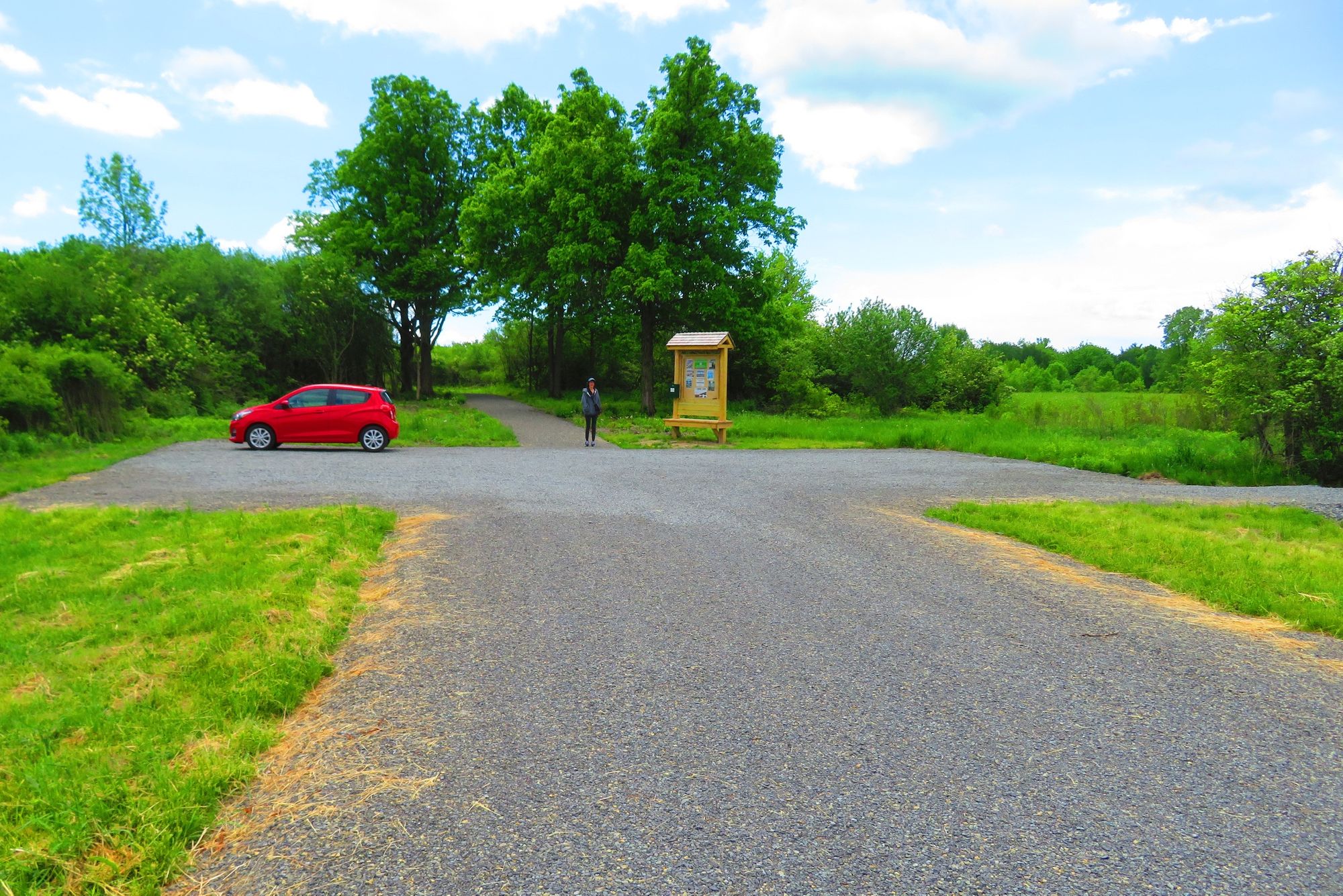 While it is not yet complete, there have been some exciting updates over the past year. Last year we visited the new parking lot and kiosk on East Line Road less than a mile from Route 12 (James Street). From there, one can take a new trail in to pick up the original rail trail, and after about half a mile, end up at the trestle, (currently fenced off due to its current condition). And, yes, it is really 60 feet tall!
But there's more. The long range goal all along has been to connect the Clayton waterfront, (which includes the River walk and the TILT office) to the trestle trail just as it originally did over hundred years ago bringing tourists over the trestle by train all the way from New York City and beyond. And of course the waterfront depot in Frink Park is reminiscent of the original train station where travelers would arrive. The renovations on the trestle will be the last stage, but this spring we got another step closer, literally, when we discovered that TILT had added about a mile of new trail from the new parking area, across East Line Road and northwest toward Clayton. The trail parallels the golf course and ultimately connects with the original railroad bed which crosses Route 12E and heads down to the waterfront.
TILT explains, "But we're far from finished. The new trail leads to the awe-inspiring 60-foot high trestle bridge but does not extend across it. Restoring this trestle bridge will enhance a local trail that contributes to the vibrant quality of life in our region by protecting our natural resources and providing recreation opportunities that support the vitality of our local economy...TILT is working to raise funds from within the Thousand Islands community to make this project happen and restore a piece of our region's heritage."
Yes, we are very excited about this project. We love to hear about new trails to explore, and new paths to beautiful river places. When I think of new trails,I am reminded of these words: "I will lead the blind along an unfamiliar way; I will guide them down paths they have never traveled. I will turn the darkness in front of them into light, and level out the rough ground. This is what I will do for them. I will not abandon them (Isaiah 42:16)." Even when we find ourselves having to forge new paths in life (which we certainly did a lot of in 2020), God has promised not to abandon us if we seek his guidance.
We are so glad that the old 60-foot trestle was not abandoned and that it will soon connect the beautiful and historic Sissy Danforth Rivergate Trail to one of the most beautiful places on earth: The River!
---
Author's Note: You can learn more about TILT's work, their trails, and their newly renovated office in Clayton at https://tilandtrust.org/ They are open to the public and are turning the first floor office into a nature discovery center for visitors and nature lovers to explore.]
By Patty Mondore
Patty Mondore and her husband, Bob, are summer residents of the Thousand Islands. Patty's most recent books include "River-Lations Revisited: More Inspirational Stories and Photos from the Thousand Islands", "River Reflections: A 90-Day Devotional for People Who Love the Water" and its two sequels, "Nature Reflections" and "A Bird Lover's Reflections." She and Bob co-authored "Singer Castle" and "Singer Castle Revisited", published by Arcadia Publishing, and co-produced "Dark Island's Castle of Mysteries" documentary DVD, in addition to a Thousand Islands Music DVD Trilogy. Patty is a contributing writer for the Thousand Islands Sun. Her column, "River-Lations", appears in the Vacationer throughout the summer months. The Mondores are online at www.gold-mountain.com. (Be sure to also visit Bob's singercastle.blogspot.com.) See Patty's most recent TI Life Articles here and several others here and here!
Posted in: Volume 16, Issue 1, January 2021, Places, sport
---
---
---