People of Kingston celebrated the opening of the Waaban Crossing on December 13, 2022. Words that come to mind are "We built it." Then make the commendable addition: "On time and on Budget." And top it off with the amazing fact: It was built despite a world-wide Pandemic!"
The history of this crossing goes back more than 50 years. Many in Kingston, including myself, thought they would never live long enough to see it.
When I talked to the editor of TI Life about how I should approach presenting this story, she told me to enjoy the story and have some fun. So, since this is such a well-documented story, I have decided to use the City of Kingston as my source. I have searched a great deal of what they have shared and selected the most relevant information for a story in Thousand Island Life Magazine.
The building of this bridge has been followed with keen interest by many area citizens and the Kingston media.  I know some Kingstonians are already hard at work, writing a book about this feat.
Two individuals who documented the construction are Mike Hill, Aerosnapper, who produced many videos with narrations, and Paul Wash, who took a large number of excellent still images of the construction as it progressed. Thanks to their interest and quality work, we have a thorough historical record of all stages of the project.
My focus is about some people, some history and by viewing the links provided, some perception of the technical aspects.
Let's start with the name: The word "Waaban" is an Ojibwa word that means dawn or morning light. According to the City, Waaban was put forward to represent both the natural environment that the bridge crosses, and as a hopeful metaphor, with indigenous peoples and all Canadians working together toward a better world for future generations.
The Waaban Crossing is the largest infrastructure project undertaken by the City to date. The City of Kingston, and the Governments of Canada and Ontario, each contributed $60 million toward building this new 1.2 km bridge. When completed, this $180 million project was on time and on budget.
Everyone agrees that this project would not have been possible without the unprecedented teamwork between project team members. The Waaban Crossing is the first bridge project in North America to be delivered using the Integrated Project Delivery (IPD) model. The design and construction are the results of the ongoing collaboration with the City's IPD partners: Peter Kiewit Sons ULC (Kiewit), Hatch Ltd. (Hatch), and SYSTRA International Bridge Technologies (SYSTRA). This dynamic team was selected in August 2018, after seven international teams initially applied for the job during a request for proposals.
However, planning began long before. The bridge's opening was the culmination of many years of preparation, including environmental assessments, transportation planning, population growth projections, public engagement, information sharing with Indigenous Nations, and partnerships with local, provincial, and federal organizations and agencies.
The new crossing will support ongoing growth and development in the Kingston community, enhance access for emergency services, and advance the City's active transportation network. Community benefits during construction included over 320,000 hours in local contracts and labour from Kingston and the surrounding area, 93 contracts secured with local businesses, well over $10,000 in charitable donations given by the contractors, and over 80 community service hours offered by the contractors.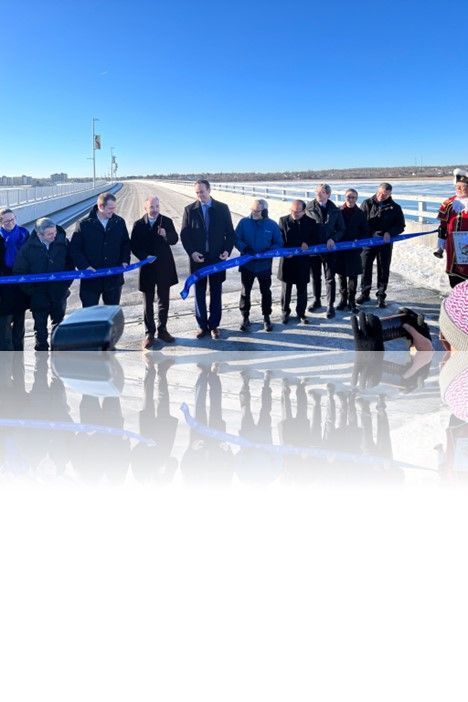 Mrs. Leonore Foster, a former councillor, was acknowledged as a true champion of the cause for many years. As well, former Mayor Harvey Rosen and CAO Gerard Hunt were praised for their leadership. But, unfortunately, both of these fine men passed away before the bridge was completed.
Conclusion
The main reason the bridge was built was because of the dogged effort of so many – plus finally attaining the financial commitment of three levels of government, Federal, Provincial, and Municipal. The project's total success was also due to all the men and women who took great pride in their work and gave it their best. There were many challenges to overcome, and they worked collaboratively to resolve them. The Waaban Crossing is a beautiful example of what can be done when people work together.
The Waaban Crossing is just one piece or part of many huge forward-thinking projects started many years ago to build a major west/east traffic corridor in Kingston. It began with the Taylor Kid Boulevard (in west Kingston), which connects to John Counter Boulevard and required that the CNR railroad overpass be built. John Counter was widened and extended to the east until it crossed Montreal Street (a main north/south route), and then extended to the Waaban Crossing on the west side of the Cataraqui River. On the east side, Gore Road was upgraded to where it meets Highway 15 (the main north/south route) in east Kingston. This west/east or east/west traffic corridor is 24 kilometers long and reflects many years of planning and work. All the people involved in these projects contributed a great deal. Thank you.
By John Stencell
John Stencell moved to Kingston in the summer of 1970. John and Helen have two adult children, Gordon and Joanne. They have enjoyed all aspects of the Thousand Island life. And yes, Howe Island residents may remember John and Helen as they taught school on the island for several years.
---
Posted in: Volume 18, Issue 1, January 2023, News article, Places
---
---
---