On a hot summer day on July 16, 1891, a wave of excitement spread over Clayton, NY, when, in a grand flourish reminiscent of former times, a stagecoach pulled by six horses halted in front of the Windsor Hotel in Clayton with some 20 people aboard, to spend a few days in the Thousand Islands.
It caused quite a sensation and was a novel sight to see, since stagecoach service to Clayton had ceased when the railroad was opened in 1873. This was one of the first long trips of the newly organized Truxton Coaching Club. Truxton is a small village east of Cortland, NY.
Coaching, or "Tally-ho," clubs were all the rage in England in the late 19th and early 20th centuries. The first such organization in the United States was the New York Coaching Club, founded in 1875. It emulated the genteel sport practiced in England, with specially-built coaches – not old recycled stagecoaches.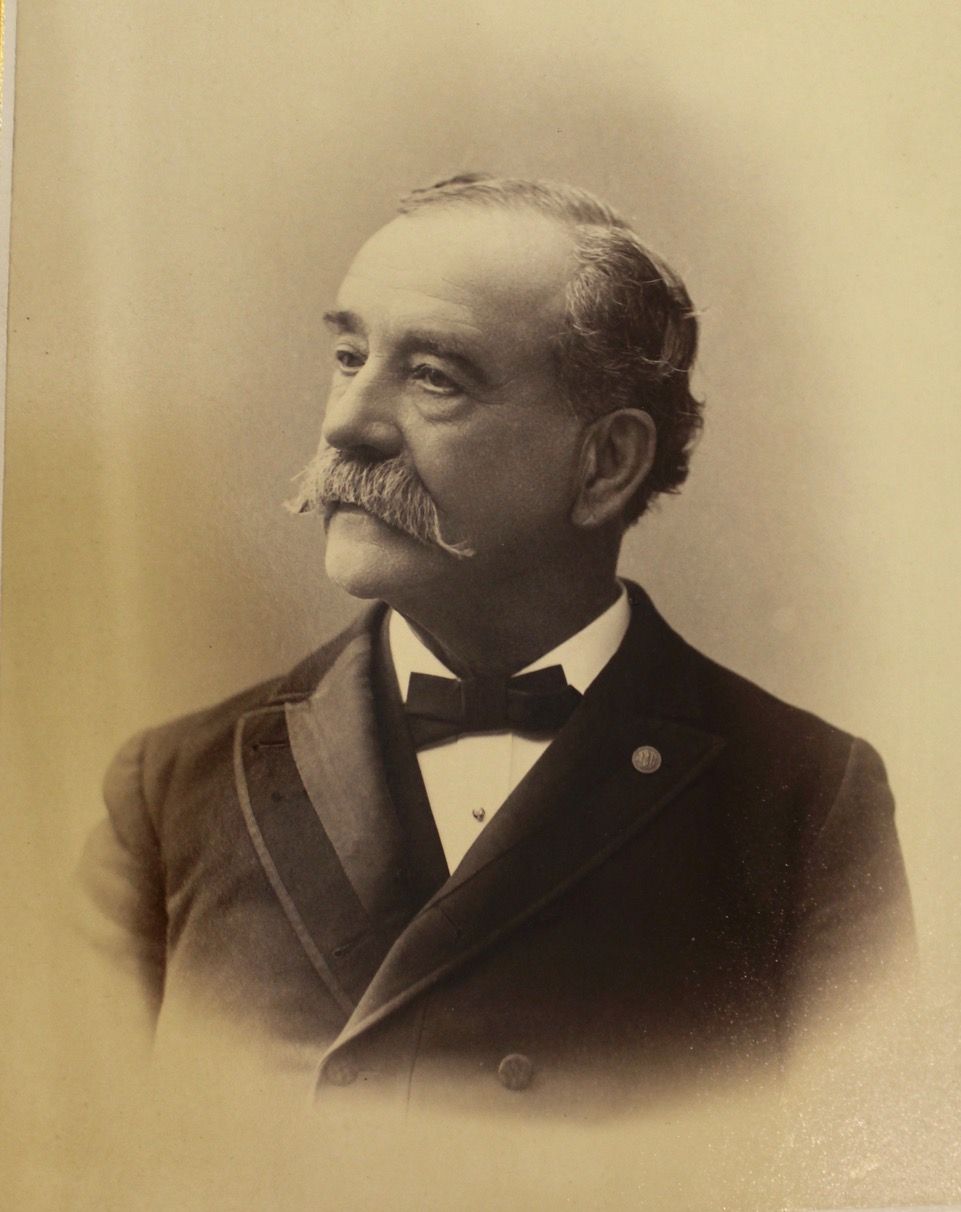 Here, it all started in 1890 when Dr. Judson C. Nelson of Truxton, while visiting his in-laws in Schoharie, NY, discovered a stagecoach moldering away in an old barn. The old stagecoach had operated between Middleburg and Schoharie until 1880, when it was replaced by the railroad.
Dr. Nelson's immediate thought was to refurbish the coach, so that he and his friends could travel on outings around upstate New York. The idea of a coaching club caught on, and soon, he was joined in this effort by five other local couples. Nelson purchased the coach and shipped it to Cortland, where it was thoroughly overhauled, re-equipped, and painted red with black trim.
Soon the Truxton Coaching Club went out on the road. Its first shake-down trip was from Truxton to Watkins Glen. This trip being a success, they then decided to venture off to Clayton the following summer, to visit the Thousand Islands. The logistics of finding suitable accommodations along the way were worked out in advance.
The 18-member group got an early start from Truxton, at 6:20 am on July 13, 1891. Dinner was taken at Delphi Falls. The first night was spent at the Grove Hotel in Fayetteville. After breakfast the next morning, they reached Central Square for dinner. Then it was on to Parish, where they spent the night at a hotel. The party arose at 5 a.m. the next morning and left Parish at 6:30. One man shouted: "Away with cars; this is the way to travel." They stopped at Adams for the night.
The party reached Depauville on Saturday, where they spent a "horrid" night. They left Depauville at 4 am, drove through to Clayton, and were met by an immense crowd. They stayed at the New Windsor Hotel and took a steamboat search-light excursion among the Thousand Islands. Some chose to remain in Clayton to fish for pickerel, while others took a steamboat to visit Kingston, ON.
They started their return home on July 19. Traveling to Watertown, they stayed at the Woodruff House.
The Watertown Daily Times reported on July 20, 1891:
"At 7:15 last evening, with a grand flourish of the whip, Driver Perry Chappell drove six high-life coach horses, attached to a large tally-ho, up to the entrance to the Woodruff House and prepared to dismount his party of ladies and gentlemen."
"They left Clayton yesterday afternoon and were driven over the roads at a lively speed by the man who handles the ribbons of the six roadsters. Perry Chappell is an old stage driver who drove for 30 years between Watertown and Syracuse."
They left Watertown at 9 a.m. the next day, spending the night at the hamlet of Copenhagen. Leaving there at the following morning, they passed through Martinsburg, Houseville, Turin, and over a "very bad" road to Boonville. After dining there, they continued on a few miles and spent the night at Trenton Falls, one of the major tourist attractions of the day. The next day took them through Rome, eventually reaching Cazenovia after a long day of travel. The next day they safely returned to Truxton without incident.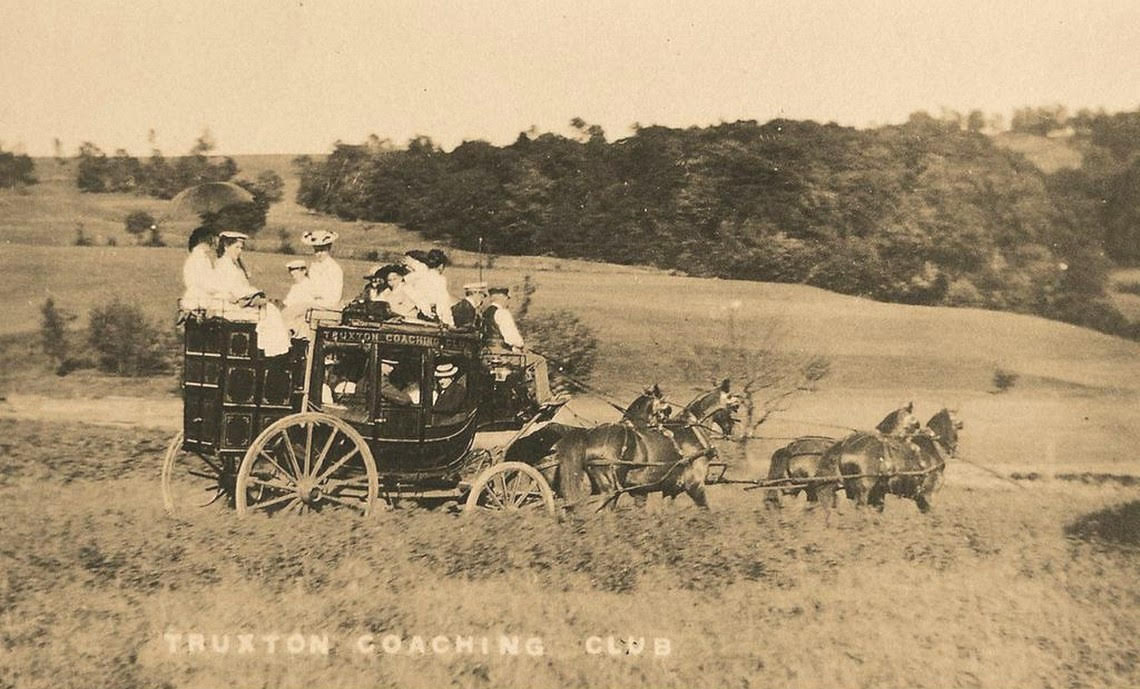 Frequently these club outings covered more than 300 miles. But driver Chappell, a native of Sandy Creek, handled the reins with grace and dexterity. Another trip was made to Clayton the following year, in July 1892.
Long after Dr. Nelson died in 1895, the Truxton Coaching Club continued to have outings. Extended trips were made throughout the Finger Lakes region. Later, these were limited to day trips not far from home, including a picnic or a stop-off at some local hotel for dinner. The Dryden Fair and Little York Lake Park were also popular destinations.
Footnote
Dr. Nelson was 71 when he died on July 11, 1895. He had been a surgeon for the 76th Regiment, New York Volunteers, during the Civil War, was active in Democratic politics, and served in the New York State Assembly.
Sources
Overland From Truxton, DeRuyter Weekly Gleaner, June 21, 1892
Harris, R. Curtis, essay, The Thrill, Fun of Coaching.
Heppell, Roger C., Truxton Coaching Club, Bulletin of the Cortland County Historical Society, Vol. 22, No. 1, February.1968.
Truxton Coaching Club Founded in 1892, Cortland Democrat, March 2, 1968
Various small news items in local newspapers discussing trips.
Obituary of Judson C. Nelson, Cortland Standard, July 12, 1895; New York Herald, July 13, 1895; Dryden Herald, July 17, 1895.
By Richard F. Palmer
Richard Palmer is a retired newspaper editor and reporter, and he was well known for his weekly historical columns for the "Oswego Palladium-Times," called "On the Waterfront." His first article for TI Life was written in January 2015, and since then, he has dozens of articles and more. He is a voracious researcher, and TI Life readers certainly benefit from his interests and we hope he will continue to find this important history.
Posted in: 'Volume 18, Issue 8, August 2023, History, People, Places
---
---
---