When the Lyon Family first started to frequent Chippewa Bay, they did so from a charming houseboat and a steam yacht named Outing. Once Outing was anchored in the bay, they used a fantailed skiff named Pat to get back and forth to the houseboat. This story is about Pat.
There are no name plates quoting manufacturer or date on Pat. From a signed watercolor we have, we can tell she was in Chippewa as early as 1896. She may have been there earlier. From history, I would hazard a guess that she was a Leyare boat. The family subsequently purchased a Number Boat, and the launch Carmencita, from Leyare Boat Works, in Ogdensburg. The other chance is that she came with the Outing from Herreshoff's Boat Works, in Rhode Island, for the express purpose of ferrying people off the steam yacht.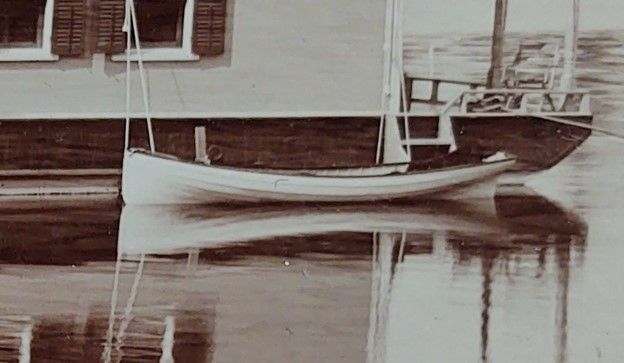 If you look closely at the photo above, you will notice that a set of stairs is built off the side of the houseboat. These would have been very handy as Mrs. Lyon was never spotted in anything but a floor length dress. It must have been quite a task to get the bow tied up to the railing that ran along the second story of the houseboat.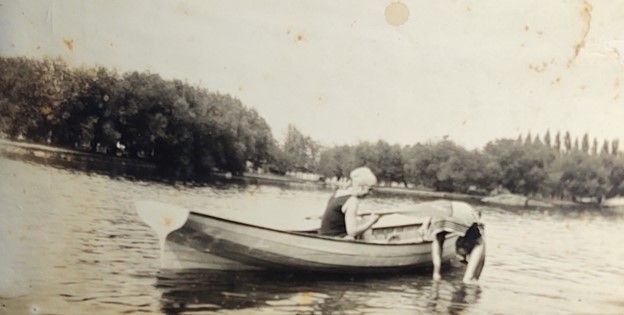 My grandmother and great aunt made good use of Pat when they visited their older sister Helen. They are seen above with Pat. These two gals were very close throughout their lives. My grandmother is about to give her older sister a good whack with the paddle. You can be sure that the hi-jinx was repaid in kind.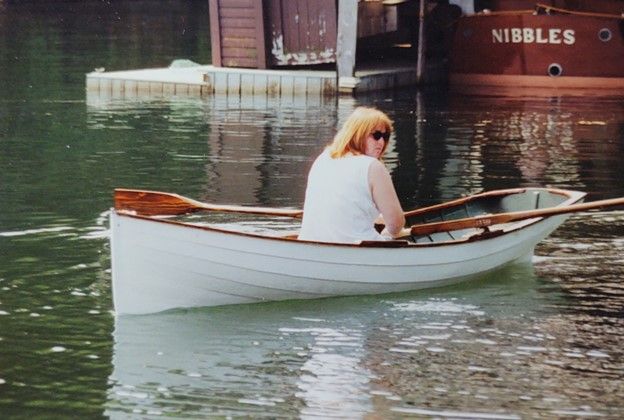 Pat hung quietly in the rafters of our boathouse for most of my childhood. She was overlooked for a sleek Old Town Canoe with caned seats and a movable "Cleopatra" chair, for someone looking to be chauffeured. One summer afternoon, my wife Kelly asked, "Why doesn't anyone ever use that skiff?" I laughed and said, "I don't know. Let's take her down and check her out."
We found her to be in sound shape. I had a couple of steel seat brackets made for her. We got some oar posts from the flea market at the ABM show and had some skiff oars made by a chap in Ogdensburg. Kelly put beautiful new stain and varnish on her decks. Her sweeping lines are no lie. She is fast and easy to maneuver.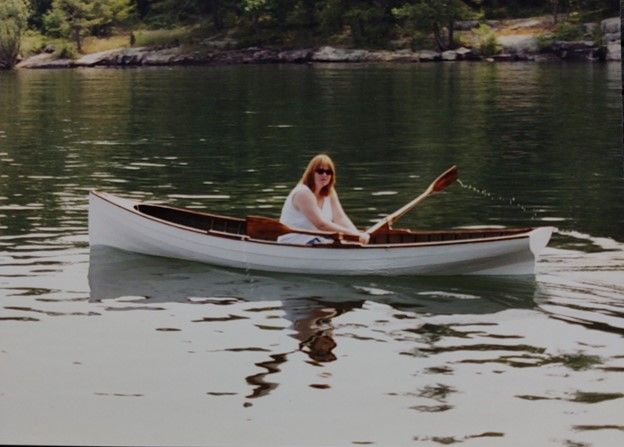 The wine glass transom can be seen in the photo above. She is an ideal craft for enjoying the River and her lines always get comments.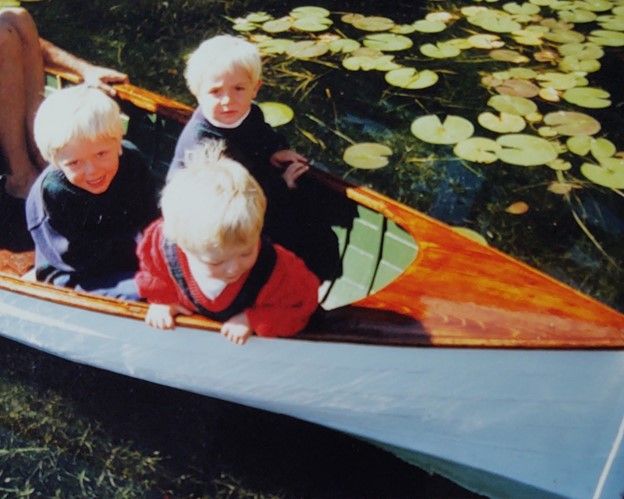 Ours sons learned to love old Pat on many River expeditions. There was usually a flotilla of homemade freighters trailing her on string and fishing line. The boys loved modeling the ships that passed by daily in the summers.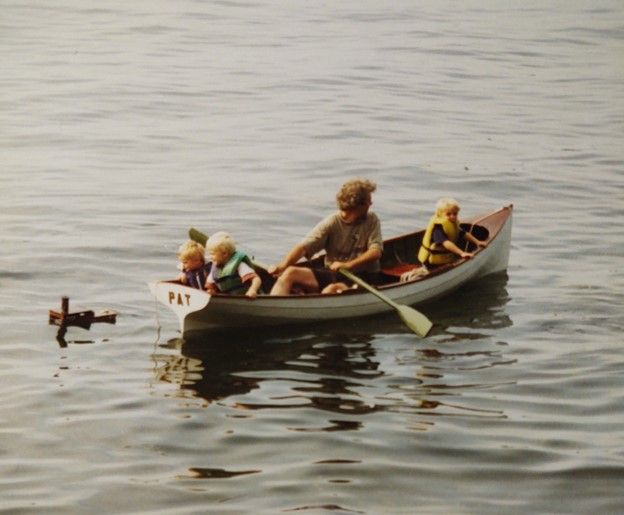 Truth is that every time I think of this Time Traveler, I smile. She has provided 5 generations of family with opportunities to enjoy the River. Whether she was a steamer shuttle, regatta craft, fly fishing get about, or a tow boat for toy ships, she never failed to move us smartly around the Bay.
Photographs from the Lyon/Kunz family albums
By John Kunz
John Kunz and his wife, Kelly, are summer residents of Chippewa Bay. They winter in Watertown, NY. Along with their three sons, they enjoy the River on a four-season basis – sailing, rock climbing, and skijoring. In February 2016, John took us Skijoring in the Thousand Islands, and then for several years, John and Kelly have covered the excitement of the Thousand Islands Cup races, as well as several other important family stories. Be sure to see them all here.
Posted in: Volume 17, Issue 11, November 2022, Sports
---
---
---