This Issue:
December will see our 7th Annual Photo Contest & Gift judged by Ian Coristine. Deadline: December 6, 2018; Number of Entries: Maximum 3 and please send email entries to Susansmith@thousandislandslife.com.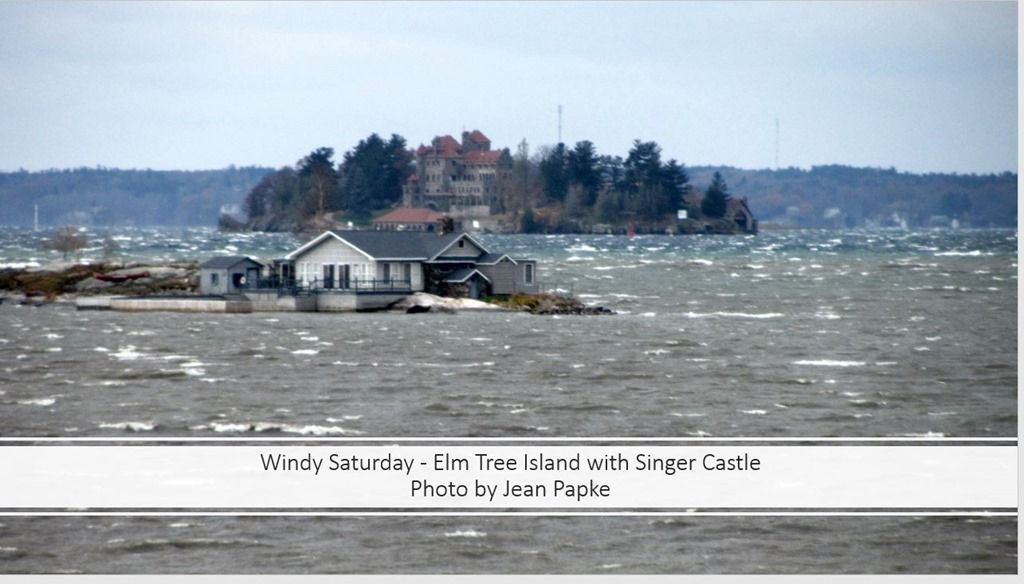 Other articles include Lynn E. McElfresh's The River at Night – relating a scary night's paddle in a kayak and Jessica Phinney, curator at Boldt Castle takes us on a unique tour explaining how Closing Boldt Castle is not easy….
We will have two new team members providing articles over the winter months. Photographer Chris Murray presents his first lesson in  Depth of Field: The Story Behind the Image and THE RIVER GAL, Nicole Hartshorn will share a River Recipe each month. This month it is Ham Grindstone Grinder.
For those who are fascinated by Thousand Islands history, Canadian historian Dr. John C. Carter gives us one more in his series: Patriot Chronicles with Battle of the Windmill's 180th Anniversary; Linda Twichell continues her monthly articles on Westminster Park, with Early Westminster Park Families: Gallup and Bronson and John Kunz provides Oswegatchie Yacht Club's Veiled History.
And there is more Dan LeKander does it again… giveing us a difficult one with Sudoku Puzzle #46; and we conclude with Poetry by Robert Daly, Shady Shores.
New Contributors
Nicole Hartshorn - Ham Grindstone Grinder
Nicole Hartshorn if  THE RIVER GAL.   She is a wife, mother of two small children and author of "RIVER ENTERTAINING - Food and Drink Ideas for Boaters in the Thousand Islands." Her work is featured in every issue of "The Great Lakes Scuttlebutt" Magazine and has also been highlighted in Sea Ray Living.  Her book was published by Friesen Press in 2014.  Over the winter, Nicole will share some of her favorites with TI Life.
Jessica M. Phinney - Closing Boldt Castle is not easy….
Jessica M. Phinney is a lifelong resident of the Thousand Islands. She holds a bachelor and master's degree in anthropology, with specific expertise in museum curation, preservation and in interpreting historic documents. Throughout the last decade, Jessica has served as Curator at several regional institutions. Her passion is researching, interpreting and sharing with visitors the very special story the Thousand Islands has to tell from the mid-1800s, to the present. She currently serves as Curator of the Boldt Facilities, a place of wonder which she fondly refers to as "a museum without borders" holding endless possibilities for interpretation and future restoration.
---
Sad News, Dave Smith 1935-2018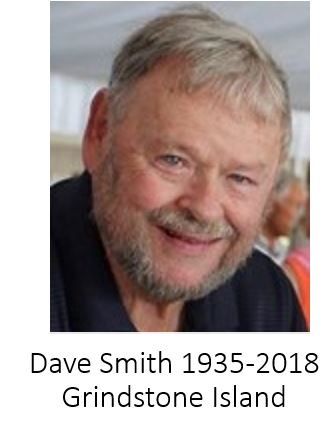 Grindstone Island lost a longtime and faithful volunteer with the news that Dave Smith passed away on September 23, 2018 in Rochester, NY.  Dave and his wife, Sue, spent many years volunteering for several Thousand Islands organizations.  In addition to being a regular attendee at the Men's Breakfasts on the Island, he assisted with dozens of the Island's events.  Dave attended Hobart and William Smith College and graduated from Rochester Institute of Technology. In lieu of flowers, donations may be made to the Thousand Islands Land Trust and/or Save the River, both in Clayton. NY. This editor certainly enjoyed his teasing as I was always the other Sue Smith! Dave you will be missed.
---
Yes, Santa is coming back to the Alexandria Bay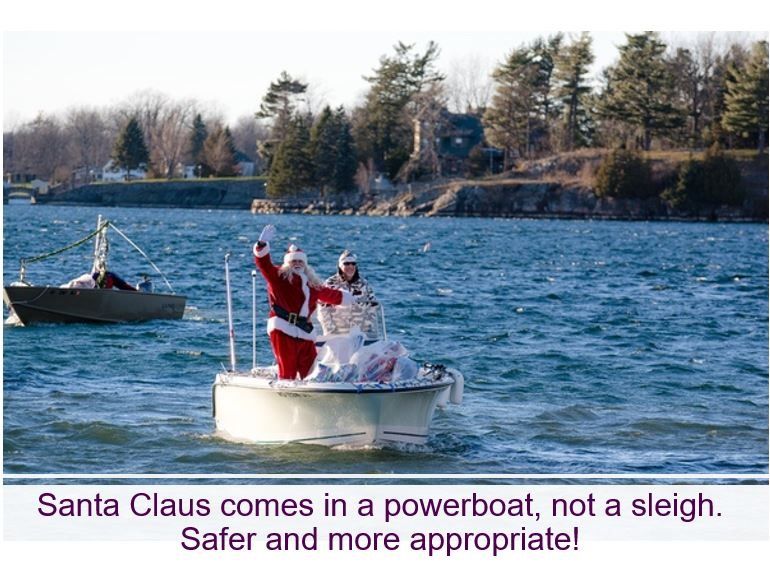 Santa Claus will arrive at 11 am with a United States Coast Guard escort at the Upper Village Dock with gifts for all children 12 and under. The event is open to all North County children; US and Canada. the only criteria: both year-round and summer residents who believe in Santa Claus and are considered River Kids…!!
This year there will be Hay Wagon Rides through the village. Hot chocolate and cookies will be served. There will be a return of the giant frog and now the Abominable Snowman will roam the streets entertaining the crowds. Face painting will be available.
This is a Chamber of Commerce event and is 100% donation funded. There are multiple ways to make a contribution. A check can be mailed to the Alexandria Bay Chamber of Commerce at 7 Market St., Alexandria Bay, NY 13607.
PayPal is set up on the Alexandria Bay chamber website. WWW.visitAlexBay.org. The day after U.S. Thanksgiving a GoFundMe page will go active and that can be found on www.gofundme.com (TYPE in 1000IslandsriverSanta).
Late October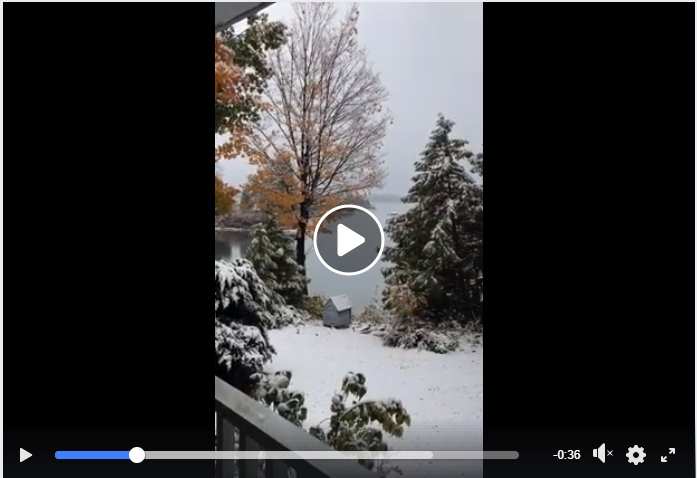 Janet Staples shares a late October snowfall in the Admiralty Islands.
November Winds…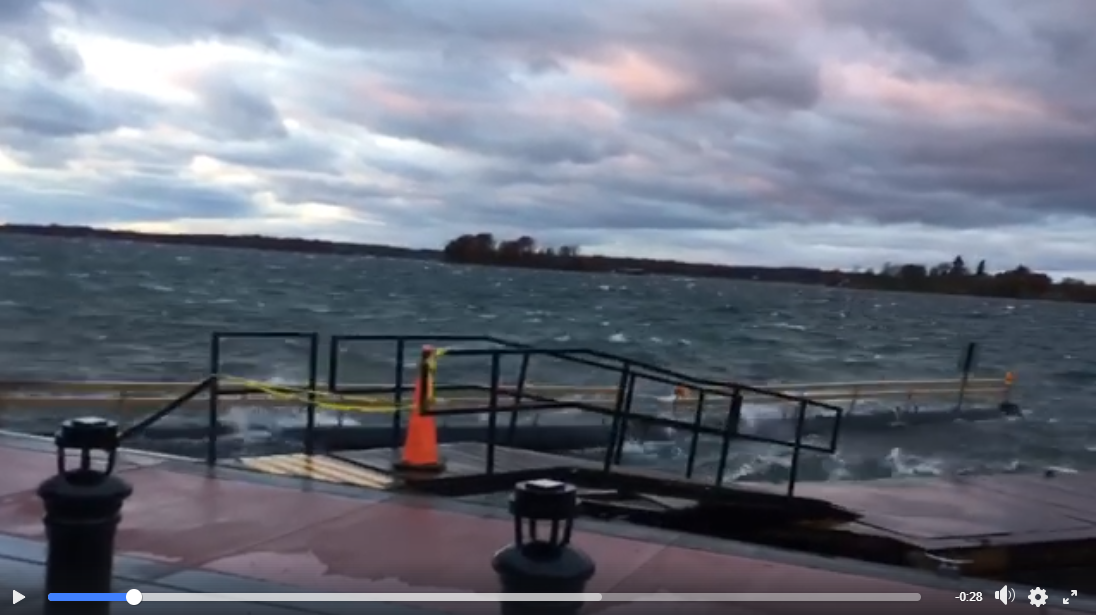 Our thanks to Kristin Callender Filippi for sharing her November 10th video at Clayton's waterfront.
The AIA CNY awards ceremony honored St. Lawrence Barge Yacht project architect and firm, as well as clients, Julia Purcell and Richard Rossmassler as designers and for the design concept; contractor Timothy Purcell as construction manager; Jason Vigil with Jensen BRV Engineering PLLC as the consulting structural engineer; and Joseph T. Meirose IV with Full Frame Works Photography for capturing beautiful images of the Barge Yacht.  The second award was for Taylored Architecture after being asked to design a "tiny house" or "love shack" for a client on Grindstone Island as a surprise gift for she and her husband's 20th wedding anniversary. The client desired a contemporary aesthetic with efficient spaces. The Thurso Bay love shack is 328 square feet. The standing seam roof wraps down the back exterior wall of the structure to add to the contemporary aesthetic. Large windows and doors bring the outside in. Interior finishes include plywood walls— in various species and stains in traditional, Mondrian, and chevron patterns—a mix of extraordinary tiles, and brushed stainless steel fixtures. The good news… The client's husband loves it.
---
Another Photograph Request for the December 2018 Issue
Please share those photographs that say "Holidays" for you.:  Christmas or Hanukkah, and those I don't know. Photos of Christmas Trees, Decorations, Parades, Gift Wrapping, Family Dinners and Baking… whatever you wish … )
Please Remember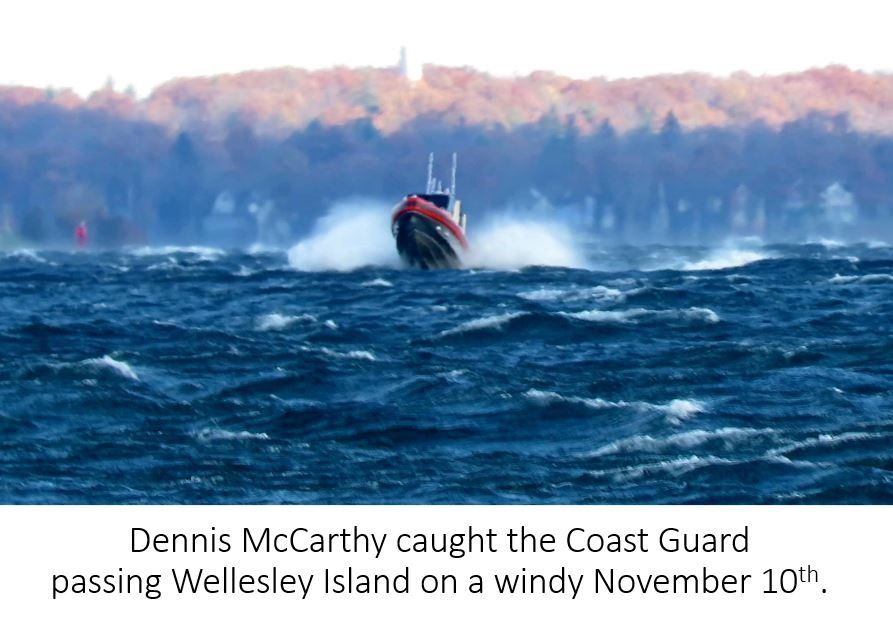 I thank those who send photographs for TI Life – they really are better than 1000 words… Send photos of interesting happenings to info@thousandislandslife.com
And, this Editor is looking forward to receiving new submissions throughout the year. I bet our readers are too!
By Susan W. Smith, Editor, info@thousandislandslife.com
Special thanks to editor Bill Stallan and proofreaders Rick Taylor, Georgia Barker, and Dane Zabriskie.  I especially thank Mike Cox who is the magician behind the website. What a team
Posted in: Volume 13, Issue 11, November 2018, From the editor, Photography, Videos
---
---
---