Sometimes the answer to a question you ask gives you far more insight than you expect.  That is just the case when I asked musician John Paul Brabant, from Clayton NY, how he felt when he was inducted this year into the Thousand Islands Performing Arts Hall of Fame.  I wrote to John Paul, who lives, studies and works in Hawaii, to ask what being inducted into the TI Hall of Fame means to him.  His answer was more than insightful.
"The Thousand Islands Performing Arts Hall of Fame underscores the importance of the arts in the Thousand Islands. Celebrating the arts inspires us in a time when young people's internal compasses are on the fritz every time they open their phone and scroll through their feeds. If we create art we open ourselves up to a sort of vulnerability, and that takes real courage.
To engage in and pursue art yields empathetic minds that face their fears as they create something from nothing. When young empathetic minds mature and participate in shaping the future it affects us all for the better."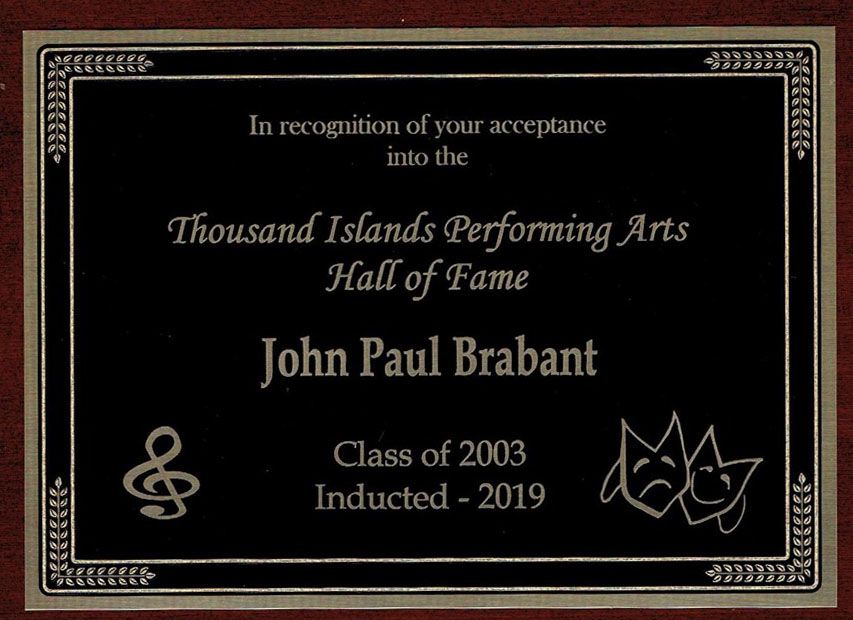 Let's step back, Kathy Wiley, music teacher at TI High School, explained exactly what the award was all about: "The Thousand Islands Performing Arts Hall Of Fame, recognizes graduates of Thousands Islands High School (Clayton and Cape Vincent, NY),  who have made a significant impact through music. Whether they're teaching, performing, or healing. We wanted to recognize those who have gone on to do great things musically." And Kathy went on to explain, "It's also an opportunity to show current students what they can do with music after graduation".
Established in 2014, the first awardees were Rick Badour and Scott Marshall (Posthumous). Another year Joe and Albert Bouchard of the Blue Ouster Cult—most recognized for "(Don't Fear) The Reaper," and also parodied on SNL. And this year, the committee chose John Paul Brabant.  
In July 2016, TI Life introduced this young man to our readers, but this time seeing how he is appreciated, right here, at home means a great deal to many.  And equally it means a great deal to John Paul; he explained:
"Thousand Islands High School has an impressive music education offering. It has been like that ever since Kathryn Ingerson arrived in the 90s. Recently she was short-listed for the Recording Academy and Grammy Museum Music Educator Award. That's no small feat. We owe a great deal of our creative output to Kathryn Ingerson, Christine Sterling, and the amazing new music educators that champion the arts in the Thousand Islands.
As the most recent inductee, I began down the path of music, by listening to the stories around me about my family. Two important men in my life died when I was five, my father and grandfather. I learned about their talents, their character, and from these yarns I wove in my mind, legendary men to live up to.
In particular were the stories of my grandfather, Willy Streets, who was quite the musician. Trumpet, piano, guitar, he played it all, even though he never read a note of music, just played it by ear. On his death bed, my mother asked him to bless her with his musicianship, to which he replied casually, "someone will have it."
Hearing these stories is a powerful thing. Choosing to continue in the footsteps of those before us, or to turn to one's home region heritage, is an excellent internal compass.
I was notified about the honor by phone. Kathy Wiley asked me if I could possibly Skype to accept the plaque, but I opted to have my mother accept it and provide them with an acceptance video.

"When I asked if there was anything I have missed in listing questions to Kathy Wiley, she did not hesitate to say.  "We are always seeking applications. If you know a graduate of TI who is currently making music please consider nominating them by contacting Kathy Wiley at wileyk@ticsd.org."
And of course we will continue to watch the amazing career of John Paul Brabant, who is making his community proud!
By Susan W. Smith, Editor, TI Life
susansmith@thousandislandslife.com
Posted in: Volume 14, Issue 7, July 2019, News article
---
---
---