Whatever happened to Theodore Gegoux's painting of the palatial steamboat St. Lawrence during a searchlight excursion in 1894 in the Thousand Islands, may  never be known. It was last seen by the public during an exhibition of  the artist's works in Watertown, N.Y. in 1904. Fortunately prints were  made of it.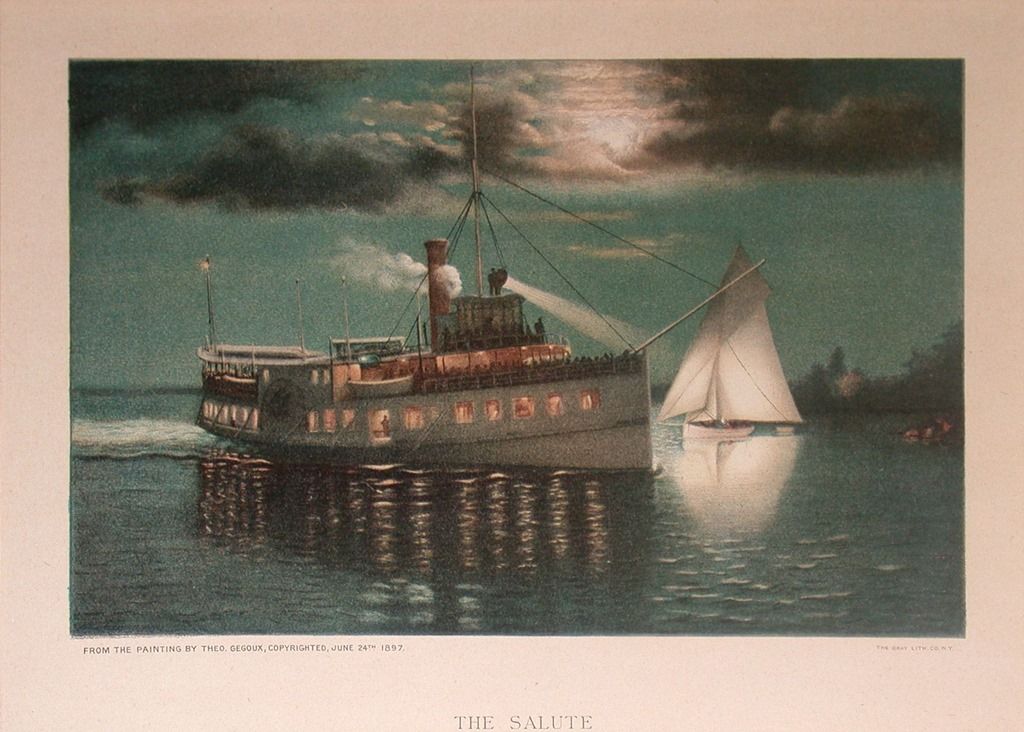 Noted American artist Theodore Gegoux, then of Watertown, N.Y.,  captured forever in oils, in the St. Lawrence, during a searchlight  excursion in the Thousand Islands, in the summer of 1898. He and his  family had a summer home at Point Vivian. This painting was executed  during the high point of his illustrious artistic career. This image is  courtesy of Theodore Gegoux of Los Angeles, Calif., his great-grandson.  He said the original was won at an exhibition in Watertown, in 1904 and  has not been seen since. The boat is said to have had a one-million  candlepower search light on the wheelhouse. During the summer it toured  the islands seven days a week and occasionally sailed as far down River  as Ogdensburg.
The St. Lawrence was the queen of the fleet of  steamboats that plied the Thousand Islands during the Gilded Age of the  late 19th and early 20th centuries. She was the pride of the Thousand  Islands Steamboat Company's famous "White Squadron." She was a  picturesque sight with her mammoth sidewheel casings decorated with  skillfully executed paintings of an American eagle done by Al Keech of  Clayton and Fishers Landing.
For many years' excursion parties sailed aboard the St. Lawrence for a day's outing. The evening searchlight tours were especially popular throughout the region..  
The St. Lawrence was built at Clayton and launched on May 24, 1884  and fitted out in Kingston. She was powered by a vertical (walking) beam  engine. The boiler was built by Kingsford Foundry and Machine Works of  Oswego. Reporting on the new vessel, the British Whig on July 5, 1884  noted:
The Steamer St. Lawrence.
A great deal remains to be done before the boat is fairly completed,  but it is probable that she will go on the route July 13th, and a trial  trip will not be made before next week. Her woodwork is unfinished and  nothing has been done on her in the line of furnishing yet.  
About all that can be said now, in addition to what has already been  told, is that neither pains nor expense have been spared in work or  material, and if furnished in good style, she will be as fine a boat as  floats the St. Lawrence. Capt. Milo D. Estes, who is in command, is now  in Kingston attending to the fitting out of his new charge. A story was  started some time ago to the effect that the guards or stays would be  under water when ready to run. The originator of the story evidently  drew largely on his imagination as that is not likely to be the case by  considerable.
Her entire career was spent in the St. Lawrence River excursion  business. She was 154'5" feet long, 21'3" beam, 7'5" hold and was  registered at 275 tons. The vessel passed to the Richelieu & Ontario  Navigation Co. in 1912 and to the Kingston Navigation Co. in 1920. It  was de-commissioned about 1925 at Kingston and her hull burned for the  metal.
About the Artist
Theodore Gegoux was born November 19, 1850 in St.-Louis-de-Gonzague,  Quebec and immigrated to Clayton, New York in 1864 to live with his  older brother, Francois Xavier Gegoux after the death of his father. As a  young man he exhibited artistic talent, drawing faces in the margins of  his school books. He was severely reprimanded for defacing his books,  to the extent that he came to believe that art was bad.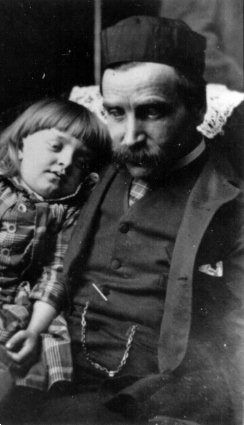 After moving to the United States, he took on a number of menial  jobs, the last of which was a bartender in the hotel where he stayed.  One day in 1873, the proprietor asked the young man to fetch the local  sign painter for a sign he needed, to which he replied, "let me paint  your sign".  
The sign became the talk of the town and launched Gegoux's career as  an artist. He opened a studio in Carthage and later in Watertown, where  he soon received many commissions to paint local notables. His works  also included several Civil War generals and Thomas Edison.
In addition to his considerable skill as a portraitist, he was also  an exceptional landscapist. Without any formal training, he made a good  living for himself. He studied art in Europe in 1881. While there he  copied works by the masters Claude-Joseph Vernet and Jules Breton. This  was a common method of study at the time. His work, "The Blessing of  Wheat at Artois" done in 1857 by Jules Breton, is the only known example  of his Paris studies which still exists.  
Gegoux returned to Watertown in 1881 to establish himself as"... one  of the best oil, pastel, and crayon portrait artists in the city."  
Gegoux worked at his studio in Watertown during the year and at his  Point Vivian cottage during the summers. By the age of 32 he had  executed more than 1,300 portraits. By 1881, he had saved enough money  to travel to Paris for a year where he studied and copied the works of  the Great Masters. In 1896, his portrait, "A Young Paganini", was  accepted for the first Exhibition of the Carnegie Art Galleries.  
Late in 1909 he deserted his family and mysteriously vanished,  leaving behind his wife and children. He was estranged from his wife,  Prudentia, who never saw him again. The Watertown Daily Times reported  on March 30, 1910:
"Theodore Gegoux, for many years one of the most prominent artists of  northern New York, has dropped out of sight and since Dec. 10 last no  word has been heard of him by his friends or the members of his family  in this city."
But later, it was learned he had actually left Watertown on November  18, 1909 for New York City to complete some paintings for Norman Heath  of Brooklyn. Heath's summer home was on Nobby Island just down River  from Keewaydin State Park.  At the time he had also been tinkering with a  flying machine or an early version of a helicopter.
Believed dead, he reappeared two years later in Portland, Oregon as a  portrait painter. It was said he had gone west for health reasons.  There he produced a large quantity of landscapes and seascapes. With the  exception of a year's visit to New York, Gegoux spent the rest of his  life on the west coast, living in California and Oregon at various  times. Although he was a highly skilled artist, he died penniless at the  Ranchos Los Amigos Medical Center (the former Los Angeles County Poor  Farm) on July 1, 1931. During his last years he suffered from dementia.
Unfortunately much of Gegoux's work has been overlooked as he rarely  signed his paintings and when he did so, his signature was barely  legible. Locally, some of his works can be seen at the Jefferson County  Historical Society museum and Flower Memorial Library in Watertown as  well as at Keewaydin State Park in Alexandria Bay.
---
Sources
Image of the steamboat St. Lawrence and other information supplied by Theodore Gegoux of Los Angeles, California.
Maritime History of the Great Lakes website: http://www.maritimehistoryofthegreatlakes.ca    
Watertown Daily Times, March 30, 1910
Watertown Re-Union, April 2, 1910
By Richard F. Palmer  
Richard F. Palmer is a retired newspaper editor, and reporter, and  was well known for his weekly historical columns for the "Oswego  Palladium-Times", called "On the Waterfront." His first article for TI  Life was written in January 2015 and since then, he has written a  half-dozen others.  He is a voracious researcher and TI Life readers  benefit from his interesting findings.        
---
Comments  
Comment by: Bill Beaulieu
Left at: 1:13 PM Monday, October 15, 2018
This painting was also referred to has " The Salute". Original prints  from that era were Lithographs which tend to fade with time. A well  preserved  lithograph was gifted from Theodore Gegoux's Grandson to the  Point Vivian Preservation Corporation. A canvas Giclee, state of the art  reproduction, is available through the PVPC President Julie Reagan. She  also recently acquired a rare signed pastel portrait of Nobleman  painted in 1881 in a Gilt Gesso Frame.
Theodore Gegouxs's cottage at  Point Vivian was located between where my cottage now stands and my  neighbors cottage on Cliff Ave.  The original foundation still separates  the two properties after his cottage burned down. I was always inspired  to learn more about his artistry and I too wonder if the original  Salute is still out there and if the owner realizes how much that  painting could be worth.
Comment by: Kiara Berkman
Left at: 1:30 PM Friday, January 18, 2019
Hi, i have a signed pastel painting of Thoedores' work. Whats the value of some of his pastel works of art?
Comment by: Ted Gegoux
Left at: 1:39 PM Saturday, January 26, 2019
Mr. Palmer did a nice job on this thoroughly researched article .. thank  you. To answer Kiara Berkman's question .. value depends on the subject  matter.  Charcoal portraits are seldom more than $200 dollars.  Some of  the pastels, which are "color" images, can be more valuable.  The  problem with pastel crayon is durability over 100 years.  Oil paintings  are more survivable and the conservation of a damaged work is more  straight forward.  Conservation on paper or linen pastel work can be  troublesome and expensive.  In any case I would love to see a picture of  the work, and perhaps make you an offer. Please email me.
Sincerely,
Ted Gegoux, Los Angeles
909-532-1906  
Comment by: Ted Gegoux
Left at: 10:40 AM Thursday, January 31, 2019
Regarding the question of valuation. Gegoux's work known as Jackson Bay,  St. Lawrence River would serve as an example. Oil on canvas sized 14 by  9 inches; it was acquired at a cost of $450 dollars.  Conservation  expenses were $1050 dollars to which was added several hundred dollars  for a custom handmade frame.  It is my experience that conservation is  often double, or more, than the cost of acquisition for 100 year old  canvas.  This painting is not for sale, but the image can be seen at gegoux.com.
https://www.gegoux.com/jackson-bay.htm
Sincerely,
Ted Gegoux  
Comment by: Ted Gegoux
Left at: 11:06 PM Wednesday, February 6, 2019
Pastel crayon values vary greatly based on composition and the condition  of the painting.  The most I have paid is $440 dollars for a 9 inch by  12 inch painting.  It is a simple work, but the signature is great and  1900 is an under represented year for Gegoux's work.  the image is at:
https://www.gegoux.com/countryroad1900.htm
Charcoal crayon portraits are typically between $200 and $400 dollars, even for the larger 24 by 28 inch works.
Please let me know if have other questions or areas of interest.
Sincerely,
Ted Gegoux    
Posted in: Volume 13, Issue 10, October 2018, History, Artists, Places, People
---
---
---
Thousand Islands Life Notifications
Subscribe to our notification list, you will receive our monthly email.
---