One of many great things about returning to the River each summer is being able to "ship-watch" once more. It's a favorite pastime for many. Who hasn't thought about what it would be like to crew – even just for a voyage – aboard one of the big lakers? And who would have thought that one of the best aspects of that voyage just might be the food?!
Meet Catherine Schmuck, who has cooked aboard 19 ships since starting in the early 1980's. Between 1994 and 2019, she was land-bound, owning the popular and successful "Crêperie Catherine" restaurant in Mont Tremblant, Quebec, Canada. But upon closing the restaurant, she returned to her beloved ships galleys, where she's likely to be found often during the shipping season. These days, when she's not cooking for a ship's crew, Catherine is putting the finishing touches on her first cookbook, "Ship to Shore Chef", which will be available for pre-order through her Facebook page on June 15th.
"I was always interested in cooking," says Catherine. "My mother was our family cook at home in Brockville, and a good one. Working on board ships never crossed my mind, although I always loved watching them! My younger sister Lorraine and I were figuring out a plan to go to Europe after high school. The first thing I ever cooked was an omelet in Home Economics class."
Little did she know that a change of course would lead her to many different ports. During high school, Catherine worked at a local motel. Having turned 18, she could work at the bar as well as the front desk. "The only cooking I did at the motel was to make a sandwich for the occasional truck driver." But one day a sailor, who visited the motel, talked about shipboard life. Intrigued, Catherine learned about a nine-week course culminating in certification that could lead to work opportunities aboard ships. In August of 1981, she and Lorraine both completed the course. Shortly thereafter, both found shipboard jobs: Catherine on the CSL Frontenac and Lorraine on the package freighter Fort William, which since has been re-named the Stephen B. Roman.
"I was hired as a night cook – usually making sandwiches! Lorraine worked as a porter on the Fort William," she explains.
Traversing the route from Marquette, Michigan, to Sault Ste. Marie, Ontario, on the Frontenac,Catherine found time in each port to go for a walk and to see the local sights. "One time, when I returned from my walk, the Frontenac was gone!" she recalls. "Fortunately, she was just out at anchor waiting for cargo, and returned before my shift started that evening."
"I learned that I could find shipboard work through the union hall," Catherine continues. "After one year on the Frontenac, I landed a position aboard CSL Louis R. Desmarais, which is now named CSL Laurentian. I was determined to sail on a ship that went through the Thousand Islands."
From 1982 to 1988, Catherine served aboard ten other ships, working her way up to the position of second cook. She had always wanted to earn the position of Chief Cook and, when offered the opportunity, she took it. In 1988 she returned to the Louis R. Desmarais, serving as Chief Cook until 1994.
Catherine recalls, "At 26 years old, I was the youngest Chief Cook on Lake Ontario. It was a wonderful job, and I was happy to have gotten the chance. I cooked two meals a day for around 30 people, cleaned everything up, planned the menus, and did the shopping. I was in charge of the galley, and manager of the second cook, porter, and night cook. Those certainly were busy days, but I just felt so lucky to cook aboard the ships."
Luck works two ways; the ships crews benefitted as well. Catherine gained notoriety for her varied and popular dishes, such as butter chicken, poutine with "really good beef gravy", lasagna with garlic parmesan cauliflower, tropical crispy chicken salad with black bean mango salsa, broccoli cheddar soup, and cauliflower falafels with garlic mayonnaise and kale salad, to name just a few! Her blueberry barbecue sauce, which she invented, became a crew favorite. After dinner, the sailors might find themselves eating her delicious pecan pie.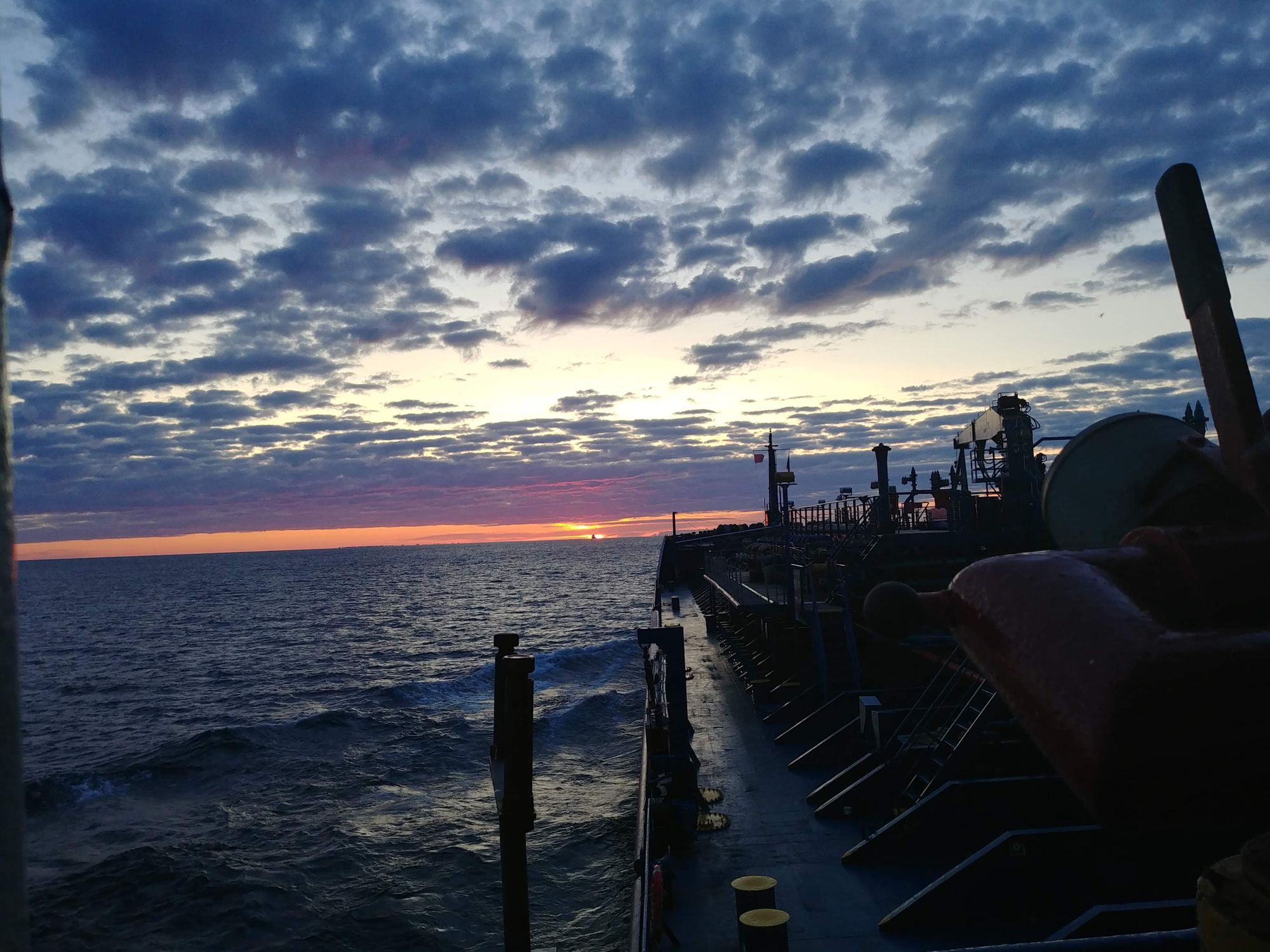 "A lot of those ship recipes are in my cookbook – including the blueberry barbecue sauce, which the sailors love." Catherine shares. "My 'test cooks' have been pleased so far!"
Shipboard life comes with an unusual schedule when you move from ship to ship, and by 1994 Catherine decided to take a different tack. She wanted her own place to live, maybe a garden – more of a "normal" life. And she was ready to make use of her now-substantial cooking experience, and opened a restaurant. 'Crêperie Catherine,' located at the ski resort in Mont Tremblac, Quebec, offered a wide variety of crepe choices from escargot to Mediterranean to pizza to dessert. Over the next 25 years, the restaurant gained high acclaim.
"We were featured in Canadian Living and the Toronto Star, on the Food Network and twice in the New York Times. Those were exciting days, and the restaurant became very popular," she remembers. By 2019, Creperie Catherine had grown to the extent that it offered increasing challenges – but decreasing fun. "It became clear that it was time to move on," Catherine explains. "It was a good run."
And the River was calling.
By August of that year, Catherine found a cooking position aboard the Algoma Hansa, an oil tanker with a crew of 17, downbound through the St. Lawrence Seaway. "I had always wanted to sail down the Seaway past my parents' home on the River in Brockville," she says. "We'd blow the Master Salute as we passed their house."
Life as a ship's cook had changed over her twenty five year absence. When she returned in 2019, there had been many crew reductions. Now, some galleys only had two cooks; others, only the Chief Cook. Catherine has experienced both, working 8-hour days with a second cook and 12-hour days when working alone.

In September of 2020, Catherine took the position of second cook aboard the CSL Rt. Hon. Paul J. Martin. Ironically, she found that the galley was laid out exactly the same way as that of the Louis R. Desmarais – her second ship. Finishing that position in November of 2020, she has since worked aboard the Algoma Dartmouth, the CSL Thunder Bay, the AlgoCanada, and during this past Spring, the CSL Baie St. Paul - all while preparing to put the finishing touches on her self-published cookbook.
"I'm rested now, and look forward to returning to my next ship," says Catherine. "I always enjoy walking the ship when I'm on board. At the stern, you can hear mostly engines and generators. But at the bow, all you hear is the wind, and the splash of waves as they meet the ship's side. My favorite walks are when we're going through rivers, particularly through the Thousand Islands."
By Wayne C. Strauss
Wayne C. Strauss retired after 21 years as Vice President of Oppenheimer Funds in Rochester, New York. An attorney licensed to practice in the State of New York, Wayne also holds several securities licenses. He has served on the Board of Directors and as a Proctor for Rochester Area Mensa, and is currently a member of the adjunct faculty of St. John Fisher College in Rochester. An Eagle Scout and member of Toastmasters International, he spends as much time as possible aboard his boat "Convexity," in the Thousand Islands. See Wayne's newest article here and here on the old site.
[Editor's Note:  This is so unfair. . . I'd like just a tiny piece of pie, please. . . ]
Posted in: Volume 16, Issue 7, July 2021, Essay, People
---
---
---