At the time I started to write about this adventure, I was sitting on the porch at camp, knowing that I had about three hours until I needed to jump into my kayak. I'm not sure how I first heard about it, but it was during the winter when I learned that there would be a new work of art cruising the River this summer.
Last summer, I wrote about the CSL (Canada Steamship Line) ship St-Laurent, which had a beautiful mural created by multiple artists called "The Sea Keeper", located on the forward facade of the ship's accommodation block. The Sea Keeper mural was created in 2017 to commemorate not only Canada's 150th birthday, but also the 375th anniversary of the City of Montreal.
The CSL explained that the mural "depicts a Canada Goose with its powerful wings spread in flight, its forward motion a tribute to Montreal and to Canada." The Sea Keeper was designed by four different artists with the intent of representing the nation's diversity. It is an original work of art conceived and created by Bryan Beyung, together with artists FONKi, Ankh One, and Benny Wilding, of the Ashop art collective. There was a reason that CSL selected this specific ship. Her name honors the St. Lawrence River. The CSL St-Laurent is one of two Great Lakes bulk carriers of Canada Steamship Lines' Trillium Class, built in 2014. She is 740 feet long and 78 feet wide, registered at 22,597 gross tons, and able to carry 36,100 tons. Her massive white accommodation block was also very suitable for a mural.
I had ended my original article stating that it would be wonderful if the CSL were to arrange for additional murals on their ships in the future. Apparently, they read either the Thousand Islands Life or the Thousand Islands Sun because sure enough, they commissioned a new mural for the second bulk carrier in their fleet!
The CSL Welland, which is the Trillium Class sister ship of the St-Laurent, now boasts an equally amazing multi-artist masterpiece called "The Runners". And once again, they picked a major event to coincide with completion of the mural.
As CLS explains, "The unveiling of 'The Runners' created by four Canadian artists marks a new milestone for CSL's biofuel program and launches the countdown to the Niagara 2022 Canada Summer Games. Inspired by Greek artistic traditions depicting sport, the colossal 16-by-14-meter [52 x 46 foot] mural painted on the ship's accommodation block depicts four runners in motion, striving together towards a common goal."
CSL commissioned the mural, which was created by Bryan Beyung (who was one of the artists of The Sea Keeper mural) along with equally renowned Canadian artists Emmanuel Jarus, Andrea Wan, and K.C. Hall, to help celebrate the spirit of the 2022 Canada Summer Games, which will be taking place throughout the Niagara Region from August 6 – 21, 2022.
The Canada Games, held every two years, are considered the largest multi-sport event in Canada and represent the pinnacle of interprovincial and territorial sport competition. Each of the four artists of "The Runner" painted a runner in their own unique style, vision, and tradition. As CLS concludes, "Together, the four runners create a collective and harmonious work that reflects the broad mix of people, cultures, backgrounds and abilities in amateur sport today."
The CSL Welland is one of only two bulk carriers in the CSL Trillium Class. She is identical in almost every way to her sister ship, the St-Laurent, having been built in 2014 and being 740 feet long and 78 feet wide. Both were constructed by Yangfan Shipyard in Zhoushan, China. CSL Welland was named for the Welland Canal, which is a ship canal in Ontario, Canada, connecting Lakes Ontario and Erie. It forms a key section of the St. Lawrence Seaway and Great Lakes Waterway, which passes about 3,000 ships per year.  The CSL Welland was completed and departed China on November 5, 2014, heading for its new home in Montreal. At the time I started this article, it was headed my way.
I had planned it out perfectly. I hopped into my boat as the CSL Welland made its way through the Thousand Islands and specifically, past our camp (and this appreciative kayaker)! To my delight, I was able to get some close-up pictures of this colorful work of art that rises high across the forward facade of the accommodation block, in exactly the same place as The Sea Keeper mural. of the ship. I was amazed at how prominent the mural was, and how it stands out even from a long distance away!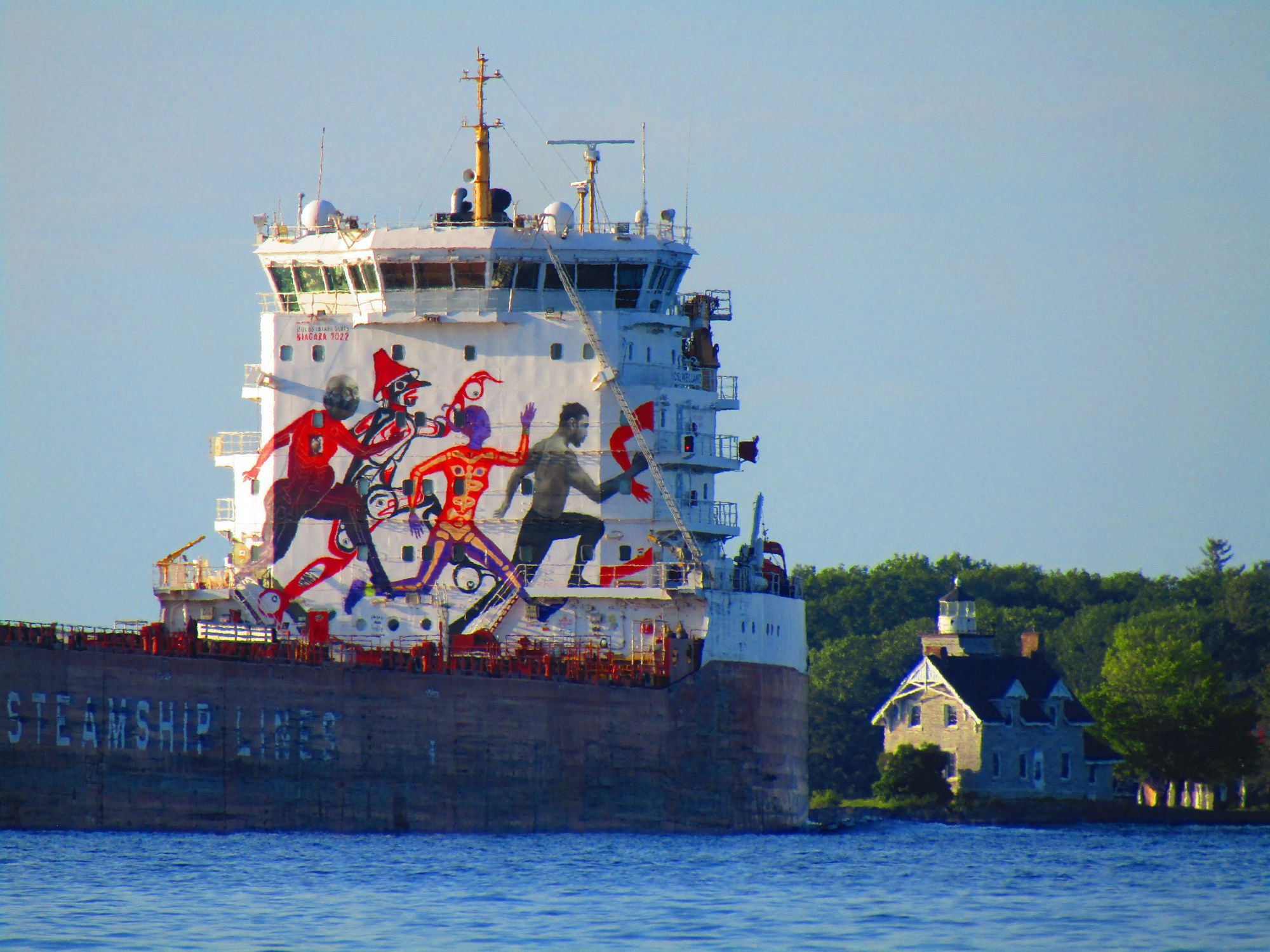 I love the diversity demonstrated by combining the works of each of the artists, and that while their runners are all extremely different, they are all running the same race together. They are focused on the same common goal. That's such a great reminder to each of us as we all run in this game of life. We can be encouraged by those who have gone before us and completed the course victoriously. We can also look to those running alongside us and mutually encourage each other to finish well. And we can be inspired with these words: "Therefore, since we are surrounded by such a great cloud of witnesses, let us throw off everything that hinders and the sin that so easily entangles. And let us run with perseverance the race marked out for us . . . since we are receiving a kingdom that cannot be shaken, let us be thankful, and so worship God acceptably with reverence and awe" (Hebrews‬ ‭12:1, 12:28).
I am not sure it will work a third time, but if you are reading this, CSL, we're all looking forward to your next masterpiece! Oh, and keep your eye out for that little blue kayak. I'll wave next time!
[All photographs by Patty Mondore taken from her little blue kayak]
By Patty Mondore
Patty Mondore and her husband, Bob, are summer residents of the Thousand Islands. Patty's most recent books include "River-Lations Revisited: More Inspirational Stories and Photos from the Thousand Islands", "River Reflections: A 90-Day Devotional for People Who Love the Water" and its two sequels, "Nature Reflections" and "A Bird Lover's Reflections." She and Bob co-authored "Singer Castle" and "Singer Castle Revisited", published by Arcadia Publishing, and co-produced "Dark Island's Castle of Mysteries" documentary DVD, in addition to a Thousand Islands Music DVD Trilogy. Patty is a contributing writer for the Thousand Islands Sun. Her column, "River-Lations", appears in the Vacationer throughout the summer months. The Mondores are online at www.gold-mountain.com. (Be sure to also visit Bob's singercastle.blogspot.com.) See Patty's most recent TI Life Articles here and several others here and here!
Posted in: Volume 17, Issue 7, July 2022, History, Sports, Artists
---
---
---