Growing up, my mother had a lot of "motherly" quotes she would refer to, in fitting situations.  One of her more frequently used sayings has a deeper meaning and life message, it is a great message that can apply to a person's self worth, the interior comforts of your boat's quarters or even the contents of a delicious healthy wrap! What is this quote that would accurately relate to all random things just mentioned?
"IT'S WHAT'S ON THE INSIDE THAT MATTERS"
Obviously, this quote is meant to bring awareness to our inner qualities, as opposed to our external qualities or appearance, which I feel is a wise way to think about others around us and in our lives.
As a cabin cursers owner, this quote could also apply to how you feel about your vessel.  The need to feel comfortable spending time in your cabin is important to a captain and crew.  A soft couch, an oscillating fan, a cold fridge…all these comforts of your cruiser's insides will enhance your boating experience.
As for this quote relating to a recipe for a healthy wrap?  Stuffing a wrap with bright, fresh veggies, smooth flavorful hummus and robust balsamic, not only makes for a delicious lunch, it makes for an extremely healthy one - that's contained all in one wrap. After all, my mother is right, its what's on the inside that matters!
This issues recipe is named: THE RIVER WRAP
Stock your galley with:
·     1 Tomato-flavored wrap
·     Your favorite hummus
·     Fresh sprouts (found in the produce isle)
·     1 beefsteak tomato
·     2 thinly sliced pieces of Swiss cheese
·     A sprinkle of thinly cut red onion
·     Balsamic dressing
Start by adding a thin layer of hummus to your warp.  Sprinkle on the fresh sprouts and onions; add your sliced beefsteak tomatoes and Swiss cheese (my favorite).  Top all with a drizzle of that Balsamic dressing and to make sure all that goodness stays inside the warp, loosely roll. Cut in half and enjoy!
Serves 1 crew member.
Cheers!
By Nicole Hartshorn, The River Gal, "Food Ideas for Boaters" Rivergal1000@aol.com
About River Entertaining:
From recipes to product reviews, Nicole Hartshorn (The River Gal) is featured in every issue of the Great Lakes Scuttlebutt Magazine and has also been highlighted in Sea Ray Living.  Friesen Press published a collection of her "Thousand Islands-Themed Recipes" in 2014, titled RIVER ENTERTAINING, and has been a great galley reference ever since!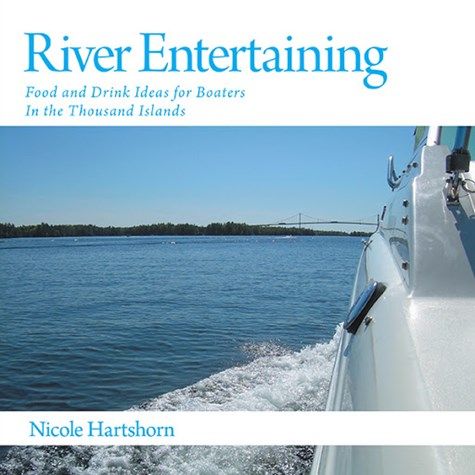 Interested in trying more of The River Gals recipes, or know a boater who would be?  Nicole's book RIVER ENTERTAINING is available for purchase on Barnes & Noble.com  or at Friesen Press.com/book store, search River Entertaining on Amazon.
Posted in: Volume 14, Issue 8, August 2019, Book review
---
---
---