There is nothing better than sharing Holiday enchantment with your children, family and friends. Enjoying great food, drinks and laughter!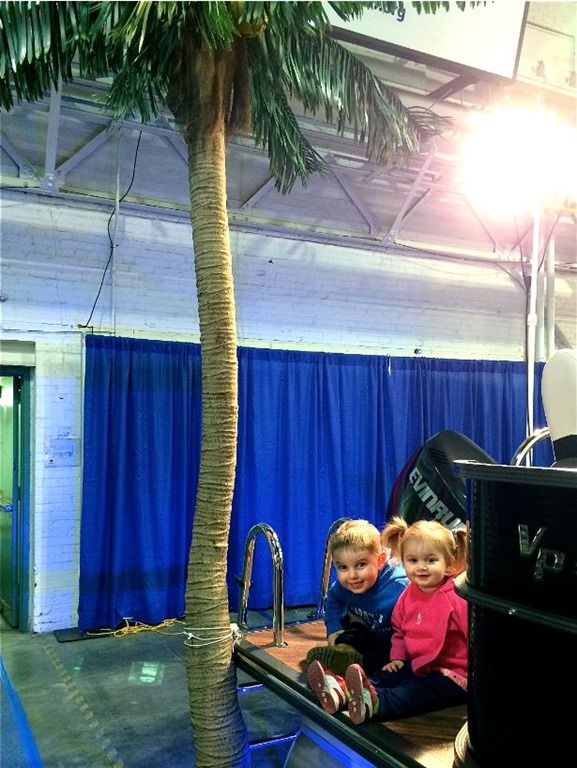 Although the holiday season is in full swing and we cherish this time, we do find ourselves missing that warmer weather a little this time of year.  When snow falls can be measured in feet instead of inches, can you blame us?
After the joy of the Holidays, my crew looks forward to winter boat shows. It's a great way to "Beat the Brrr". Our FAVORITE boat show to attend is the Central New York Boat Show at the NYS Fairgrounds.  It consists of more than 500 all new cruisers, sports boats, pontoon boats, personal water crafts and docks - so you're sure to get your "nautical fix."
It's a fantastic way to escape the elements, even if it's just for the day.  For that one day we can surround ourselves with the newest boat models, the latest and greatest boating gadgets and of course my favorite, the freebies!   You can NEVER have too many fluorescent floating key chains and drink koozies that sport an ad for some type of boater's insurance.  Even though the palm trees are obviously fake and the pools filled with water are "for display only" (I learned that the hard way) we find ourselves drawn to the atmosphere of the CNY Boat Show.
After the little skippers hit up their favorite snack shack and Captain Tom and I hit up our favorite adult beverage stand, we are now ready to check out the newest boat models; the ones that can only be seen at a winter boat show.  We slip off our boots and board those pristine, straight from the factory boats and take in that "new boat smell."
We love to admire the latest and innovative features, new color combinations and layouts. We dream of the day we can pull into our marina aboard our very own new boat.  Toasting to an accomplishment that every used boat owner strives to achieve, ownership of a brand-new boat model!  Although our crew is not quite there yet. I have created a celebratory drink recipe for those of you who are. So, if you find yourselves signing those ever so exciting papers at your local boat show this winter, congratulations!
Cheers!
---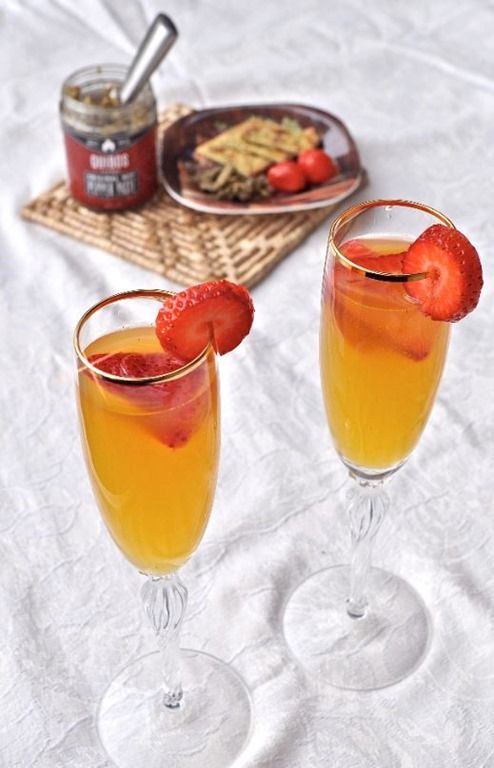 The River Gal's Galley: The Maritime Mimosa
Stock your galley with:
½ cup fresh sliced strawberries
2 cups pineapple juice
2 cups of your favorite champagne
Instructions
Slice up about a ½ cup of strawberries and place slices in an empty ice cube tray and freeze overnight.  Once strawberries are frozen, drop a couple of them into 4 separate champagne glasses.  Pour half pineapple juice and half champagne over the strawberries and toast!
Makes 4 drinks
---
By Nicole Hartshorn, "Food Ideas for Boaters"
About River Entertaining:
From recipes to product reviews, Nicole Hartshorn (The River Gal) is featured in every issue of "The Great Lakes Scuttlebutt" Magazine and has also been highlighted in Sea Ray Living.  Friesen Press published a collection of her "Thousand Islands themed recipes" in 2014, titled RIVER ENTERTAINING, and has been a great galley reference ever since! River Entertaining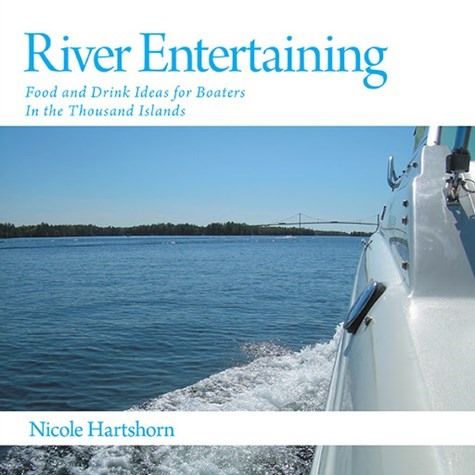 Interested in trying more of The River Gals recipes or know a boater who would be?  Nicole's book RIVER ENTERTAINING is available for purchase on Barnes & Noble.com  or at Friesen Press.com/book store, search River Entertaining on Amazon.
---
Toronto Boat Show: January 18-27, Enercare Centre, Toronto, ON.    
CNY Boat Show: Thursday-Sunday, Feb. 14-17, 2019. NYS Fairgrounds, 581 State Fair Blvd, Syracuse, NY 13209    
Show Hours: Thurs. 1pm – 9pm, Fri. 1pm – 9pm, Sat. 10am – 9pm, Sun. 10am – 5pm
---
Comments  
Comment by: Linda Twichell
Left at: 11:26 AM Sunday, December 16, 2018
It is a ritual.... CNY boat show.... but something new! Mimosa's!! Thanks for the recipe! I hear good things about the Toronto Boat Show..... on The List of Someday's...  
Posted in: Volume 13, Issue 12, December 2018, Sports, News article
---
---
---