Pontoons, jet skis and fishing boats, a buccaneers dream! The 2019 Clayton Boat Show was a complete success with fun had by all.
If you navigated your way to Clayton on the weekend of April 5-7th, you were at the Spring Boat Show.  The Exhibitor list was a nautical mile long - with visitors from marinas such as Chalk's, Bonnie Castle, Hutchinson's and let's not forget about those pirates from Schermerhorn. They were all there to greet you with a friendly smile, answer your sea-going questions and to show-off their latest and greatest water toys!  
The US Coast Guard was promoting their all-important Boaters Safety Course, and the number of little skippers I saw walking around eating one of "Kim's Cheesecakes on a stick", was countless.
I was honored to be part of the show this year to talk about my cookbook for boaters, meet some readers and represent two of my favorite boating magazines. I would like to thank all who showed interest! I truly enjoyed the weekend and I cannot say enough about how well organized this event was. The Clayton Chamber of Commerce (CCC) had all hands-on-deck!  My compliments go to Mike, from the CCC making sure everything for that weekend was ship shape! He was very professional and very knowledgeable - keep up the good job Mike.
If you have never gone to this event, make it a point to do so in the future. It is a fantastic way to jump-start the summer and to reconnect with the River. I am already looking forward to invading it again in 2020!
---
I figured that a pirate related recipe from my book would be fitting for this issue, it's called: Pirate Johnston Juice!
Pirate Bill Johnston has been a legend in the Thousand Islands region, since the early 1800's.  He's the reason we spend a whole week every August, to celebrate "Pirate Days" on the River!  Isn't it about time we named a drink after him?
Stock your galley with:
Your favorite Rum
Strawberry, Banana, Orange Juice (all one flavored juice)
Cranberry Juice
Fresh Strawberries.
In a tall glass filled with ice, pour 1 1/2 oz rum, 6 oz. strawberry, banana, orange juice and a splash of cranberry juice.  Garnish with a fresh strawberry.
Cheers,
The River Gal, Nicole Hartshorn
Rivergal1000@aol.com
By Nicole Hartshorn, "Food Ideas for Boaters"
About River Entertaining:
From recipes to product reviews, Nicole Hartshorn (The River Gal) is featured in every issue of the Great Lakes Scuttlebutt Magazine and has also been highlighted in Sea Ray Living.  Friesen Press published a collection of her "Thousand Islands-Themed Recipes" in 2014, titled RIVER ENTERTAINING, and has been a great galley reference ever since!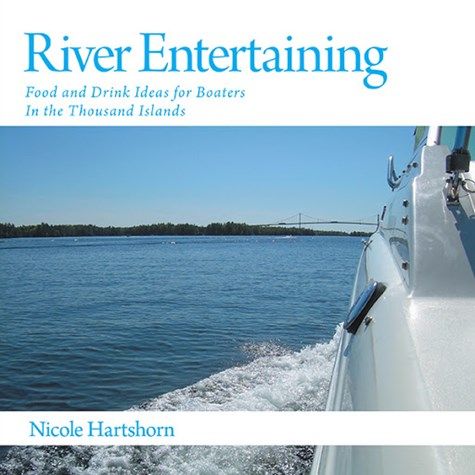 Interested in trying more of The River Gals recipes, or know a boater who would be?  Nicole's book RIVER ENTERTAINING is available for purchase on Barnes & Noble.com  or at Friesen Press.com/book store, search River Entertaining on Amazon.
Posted in: Volume 14, Issue 5, May 2019, Book review, People, Sports
---
---
---