I had no idea when I went out for a short paddle that I would end up discovering a language developed almost 200 years ago, not too far north from the River. My morning started out with a picture I took of what looked like a typical ship heading toward Boldt Castle. It was only later that I learned some pretty cool things about that particular ship. I was out on the other side of the main shipping channel in my kayak on one of those calm and glassy mornings, when I spotted the beautiful, huge, cargo ship slowly making its way up the channel in my direction. I decided to strategically paddle myself behind a little island before it passed by. That way, I would be somewhat protected from the wake and, hence, be able to get some nice, reasonably upright, pictures.
Kayaks were not necessarily built with ship photography in mind. I watched as the enormous ship made its way past me. After getting plenty of shots, and then riding out the remainder of the gentle rolls of its wake, I realized there was potentially one more interesting angle I could get. With only its stern in full sight, I saw it moving into position with Boldt Castle in the distance. Snap I got my picture and headed back to camp.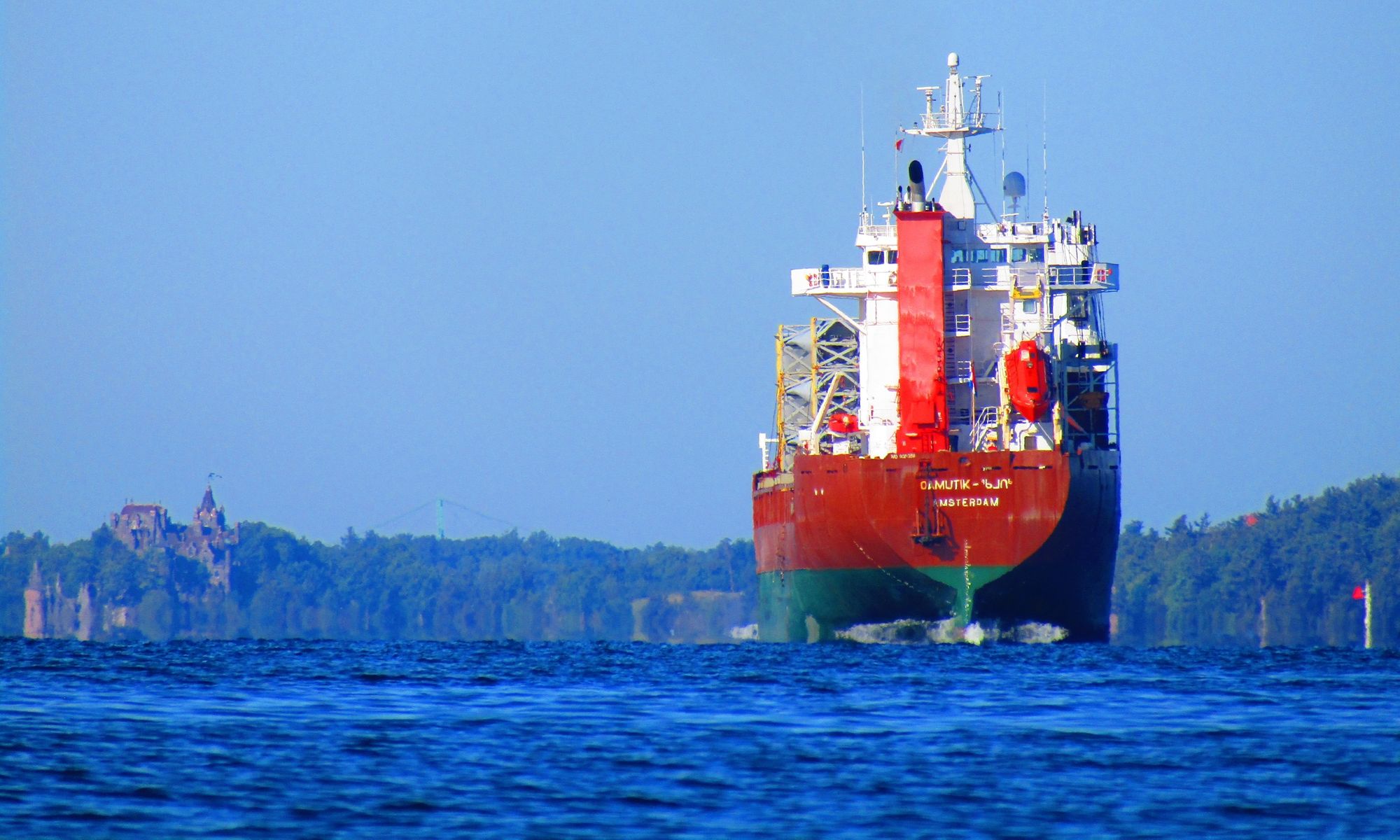 As I was looking through my pictures, I noticed the rather unique name of the ship. At least part of the name was Qamutik. The rest of the name was in some kind of alternate alphabet, characters, or symbols. This was not your typical ship's name, so I decided to see what I could find out about it. That is never hard to do for any ship coming through the seaway, since they can all be tracked through a number of online resources such as marinetraffic.com or vesselfinder.com.
I used myshiptracking.com and discovered that the Qamutik is a General Cargo Ship built in 1994 and currently sailing under the flag of The Netherlands. It is 137 meters or 450 feet in length. Its original name was the Edisongracht up until it was sold in 2010. As of 2010, its registered owner is Transport Qamutik, Inc. of Quebec, Canada, and its name was changed to Qamutik (and whatever those other characters were). I love a good mystery, so I kept looking to see what else I could find out about this mysterious ship name.
I found an article on a site called "Canadian Sailings: Transportation & Trade Logistics" that specifically mentioned the Qamutik. The article was called "The challenges that everyday shipping faces in the North" published in 2015. It began, "On July 9, NEAS Group President and CEO Suzanne Paquin was asked if the company's M/V Qamutik, the season's first supply ship, would arrive at Pangnirtung (Pang) on Baffin Island on July 19 as scheduled, although later than during most shipping seasons. 'I can't tell today, because there is still ice in Pang and Iqaluit (the next community of call)."
I admit I'm not as familiar with all of the Canadian provinces as some. I do know where most of the Tim Hortons are, just north of the border. But it turns out that Pang and Baffin Island are much much farther north that those. In fact, they are considered Arctic territories. They are so far north that someone pointed out an entirely different concept of north and south to those who live in that area stating that "Up here in the north, people consider the south as the place where decisions are made that affect their lives, while people in places like Ottawa and Toronto consider the south as a place for vacations in winter." I wonder if they would consider the Thousand Islands a place to vacation in the winter.
As I was reading a little more about Pang, something else jumped out at me. It was those same kinds of characters I had seen on the Qamutik. I read, "Pangnirtung (or Pang, in syllabics: ᐸᖕᓂᖅᑑᖅ) is an Inuit hamlet, in the Qikiqtaaluk Region of the Canadian territory of Nunavut, located on Baffin Island. It went on to explain that Canadian syllabic writing, or simply syllabics, is a family of writing systems used in a number of indigenous Canadian languages of the Algonquian, and Inuit. The Inuit are a group of culturally similar indigenous peoples inhabiting the Arctic and subarctic regions of Greenland, Canada, and Alaska.
I also learned that the syllabic written language was first developed and taught to the Inuit people by missionaries. The original written language was created by James Evans (1801 – 1846) who was an English-Canadian Methodist missionary and amateur linguist. He created the syllabic writing system for Ojibwa and Cree, which was later adapted to other languages such as Inuktitut and is still used today. In fact, it is used on the stern of the Qamutik making it a bilingual ship!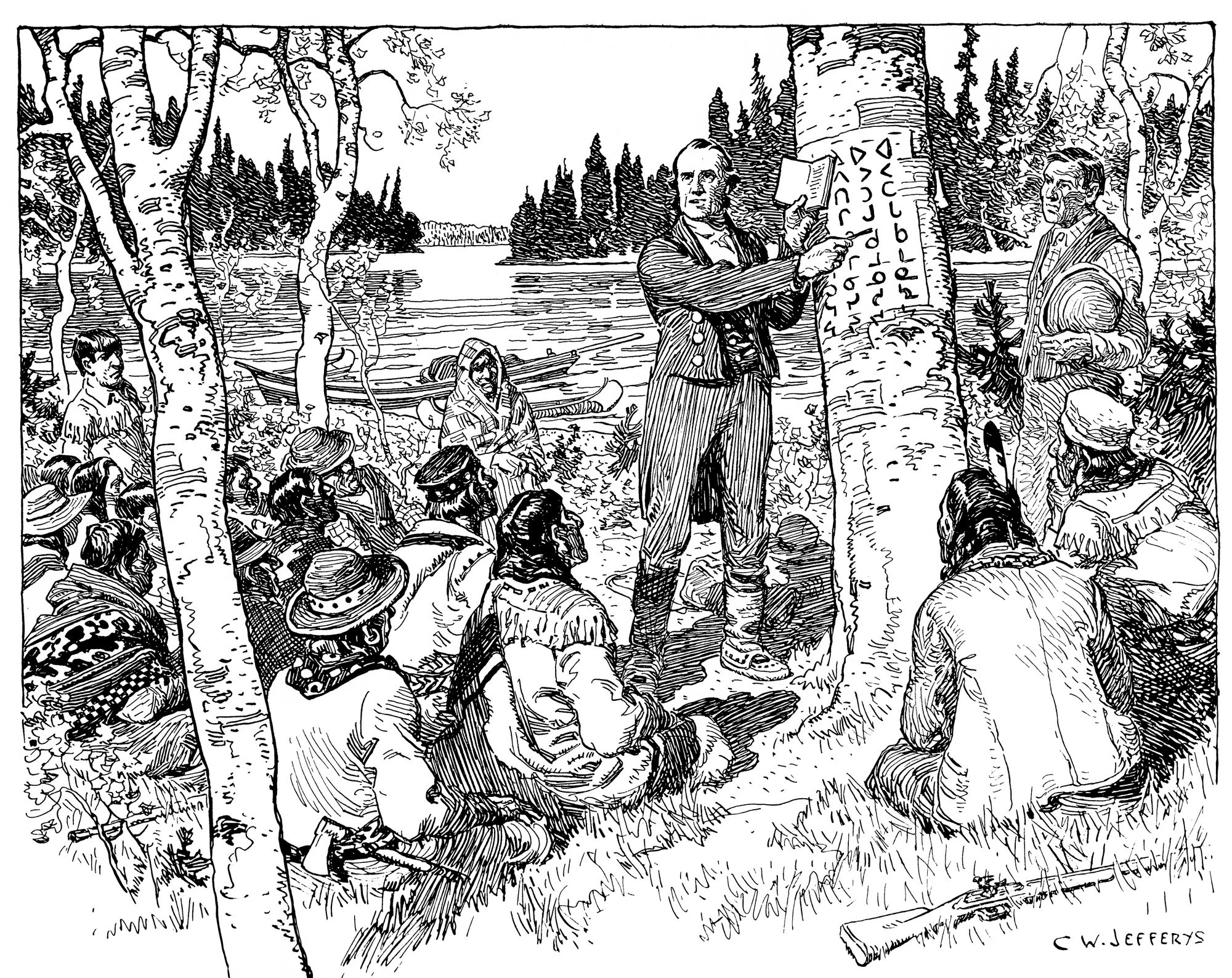 Thanks to James Evans, several generations and multiple Aboriginal groups have been able to read and write in their own language. His vision was that they could one day say, "And we all hear these people speaking in our own languages about the wonderful things God has done!" (Acts 2:11). In 1928, I read that another group of missionaries set sail for the Canadian Arctic on a mission to reach the Inuit. They travelled thousands of miles to the scattered camps by dogsled and canoe, facing constant threat of death from drowning, exposure, or starvation. But once a year a supply ship slipped through the floating ice into the bay, bringing the longed-for letters from home.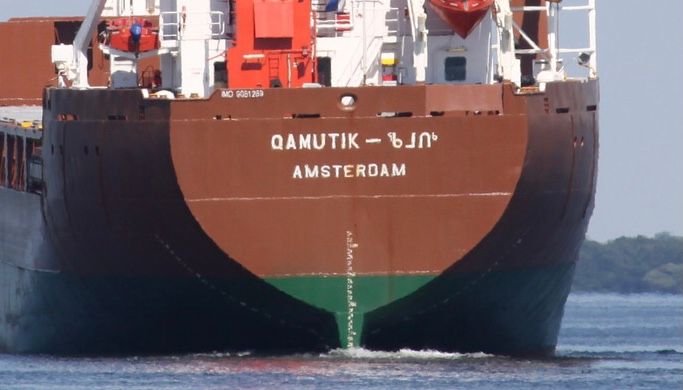 A supply ship like the Qamutik leads me to one other interesting discovery. A qamutik (Inuktitut: ᖃᒧᑏᒃ) is a single sledge runner or sled designed to travel on snow and ice, built using traditional Inuit design techniques. Adapted to the Arctic sea ice environment, such sleds are still widely used in Arctic regions today. So the name of the ship, Qamutik, written both in English and in Syllabic means a sled used to cut through the snow and ice, like the Qamutik has done on some of its northernmost runs. And then, she comes way down south now and then to vacation with us here on the River. That really is a cool story (pun intended) isn't it?!
By Patty Mondore
Patty Mondore and her husband, Bob, are summer residents of the Thousand Islands. Patty's most recent books include "River-Lations Revisited: More Inspirational Stories and Photos from the Thousand Islands", "River Reflections: A 90-Day Devotional for People Who Love the Water" and its two sequels, "Nature Reflections" and "A Bird Lover's Reflections." She and Bob co-authored "Singer Castle" and "Singer Castle Revisited", published by Arcadia Publishing, and co-produced "Dark Island's Castle of Mysteries" documentary DVD, in addition to a Thousand Islands Music DVD Trilogy. Patty is a contributing writer for the Thousand Islands Sun. Her column, "River-Lations", appears in the Vacationer throughout the summer months. The Mondores are online at www.gold-mountain.com. (Be sure to also visit Bob's singercastle.blogspot.com.) See Patty's most recent TI Life Articles here and several others here and here!
Posted in: Volume 17, Issue 9, September 2022, News article, History
---
---
---