It was in 2018 when I first met Susan Mathis at an Authors Book Signing, at the Cornwall Brothers Museum in Alexandria Bay, NY. At that time, we did an interview for TI Life. Now, in October 2022, we learned that Susan has just published book nine, Rachel's Reunion, in her Thousand Islands book series. This novel focuses on the amazing history of the old New Frontenac Hotel on Round Island. With book nine, it's certainly high time to repeat our interview.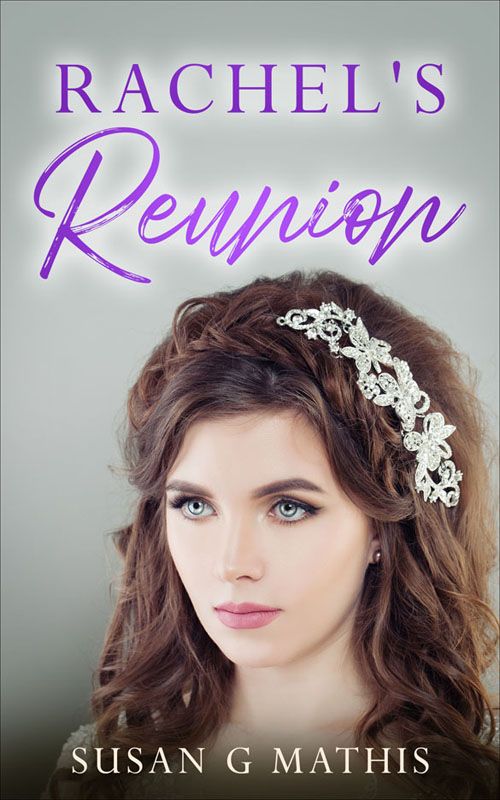 It is the summer of 1904, and Rachel Kelly serves the most elite patrons at the famed New Frontenac Hotel on Round Island. She has wondered about her old beau, Mitch, for nearly two years, ever since he toyed with her affections while on Calumet Island, then left for the high seas and taken her heart with him. Now he's back, opening the wound she thought was healed.
Mitch O'Keefe returns to claim his bride, but finds it more difficult than he thought. Returning to work at the very place he hated, he becomes captain of a New Frontenac Hotel touring yacht, just to be near Rachel. But his attempts to win her back are thwarted, especially when a wealthy patron seeks her attention. Who will Rachel choose?
---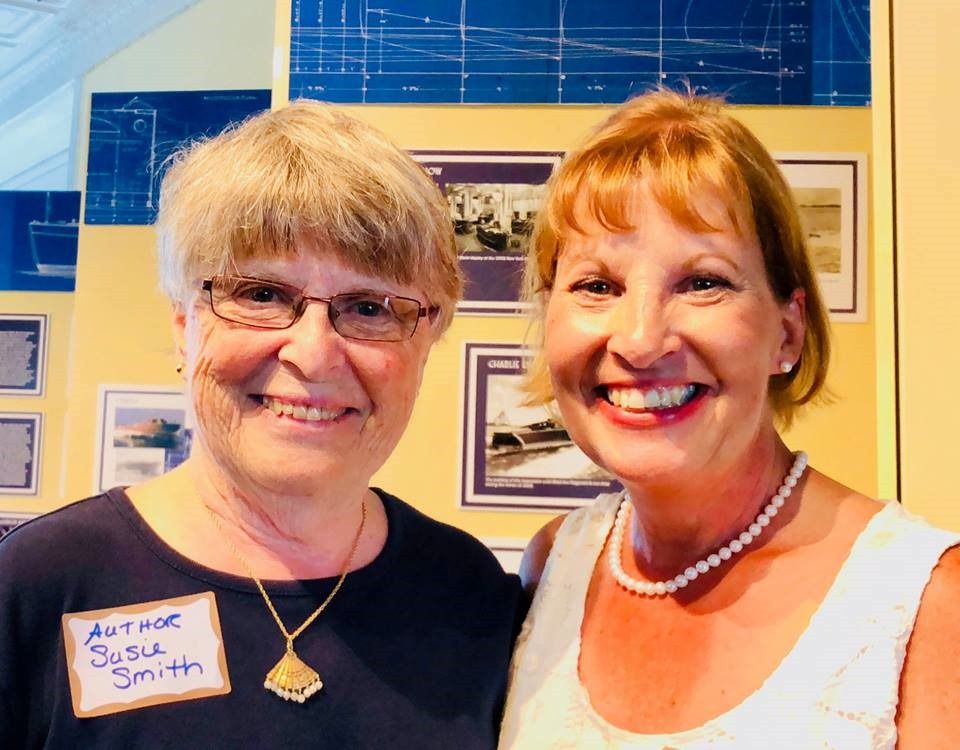 Interview questions:
Why did you write about Round Island"
I love telling the true stories of the islands while fictionalizing the servants. I've passed by Round Island for years and wondered about its story. When I read about the New Frontenac Hotel resort, I knew there was a story to tell. Rachel's Reunion became both a story of the luxurious hotel and its patrons, including William Howard Taft, (President from 1909-13), within a story of healing and hope. This story brings back Rachel Kelly and Mitch O'Keefe, whom we met in Peyton's Promise, with their own story.
Why do you write about the Thousand Islands?
I grew up just twenty minutes from the Thousand Islands—the setting for all my stories. I spent every summer and more, exploring this beautiful region. I've stayed on several of the islands and camped and rented cottages there. So in 2017, after I wrote my debut novel, The Fabric Of Hope, about the largest island, Wolfe Island, I was hooked. There are so many fascinating stories to tell. Now, I take an annual Thousand Islands Book Tour to the islands, where I meet with fans, friends, and family. I've stayed in Singer Castle, Casa Blanca, and other places that are the settings of my books.
What do you write about these places?
All my novels are based on a specific place in the Thousand Islands and are the true stories of the owners of that island during the Thousand Islands Gilded Age, when the wealthy came, scooped up islands, and built lavish summer homes, mansions, and castles. So, my plot is generally true. Then I overlay the storyline of the fictional servants to create the story. This makes my stories a bit more challenging, but I love a good challenge.
Why do you write about the Gilded Age?
All of my books are set during the Thousand Islands Gilded Age. It was an era of economic growth. Unfortunately, it was also a time of unequal distribution of wealth where the rich got richer, and the poor working class suffered. Many young women worked as servants until they married, and that's what my stories are about—those nameless, faithful women who cooked, cleaned and served tables for the rich and famous. These "downstairs" women had fascinating stories to tell, and I plan to tell many of them.
During the Gilded Age, America led the world in innovation. A half-million patents were issued for new inventions including hundreds by Thomas Edison, Westinghouse, and others. Thanks to inventions such as delivery of electric power, the world became lighter, safer, more convenient and comfortable, and all around better.
So, this is why I write Thousand Islands Gilded Age stories. To share the rich heritage this era gave us and to better understand what it was like.
What are the deeper messages of your stories?
All nine of my Thousand Islands' stories have hope as the central theme. Hope for a better future. Hope for love. Hope for healing. Rachel's Reunion also focuses on healing broken hearts and forgiving those who hurt you.
Susan, we agree that "hope" is a message we can all use these days.  
For those of you meeting Susan for the first time, she is an international award-winning, multi-published author of stories set in the Thousand Islands, her childhood "stomping ground" in upstate NY.
Susan has been published more than twenty-five times in full-length novels, novellas, and non-fiction books. She has nine in her fiction line including, The Fabric of Hope: An Irish Family Legacy, Christmas Charity, Katelyn's Choice, Devyn's Dilemma, Sara's Surprise, Reagan's Reward, Colleen's Confession, Peyton's Promise and Rachel's Reunion.
Rachel's Reunion is the most recent book. Her book awards include two Illumination Book Awards, three American Fiction Awards, two Indie Excellence Book Awards, and two Literary Titan Book Awards. Reagan's Reward is a Selah Awards finalist.
To learn more about Susan, her books, and her writings visit www.SusanGMathis.com/fiction.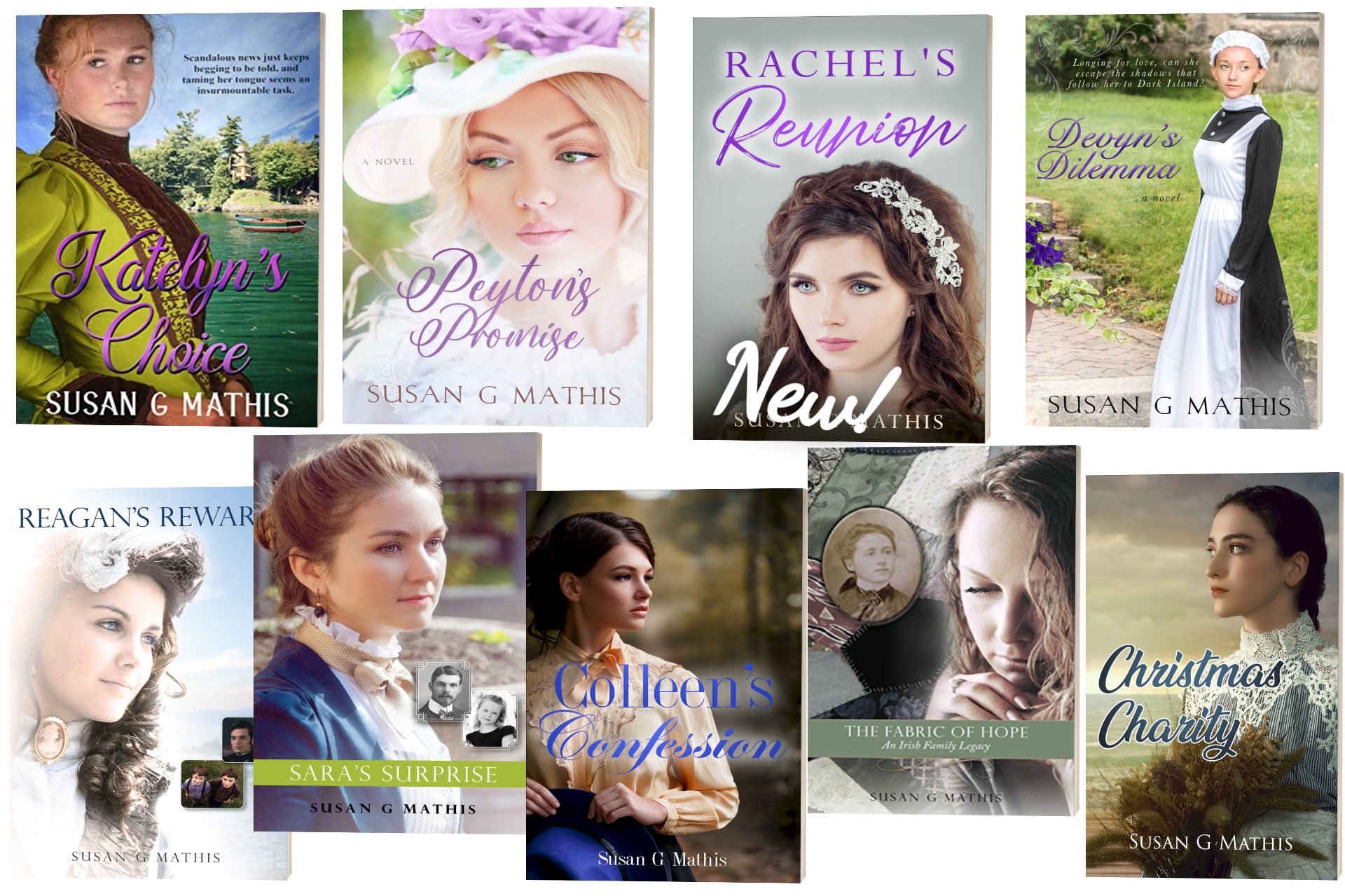 What about book ten?
And for those of us wanting more Mathis books, we are pleased to report that Susan has just finished book ten. It's called Mary's Moment and she gives us a sneak peek inside:
---
Mary's Moment,
Summer 1912:
Thousand Island Park's switchboard operator Mary Flynn is christened the community heroine for her quick action that saves dozens of homes from a fire. Less than a month later, when another disastrous fire rages through the Park, Mary loses her memory as she risks her life in a neighbor's burning cottage. Will she remember the truth of her life or be deceived by a treacherous scoundrel?
Widowed fireman George Flannigan is enamored by the brave raven-haired lass and takes every opportunity to connect with Mary. But he has hidden griefs of his own that cause him great heartache. When George can't stop the destructive Columbian Hotel fire from eradicating more than a hundred businesses and homes, he is distraught. Yet George's greater concern is Mary ... will she come to remember their budding relationship or be forever lost to him?
---
Where is Susan when she's not in the islands gathering information and researching her stories? She makes her home in Colorado Springs. I, like so many friends, look forward to 2023 when she returns to the islands.
By Susan W. Smith
Posted in: Volume 17, Issue 11, November 2022, Book review, People, Places
---
---
---