Let's start with the book... It will be 119 pages, 8 x 9.5 inches, with 165 photographs, and 14 essays, stories actually, by friends and colleagues. The book will be available at the Thousand Islands Arts Center, when the show, Will Salisbury, Sculptor: A Retrospective opens on July 18, 2020.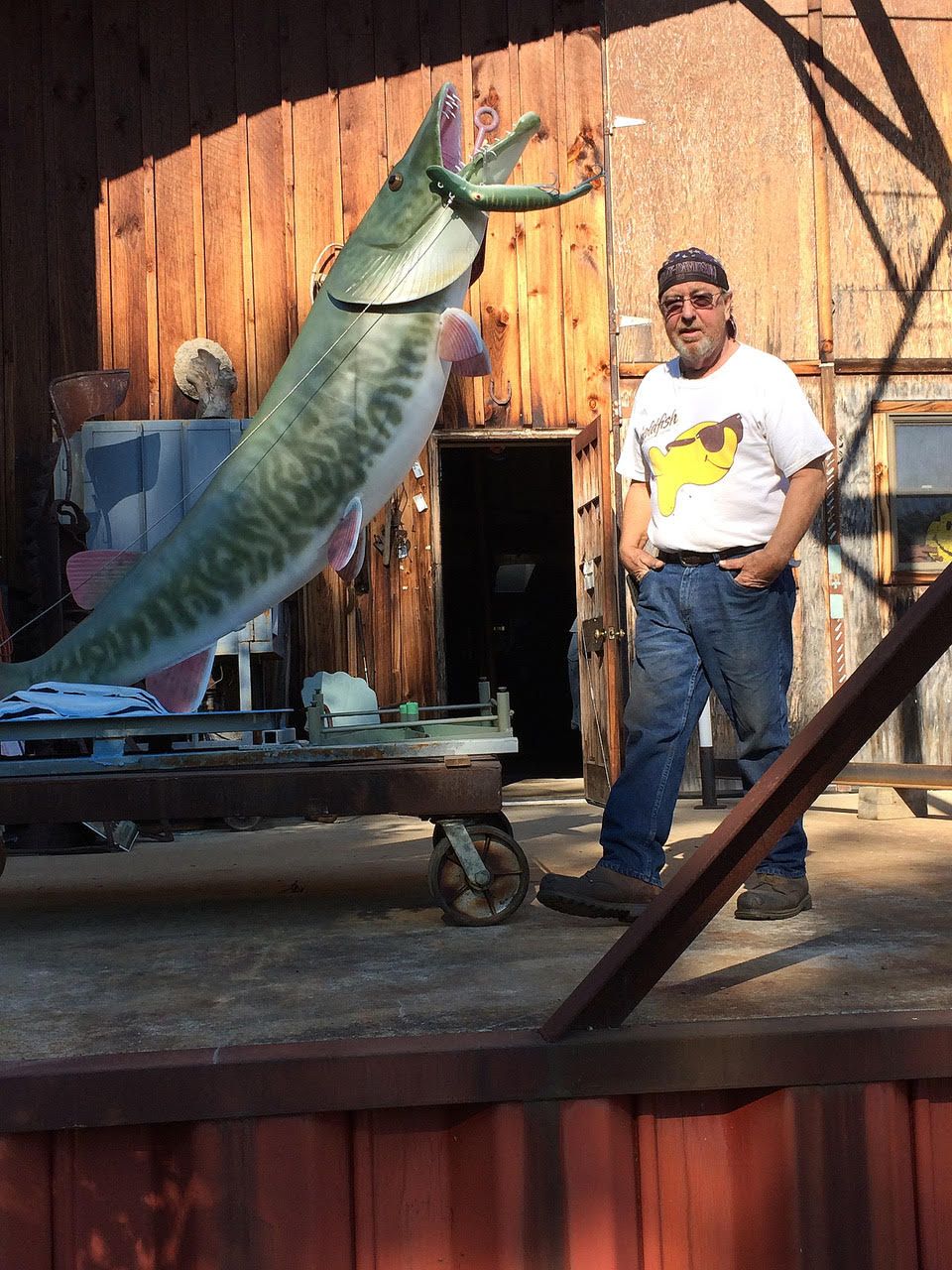 I met Will about 20 years ago when friends invited me to join them for dinner at Swan Bay Resort. By chance, Will and I were seated next to each other at a big round table. I don't remember much about the event, except Will said that he was a sculptor, and I commented that I was a photographer. I had been photographing public art, mostly outdoor sculptor.
He was installing the Crows along Interstate 81 in Omar at about that time, and I am pretty sure I had seen them while passing. He must have invited me to visit the studio, and I am sure that I took a couple of photographs. I do that anytime I'm in an artist's studio, and that started the process of collecting photographs of his work and setting up a folder on the computer.
When the Arts Center offered Will a show, I decided that I could provide photographs of his sculpture that were too big to be exhibited. In recent years he completed "The Muskie" and "the Swan and the Trailer", "The Great Dane", and "Standing Bear." Yes, it was a perfect time for me to help showcase his work.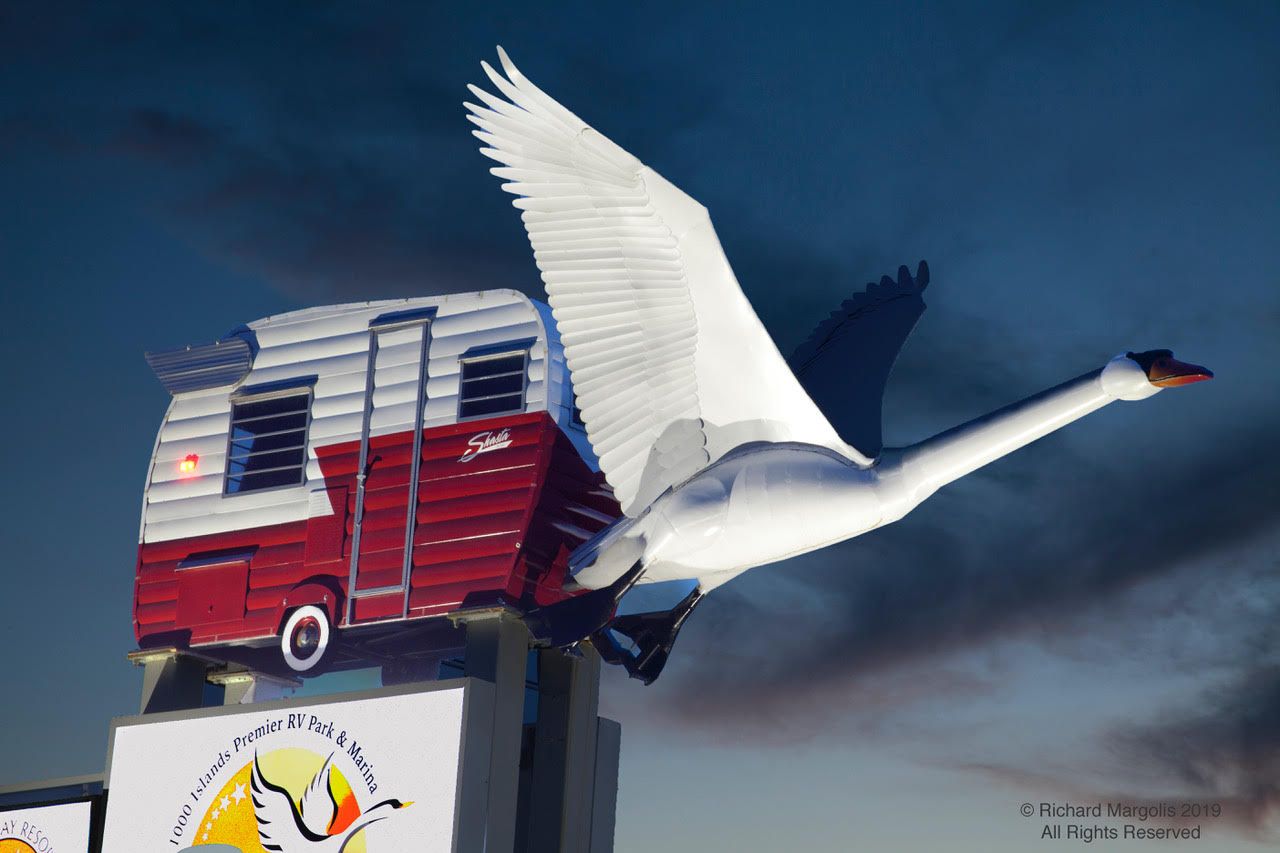 Then, I realized that I could create a catalog, something modest probably, but then as I began working on it, modest went out the window. I had already done a couple of books, had the template and software, and had just finished photographs for the book, Stone Houses of Jefferson County, so I was between projects.
I had the privilege of knowing Will, and I already had a lot of photographs of his work, along with photographs of him working in his studio. Initially, I thought it would be a picture book, perhaps with captions, but then I began hearing stories from Will's friends.
Greg Lago talked about lots of adventures with Will, and I asked him to write a couple down, and he did. He pointed me towards other people, including Scott Ouderkirk, who had recently completed a YouTube video about Will.
Allan Newell bought the Sturgeon that I had photographed in the window of Greg Lago's Winged Bull Studio, and I asked him to describe why he bought it.
From there the book and its contents took shape.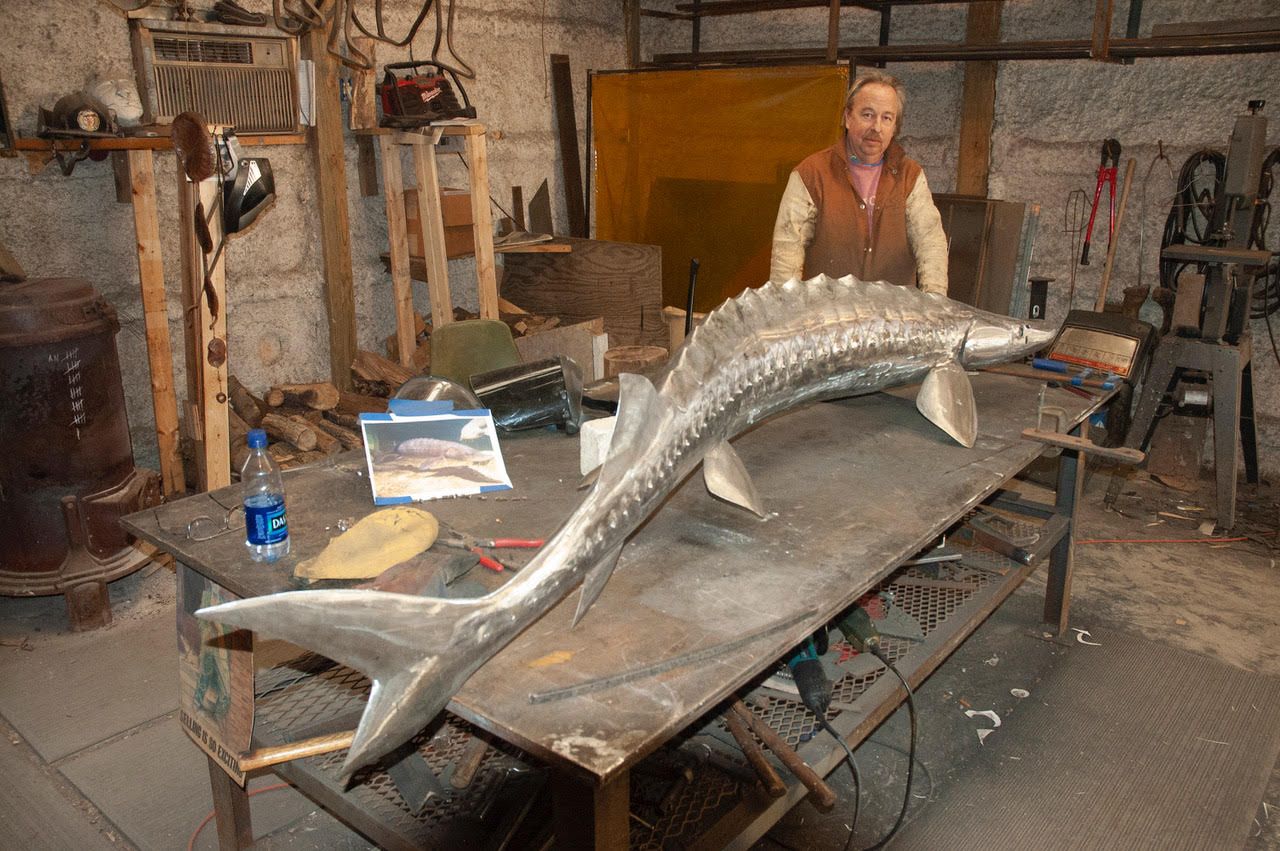 By chance, I knew Dan Mossien, who lives on Woronoco Island, because years before, I had photographed his architecture studio in Rochester, NY. One day my wife, Sherry, and I took our boat to Clayton for breakfast at The Koffee Kove and passed by "Topknot", the Gargoyle perched on Dan's cottage on Woronoco Island. I needed to know how that came about. When I asked Dan to write about the Gargoyle, he also talked about Will building a dock for him years ago, and more recently, he hired Will to build the cottage on Woronoco Island.
And then there are others, including Mary Mara, who posed for one of the Moonwalker sculptures and wrote about Will's concern for social justice.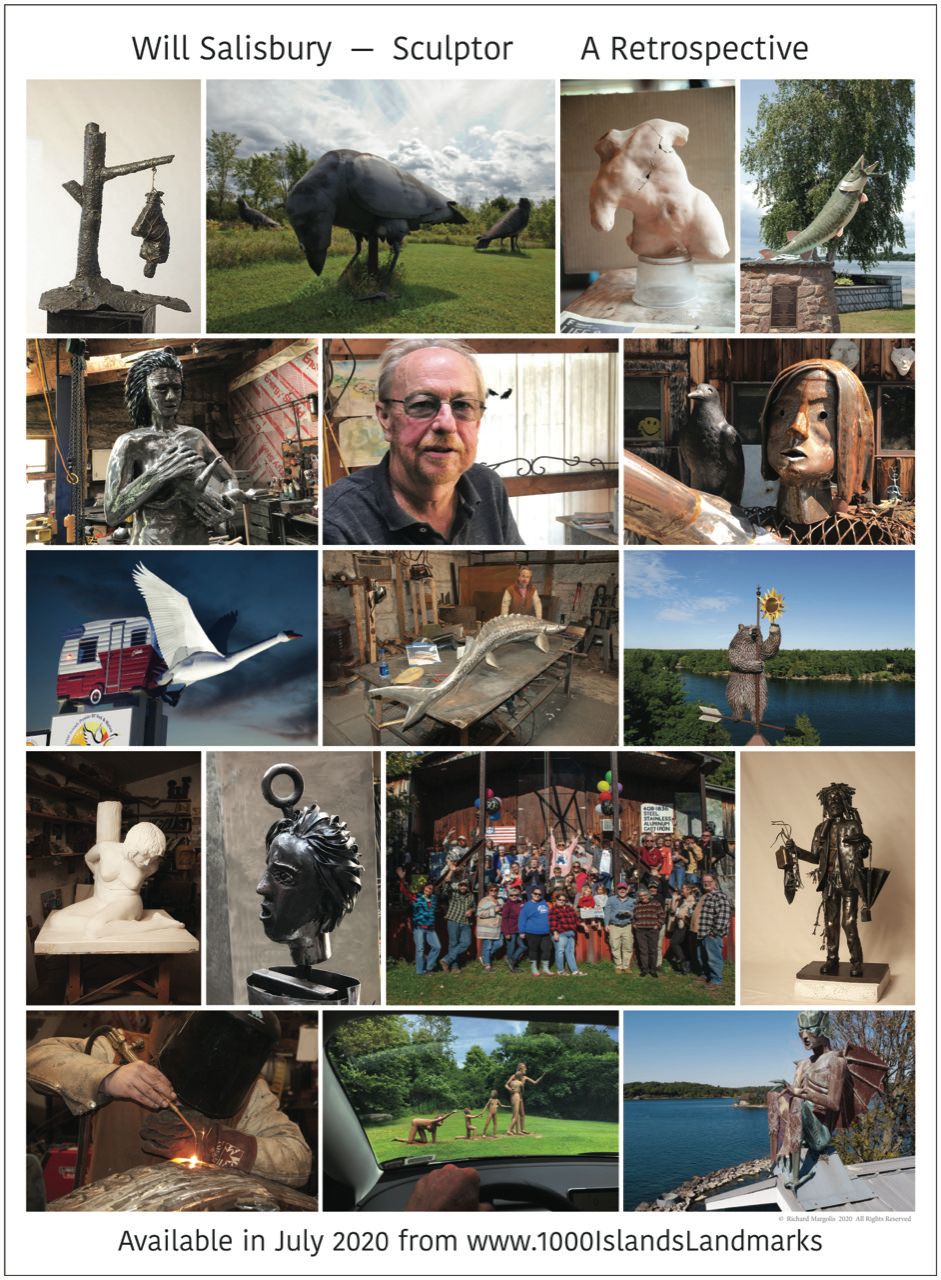 Charlie Tebbutt, an attorney who lives in Eugene Oregon, owns two sculptures — and he wrote about meeting Will at least 40 years ago. I found that each of Will's sculptures have stories attached and that people are willing, actually eager, to write about them. I decided that I would publish the book myself because I had a clear vision of what I wanted it to be. I feel that as an artist, I understand and appreciate how Will works; how he continues to create more and bigger and faster and better, often not sure how a project will turn out when it begins. He works every day and makes decisions while welding or grinding, and the sculpture gets more complicated and stunning. When it's finished, he starts another, often with different material, seemingly unrelated, and the results are amazing.
Even after all these years, he does not slow down and coast on his accomplishments. That's the story I want to tell.
By Richard Margolis, Wellesley Island
Richard Margolis, Rochester photographer and summer resident at TI Park says he moved to Rochester 50 years ago for the MFA program at RIT. He taught for ten years, did commercial and architectural photography, was a founding member of Photo Archives Belong in Rochester (PABIR) that campaigned successfully to keep the Eastman House photographic collection in Rochester. He also helped create Rochester's ARTWalk, and the 2nd Saturdays Open Houses for Anderson Alley Artists that grew into Rochester's First Fridays.
Richard and his wife Sherry, began spending summers on Wellesley island when their children were little and fell in love with the area. Thousand Islanders will recognize his poster BOATHOUSES ON THE ST. LAWRENCE RIVER.
The book , Will Salisbury Sculptor, A Retrospective,  will be available early in July at the Thousand Arts Center and from www.1000IslandsLandmarks.com and at, Reinmans, The Little Bookstore (also in Clayton next to Save The River), Captain Spicers, Cornwall Brothers Museum and Treasure Island, Alex and B.J. shop in Alex Bay, also have books for sale. The book is available from the www.1000IslandsLandmarks.com. web site. I
---
Additional TI Life articles:
Will Salisbury Gift to the River, December 2018
Posted in: Volume 15, Issue 6, June 2020, People, Artists, Book review
---
---
---