As an airline pilot for a major carrier, I have seen and done more than the average guy my age.  Our trips are set up so that we leave our domicile and are usually gone two, three, or four days at a time.  
Many years ago, in the early 90's I believe, I was flying a 3-day sequence with a friend of mine serving as my co-pilot.  We were in and out of Syracuse a couple times.  Brad shared a story about a vacation he and his bride took several years prior to our trip.  He mentioned Cape Vincent, and I went from half-paying attention to full alert status in seconds.
He mentioned the highlight of his trip was a car ferry from Cape Vincent to Canada.  Now I was listening!  That car ferry he mentioned, The William Darrell, holds some of the dearest memories of my childhood.  One in particular sticks-out.  
I had a best buddy growing up.  To quote a line from a famous movie; "We went together like Peas and Carrots."  We did everything together during the school year, so when summer vacation rolled around, as corny as it may sound, "I missed my friend." (Another movie line). We had separate lives in the summer. His life was all about baseball, and mine was all about boating on the St. Lawrence Seaway.
We did get together at least two, sometimes two or three times during the summer break from school. So, here we are, mid-to-late July, 1976.  Mike and I have been out of school for a month, with about a month and a half left before our yearly sentence......I mean school year begins again.  It was time to get together. Mike came to "The Cape" as I fondly called it.  (I still do, and always will)
Normally, we would spend our days fishing in Canadian waters, waterskiing, or riding the waves of passing iron ore carriers.  Those ships look huge from a distance and they look absolutely enormous when you are only 50 feet from them in an 18-foot boat!  
If we were not out doing those things we were dreaming about the future. This particular day started very warm  but was also very windy, so my 18-foot boat needed to stay dockside for the day.  As we were eating breakfast  I fixed my gaze across the River.  "Mike, doesn't Wolfe Island look nice today?"  We both had the same thought at the same time.  A bike journey across the island and back. From the ferry dock, it is 7 miles to the town of Marysville.
Wild horses could not have stopped us, although my Mom tried, Dad had already given his blessing on these two responsible teenagers.  I can still hear her, "Howard, you're letting them go?  To a different country; ALONE?"  You had to be there to get the full effect.  (I wonder what she would say now, if she were still with us, with me hitting four countries in one month.)
The ferry boat is always great, but it is even more special on a bike!  You take up no room, stick it in a corner, prop it up, and don't have to lock it. Who's gonna steal it?  It will be tough to swim carrying a bicycle.  What's the other good thing?  Cyclists and their bikes are first on and first off.  This was our first time in another country without supervision.  Is this how Magellan felt?  
We had a gorgeous ride across the island.  Wolfe Island is designed by God, for the farmer.  Rich soil, numerous trees, perfect weather in the summer and plenty of grass for cows.  The ride was uneventful, with no breakdowns, no potholes and maybe three cars.  The cars that were on the ferry with us passed us early, so we had the road to ourselves, except for one farm tractor. When we arrived in Marysville, we quenched our thirst and hunger with a soda and ice cream, while we gazed at the beautiful sight of Kingston's skyline, across Kingston Harbor.
We thought about riding the other ferry to Kingston, but did not want to push our luck, and had no way to get in touch with my folks, so decided against it. Marysville is a town that time forgot.  It has one grocery store/post office and a few houses, with very little traffic.  What a perfect place for a summer getaway. This particular day, the weather was perfect, except for the wind.  It made the ride back a bit of a challenge, but no less fun.  We arrived back at the dock about 4:00 pm, just in time for the boat to Cape Vincent.  
Leaving the island, we watched it shrink in the short one mile travelled. We'll always look at Wolfe Island a bit differently now, with a wonderful memory of the 1970s, with two care-free teens.  I must remember to thank my co-pilot friend for allowing that memory to come to life one more time.
By Dan Mack
Dan Mack grew up in Cicero, NY and spent most summers of his youth making the voyage back and forth by boat between Oneida Lake to Cape Vincent, NY.  Then in 1979, he moved to Daytona Beach, Florida.  He started his aviation career with Piedmont Airlines in 1986, which became US Airways in 1989.  Although he does not visit the Thousand Islands often, he says his memories of the River will last forever.
Be sure to see Dan's first TI Life article: Rite of Passage and Passing the Torch and Two Young Men, One Big Adventure.
Editor's Note: Our appreciation goes to the author for reminding us how a trip from Cape Vincent to Wolfe Island can provide memories at any age, in any year.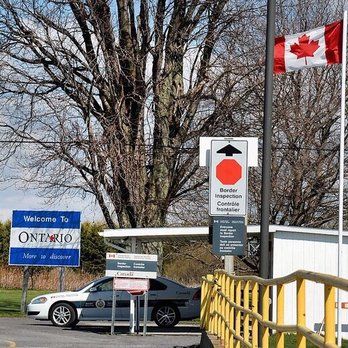 Posted in: Volume 14, Issue 4, April 2019, Places, Sports
---
---
---