[Editor's note: The day I found "Stock Your Pantry at These Gourmet Eastern Ontario Food Shops" on the web, I suddenly realized many of those places I visit regularly, others are those I should visit soon. I thanked the author Laura Byrne Paquet for both writing and then generously allowing us to share her blog content.
It did not take long before I subscribed to the blog: Ottawa Road Trips which gives a fascinating array of suggestions for everyone to use, even those of us who live in the Thousand Islands. Why? Because many of the places are down the road, or just an hour away in what we call Eastern Ontario. Enjoy the descriptions below and please go exploring!
Stock your pantry at these gourmet Eastern Ontario food shops
Whether you're looking for a delicious road-trip lunch or superb take-home foods that will wow the guests at your next dinner party, the 12 shops in the list below should be on your radar. Located in charming villages and small towns southwest of Ottawa, they offer everything from squeaky-fresh curds and made-to-order sandwiches to coffee syrups, apple butter, sausages, mustard and caramels.
Once this post has made your mouth water, check out the new 1000 Islands Rideau Canal Waterways Foodie Shop Adventures website for addresses and all the details you'll need to visit these drive-worthy retailers!
[Disclosure: This sponsored post was produced in cooperation with the Leeds Grenville Economic Development Office.]
Tasty food shops to discover:
• Healthily Ever After, Merrickville
• Mrs. McGarrigle's, Merrickville
• Pickle & Myrrh, Merrickville
• El Rebost de les Mil Illes, Prescott
• Hall's Apple Market, Brockville
• The Butcher Shop, Brockville
• Luke's European Style Market, Athens
• Lighthouse Provisions, Gananoque
• Ridgway Confections, Seeley's Bay
• Wendy's Country Market, Lyndhurst
• Forfar Dairy, Portland
• Rosie Yumski's Fine Foods, Westport
If you go: Where is 1000 Islands Rideau Canal Waterways?
Extending from Kemptville and Cardinal in the east to Westport and Gananoque in the west, this region of Eastern Ontario is perfect for day trips and weekend getaways from Ottawa. Visiting a food shop is a great reason to check out some of the area's great communities, including Merrickville, Westport, Portland, Lyndhurst, Seeley's Bay, Gananoque, Athens, Brockville and Prescott. Why not pick up the essentials for a scenic picnic along the Rideau Canal Waterway or the 1000 Islands/St. Lawrence River?
Tasty food shops to discover:
Healthily Ever After, Merrickville
Since opening in 2015, this health foods store has been a popular stop for shoppers looking for vegan, organic, dairy-free, gluten-free and other wholesome groceries. Many of the items—from honey and grass-fed meats to bread and eggs—are produced in Eastern Ontario, so you can support local while eating well! And if you're seeking a quick energy boost on a road trip, don't miss the shop's grab-and-go snacks and healthy beverages, such as kombucha and organic milk.
Mrs. McGarrigle's, Merrickville
You may know Mrs. McGarrigle's best for the store's 14 varieties of handmade mustards, in flavours like cranberry port and wasabi lime. After all, mustard was the first product owner Janet Campbell made when she launched the business over 30 years ago. However, Mrs. McGarrigle's now also makes spice blends, vinaigrettes and chutneys. In addition, you can shop for cheese, charcuterie, oils, take-home meals, housewares and utensils, and sign up for a cooking class.
Pickle & Myrrh, Merrickville
If you love caramels, don't miss this delightful shop housed in a former Victorian law office built in 1860. (Look for the original tin walls, as well as the 19th-century documents vault behind the cash desk!) The sweet treats come in many flavours, such as vanilla bean, maple and coffee, but by far the top seller are the sea-salt caramels. You'll also find artisanal popcorn, tea, chocolate and other foods from independent makers.
El Rebost de les Mil Illes, Prescott
Just off Highway 401 on the north edge of Prescott, you might be surprised to discover a sleek shop selling top-quality Spanish foods. Owner Marc Gomez Segu hails from Spain and will eagerly guide you through his gourmet wares, which include extra-virgin olive oil, chocolate, cheese, bomba rice, olives, tinned seafood and house-sliced Joselito ham. Get a taste of the products with tapas or a full meal in Little Barcelona, the onsite restaurant.
Hall's Apple Market, Brockville
Road trippers have been stopping at this inviting country store just east of Brockville for generations—Hall's first opened its doors in 1947. And if it can be made with apples, you'll probably find it here; the display cases and refrigerators are loaded with apple butter, apple cider, apple bread, apple pies and so much more. You can also browse for other regional producers' foods, including cooking oils, maple syrup, cheese and quiches.
The Butcher Shop, Brockville
Make sure you bring a cooler and an ice pack if you're heading to Brockville, so you can pop into the Butcher Shop for delectable sausages, steaks, roasts, hamburgers, chicken, turkey, marinated meats and more. But that's not all! You'll find just about everything you need for a memorable meal, including condiments, sauces, salad dressings, cheese, eggs, honey, baked goods (including some gluten-free items), fresh subs and sandwiches, and locally made pierogies.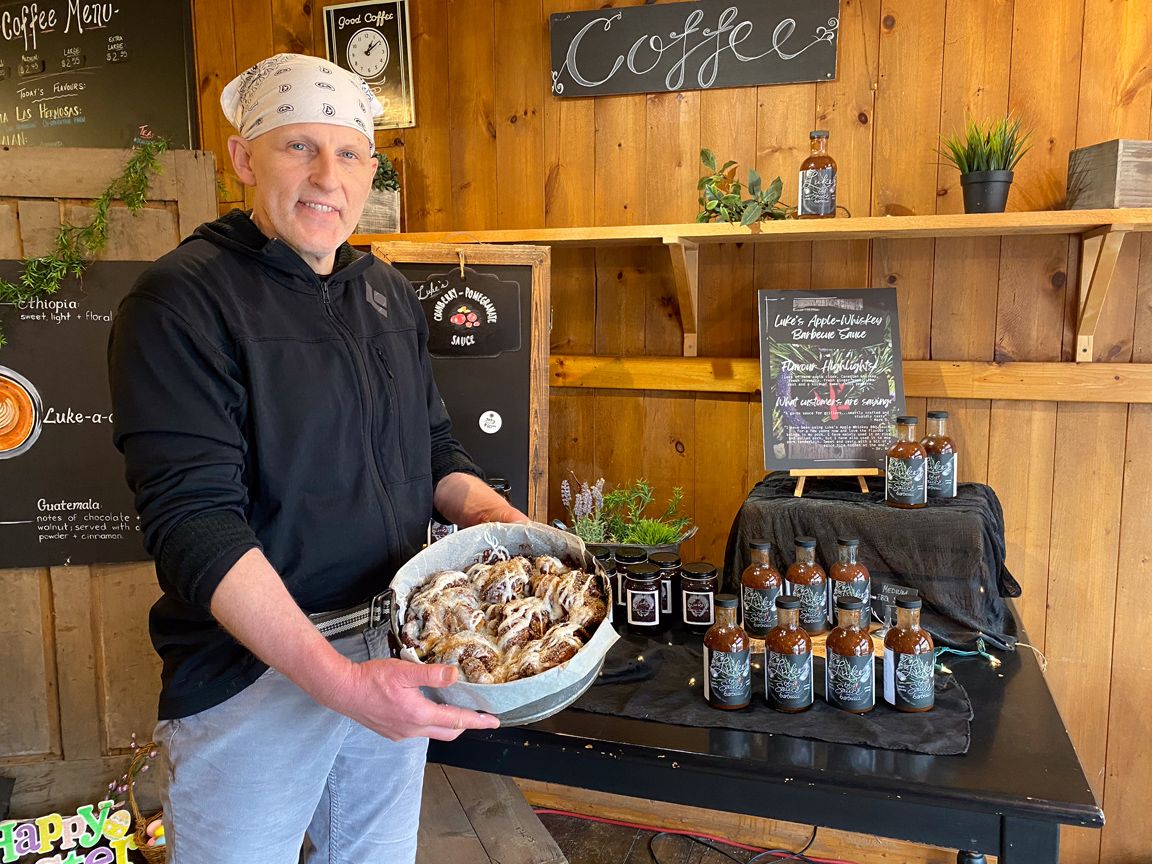 Luke's European Style Market, Athens
"They're all our own recipes," says Luke Thomas proudly, looking around at wooden shelves laden with treats such as bottles of gingerbread coffee syrup, and jars of vanilla-poached plums and cranberry-pomegranate sauce. The food shop is also a bakery; depending on the day, you might walk in to see Luke taking a tray of strawberry-orange tarts in phyllo pastry or chocolate brioche knots out of the oven. You can get a gourmet coffee to go, too.
Lighthouse Provisions, Gananoque
This light-filled shop sells fresh sandwiches, soups, sparkling water and craft beers—just right for an impromptu picnic in nearby Confederation Park on the Gananoque River. And check out the shelves and fridges loaded with take-home products, most of them made in Ontario. You can buy bread from Gananoque's Beraka Farm, dry-aged steak, sausages, savoury pot pies, frozen pizzas, smoked duck breast, all sorts of local cheeses and Ontario wines.
Ridgway Confections, Seeley's Bay
If you find yourself in the picturesque village of Seeley's Bay and you're craving something sweet, don't miss Ridgway Confections. Housed in a landmark Victorian home, it's the place to go for handmade chocolates crafted from Belgian Callebaut chocolate. Sponge toffee is a top seller, too, and multi-coloured Easter eggs are a spring highlight. When summer comes, you can cool off with one of the shop's 14 flavours of homemade ice cream.
Wendy's Country Market, Lyndhurst
Half the fun of visiting Wendy's is the scenic drive to it along quiet country roads. Step inside this former schoolhouse to discover a huge variety of foods, all produced with a 100-mile radius of the market. You'll find berries and honey, eggs and herbs, cheeses and meats, maple syrup and mushrooms. The house-made sourdough bread alone is worth the drive! Ask about special events such as cooking classes, concerts and farm-to-table dinners.
Forfar Dairy, Portland
Making poutine? Stop by Forfar for super-fresh local curds, which you can buy plain or in flavours such as salsa or garlic. Aged cheddar from small regional producers is another big draw, along with an appealing selection of local sauces, syrups, jams and pickles. Ice cream, coffee and sandwiches are available, too. And the shop is in the same building as the Sunflower Bake Shop, where you can pick up fresh bread to go.
Rosie Yumski's Fine Foods, Westport
This popular shop in the boater's haven of Westport sells gourmet foods and the equipment to prepare them. You can pick up local products such as spice mixes, mustard, hot sauce and maple syrup, along with tea, coffee, cooking oil, salsa, candies and more from near and far. Draw inspiration from the selection of cookbooks, and browse for dishes, canisters, glasses, bowls, cookware, cutting boards, linens and kitchen utensils of all descriptions.
If you go:
Here's where you'll find maps, addresses and all the information you need to discover 1000 Islands Rideau Canal Waterways Foodie Shop Adventures.
By Laura Byrne Paquet Bio
Laura Byrne Paquet is an Ottawa-based freelance travel writer. She has been writing about Eastern Ontario, West Quebec and points beyond for over 30 years, for publications and websites as diverse as BBC.com, EverythingZoomer.com and DreamScapes. Her Ottawa Road Trips blog covers daytrips, weekend getaways and serious road trips for fun-loving explorers of all sorts: families and singles, history buffs and thrill seekers, foodies and music lovers, and more.Whether you want to go to Wakefield for the afternoon, Prince Edward County for the weekend or New York state for a week, you'll find ideas there. Laura asks, "Do you have an idea for something I should cover?" Send her an E-mail Send her an E-mail
Posted in: Volume 18, Issue 9, September 2023, Places, Current
---
---
---