Remains of two ships believed to be the schooners Ariadne and Hartford, wrecked in Mexico Bay during storms in 1886 and 1894 respectively, recently washed ashore within a month of each other, during the late winter of 2020. Shipwreck authorities Mark Barbour of Syracuse, N.Y. and James Kennard of Fairport, N.Y.  said they believe these are the Ariadne and the Hartford because they are in the right locations.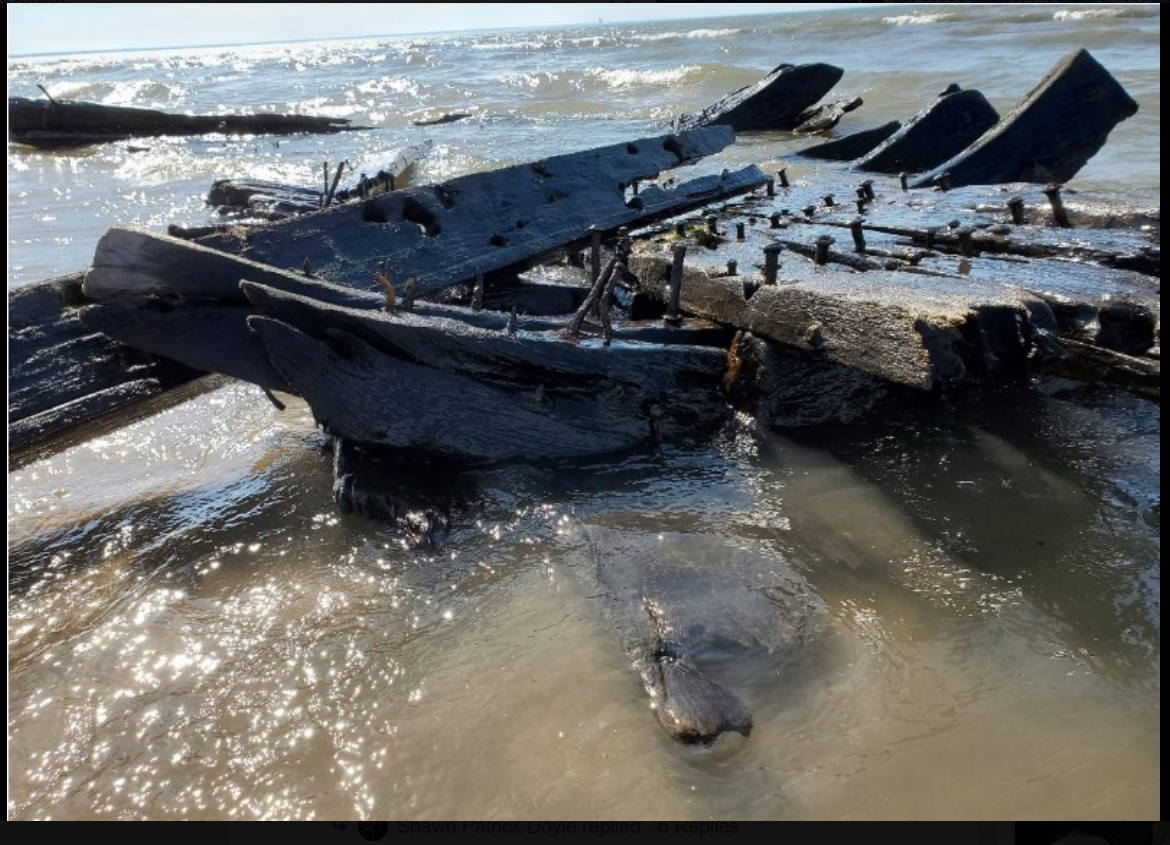 Kennard said "there are two pieces of wreckage both about 10 to 12 feet long, separated by about 50 feet from each end. There are some ribs, with each section in two or three feet of water."
Several weeks previous, remnants of what is believed to be from the schooner "Hartford," which washed ashore near Sandy Pond. This vessel was wrecked in 1894.
The remains of the Ariadne are two miles north of Southwick Beach and four miles south of Stony Point. The "Hartford" remains are several miles further south, near Sandy Pond inlet.
The "Ariadne," built in Newcastle, Ont., in 1871, was transporting 10,000 bushels of barley from South Bay, Ont. to a grain elevator in Oswego. Unable to make port due to a storm, it veered off and headed for Stony Point for protection until it subsided. But it became unmanageable and ran ashore north of what is now Southwick Beach and broke up, becoming a total loss, went to pieces and the cargo was uninsured.
Among those lost were Captain Hugh McKay, who was washed overboard and drowned, and two crewmen who froze to death.  Their bodies had to be chopped out of six feet of ice. The remains of the captain were never recovered.
Three other crewmen, Maurice Young, Edward Mulligan and Thomas Cox,  took to the rigging and were rescued by the crew of the nearby Big Sandy Lifesaving station. They were taken in by a local farmer and after a few days of recovery returned to their homes in Canada.
The Hartford which foundered considerably south of the Ariadne, also during a fierce storm, in which seven people lost their lives. Although to most it might just look like a pile of old timber with large bolts sticking out after an old barn collapsed,  Barbour said the vessel is fairly intact, including several ribs, and affords a great opportunity for study by marine archaeologists and historians.
The ship, carrying 22,000 bushels of grain, consigned to Cape Vincent, was caught in a storm. Occasionally, pieces of such vessels lost in Mexico Bay break loose and are carried ashore. History records more than 100 shipwrecks and groundings in Mexico Bay over a period of nearly two centuries.
This is the terse report written by the commander of the nearby U.S. Lifesaving Service station at nearby Big Sandy:
"Oct. 11, 1894 - Overtaken by stormy weather when in an overloaded condition; anchored 6 miles south of station, but foundered, drawing entire crew (seven people).
"Schooner was sighted from station at 11 a.m.; shortly afterwards she was seen to anchor and to commence dragging. (The lifesaving crew) started at once with beach apparatus, but before going far discovered that she had sunk.
"Returned for lifeboat and, after a seven struggle, in which keeper was washed out of the boat by the seas, but fortunately, recovered, and the boat itself damaged, arrived abreast of the wreck at sunset, when it was found that all hands had been lost. Returned to station at 9:15 p.m. completely exhausted.
"Spent 11 days patrolling the beach and reaching in boat for bodies of the drowned. On 20th found body of master's wife and delivered it to undertaker."
Lost in the disaster were Captain William O'Toole, his wife, Mary, who acted as cook; their 5-month-old daughter, Mary Kathleen, who was found on the beach drowned; the mate, Richard Seymour of Clayton; seamen Michael Purcell of Clayton, Dennis McCarthy and Damas Turgeon of Clayton; a man named Farquhaurson of Grindstone Island;  and William Donaldson of Theresa. Surviving the O'Toole's were five other children between the ages of 2 and 10. The captain's mother, Sarah,  raised them. Captain O'Toole, 45, was from Constableville.
The Hartford was built at the Linn & Craig Shipyard in Gibraltar, Michigan, and launched in September, 1873. It was 137' 5" long, 26'2" feet beam and 11' 2" hold, 323 gross tons, 307 net tons (U.S. Registration No. 95229. At the time of the wreck it was owned by J.K. Post, O.H. Brown, J.H. & William McCarthy of Oswego.]
In 1969, the wreck of the schooner John Burt washed ashore in the same area. This 348-ton schooner, built in Detroit, Michigan, in 1871, foundered a short distance away from the wreck site of the Hartford on September 26, 1892. It was enroute from Chicago to Oswego with a cargo of grain, when it was blown off course into dangerous Mexico Bay.
Losing its rudder, it was blown to the east onto a shoal south of Big Sandy Lifesaving Station. Before it broke apart its captain, his son and three crew members were saved by the Lifesaving crew. A woman cook and a crewman were lost.
Artifacts salvaged from this wreck went to the Smithsonian Institution and the H. Lee White Marine Museum in Oswego.
Records show that nearly 100 wrecks or groundings occurred in this area of Lake Ontario in the 19th and early 20th centuries. In April 2019, the National Oceanic and Atmospheric Administration (NOAA) proposed the designation of a national marine sanctuary in eastern Lake Ontario, to protect historically significant shipwrecks and maritime heritage resources. [See TI Life article written by Dennis McCarthy.]
NOAA has been in the process of conducting a detailed analysis to develop sanctuary alternatives and a management plan for the proposed marine sanctuary.
---
[Note:  The author asked for these extra photographs taken by Gabriel Groman Peters be added to the article April 29, 2020.]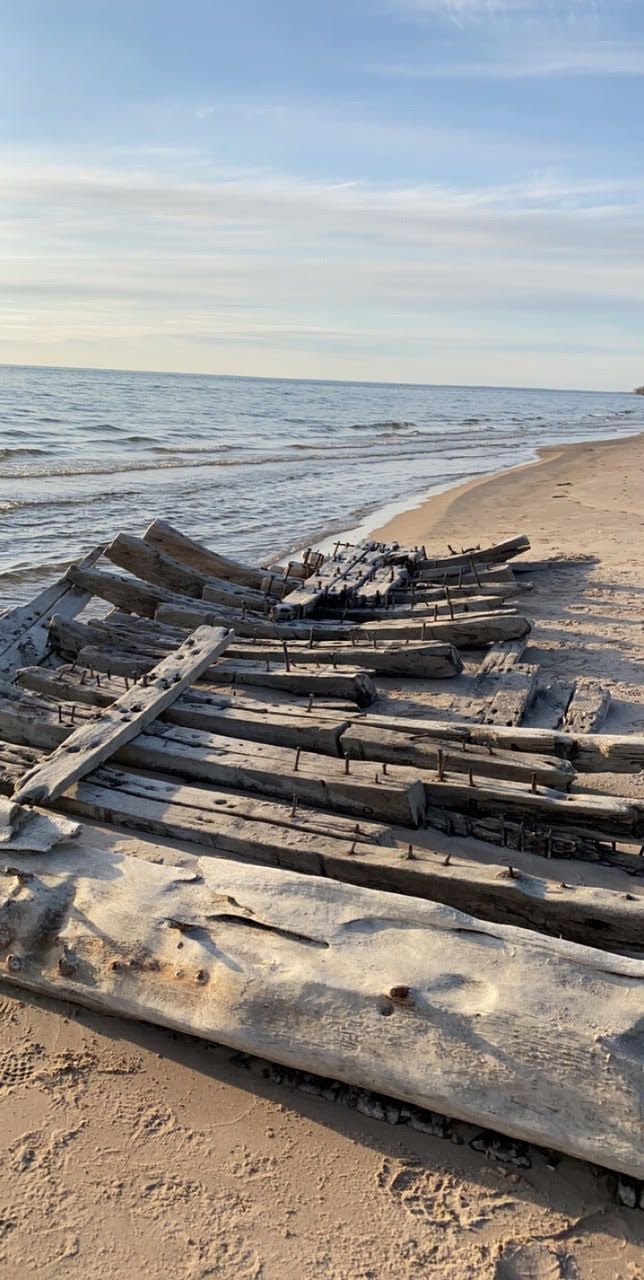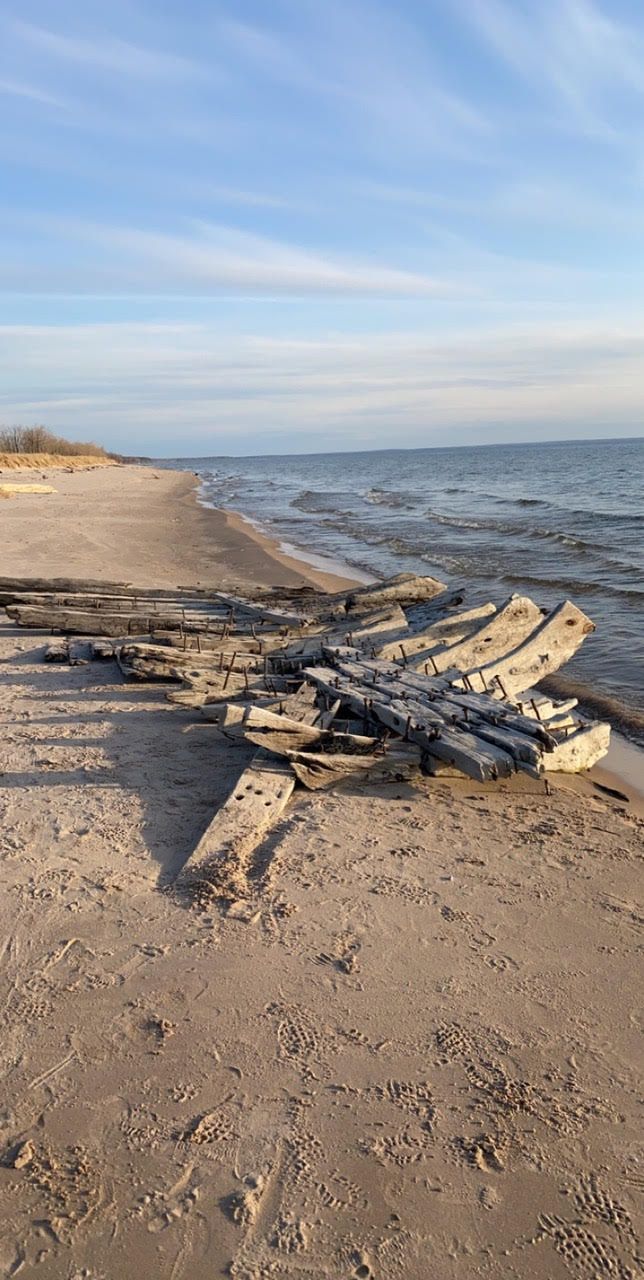 By Richard F. Palmer
Richard F. Palmer is a retired newspaper editor, and reporter, and was well known for his weekly historical columns for the "Oswego Palladium-Times", called "On the Waterfront." His first article for TI Life was written in January 2015 and since then, he has written a half-dozen others.  He is a voracious researcher and TI Life readers benefit from his interesting findings. Click here to see some of Richard Palmer's TI Life Articles.
Posted in: Volume 15, Issue 4, April 2020, Places, People, History
---
---
---