SHIP! How often have you heard this exclamation or done it yourself? In my section of the River, the American Narrows, you hear this often. Adults and children announcing the arrival of another ship making its way upriver towards Lake Ontario, or downriver towards the Atlantic Ocean.
Last Christmas, knowing that I would be spending my pandemic time at the River, my mother gifted me with a journal named "Oh Ship!". She thought it might be a fun thing for me to do, to help occupy my time. Little did I realize just how much of my time it would take up! At first, I would see a ship, check my 'Marine Traffic' app for the name, log if it was headed 'up' or 'down,' and then move along with my day. After a week or two, I noticed I had missed some in my log – they were going down when I had never noted them going up! So I began my morning coffee and logging routine of checking on which ships were coming up, and which were going down.
Soon enough, I became curious about where were they going. How far inland did they go? How far away would they go? So, my morning coffee and logging routine expanded to two cups of coffee and information gathering from the 'Marine Traffic' app. I was amazed!
The ships going upriver are headed to ports along any one of the Great Lakes. The furthest trip inland is Thunder Bay or maybe Duluth. Either trip is a long one.
Where do the downriver ships go? Most of them are headed to Montreal, QC, the second largest shipping port in Canada. Some are stopping not far from the American Narrows at Ogdensburg, NY, or Prescott and Johnstown, ON. I have noted ships going to United States ports in Albany and New York City, NY; Baltimore, MD; Savannah, GA; San Juan, PR; New Orleans and Baton Rouge, LA; and Houston, TX.
'Our' ships are headed to many other exotic places. This year I noted these locations:  New Brunswick, Nova Scotia, Newfoundland, Belgium, Spain, Great Britain, Ireland, Italy, Trinidad-Tobago, Finland, Gibraltar, Russia, Netherlands, Denmark, Algeria, Morocco, Portugal, Malta, Estonia, Romania, Latvia, and the furthest trip that was to Sydney, Australia. All this information can be gathered on the 'Marine Traffic' site.
My lists completely filled two journals. At the end of the shipping season, I had logged 284 ships. I was surprised! 103 of them were single trips, up and back just once. The first ship I logged was Belasitca, headed out on April 26th, and the last ship I noted was the Ojibway on December 30th, its final trip. The Ojibway was one of the oldest ships on the River and a favorite to many. It was a sad day when I logged that last trip.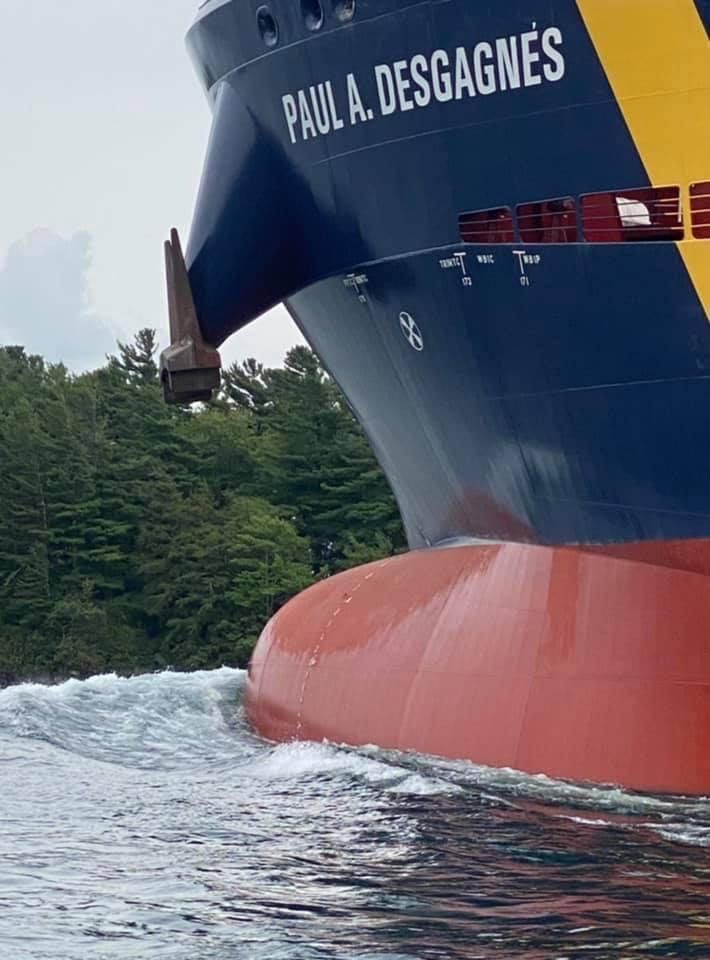 Some ships make many, many, trips through the seaway. The Kaminisqua went by 20 times, Spruceglen made 26 trips, 30 for CSL St Laurent, 37 for Algoma Hansa, and I'm sure some had more! Initially, I boldly logged the date and 'up' or 'down' on the page but by the end, for ships like these, my writing got much smaller, in the margins, around the name, upside down, any way to keep it all around the one ship!
We also had some 'special' passings. We anxiously watched for three separate barges carrying beautiful new walkway bridges for Toronto. There were lots of photos taken of these vessels. The STV Fair Jeanne, a brigantine, went by in August headed for her home port of Brockville. She's really a sail training vessel, but I like to think of her as a pirate ship!
We saw Coast Guard vessels, ice breakers, buoy-laying ships, and police boats from both sides of the River. The Kawartha Voyageur, a passenger boat, went through, as well as two brand new eco-friendly ferries, The Wolfe Islander IV and the Amherst Islander II.  These beautiful ferries were built in Romania and are fully electric. They are actually part of the Ontario Highway system, and will serve the Wolfe Island – Kingston, ON, and the Millhaven and Amherst Island, ON routes. It was another trip that brought out many cameras. I can't even begin to note the personal yachts that graced our waters, but all were beautiful.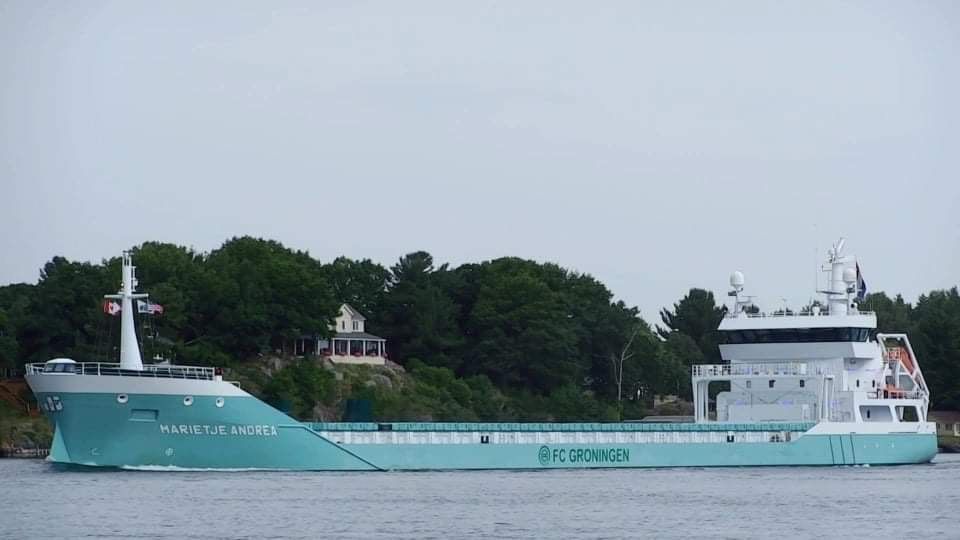 Every season there are a few ships that many people watch for. Last year, it was the Happy River, a beautiful yellow ship. It only came through once this year, and it was at night, a disappointment for many. This year, a first trip ship, the Marietje Andrea, flying the flag of the Netherlands, came through one trip up and one trip down. She was a beautiful aqua colored ship and many photographed her on her way up. By the time she was on her way back, she was a bit of a celebrity and had quite a following on the 'Ship Watchers' Facebook page.
Other nice-looking ships, in my opinion, included the Northern Spirit and Ali Ka U. They both caught my eye, beautifully painted and elegant. I'm sure there are others. I voted Algoma Buffalo the 'Best Horn'. I am fortunate to be between the bridge and St Lawrence Park Point where many ships blow their horns at a former worker or under the bridge. I hear many and Algoma Buffalo had a nice 2-toned, deep horn that I loved to hear.
What else did I learn from all this ship logging? Some ships are named appropriately, like Barnacle, which is very scraped and dirty. Many ships have color names, Blacky (not black), Bluebill (not blue), Redhead (gray with a red stripe) and Greenwing, which is green! There was a fleet of 'Spirit' ships, Hinch Spirit, Evans Spirit, Wicky Spirit, Atlantic Spirit, Mckeil Spirit, Harvest Spirit, Florence Spirit, Northern Spirit, and a fleet of ships named after women with the last name initial of G, Isabelle G, Johanna G, Maria G, and Helena G. The Canadian Steamship Line (CSL) has more ships than I could name, with 20 of them starting with Algoma and Algo prefixes. There were two 'Federal' fleets shipping up and down the river, with 49 different second names, and there were 20 Wagenborg ships, the beautiful gray and red striped carriers whose names all end in the word 'borg', which passed by this year.
The Desgagnes fleet has 10 names, Claude A, Meina, Senda, Paul A, Rosaire A, Gaia, Acadia, Argentia, Sarah, and Mia. I often wonder what goes into naming a ship. One complicated ship name is CSL Assiniboine, so we just call it CSL Cinnabun, much easier. There are three ships whose names make reference to the St Lawrence River; the Federal St Laurent, CSL St Laurent, and CSL Laurentian. Do you know which one has the beautiful bird painted on it? There are four names that I will comment on: Radcliffe Lattimer, for some reason saying that name is fun; the Easterly Lime Galaxy made me wonder just what was behind that naming; Qikqtaaluk W made me want to hear someone say the name; and Jumbo Vision was another ship naming mystery, since it wasn't a large ship, as you might think.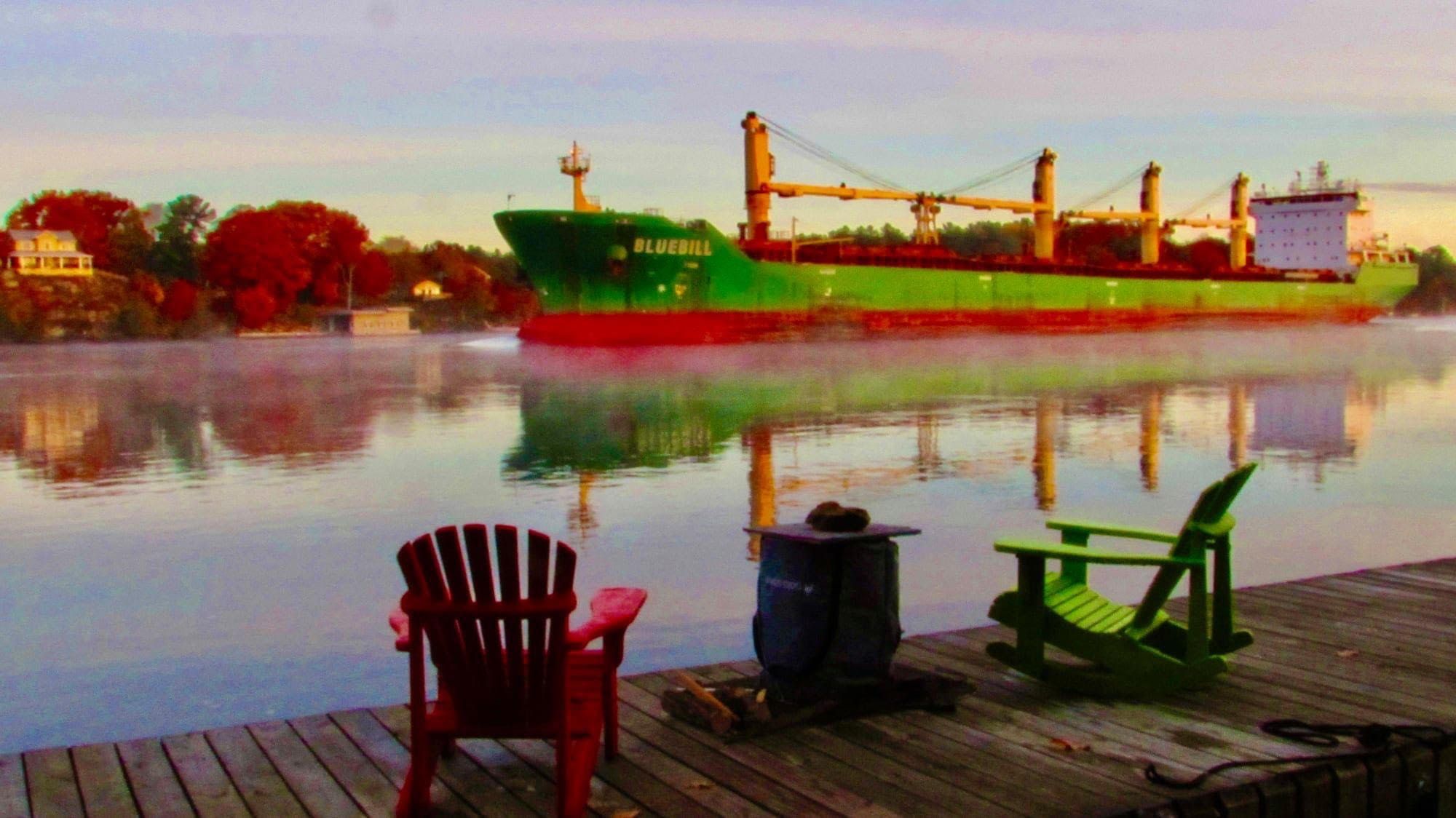 Often, I invite people from out of the area to visit us and I try to time their visit with a ship passing. It's fun to hear their comments. Many can't believe how big they are, how close they are, how you can feel the hum of their engines. One of my guests watched an orange CSL ship pass, heading down river. Thirty minutes later, another orange CSL ship passed heading upriver. She turned to me and asked, "Where do they turn around so fast that they can come back by within a half an hour?" I'm sure you have some funny ship stories also.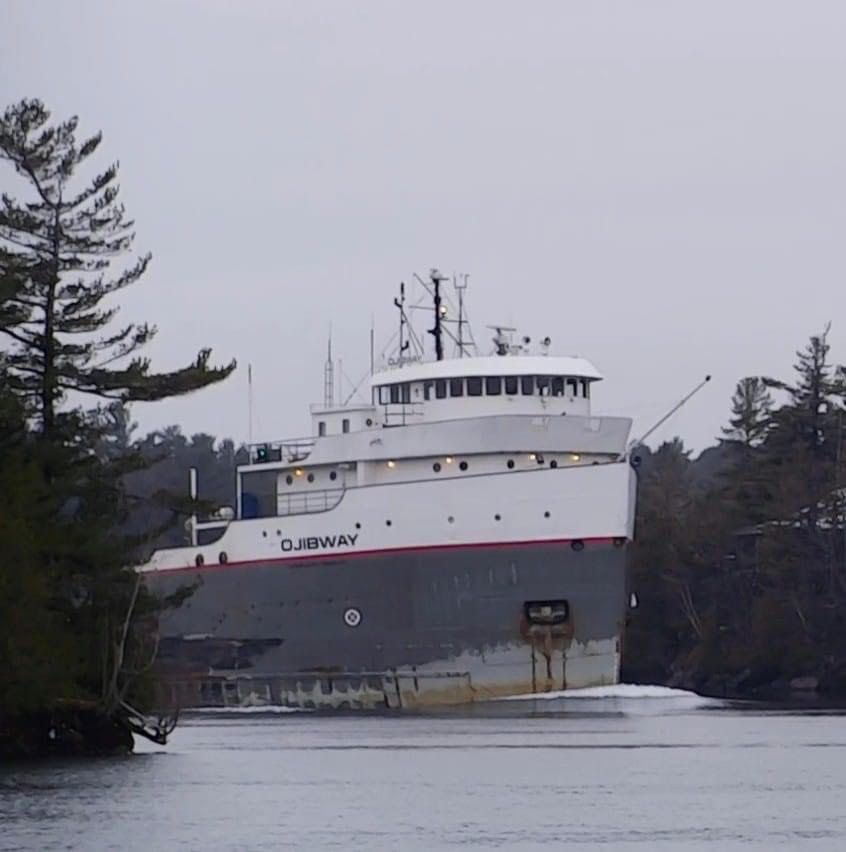 If you aren't a ship watcher, you might want to consider getting a notebook and giving it a try. It turned out to be much more fun than I imagined, and I was sad when the shipping channel closed on December 31st. On New Year's Day, I opened my Marine Traffic app, and all of the ship icons were gone. My logging for this season is over, and I must wait four months to start again. Better get shopping for a new notebook!
[Header photograph is courtesy of Brian Hudon. The author expresses appreciation to James R. Miller and his 1000 Islands River Rats Now and Then Facebook page for capturing so many photographer's pictures of ships through the Seaway Season.]
By Teri Bruno
Teri Bruno is a first-time contributor this month. She was born at the River Hospital and raised on The Hudon Farm in Alexandria Bay.  She now has a place in Meadowlane Park, Swan Bay and live there 3/4 of the year. She has also just accepted the manager's position at the Cornwall Brothers Museum in Alexandria Bay. Her main residence is in Camillus NY. Ship watching is one of many hobbies, but she says it is her favorite!
Posted in: Volume 17, Issue 2, February 2022, Sports
---
---
---