Spring is here! No, it is for real, spring is here.  I know what you're thinking; you just had frost on your car the other morning but nevertheless, the calendar does not lie!  I realize this, less than ideal weather, is not enough to give you spring fever, so I did some research on the topic and came up with….
10 random facts about Spring I bet you never knew.
FACT#1 Starting in the 14th century, this time of year was called "Springing time" (in reference to plants "springing" from the ground). Then later shortened to just "Spring," in the 16th century.
FACT#2 There is a Greek Goddess of Spring named Persephone, who and is daughter of Zeus.
FACT#3 President Hayes was the one who started having Spring Easter Egg Rolling, on the grounds of the White House in 1878. Years later, this event grew in popularity, so President Harrison added music to it, and in 1969, the White House Easter Bunny was born!
FACT#5 Spring is the only word starting with the letter "S", in the English Dictionary, which can be pronounced correctly with your tongue sticking out.
FACT#6 You just tried #5
FACT#7 You're smiling now because you realize I just made that up, to make you look silly.
FACT#8 You skipped over fact #4
FACT#9 Made you look!
FACT#10 I have a new Springtime Recipe, to share named SEAWORTHY SPRING ROLLS!
Cheers and Happy Spring!
Seaworthy Spring Rolls
Stock your galley with:
· 1 package of Spring Roll Wrappers (found in the international aisle at your grocery store)
· 1 ripe avocado
· 1 bag "matchstick" carrots
· 1 large seedless cucumber
· 1 bag shredded red cabbage
· 1 sweet red pepper
· 1 1/2 cups cooked white rice (or cauliflower rice)
·  A handfull of fresh Cilantro
· 1 jar of your favorite sweet and sour sauce (for dipping)
The white rice can be cooked ahead of time and set aside in a separate bowl. Wash and slice-up your cucumber and sweet red pepper; I tried to keep my cuts as thin as I could and about 3-4 inches in length.
Cut open your avocado and remove the seed and outer skin; cut the avocado halves into about 12 slices. Set aside your cut veggies on a big plate, or cutting board, the carrots and red cabbage are already sliced, so you are good to go with them.
Now for the fun part!  Working with the spring rolls can be a little tricky so make sure to follow the preparation instructions on the packaging.  Basically, it will say to soak the hardened wrap, in warm water for 10-15 seconds, until it is soft and pliable (but this may vary depending on the brand purchased)
Once wrap has softened, remove from the warm water and gently place it on a large, flat plate or clean surface. Add sprinkles of your ingredients, one by one, in the middle of the wrap, starting with a tablespoonful of the rice, and top-off, with a sprig or 2 of the fresh Cilantro.
Once you have added all your veggies, fold over the bottom and sides of the wrap, then roll upward.
Sever cold, with your favorite sweet and sour sauce, for dipping.
Makes 12 Seaworthy Spring Rolls
By Nicole Hartshorn, The River Gal, author of "Food Ideas for Boaters" [Rivergal1000@aol.com]
Nicole Hartshorn provides a series of interesting recipes for TI Life readers... they always include her wisdom on being a mother, wife, crew and chef!  See all of Nicole's other advice and TI Life recipes here and let us know which ones were used in summers past! As she says... enjoy!
---
About River Entertaining: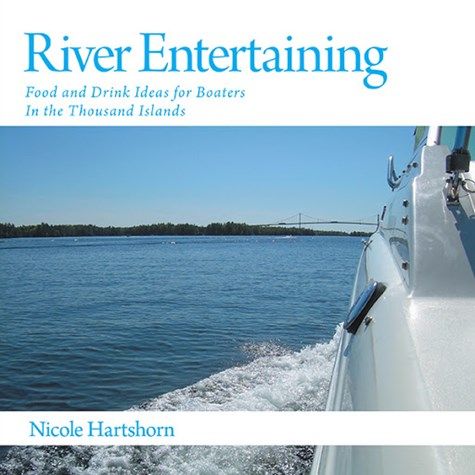 Interested in trying more of The River Gal's recipes, or know a boater who would be?  Nicole's book RIVER ENTERTAINING is available for purchase on Barnes & Noble.com  or at Friesen Press.com/book store, search River Entertaining on Amazon.  
Posted in: Volume 15, Issue 5, May 2020, News article, Book review
---
---
---