St. Patrick's Day, and I'm kayaking toward my island cottage after wintering out-of-state. The sheltered bay I normally use this time of year is still half-covered with thick ice, so I had to launch in more exposed waters at Thousand Islands Park. A southerly breeze roils The River. For several minutes I focus on angling my kayak through the waves to minimize impact and splash, until reaching calmer water on the lee side of my island. Now I'm savoring blue sky and quiet while cruising along a snow-covered shoreline.
In my lap sits Gyp. My dog is excited, but also miserable. The droplets from my paddle are ice-cold, and Gyp flinches every time one lands on his head. Occasionally he whimpers. I pat his life-jacket reassuringly and he endures the discomfort, impatient for dry land.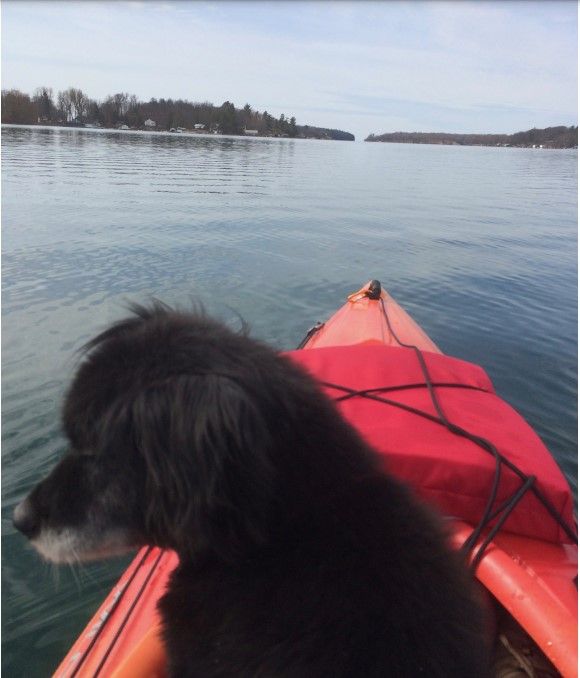 Finally my boathouse cottage comes into view. Tension drains from my body, less from completion of a 460-mile journey than from relief at my home having survived another winter seemingly without damage. There's a bonus too. The two slips beneath my living quarters are already ice-free, meaning I'll immediately be able to lower my outboard boat into the water. Last year, when I overwintered here, my slips were frozen until early April.
I pull alongside the dock, lift out Gyp, and extricate myself. Home again. I sit quietly, absorbing the moment. For the third year out of four, I've managed to return in time for my birthday, which is tomorrow. Such is the pull of The River for me, even in early spring — or late winter.
Each year, the logistics of re-immersion into island life get a little easier. Or at least less challenging. Next morning, I'm back on the water, this time in a neighbor's aluminum canoe, hurrying to my car. Even an expedition-class kayak hasn't space for the likes of desktop computer, 5-gallon water containers, and bulk food. Three years ago, when I first utilized canoe for such a load, I naively towed it behind my kayak — and the canoe fish-tailed wildly, with consequent effect on kayak. Veering left and right, the return leg took twice as long and left my arms throbbing.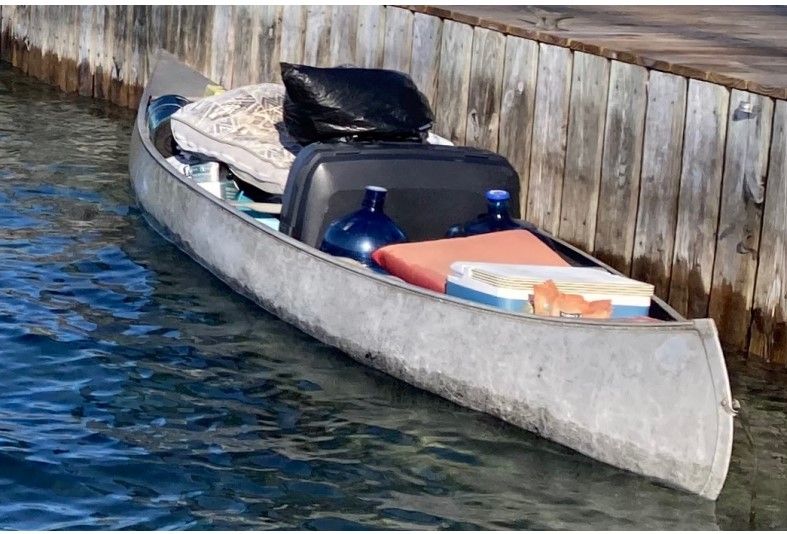 No towing this time. The heavily-laden canoe knifes through the water with me paddling astern, and I'm safely back at the cottage before the noontime onset of blustery winds.
For the next few days, while The River stays too rough for canoe and kayak, I steadily work through an annual ritual familiar to most islanders — opening the cottage. Unload endless boxes and bags, carry them up flights of steps, then unpack; clean fridge and furniture; make bed; check water pipes.
Practically speaking, opening my snug single-floor residence should take only a few hours. No tree had fallen through the roof, no mink had gnawed through the floor and pooped everywhere. But priorities are different at The River, especially on first arrival. There's viewscapes to enjoy from armchair, a 90-acre island to reconnoiter, nature to rediscover. That takes time. Hours, if one feels so inclined.
Gyp and I resume our twice daily walks around the island. Despite the mild winter, there's damage to report. At one property beaver have girdled a large maple that now urgently needs felling before it topples onto the owner's cottage. A second tree there also has extensive gnawing.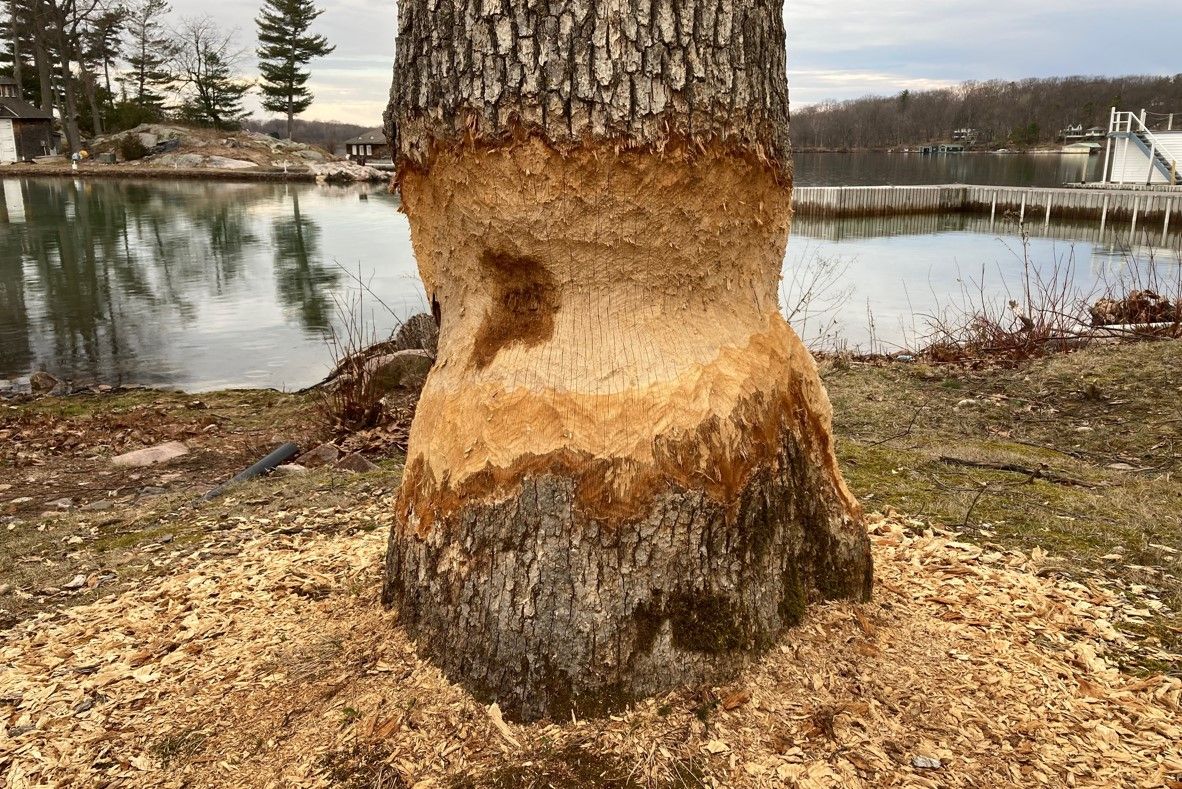 I subsequently notice small-scale pruning in my own yard, including removal of several branches from my beloved lilacs as well as a 6-foot maple sapling planted last fall. I curse, but my neighbors threaten a more murderous response to the toothy culprits.
Communitywide, the big news is the loss of one of the island's biggest trees — and our collective emotion is relief rather than revenge. A December gale snapped a huge cottonwood that towered more than 110 feet high. Its long limbs just missed our community center. Clearing the debris will take many hands and days, but better that than having to rebuild a historic structure that houses post office and library, and serves as our gathering place.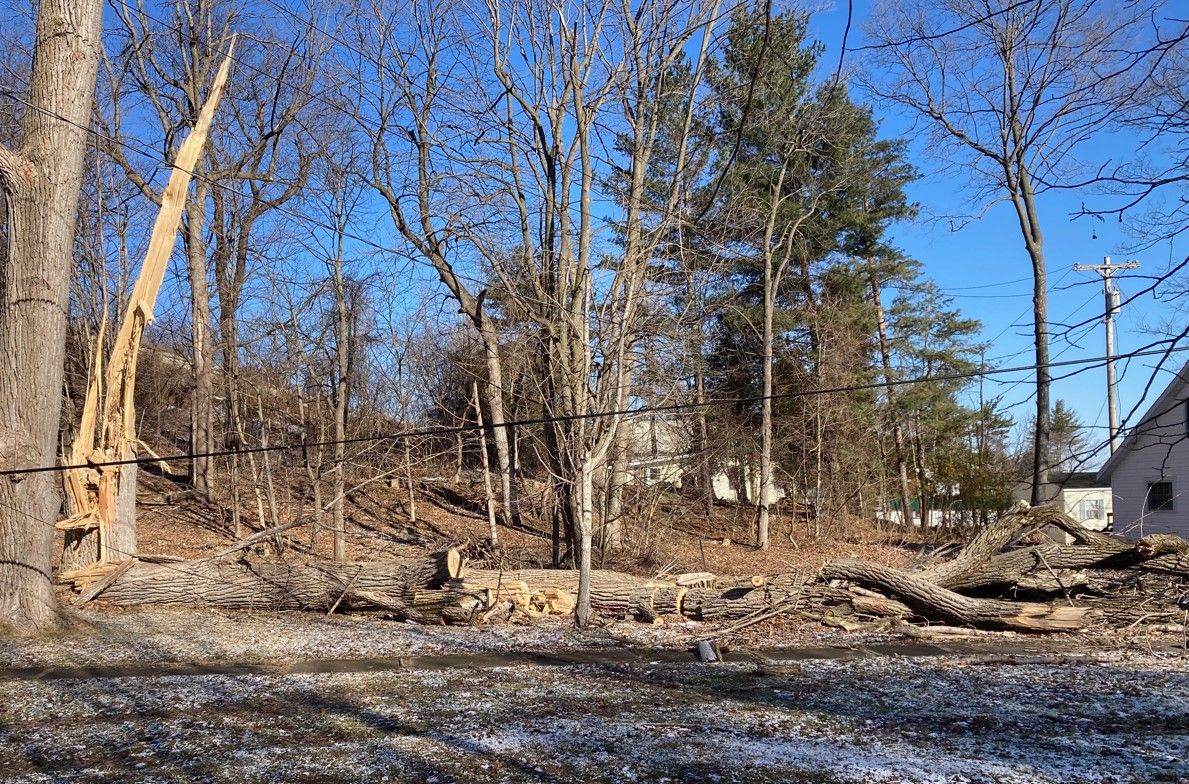 Such are the vestiges of winter at The River, along with lingering snow and ice, and 36-degree water. Some days the cold season stubbornly re-asserts itself with chilly air from the north. As wind chills plunge towards single digits again, skim ice forms overnight in bays and fractured slabs refreeze into sheets. Then the wind shifts westward, from Lake Ontario, bringing white-capped rollers whose ice-breaking violence is welcomed by boat-owners impatient for open water.
Best of all are the occasional southward breezes, pushing afternoon highs into the 50s and — crucially — keeping nighttime lows above freezing. To lunch on my dock in March sunshine, with sleeves rolled, is precious delight.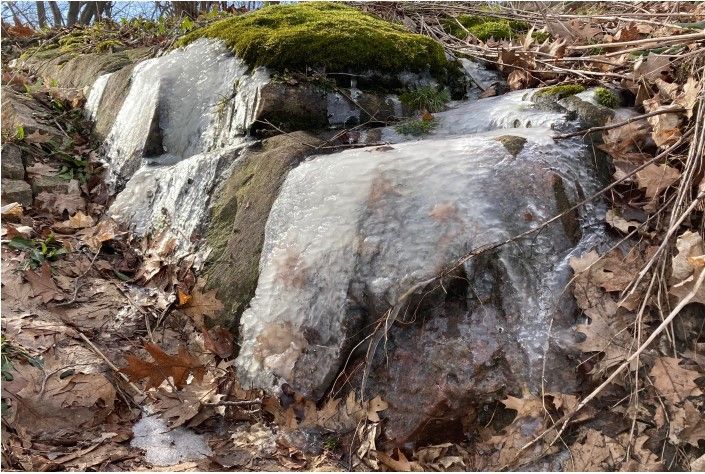 Early one morning, mug of tea in hand, I spot a V-ripple on the mirror-calm water. Beaver, muskrat, mink…, no, it's an otter, and a large one at that. I jump out of my chair and press nose to window. The whiskered furbearer swims a hundred yards to my boathouse, then dives and resurfaces by my neighbors' dock to continue upstream.
I excitedly text some absentee islanders.
"Advantages of being there early," replies one envious friend.
Such encounters are random, whereas other happenings reflect a timeless cycle. Long- dormant plants push through softening soil and receding snowbank, while wildlife prepares to rear another generation. By the end of March, mergansers have paired, geese are squabbling over nesting sites, and a flock of forty-plus mute swans has dispersed until only one pair remain. The fox that nightly triggered security cameras suddenly vanishes, presumably to care for another litter of kits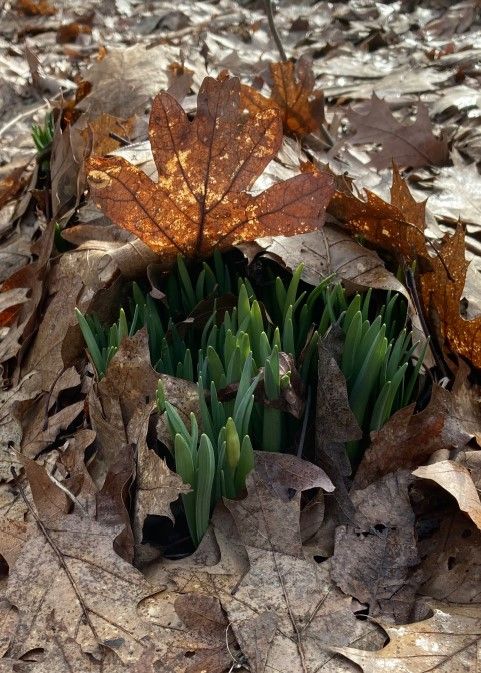 Days later Easter brings the first uptick in boat traffic, even two jet-skis. The island is now snow-free and I'm no longer alone. Several families visit for the weekend; two couples intend to stay indefinitely. Whether retiree, middle-aged parent, or child, they're all drawn by the same love of place that holds me.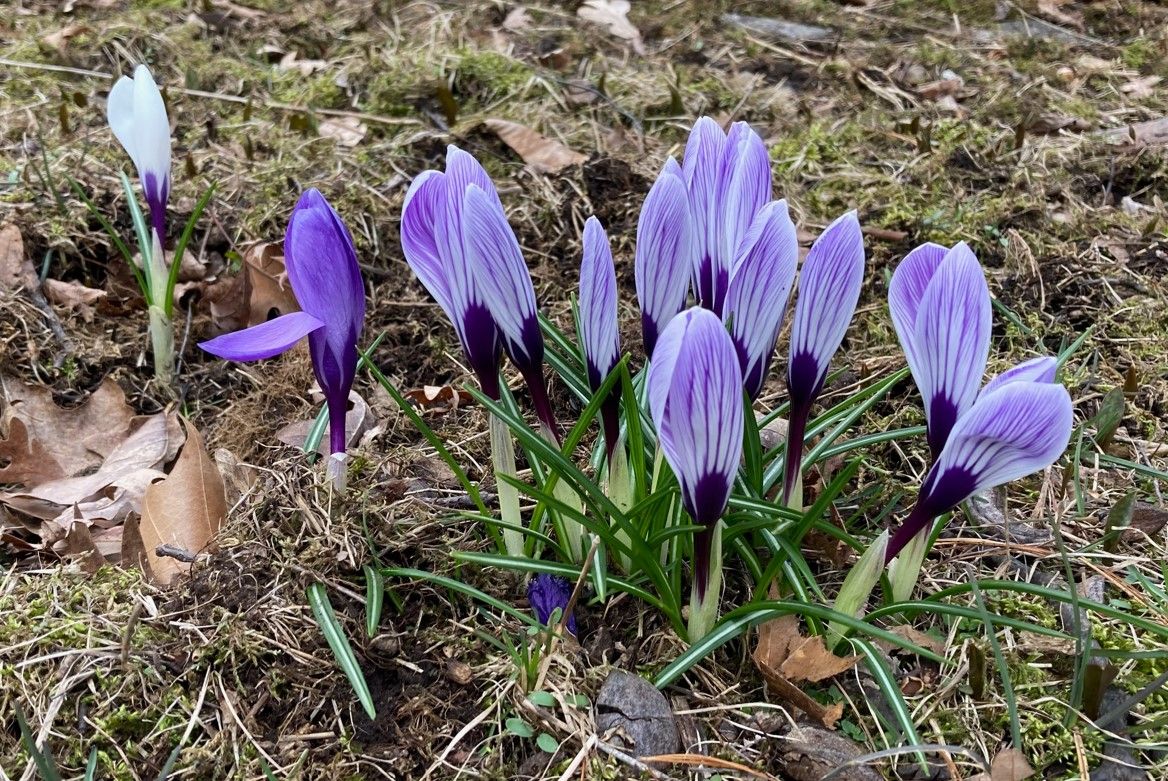 Final confirmation of spring's ascension comes four weeks into my own pilgrimage here. I'm clearing damp leaves from a flowerbed when a familiar bugling sound freezes me. High in the sky, cranes fly north. Their calls take me back to a previous life near Chicago, when gardening kept me sane in the nature-poor suburbs and migrating cranes were my background chorus during springtime weeding.
The leggy birds soon fade out of earshot, but not out of mind. They've reminded me that seasonal change here at the island, wondrous as it is, is merely a microcosm of natural rhythms that extend far beyond any one river, even the mighty St. Lawrence. The enormity of that leaves me humbled, and also reassured.
By Glenn Sandiford
Glenn Sandiford began his career as an environment journalist in the Adirondacks, then taught in academia for more than two decades, specializing in environmental communication. He now lives in the Thousand Islands. See his other TI Life articles here including his account of an island winter.
[All photos by G. Sandiford, ©2023]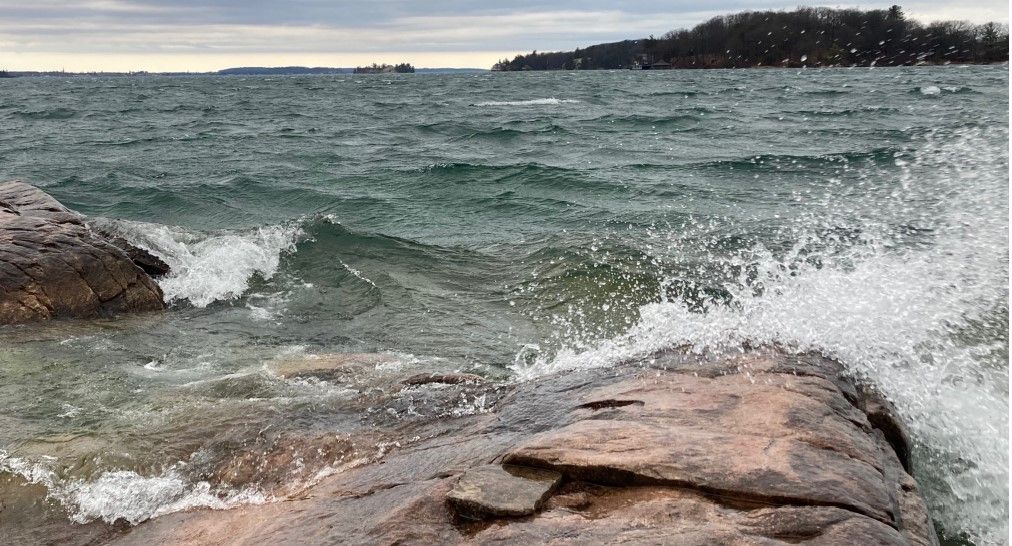 Posted in: Volume 18, Issue 4, April 2023, Essay, Nature
---
---
---