This magnificent Great Blue Heron now graces Save The River's front door, and will greet members and visitors once we reopen the store. The heron and refit of the door are the creation of 1000 Islands artist Doug Drumm. The heron has always been emblematic of Save The River. The idea of creating this special door, came during a late summer afternoon get together at Doug's beautiful River cottage, which is filled with his very special sculpture and art.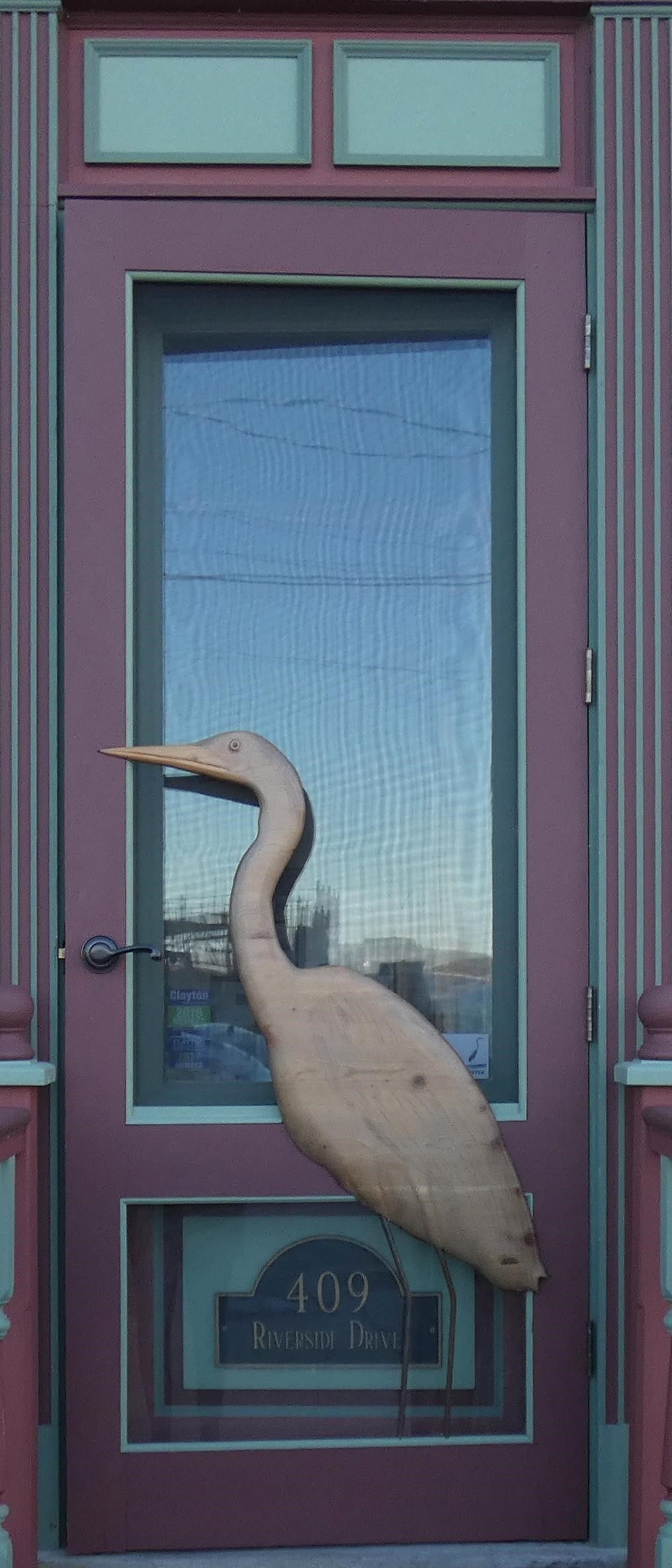 Doug is self-taught and works in several different mediums, mostly wood and driftwood. He also works in ceramic, steel, and copper. His creations include unique furniture, carvings, and sculpture.
Doug's beautiful front door is not the only change this year. Due to Covid-19, Save the River is working remotely, but we are continuing some important activities.
One of the big changes will be our annual 18th Annual Run for the River™ 5K/10K Virtual Event July 24-27, 2020. So, instead of running together, as we always have, we changed the format to a virtual run.
The Run is the organization's largest fundraiser allowing the proceeds to provide funding for our advocacy and educational programs. So, this year we hope you will consider joining our virtual run, or making a donation to Save The River, to help us to continue to achieve our mission.
How it works: Complete a 5K on your own, within July 24 and July 27, then visit your confirmation page to record your time and upload a picture. You will receive a virtual race bib via email, which you can share on social media, or print out, and wear on your run, as well as a finisher certificate. We'll also create a participant yearbook with the photos from participants. Registration is $20 per person and can be completed online. Click here to register.
So, even though Save The River is working remotely, during the Covid19 imposed shutdown of facilities, we are continuing our mission to restore, preserve and protect the Upper St. Lawrence River, now and for generations to come, through advocacy, education, and research. Be sure to visit us as soon as we are back!
---
About Doug Drumm
Want to see Doug Drumm's  work? Visit Facebook, at Doug Drumm Creations, and at the Bay House Artisans or Dark Island Distillery. His website is dougdrummcreations.com. He can be reached at (315)447-8430 to set up an appointment to see his wonderful creations.
---
We can be reached at info@savetheriver.org. Certainly, we look forward to seeing you soon on the River.
By John Peach, Executive Director, Save the River
John  Peach, Executive Director of Save The River and the Upper St. Lawrence  Riverkeeper, spends his summers with his wife Pat, on Huckleberry Island  in the Lost Channel. Winters are spent commuting between Clayton and  their pre - 1800 farm house in Clinton, NY. John has been an active  environmentalist since graduation from St. Lawrence University, and came  out of retirement in 2018 to take the helm of Save The River. John says  his  "grandchildren" are either sixth or seventh generation River Rats,  depending on what version of the family history is being told on the  porch at the island late in the afternoon."
Posted in: Volume 15, Issue 6, June 2020, Places
---
---
---
Thousand Islands Life Notifications
Subscribe to our notification list, you will receive our monthly email.
---