The name Red Jacket invokes instant pride and recognition among knowledgeable Canadian sailors.   She not only beat all US competitors in the prestigious Southern Ocean Racing Conference (SORC) in Florida in 1968, but in doing so she launched the International reputation of Canadian designers and builders, resulting in the creation of C&C Yachts.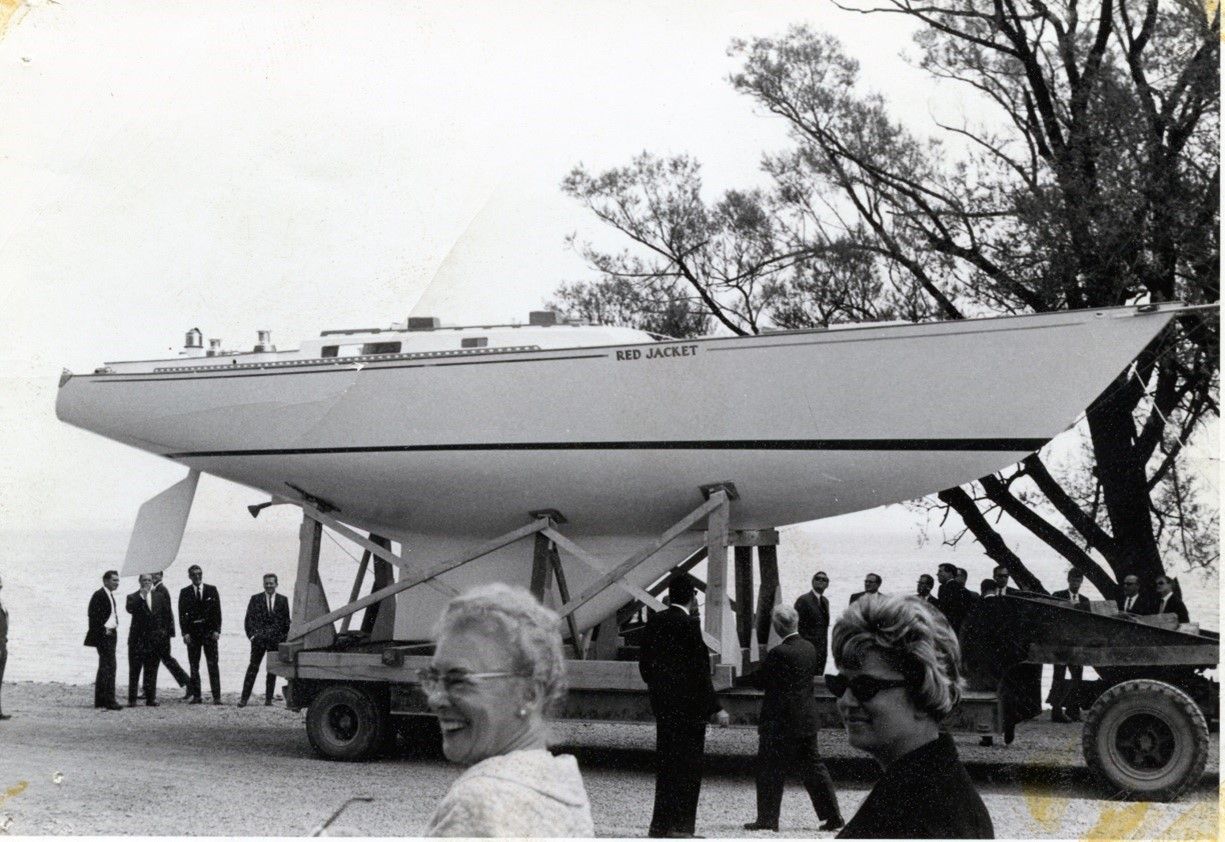 C&C was a Canadian company that dominated the North American sailboat industry for the next twenty years, with production facilities in three countries.   Through the generosity of Peter Milligan, her late owner, this Canadian sailing legend will be coming to her new home at the Marine Museum of the Great Lakes at Kingston this coming summer.
What were the keys to Red Jacket's success? What made her unique, and what made her a legend? The answer to these questions lies in three areas – Design, Construction, and the People involved in her creation and campaigning.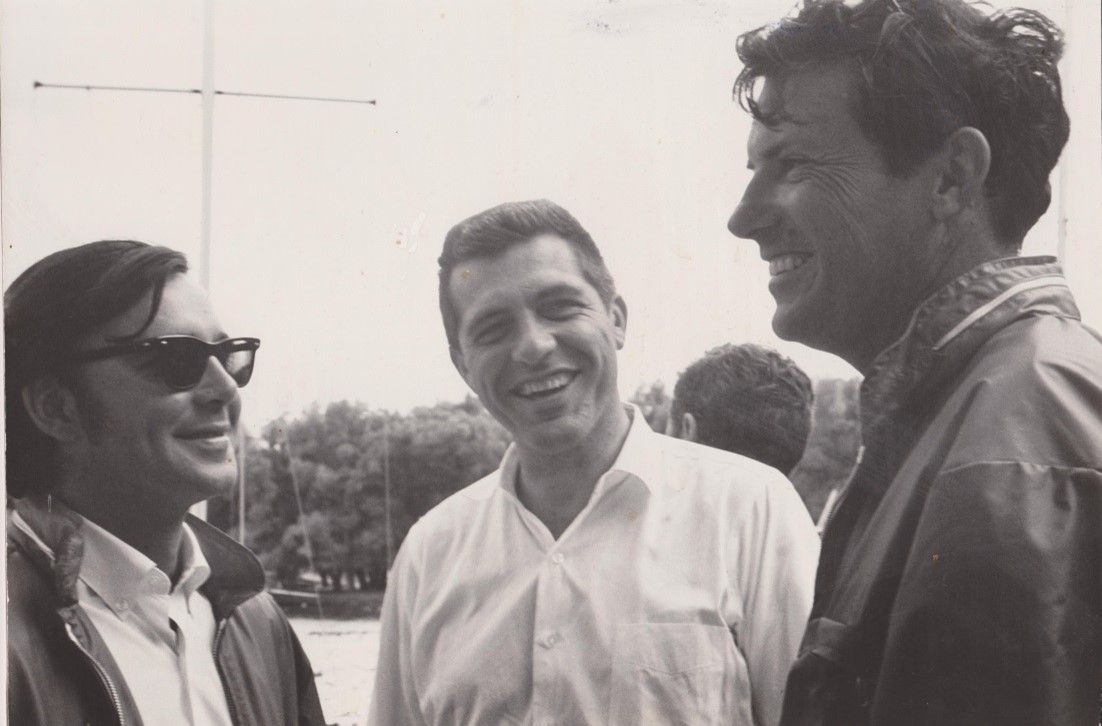 Design
Red Jacket was designed in 1965 by the emerging yacht design firm of Cuthbertson & Cassian Ltd. of Port Credit, ON, for Canadian contractor Perry Connolly. This firm was headed by young mechanical engineer, George Cuthbertson.
The legend is that between the 2nd and 3rd periods of a Toronto Maple Leafs hockey game, Connolly asked his good friend Cuthbertson to design the "meanest, hungriest, 40 footer afloat". Cuthbertson and his associate George Cassian took that instruction to heart.
Her underwater profile utilized a separate keel and an all-movable spade rudder. This was in sharp contrast to the full keels with attached rudders that had persisted in offshore yacht design for too many years. This split configuration is now the norm, but in 1966 when she was launched, this was definitely avant-garde.
The configuration greatly reduced her wetted surface, increased the efficiency of her "foils", and improved maneuverability and control. Above the waterline, the focus was on weight reduction and improved efficiency. The weight reduction was particularly targeted to the ends of the hull, in order to reduce the pitching moment for a smoother sailing in waves. The traditional longer overhangs were reduced by utilizing a reverse transom aft and an aluminum "hair pin" bowsprit forward. The efficiency of the rig was improved by reducing drag with the use of internal shrouds that crossed internally to the other side of the mast.
Engine weight was reduced by installing a rotary Wankel engine, which ultimately proved unreliable in a marine environment. Weight was further reduced with the installation of a stark interior, with no accommodations forward of the mast to allow for better sail storage, and to further reduce the weight in the ends of the boat. And, of course, the ultimate way to save weight was in her choice of construction.
Construction
In 1966, the popular material choice for racing yacht construction was wood, steel, or aluminum. Early fiberglass was being used in smaller, higher volume production boats, but seldom in competitive, custom, one-off race yachts. Red Jacket turned that theory on its head by employing for the first time an engineered composite hull construction, which utilized a light-weight, end-grain balsa core, sandwiched between two load bearing, engineered fiberglass skins. This was the first time that this had been done in North America. Although unique at the time, sandwich cored construction soon became the norm in all performance composite structures, from aircraft to wind turbine blades. Indeed, the mammoth wind blades turning on Wolfe and Amherst Islands owe their very existence to the composite engineering theories and practices pioneered in Red Jacket. Keep in mind that this reduction in weight was achieved with a substantial increase in stiffness, but no loss in strength.  
This construction technique was so new in racing yacht construction that her builder, Erich Bruckmann, had never built a boat like this ever before. He would soon, however, become the master of the method and build some of the finest boats in the world, in the C&C Yachts Custom division.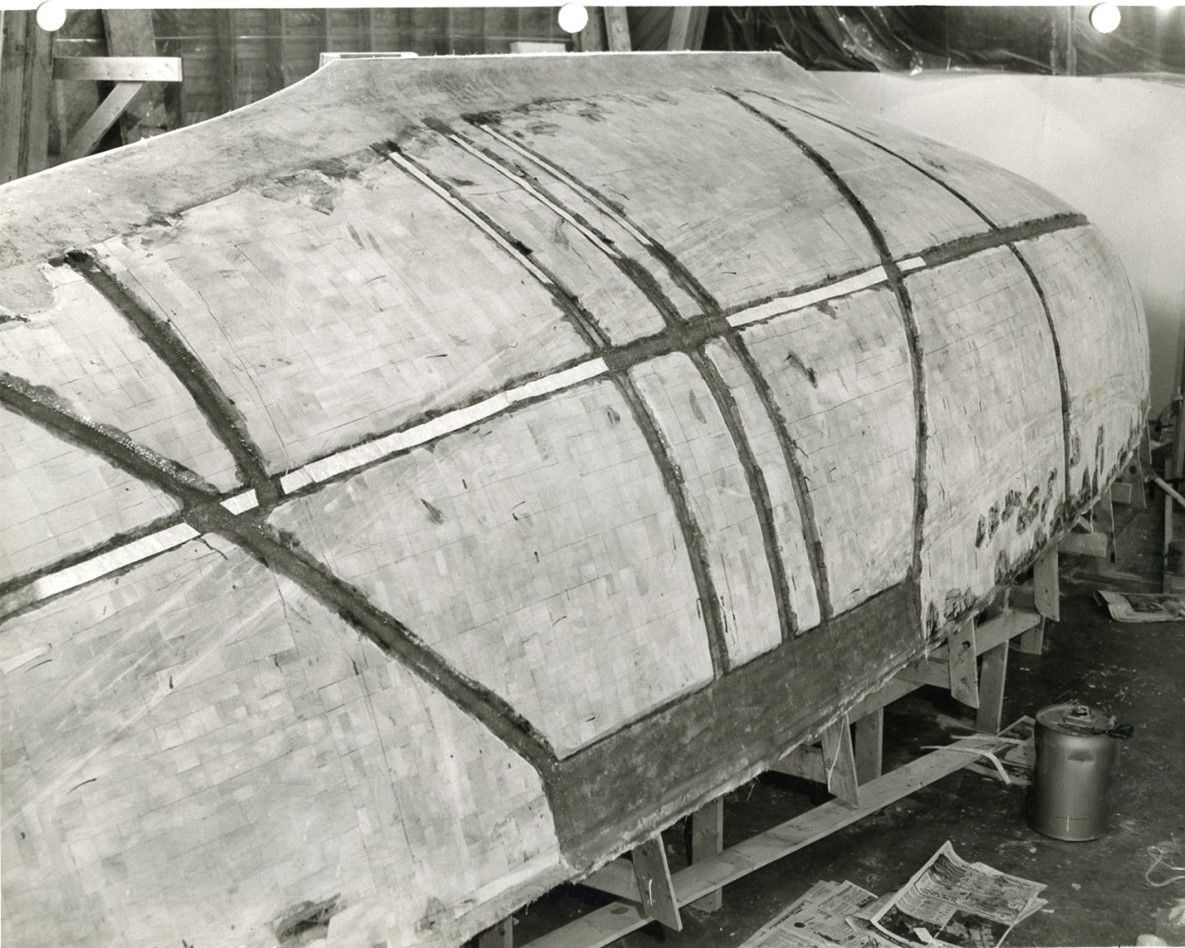 People Involved
The people involved in the creation of Red Jacket – her owner, designers, and builder, as well as her crew – had been working together on a number of other projects for a good many years, before the creation of Red Jacket. This was a classic example of the 10,000 hour theory of creativity.   Red Jacket was innovative and revolutionary for her day, but she did not come out of thin air.
Connolly, Cuthbertson, Cassian, and Bruckmann had all worked together on other projects for a good number of years, all culminating in Red Jacket. After her launch in May 1966, she dominated racing on Lake Ontario, winning 11 of her 13 races that season. That success prompted Connolly to follow the advice of American Jim McHugh, owner of the not yet finished Cuthbertson designed and Bruckmann built Inferno II, to combine their crews to enter Red Jacket in the 1967 SORC, a series of five offshore races in Florida, which were considered the World Series of yacht racing. She lost the overall prize by one bad race, and ended up second in "B" division, being beaten by a boat that she had beaten in four out of five races. Also she came so close to winning that Connolly decided to return the following year.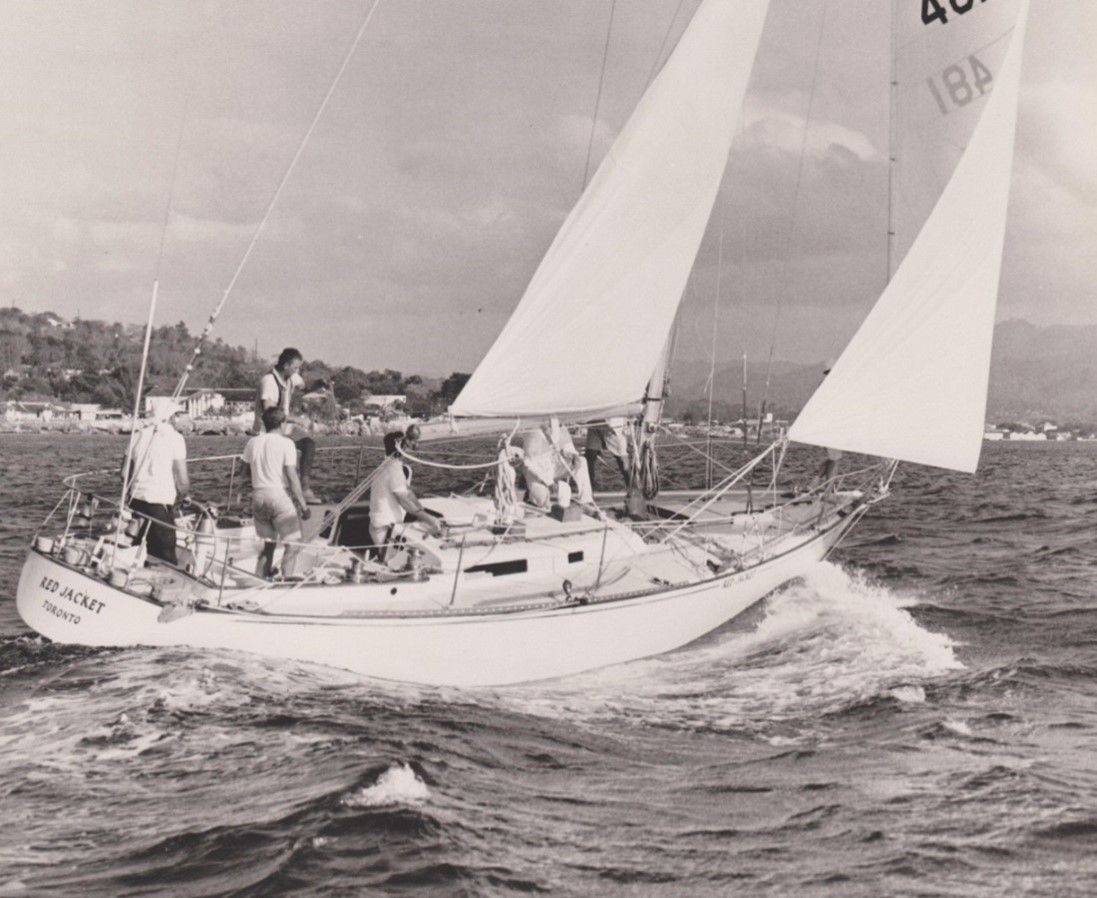 Her all Canadian crew in the 1968 SORC was made up of others who had been involved in this process, notably Gordon Fisher, who had launched his own Cuthbertson & Cassian designed, Bruckmann built, full keel strip plank 40 footer Thermopylae two years before Red Jacket.   Red Jacket had built on all the lessons learned from her predecessors, and then took it to the next level.   These were people who had worked together in close collaboration for many years, perfecting the ultimate ocean racer. With Red Jacket, their time had come.
C&C Yachts
Red Jacket's success in 1968 led directly to the public stock offering that resulted in the creation of C&C Yachts in 1969, and that, too, is the stuff of sailing legend. The design firm of Cuthbertson & Cassian amalgamated with the three Ontario builders producing their designs in fiberglass – Bruckmann Manufacturing, Hinterhoeller Yachts, and Belleville Marine – to create a combined manufacturing and marketing entity.
Racing wins continued with other Cuthbertson & Cassian designed, Bruckmann built, custom race boats, notably the winning of the Canada's Cup with Manitou in 1969, and the continued success in the SORC, where C&C products won overall and in three of the five division in 1972.   Cuthbertson would put down his drawing pencil and become President of C&C in 1973, and Connolly would later manage the Rhode Island subsidiary of C&C, and later Hinterhoeller Yachts, while Bruckmann continued to produce masterpieces in yacht construction throughout his long career.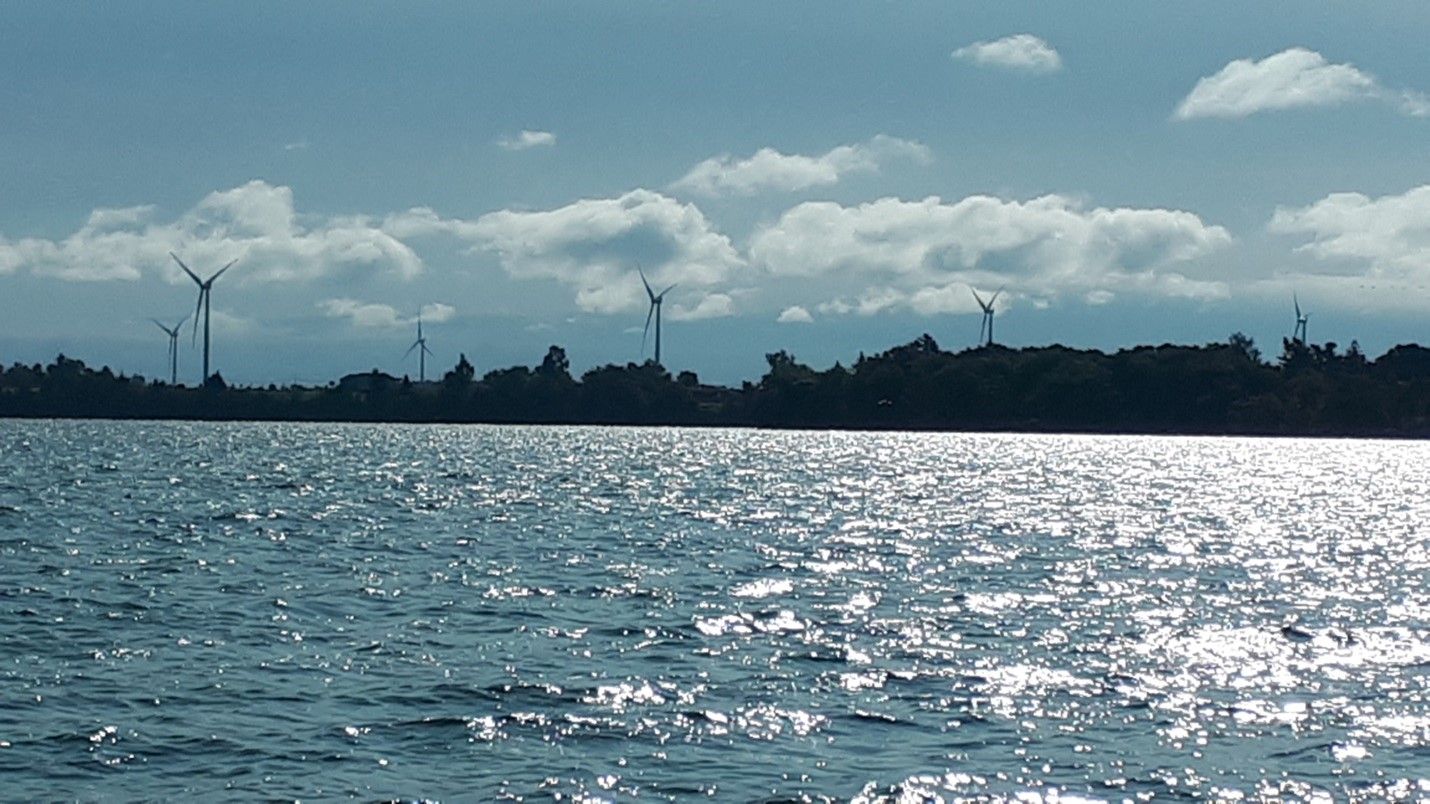 The Marine Museum of the Great Lakes at Kingston
It is now 55 years since Red Jacket's launching, and, sadly, none of the people mentioned above are still with us. Peter Milligan was her most recent owner, the last of a number of individuals who cared for and revered this remarkable piece of Canadian sailing history, while at the same time continuing her winning ways on home waters. In that regard, Peter always said he felt more like Red Jacket's custodian than her owner, so he stipulated in his will that she should be donated to the Marine Museum of the Great Lakes at Kingston upon his death, which came far too early.
The choice of the Marine Museum as her final home was based on the fact that Cuthbertson had already donated his entire drawing collection up to 1973 (including the Red Jacket drawings) to the Marine Museum. In addition, all the C&C drawings from 1974 to 1996, when the C&C assets were purchased by Fairport Marine in Ohio, had been donated to the museum by Tim Jackett of Fairport Marine in 2012. The Marine Museum is also the home of the Canadian Sailing Hall of Fame, in which George Cuthbertson was an early inductee. The Marine Museum will also be initiating the Register of Historic Canadian Sailing Craft, in which Red Jacket will logically be the first entry.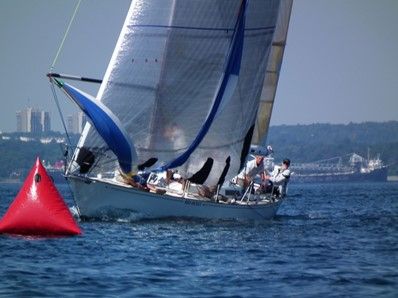 The plan is that Red Jacket, in her new home in Kingston, will continue to sail, allowing as many sailors as possible to try their hand at the wheel and trimming the sheets of this remarkable piece of Canadian sailing history.
For more information please contact: Doug Cowie, Museum Manager
Marine Museum of the Great Lakes at Kingston
By Rob Mazza
Rob Mazza is a Mechanical Engineer and Naval Architect with over forty year in the marine industry.  He began as a yacht designer with C&C Yachts and Mark Ellis Design in Canada, and Hunter Marine in the US.  He moved to sales and marketing of structural cores and bonding compounds with ATC Chemicals in Ontario, and Baltek, Inc. in New Jersey. Returning to Canada in 2011, Mazza is currently semi-retired, acting as Technical editor for Good Old Boat magazine, and has written articles for Professional Boatbuilder, and Wooden Boat magazines. His articles often focus on the history and development of yacht design, especially in Canada.  Mazza sits on the Board of Directors of the Marine Museum of the Great Lakes at Kingston, is a past Vice Commodore of the Royal Hamilton Yacht Club and is currently chair of the Canadian Sailing Hall of Fame Management Committee and the RHYC Heritage Committee.

Posted in: Volume 16, Issue 4, April 2021, Sports, People, History
---
---
---